For nearly three decades, developers have been using File Transfer Protocol, or FTP, to transfer files. However, using FTP can leave your data and passwords vulnerable during the transfer, as FTP doesn't encrypt passwords. Consequently, many developers have switched to using Secure File Transfer Protocol (SFTP) or File Transfer Protocol over SSL (FTP/S).
Using an FTP client enables you to upload, download, and manage files, and having a high-quality client can increase security, helping reduce file loss, file corruption, and other issues. FileZilla, a free cross-platform FTP client that supports Windows, Linux, and macOS, is a popular choice, but there are many other top-notch FTP clients.
In this article, I'll review what to look for in an FTP client and share what are, in my opinion, six of the best FileZilla alternatives for transferring files safely. When it comes to safely transferring files, SolarWinds® Serv-U® Managed File Transfer (MFT) is my top choice. Serv-U MFT offers increased security and control over your organization's file transfers. Download a 14-day free trial of Serv-U Managed File Transfer today.
What to Look for in an FTP Client
6 FileZilla Alternatives for Safe File Transfers
Final Thoughts on FileZilla Alternatives
What to Look for in an FTP Client
When it comes to choosing an FTP client, you'll want to find one compatible with your operating systems. For example, in my opinion, an FTP client may be an excellent FileZilla alternative for Linux but incompatible with your organization's operating system.
You may also want one with powerful search functionality, so you can quickly find the files you need. An intuitive, user-friendly interface combined with scheduling capabilities and drag-and-drop functionality can simplify and accelerate the file transfer process. For additional security, pick an FTP client with support for SFTP and other secure protocols in addition to FTP.
If you plan on transferring large files often, consider each FTP client's uploading and downloading limits. Also, if you need to use third-party connections, ensure your chosen FTP client supports the connections you plan on using. Other useful features to consider include user-friendly dashboards, alerting capabilities, reporting capabilities, and web browser and mobile access.
While FileZilla is one of the most popular FTP solutions, there are many excellent FileZilla alternatives on the market today. Here are a few of the best FTP clients in the industry.
6 FileZilla Alternatives for Safe File Transfers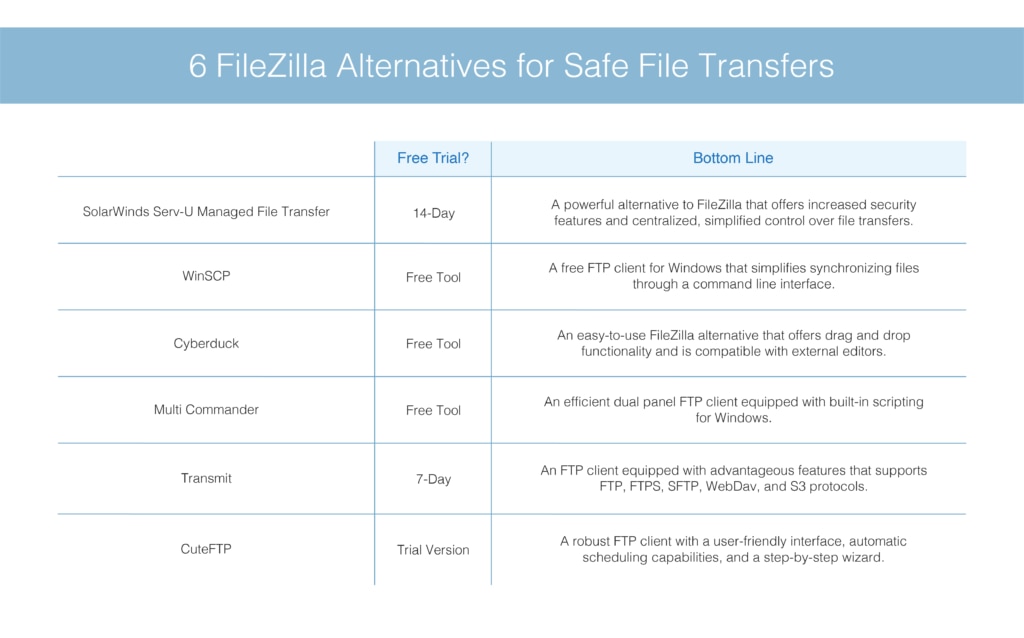 Offering increased security and centralized control over your organization's file transfers, SolarWinds Serv-U Managed File Transfer (MFT) is an excellent alternative to FileZilla. Serv-U MFT built to be reliable and safe, and it's suitable for many operating systems and can handle large files.
Like FileZilla, SolarWinds Serv-U MFT supports FTP and FTPS file transfers, as well as HTTP/S (or HTTP over SSL) protocols. Serv-U MFT can encrypt both in-transit and at-rest files, enabling you to send and receive file transfers safely and help meet government standards of security, such as FIPS 140-2. For additional protection, go beyond what FileZilla offers and use the optional Serv-U Gateway add-on, a tool that relies on a reverse proxy, to prevent the storage of data in your DMZ (demilitarized zone).
You can transfer files from anywhere with this feature-rich FTP client, as long as you have access to the web or your mobile device. As with FileZilla, transferring files is simple with Serv-U MFT's drag-and-drop functionality and its easy-to-use web console. Serv-U Managed File Transfer supports ad hoc file sharing. Simply upload your file to a Serv-U webpage and set an expiration date. Serv-U will automatically email a download link to the recipient.
Serv-U MFT enables you to track your file server's configuration and domain activity logs to troubleshoot issues faster (FileZilla includes logging to file). You can also configure Serv-U MFT to send emails, delete files, or run certain programs when specific events occur, which goes beyond what FileZilla enables.
Self-hosted and easy to install, SolarWinds Serv-U MFT enables organizations to quickly and safely transfer files and better demonstrate regulatory compliance with HIPAA, FISMA, SOX, and PCI DSS standards. Download a 14-day free trial of SolarWinds Serv-U Managed File Transfer today.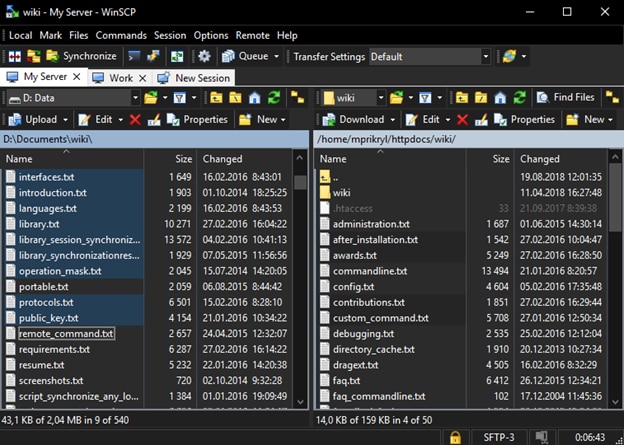 This free, open-source, and popular FTP client for Windowsuses FTP, FTPS, SFTP, SCP, S3, and WebDAV file transfer protocols to copy files between local and remote computers (beyond the options FileZilla offers). Featuring file encryption, a command-line interface, connection tunneling, an integrated text editor that enables you to edit local and remote text files, and scripting and task automation, WinSCP is an excellent alternative to FileZilla (though it relies more on a command-line interface compared with the drag-and-drop features in FileZilla).
Synchronizing files with WinSCP is simple. If you use the Synchronize function, WinSCP will synchronize your files for you, but you can also take advantage of WinSCP's scripting capabilities to automate certain synchronization tasks. Synchronize timestamps mode enables you to update any files—local or remote—with different timestamps without needing to transfer your files again. WinSCP simplifies manually synchronizing your directories with useful features like Synchronization browsing, Compare directories, and Newer and updated files only. FileZilla offers synchronized browsing as well.
With all this FTP and SFTP client has to offer, over 158 million people have downloaded WinSCP to date. Download WinSCP for free today.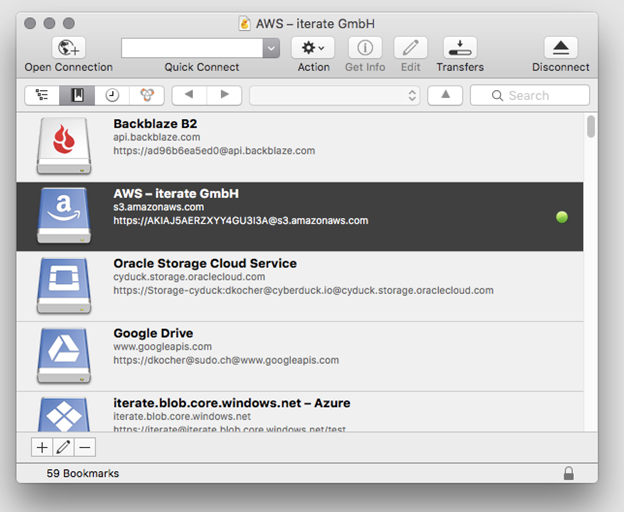 Cyberduck, an open-source alternative to FileZilla for Mac and Windows operating systems, supports SFTP and FTP-SSL, enabling you to securely transfer files. Cyberduck also features passwordless authentication with SSH keys, drag-and-drop functionality, and the ability to create and quickly organize bookmarks, all of which are also offered by FileZilla.
Compatible with many cloud services, including Google Cloud Storage, DRACOON, OpenStack Swift cloud storage providers, Files.com, OneDrive, Microsoft Azure, Backblaze B2, Dropbox, Amazon S3, and more, Cyberduck transfers documents to synchronize local and remote directories. FileZilla can similarly connect with cloud services.
While managing files can be challenging, searching for files with Cyberduck is easy and viewing them in Quick Look is as simple as pressing the spacebar. Cyberduck is also compatible with external editors, so you can open and edit files in any third-party editor. Whether you prefer TextWrangler, TextEdit, or Sublime Text, you'll still be able to edit your files.
Download Cyberduck for free today.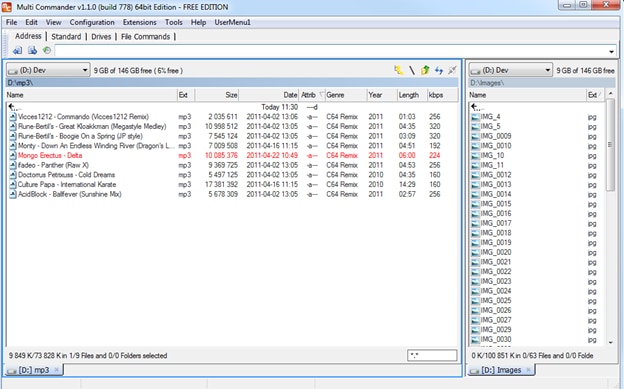 Designed for professionals, this alternative to FileZilla offers an efficient dual-panel tabbed interface and the ability to customize colors, layout, keyboard shortcuts, and mouse actions (going beyond what FileZilla offers). Multi Commander enables you to quickly browse your archives, local hard drives, network servers, Windows Registry, and more.
Beyond offering the ability to move, copy, rename, and view files, Multi Commander has many features designed to simplify file management. For example, Multi Commander has drag-and-drop functionality, the MultiRename tool, a log window, the ability to remove file permissions for users, and tools for converting pictures to PNG, JPEG, or BMP. FileZilla also has drag-and-drop functions and logging functions. You can automate tasks with Multi Commander's built-in scripting support or take advantage of its powerful filtering capabilities to quickly find the files you need—FileZilla also allows for some filtering, though not automation.
Multi Commander is a popular and customizable tool for efficient file management and is compatible with Windows XP, Windows 2003, Windows Vista, Windows Server 2008 (R2), Windows 7, Windows 8.x, Windows 10, and Windows Server 2012 (R2). Download Multi Commander today to get started.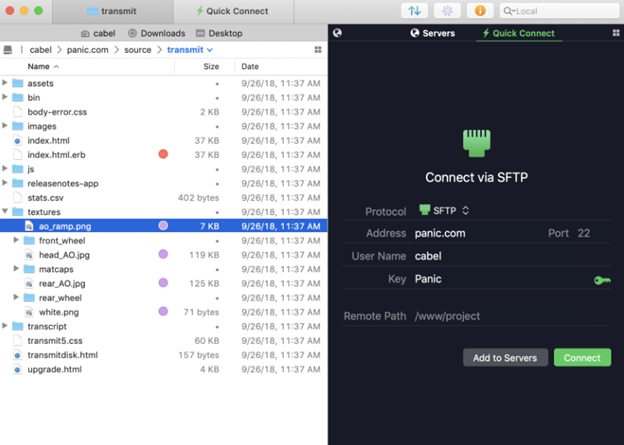 Panic, Inc.'s Transmit is another great FileZilla alternative capable of integrating with Dropbox, Google Drive, Microsoft Azure, Backblaze B2, DreamObjects, Microsoft OneDrive, Rackspace Cloud Files, Box, OpenStack Swift, Amazon Drive, and more. FileZilla also allows many cloud services connections. In addition to FTP, FTP/S, and SFTP, Transmit supports WebDAV and S3 protocols and local-to-local and remote-to-remote synchronization, going beyond what FileZilla allows.
Equipped with a powerful and easy-to-use user interface, Transmit offers advantageous features like Batch Rename, the Places Bar, the Get Info Sidebar, Column View, tags, and two-factor login. Access the local or remote folders you open most frequently with one click by adding them as favorites in Transmit.
Get started with Transmit by downloading a free, fully functional 7-day trial today.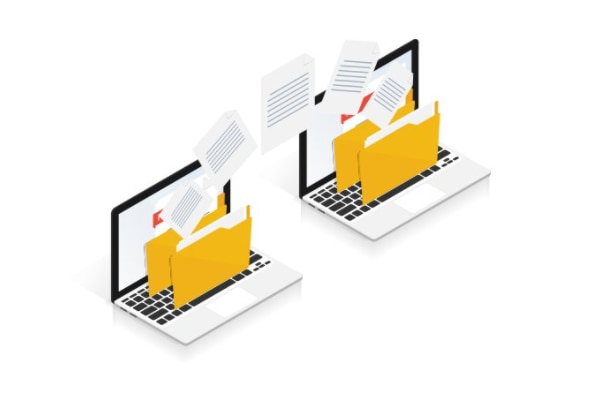 A popular and robust FTP client, GlobalScape CuteFTP has a user-friendly interface that makes transferring files a breeze. You can create scripts within CuteFTP to automate tasks and save valuable time (automation isn't a key feature of FileZilla). You can schedule automatic file backups, transfers, or site synchronizations and check for any changes in your local folders with this FTP client's help. CuteFTP also has a step-by-step wizard to simplify connecting to new FTP sites.
CuteFTP provides many security features and several secure protocol options, such as FTP, HTTPS (SSL), FTPS (SSL), and SFTP (SSH2). CuteFTP is also equipped with One Time Password authentication protocol, OpenPGP encryption, and a password manager, offering additional security when working with multiple remote sites simultaneously, similar to what you get with FileZilla.
Access a free trial of CuteFTP today.
Final Thoughts on FileZilla Alternatives
Having a high-quality and built to be secure file transfer method should be a top priority for any organization. While FileZilla is an undeniably powerful and popular tool in the industry, there are many FTP clients up to the task of securely transferring files, including SolarWinds Serv-U Managed File Transfer. Equipped with many user-friendly features, Serv-U MFT is my top FileZilla alternative. Not only is Serv-U MFT capable of handling large files and running FTP, FTPS, and HTTP over SSL protocols, but it also supports ad hoc file sharing and offers encryption. Find out if Serv-U MFT is right for you with a 14-day free trial.
[As of September 2021]