While we might like to think our networks are perfectly maintained and documented, the reality is sometimes we lose track. In some cases, your network can grow so quickly you may have trouble keeping up. The solution to this issue is using a network discovery tool to ensure your network structure is always documented. This becomes increasingly important if you use combinations of virtual networks, cloud servers, and both wired and wireless networks, as the hybrid network topology can become seriously complex.
To understand this problem a little more, I'll explain what network discovery is and why it matters, and then I'll go through the best network discovery tools currently on the market capable of helping you keep track of your network devices. I also review my favorite discovery solution on the market today— SolarWinds® Network Performance Monitor, and explain why its capability to automatically discover and map your network, showing you network connections and topology with the easy-to-read NetPath™ tool, sets this network discovery tool apart from the rest.
What is Network Discovery?
How Do Discovery Tools Work?
Best Network Discovery Software
How to Choose the Best Network Discovery Tool
What Is Network Discovery?
The first aspect of network discovery is finding all the IP addresses on the network, including static, dynamic, reserved, and abandoned IP addresses capable of being reallocated. The importance of discovering this part of the network is twofold: it helps you to ensure, first, every allocated IP address is valid and isn't being used by a malicious or rogue device; and second, your network is set up in the most efficient way, by not leaving abandoned IP addresses or subnets to be used for other purposes.
Network discovery determines which ports are in use, and which ports are open on each device. If a device has open ports that aren't necessary for the device to be used, this could be a security issue. Using network discovery to map the ports on your network can help ensure unnecessary ports are kept closed to prevent access by an intruder.
The next part of the process is figuring out how all the devices on the network are connected, and in which topology. Understanding and mapping the network in this way can help you find bottlenecks and keep track of each device and how it's performing. Discovering and tracking network performance metrics is vital for ensuring the network is performing well and is free from faults or availability issues.
How Do Discovery Tools Work?
It's possible to perform network discovery manually, though the risks are mistakes being made and parts of the network not being accurately mapped or monitored. And, without the assistance of network discovery tools, troubleshooting performance issues can be a long and tedious process. Using software to take the pain out of this process will also free you and your team up to focus on other things or to work on improving your network.
Best Network Discovery Software
Network Performance Monitor (NPM) with network discovery feature from SolarWinds is my top pick for network discovery and management tool. NPM automatically scans your network, and it can show you your entire network topology with a visual mapping tool. Its NetPath function allows you to see pathways from your own network to destination services. These maps can help you pinpoint problems in your network or see issues as they occur, meaning you can troubleshoot issues faster.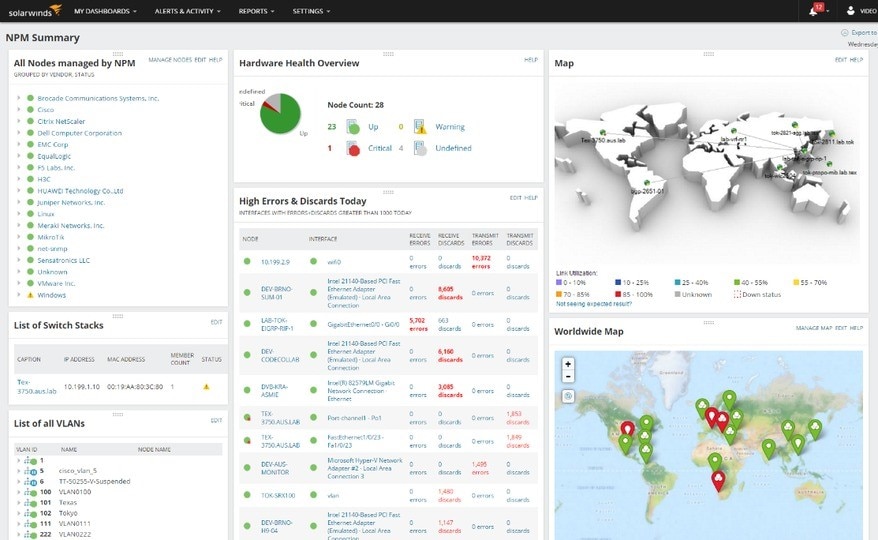 In addition to IP discovery, port discovery, and mapping, NPM includes performance monitoring functions to help you put this network information to good use. It also includes security features and alerts and is a scalable, centralized network management tool. NPM offers a free trial so you can try it out, and if you like it as much as I do, you can look at the different levels of paid options available depending on your business size.
While SolarWinds NPM includes features to measure network performance, SolarWinds Network Topology Mapper (NTM) is purpose-built to focus on mapping networks and can build several different network map types using a single discovery scan.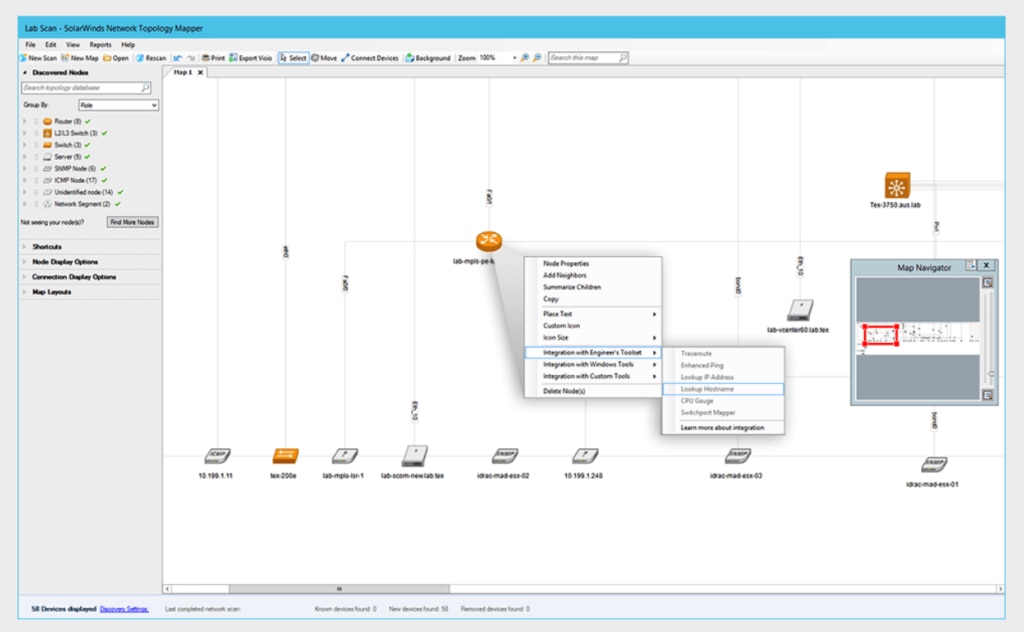 The scanning functions in NTM can also automatically detect and update maps to show changes in network topology using SNMP, ICMP, WMI, CDP, and other discovery methods. You can also use the integrated auto-discovery to edit node details of map objects and manually connect to network devices.
Maps can also be exported into PDF, Microsoft Visio, and PNG, so you can more easily provide visibility to key stakeholders. The tool is also FIPS 140-2 compliant and can support your ability to demonstrate regulatory requirements like PCI by helping you ensure your network is ready for compliance auditing.
NTM comes with a free 14-day trial.
Like SolarWinds NPM, PRTG Network Monitor from Paessler is a centralized network performance management tool providing monitoring over the whole network. It tracks network traffic, cloud service performance, and database capacity, as well as network uptime and application performance.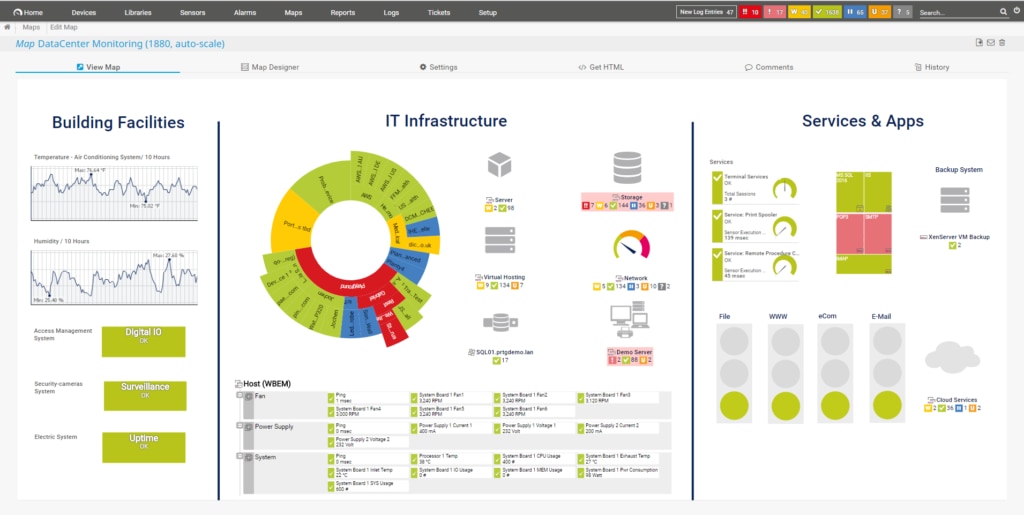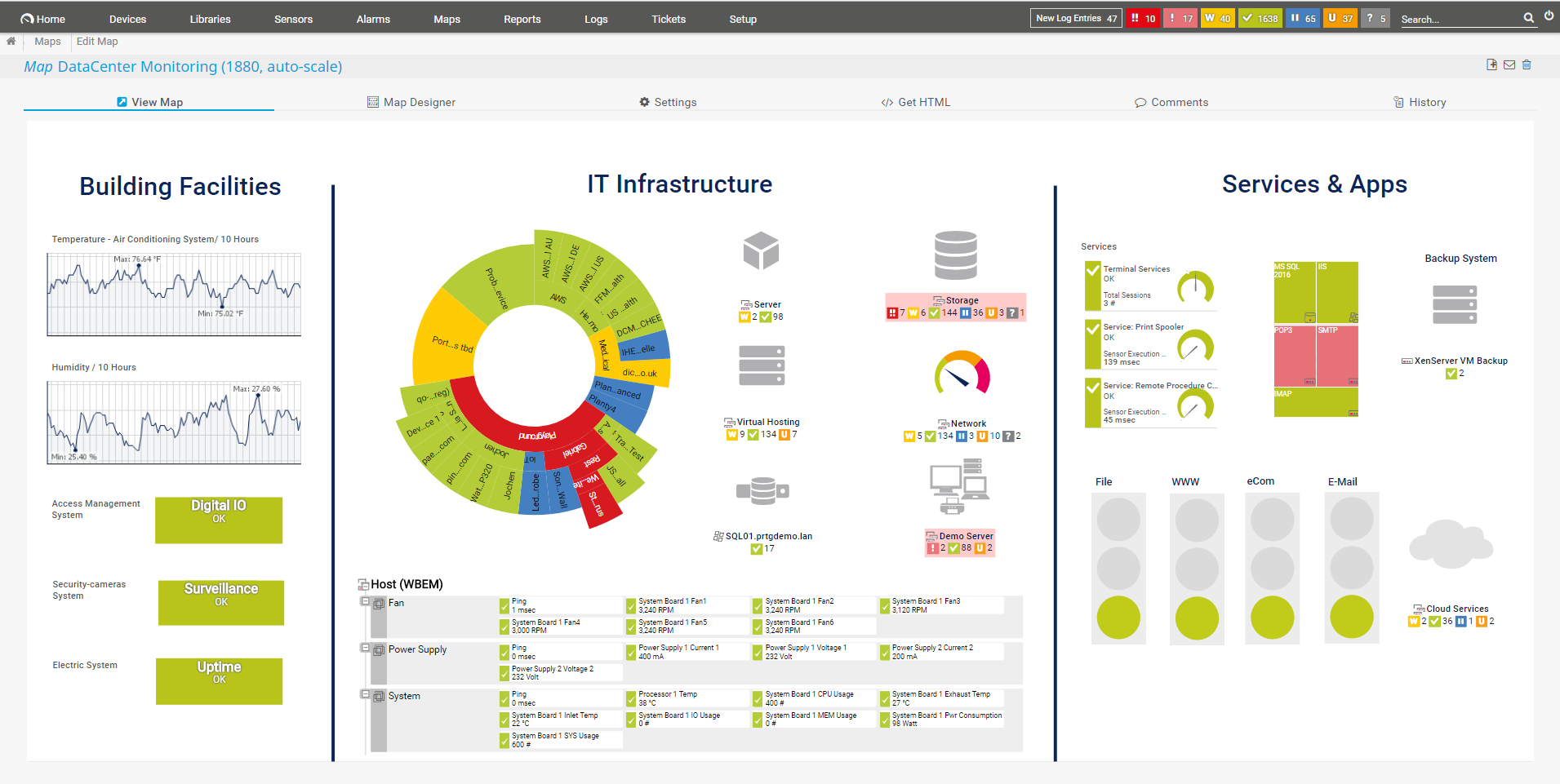 You can use PRTG Network Monitor as a network discovery and mapping tool, but only using PRTG Map Designer. While this is an excellent network mapping tool, it involves a manual process you'll need to learn how to do. However, once you've created the maps, they'll display updated network information in real-time for each device, as well as showing you connection data and performance, alongside important status updates. While this is good software, I'd say it's on the pricier end for what it offers.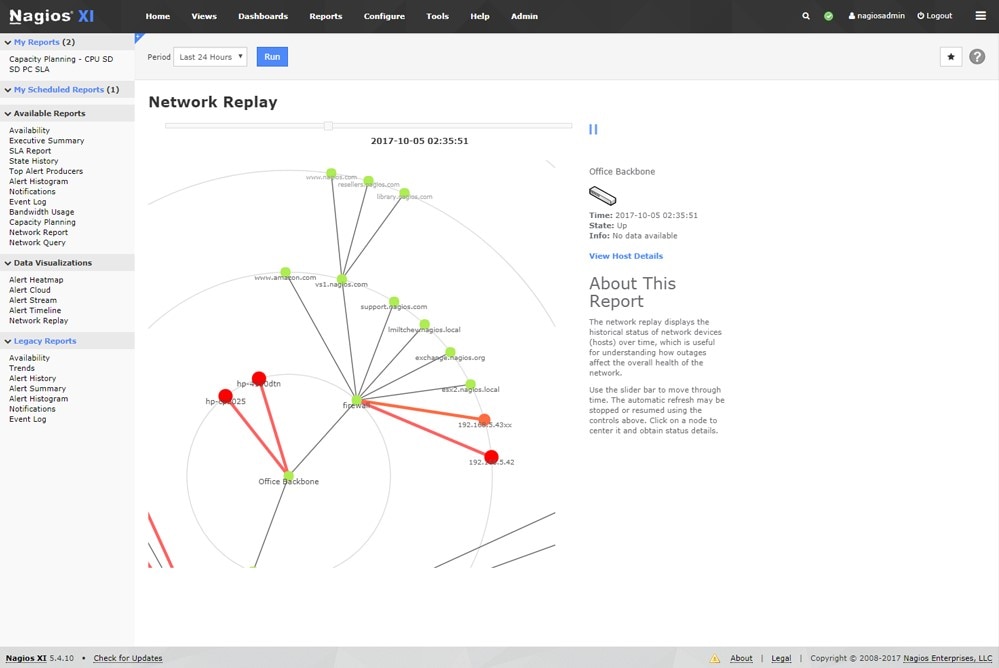 Nagios XI is a network performance monitoring software able to keep track of your network data and help you make sure everything is running as smoothly as possible. It has a simple and good-looking interface, with a centralized console and dashboard displaying network behavior, issues, and alerts. It also displays useful graphs to show you network incidents, bandwidth use, and general network health. Make sure you use the automated trending and capacity planning graphs to allocate resources effectively. This will help you avoid network overloads due to infrastructure updates or reroute traffic in advance of potential outages.
Nagios XI is fully customizable, which allows you to change the GUI to display the layout, design, or color themes to your preference. Make sure to check out the online demo and free trial before purchasing.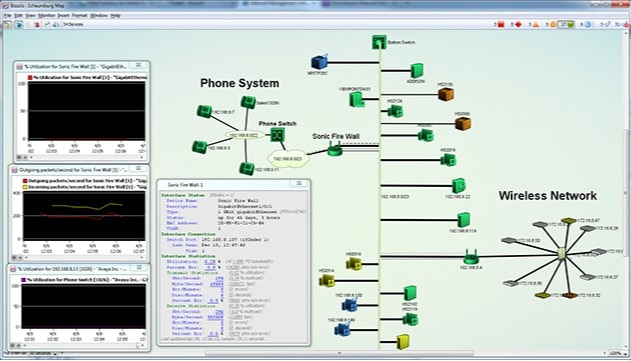 If you're looking for a simple mapping tool, consider trying out Intermapper, offered by HelpSystems. Intermapper includes network performance monitoring capabilities, but this feature is relatively limited. Its primary use is for discovering and mapping your network. The mapping tool automatically discovers your network (including all physical and virtual equipment with an IP address) and creates a customizable map. This map then updates automatically and displays real-time network performance data.
Intermapper has versions available for Windows, Mac, and Linux. It's available on a cost-per-device basis, or you can pay a flat fee for unlimited devices.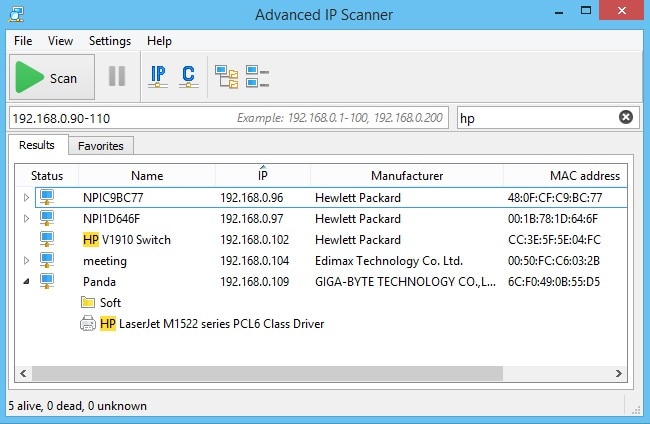 When your primary need is network mapping by way of simple IP scanning, Advanced IP Scanner is a good choice. It's free, so you can use it even if your business doesn't yet have the funding for a professional tool. It's made to be used in conjunction with the developer's Radmin remote administration software, but as a standalone tool, it does the job. It scans and identifies the Windows PCs on your network and can shut down and wake networked computers remotely. The main downside is its limited functionality.
How to Choose the Best Network Discovery Tool
There are a lot of network discovery tools out there, and it's important to choose one suitable for your business needs. Many of these tools have free trials so you can test them out. Remember the best tools provide centralized network performance management and discovery, so you can work through all your network needs in one place. I recommend trying the free 30-day trial of SolarWinds Network Performance Monitor to see if you find the tool as useful as I do when it comes to tracking devices on a network.
Recommended Reading
Top FREE Network Monitoring Tools – If you like the idea of the Advanced IP Scanner, but want something a bit more comprehensive in terms of free network monitoring and discovery tools, check out this list I've made of the best ones.