Databases in healthcare sectors provide a proper system for storing, organizing, and managing critical health statistics such as labs, finances, billing and payments, patient identification, and more. This information must remain confidential to the public, but easily accessible for the healthcare professionals who use this data to save lives.
The importance of database technology in healthcare cannot be overstated—it's crucial for doctors, providers, and management teams to access in-depth health data quickly and without error. Healthcare operations, from large-scale to individual processes, depending on the accuracy and efficiency of healthcare databases. A healthcare database management system is an essential tool for databases in healthcare industries.
If you, like me, are responsible for the proper functioning of databases and infrastructure in your organization, I can recommend software to support the work of IT administrators. If you need support in your daily duties monitoring and evaluating systems in the healthcare industry, data security is a key priority, and your organization depends on databases and systems working properly, read on to see my recommendations.
Depending on your needs, you can use software like SolarWinds® Database Performance Analyzer (DPA), or SolarWinds Server & Application Monitor (SAM). These platforms are designed to automatically monitor your healthcare databases and help ensure clarity, accuracy, and immediacy throughout database systems in healthcare. Because the systems that work in this sector must be well tested, I recommend a solution you can try for 14 or 30 days with access to all the functions to configure them for your environment. Download a 14-day free trial of DPA, or a 30-day free trial of SAM.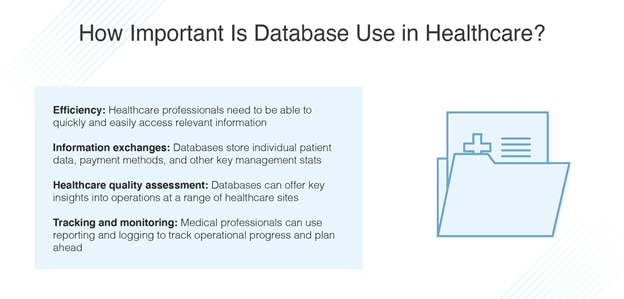 ---
What Do Databases in Healthcare Do?
How Important Is Database Use in Healthcare?
What Kind of Database Is Used in Healthcare?
Recommended Healthcare Database Management Systems
What Do Databases in Healthcare Do?
Databases in healthcare collect information about healthcare operations. Every piece of data a medical practitioner collects from a patient—including medications, prescriptions, procedures, operations data, and registries like encounter and discharge forms—is logged in a healthcare database. It's almost impossible to imagine the sheer amount of healthcare data gathered daily.
Healthcare databases help individual medical organizations understand their daily activities and their place within the larger healthcare industry. This enables healthcare professionals to make decisions about the way they're run, the work they perform, and the systems they use to manage operations. With the rapid development of technologies used in the healthcare sector and changes in healthcare operations post-COVID-19, it's more important than ever for databases in healthcare to be organized, well-maintained, and easy to use.
There are particular challenges databases in healthcare can encounter, which prevent these databases from reaching their full potential. Lack of clinical details, time lags, and miscommunications about coding and language can lead to variations that muddle critical database information. It's important for those who manage healthcare database systems to strive for in-depth, accurate reporting and consistent language—this will help keep administrative healthcare data as reliable and clear as possible for efficient healthcare implementations.
How Important Is Database Use in Healthcare?
Databases in healthcare promote the clear, consistent storage of critical data like patient demographics, admissions sources and length of stay, discharge status, diagnoses and procedures, and relevant charges. All this information helps healthcare professionals learn more about which operations are working well, which could use improvement, and which are absent entirely.
Databases used in the healthcare industry can store loads of information and can assist with several tasks, including the most important healthcare mission of saving lives. Along with supporting the daily operations of healthcare professionals, databases in healthcare can promote:
Think of how many people per day visit a hospital, doctor's office, or other healthcare centers. All this data must be reported in detail for effective use in a healthcare database. To ensure data is optimally recorded, healthcare databases must be well-designed and simple while supporting in-depth information. Data processing must also be efficient in these databases, so healthcare professionals can quickly and easily access relevant information when necessary.
Healthcare databases store individual patient data like identification and payment methods, healthcare access and control, and other management stats. When patients require services spanning multiple healthcare providers, databases across healthcare platforms must speedily send this information between each other with no variation. Because there are often standards for workflows, this data-sharing technology is essential for keeping information organized.
Healthcare Quality Assessment
Databases in healthcare gather information from many different sources—hospitals, health departments, state and regional enterprises, and federal agencies, to name a few. By considering factors such as access to pertinent information, availability and affordability of services, use of innovation, and barriers to seeking healthcare, healthcare experts can deeply understand the quality of ongoing healthcare operations. This helps experts use healthcare databases for assessing general healthcare quality throughout a region.
With help from healthcare databases, medical professionals can use reporting and logging tools to keep track of operations. This helps healthcare providers monitor health care services and improve the quality of patient care—by gaining statistics on costs, pervasive diseases, and appropriate treatments, medical staff can more easily provide patients with confident, efficient treatments. Other healthcare institutions could safely access this information for health planning, reform, and decision-making purposes.
In short, databases in healthcare improve interactions between patients and their providers. Healthcare databases assist with diagnosis and treatment, manage documentation and billing, and help reduce errors in medical operations and management. Because they limit paperwork and staff, databases in healthcare reduce medical facility running costs while improving performance.
What Kind of Database Is Used in Healthcare?
Because the medical field is changing rapidly, there's a greater need now more than ever for the right technology, management, and development of our healthcare databases. Two quality hospital databases in healthcare available today are the Healthcare Cost and Utilization Project (HCUP) and Medicare Provider Analysis and Review (MEDPAR). HCUP, sponsored by the Agency for Healthcare Research and Quality (AHRQ), brings statistics together from many state data organizations to create a national information resource of patient-level data. MEDPAR contains records on all Medicare beneficiaries, and calculates measures relating to hospital and nursing quality, conditions, plus procedures of Medicare patients.
Data dictionaries for databases in healthcare seek to remove ambiguity, errors, and misunderstandings from records. Medical data dictionaries support the standardization of data entries by incorporating industry-standard controlled medical vocabularies (CMVs). These CMVs include vocabulary and terminology, table row and column definitions, time zones, and more. This enables simple yet thorough data collection for easy, accurate data exchange and comparison between healthcare organizations. Data dictionaries are designed to help databases in healthcare remain consistent throughout individuals, organizations, and entire systems.
Knowing how to make a data dictionary for databases in healthcare is a crucial skill.
If you're wondering how to make your own data dictionary for your healthcare database, reference existing data dictionaries like the 3M Healthcare Data Dictionary model. The 3M HDD consists of an information model, vocabulary, and knowledge base that promote the utmost detail and accuracy. Once you've determined or created your data dictionary, make sure all employees and providers are clear on the guidelines and consistently follow the data dictionary's CMVs.
Recommended Healthcare Database Management Systems
There are three great healthcare database management systems available from SolarWinds: Database Performance Analyzer (DPA), Database Performance Monitor (DPM), and Server & Application Monitor (SAM). These are excellent tools for monitoring performance of your database in healthcare, and they enable you to share information quickly and accurately across healthcare systems and platforms.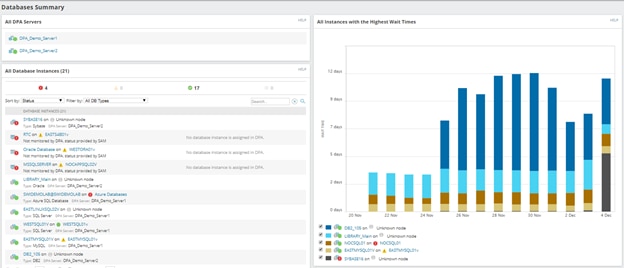 DPA is designed to deep dive into core metrics, such as CPU, memory, and storage, to analyze healthcare database performance. DPA can quickly discover root sources and help you ensure the health and performance of databases throughout your healthcare systems.
DPA is built to monitor historical and current data, so you can continuously check for issues to stay on top of database management. DPA is also designed so you can hold these metrics against each other, creating baselines and thresholds to help you categorize critical healthcare events. You can use these thresholds to trigger alarms, further increasing your database monitoring speed and management. DPA's automation tools can also provide insights and offer opportunities, recommendations, and best practices for your database in healthcare.
Dig deep into spikes in healthcare database behavior with DPA—this could help you determine if a spike is problematic, unexpected vs. expected, or otherwise affecting operations. DPA can enable database anomaly detection tools that account for expectations, so you know when deviations are really happening. This expedites time spent on live monitoring and troubleshooting.
Speed up troubleshooting with DPA by searching specific SQL queries using name, user, host or table, and column names. Having this information enables you to more easily diagnose database performance issues associated with particular time frames, users, and applications.
DPA is scalable and built to catch out-of-sync replications. This can help you ensure your many databases in various healthcare systems are aligned. You can execute custom queries and SQL statements through DPA to identify, understand, and prevent similar errors.
SolarWinds DPA is designed to work with many platforms including MySQL, Amazon AWS and RDS, Azure SQL Server, Database DevOps Tool, and more. As a cross-platform solution, DPA offers virtualized, cloud, and on-premises healthcare database monitoring. You can download a free 14-day trial of DPA. I personally recommend this to IT system administrators who have to analyze performance in their daily work and look for single queries to databases to optimize them.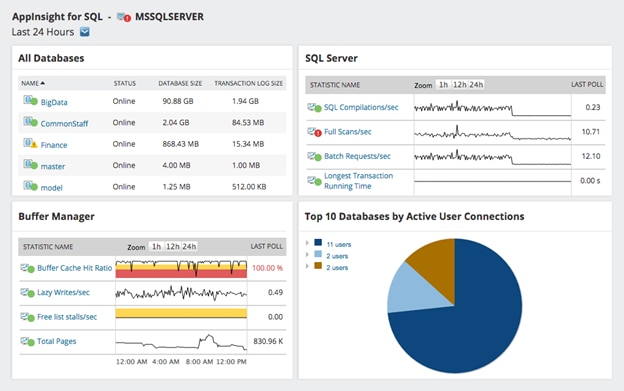 SAM is a comprehensive monitoring tool designed to provide end-to-end monitoring for your database in healthcare. Identify and troubleshoot performance issues before collaborators are impacted to prevent the spread of misinformation, which could negatively affect patient care. In my opinion, this software will be useful for administrators of small and large computer networks. I was able to monitor the status of individual workstations, make inventory of hardware and software, also monitor the efficiency of databases (thanks to easy integration with previously described DPA and DPM) and computer network infrastructure. SAM gives you the ability to analyze the performance of your entire computing environment, and in the case of computerized medical services, the efficiency and availability of computer infrastructure is critical to the operation of any medical organization.
Besides helping with healthcare data exchanges, transactions, and other operations, SAM is built to leverage automation tools that help you monitor your healthcare database environment. Schedule performance report deliveries, plus automatically discover new servers and applications brought into your databases across healthcare systems.
SAM is designed to work on Microsoft applications, systems, hypervisors, and IaaS (infrastructure as a service), PaaS (platform as a service), and SaaS products. This includes Azure and AWS, Active Directory, SQL Server, Exchange, IIS, Docker, Mesos, and more. SAM also enables you to monitor healthcare metrics through on-premises, cloud-hosted, or hybrid environments from the same database monitoring tool.
Get cross-stack data correlation on common timelines with drag-and-drop capabilities, which can help you easily spot and identify root sources of database performance issues. SAM is designed to take these cross-correlations and establish thresholds, enabling you to get alerts for network latency, packet loss, and other healthcare metrics. Thresholds can also be used to set warnings, trigger alarms, and check maps for real-time statistics.
Maps generated by SAM are built to monitor incoming network traffic, current network connections, and physical and logical relationships. Reference these visualizations to gain insights into your healthcare database servers to determine up/downtime, resource usage, and other critical current information. These maps could be interactive across your database in healthcare for ultimate connectivity.
With over a thousand application monitoring templates, SolarWinds SAM enables you to customize server monitoring while automatically discovering and mapping complex environments. Access all this and more on a single interface that easily allows for modifications as your healthcare database management systems evolve. You can access a 30-day free trial of SAM today.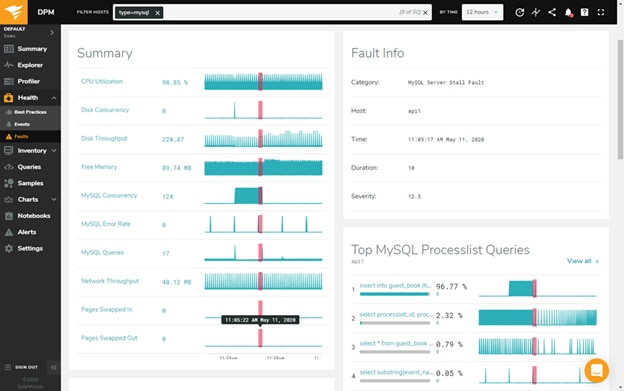 If you need a database performance monitoring tool that works well with NoSQL databases (like MongoDB or PostgreSQL), I especially like the ease of use Database Performance Monitor offers. DPM enables you to gain deep insights into your databases in healthcare through easy-to-use dashboards. These dashboards are designed to visualize thousands of database metrics collected by DPM—watch, track, and monitor these metrics in real time to discover trends and outliers.
DPM dashboards can support recommendations based on best practices to help you further improve healthcare database performance and management. These dashboards are also designed for customizability, enabling you to share DPM views with teammates using common languages, formats, and templates.
While working with this tool, I noticed DPM is built to give administrators the ability to access database monitoring around the clock. Because DPM enables us to monitor databases in the cloud, locally, or hybrid, you can access your database in healthcare anytime, anywhere. A combination of alerts and events supported by DPM is designed to inform of any abnormalities in your database, so it's easy to begin troubleshooting related issues right away and find the root source of the problem.
DPM offers accessibility alongside enterprise security features, including role-based access control and single sign-on capability, for simple yet safe healthcare integrations between team members and new technologies. Improve team productivity with real-time visibility, which helps ensure everyone is on the same page at the same time—metaphorically and literally. Thanks to DPM, team work on database optimization can be easily organized. This helpful feature has helped me save a lot of time planning the team's work.
Access historical performance data to study past events and catch similar future problems before they escalate. Zoom into any problem at any point, historical or real-time, to view more specific critical details and aid problem-solving and root cause analysis. DPM could also help you with capacity planning and scalability, so you can scale up when necessary.
Exploring your healthcare database performance with SolarWinds DPM lets you easily gather in-depth information and share it with other healthcare professionals. Ensuring accuracy and simplicity throughout your databases throughout healthcare systems is essential and can be achieved with help from DPM. In this case, I recommend this solution for users of NoSQL databases and users of cloud-based databases looking for SaaS tools. DPM is suitable for monitoring the performance of medical databases no matter what their size or number of users. Start a 14-day free trial of DPM today, or see how this tool looks and works in an interactive demo on the SolarWinds website.