Transmitting files within Linux systems or from Linux to other operating systems can be a crucial daily business operation. You need a compatible tool for the transfer to ensure files are protected while in transit. The best way to perform a safe file sharing is to use a secure file transfer protocol (FTP) client for Linux. An FTP client is built to safely transmit files from one place to another, while usually offering other features for FTP file transfer and management.
At the bottom of this article, I'll share my top five best FTP clients for Linux. If you can't wait for the answers, my number one FTP client for Linux is SolarWinds® Serv-U® Managed File Transfer (MFT). Serv-U MFT is a comprehensive, easy-to-use FTP client with support for all kinds of file transfers and other opportunities for FTP server optimization. Download a 14-day free trial of Serv-U MFT today.
What Is a Linux FTP Client?
Before we dive into the topic, let's go over FTP. FTP, or File Transfer Protocol, is a popular way to transfer files to and from network devices. FTP is best for transferring large volumes of data, so it's commonly used by website designers, programmers, and owners. A large downside of FTP connection is its lack of visibility, protection, and control over files in transit. Many IT administrators use an FTP client, which connects to the FTP server and enables users to efficiently send and receive files.
FTP clients are programs designed to move files between two operating systems, such as computers or databases, with proper safety measures in place. Users can upload, download, copy, move, rename, and delete files all through remote access. FTP clients often support simple user interfaces, such as drag-and-drop capabilities, which promote easy file transfers alongside standard security protocols. Many of them can be used with Linux, which is a popular open-source operating system.
There are a few qualities you should consider when choosing a secure FTP client for Linux:
Encryption method support
File integrity checks
Command-line scheduling
Connection limits
Synchronization and backups
Logging capabilities
It can be challenging to determine which FTP client is right for you and your organization, so I've listed my top five solutions for use with Linux, starting with my number one choice.
Top 5 FTP clients for Linux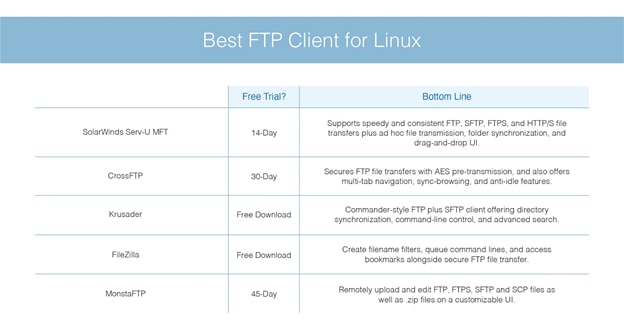 SolarWinds Serv-U Managed File Transfer (MFT) is built to support fast, reliable FTP file transmissions as well as FTPS, SFTP, and HTTP/S file transfer. With automated FTP command lines and centralized file transfer management, Serv-U helps you ensure safe and speedy FTP file transmission. Serv-U MFT is also designed to support peer-to-peer file sharing from web and mobile devices, allowing for ad hoc file sharing. No matter the time or place, you can transfer files instantly using drag-and-drop on all database, web, and mobile interfaces.
Serv-U MFT is highly scalable and integrates seamlessly with many other applications for easy storage and task operations. On Linux, Serv-U MFT supports Red Hat Enterprise Linux (RHEL), Fedora 34, Ubuntu 16.04, CentOs 7.2, and OpenSUSE 42.1—besides Linux, you can run Serv-U MFT on Microsoft Windows, LDAP server, or other databases. Like all SolarWinds products, Serv-U MFT is designed to maintain compliance with PCI DSS, HIPAA, FISMA, SOX, and other data transit security standards. This enables you to send FTP files with peace of mind, knowing they're compliant and protected.
When using Serv-U MFT, quickly and reliably send files as large as 3GB across platforms. Serv-U also supports folder synchronization, which automatically syncs FTP files to two different locations. This increases file sharing security, streamlines operations, and aids system logging management. Installing Serv-U MFT onto Linux is a simple process, and easy to add-on security features like Serv-U Gateway. There's a 14-day free trial of Serv-U MFT available for download.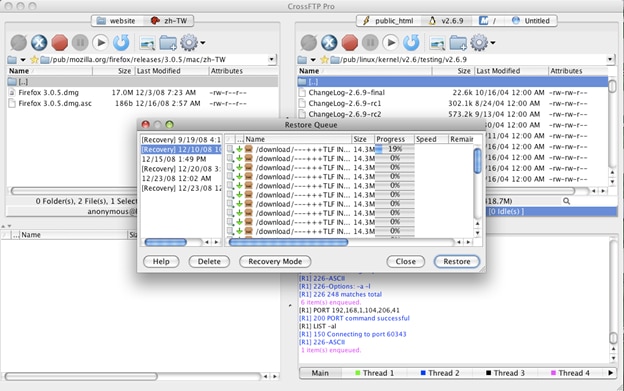 CrossFTP is an extensive FTP solution, enabling you to schedule your transfer and synchronization tasks. Designed with a turbo engine, CrossFTP offers auto-reconnect and anti-idle features to help save you time, money, and FTP server resources. CrossFTP also supports a speed limit that grants bandwidth to other programs, helping ensure your FTP client and FTP server remain balanced with other network operations.
CrossFTP is designed to transfer FTP, SFTP, and FTPS files as well as FXP, or site-to-site, file sharing, allowing you go server-to-server with your FTP transfers. All file transfers are encrypted with qAES algorithm pre-transmission. Edit files, even remote graph files, in any application with help from CrossFTP. CrossFTP supports multi-tab navigation and sync-browsing, which enables you to bind two tabs, so they travel everywhere together.
Although CrossFTP offers some customizable commands, the UI is basic and can't perform CHMOD functions on Linux. However, CrossFTP does support WebDav. CrossFTP is free, but limited—the Pro and Enterprise versions offer full features like synchronization, remote file search, and multi-part upload. Compare features and download 30-day free trials of Pro and Enterprise here.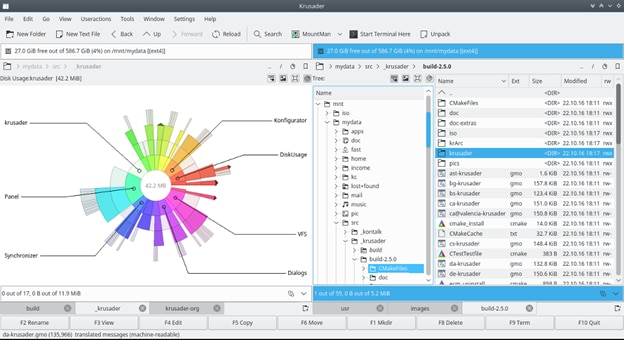 Krusader is an advanced twin panel FTP client, also known as a commander-style FTP client. Its customizable, user-friendly interface is functional and clear and enables SFTP file transfers along with FTP file transmission. Krusader also supports directory synchronization for even more security.
Krusader enables you to support multiple panels and folders simultaneously, rename batches, compare file content, and handle archives using predefined formats. Krusader has a built-in advanced search module, making it easy to find files on your FTP server and copy and move queues in your FTP command lines. Just make sure you don't queue long-running operations in a parallel way, as this can dramatically decrease transmission speed.
There are multiple download options available, including Krusader on Linux via AppStream.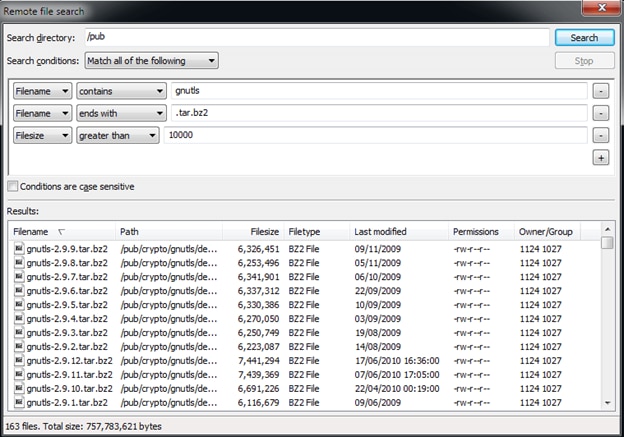 FileZilla is a cross-platform FTP solution with support for FTP transfer on Linux, Windows, and Mac OS X. FileZilla enables you to send and receive large files remotely, as well as edit files through remote access of your FTP server. FileZilla is also designed to let you create filename filters, queue file transfer operations, and access bookmarks for convenience. Its intuitive graphical UI also contains convenience features like tabs and drag-and-drop support, which allow for easy file transmission across user skill levels.
FileZilla is built to log data and support directory comparison plus directory synchronization, enabling you to easily access and understand crucial FTP connections. While FileZilla connects to Linux operating systems, it can't delete text on Linux. This greatly affects user experience, command lines, and other FTP operations. Download a free version of FileZilla for Linux, Mac OS X, and more operating systems here.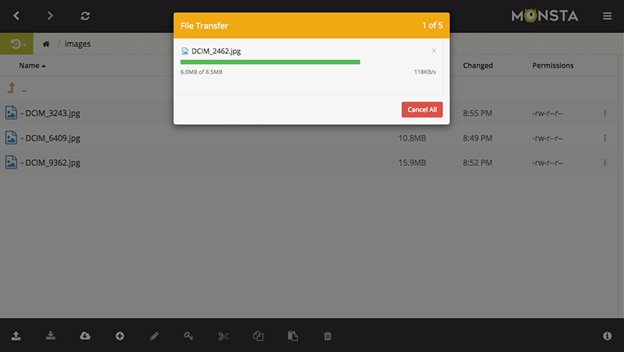 MonstaFTP is a PHP and JavaScript-based application, enabling it to run on Linux and other OSs as well as a web browser. When used as a website, MonstaFTP effectively makes your browser the FTP client. This requires a network server administrator to aid set up, so MonstaFTP isn't ideal for every situation. However, its capabilities have earned it a place on this list.
MonstaFTP supports FTP, FTPS, SFTP and SCP file transfers and offers insight into their metrics. MonstaFTP is also designed to let you upload and extract .zip files on the server side, enabling users to access critical files anywhere and anytime. Edit files on screen and customize the MonstaFTP UI, including the option to drag and drop files on Windows Explorer. MonstaFTP also lets you rebrand the software, letting you provide your business partners with an FTP. This could dramatically improve end-user experience and open up opportunities.
There are three tiers of MonstaFTP: Lite, Business, and Host. Business and Host are pay-per-year programs, but you can access a 45-day free trial of each program as well as a demo of MonstaFTP.
Concluding Thoughts on Linux FTP Clients
For me, the best FTP Client for Linux is SolarWinds Serv-U MFT. With no processor or core limits, Serv-U MFT's immense scalability enables you to integrate with NAS, SAN, and external databases like Linux for simple deployments and storage access. Serv-U MFT is designed to enhance file sharing security for FTP, FTPS, SFTP, and HTTP/S, and transmit files no matter the time or place. Download a full-featured 14-day free trial of Serv-U MFT today.