Network management is essentially the process of setting up, administering, and troubleshooting a network, whether for home or business purposes. The purpose of network management is to ensure that the IT side of a business is set up in a resilient, sensible way, which can minimize disruptions, ensure high performance, and help you avoid security issues.
However, business networks are often fairly large and complex, which means the set of tasks a network administrator will need to perform can quickly overwhelm manual efforts. So, how do you manage a network? Is there a difference between centralized and decentralized network management? In this guide, I define the broader term network management, discuss industry best practices, go over the importance of centralized network management, and how behind the best network management strategies you'll find the best network monitoring software.
Understanding network management and choosing the right tools is vital for keeping your network—and the overall business—healthy and functioning, which is why I'm also providing in-depth feature reviews for two of the leading network tools currently on the market from SolarWinds—Network Performance Monitor and IP Address Manager—to help you understand what type of tool may be best suited for your business needs.
What is Network Management?
Best Network Management Tools
Network Management Best Practices
Centralized vs. Decentralized Network Management
What is Network Management?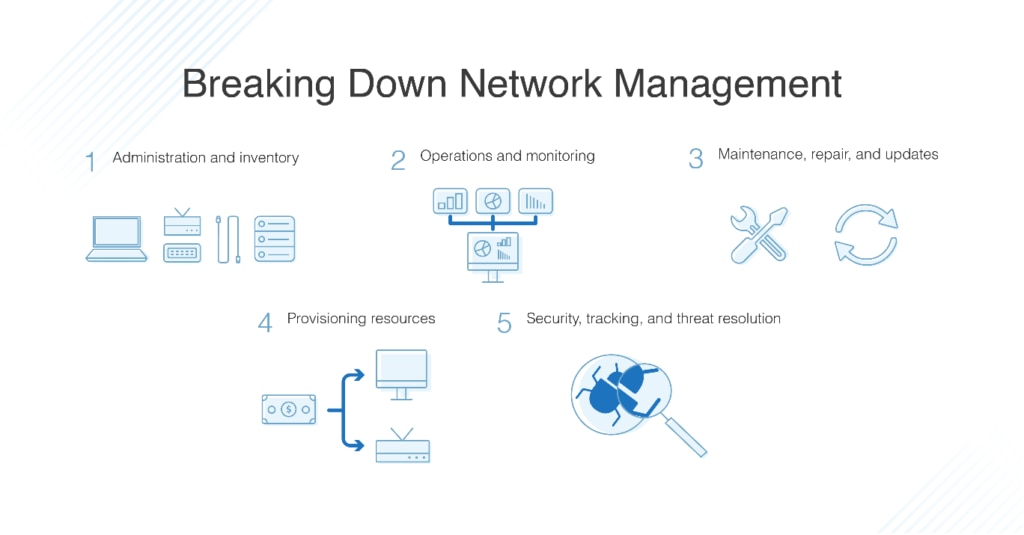 If you're new to this topic, you may have a number of questions about how to manage networks, as it's a broad category that encompasses numerous, different tasks. Put simply, there are five main areas that should be part of any effective network management system. There can be some overlap between these categories, but the general breakdown is as follows:
Network Administration – Administration of a network includes keeping an inventory of network resources and equipment, including cables, hubs, routers, servers, and computers. In addition, it can mean setting up networks, monitoring their performance, and updating and troubleshooting software. It also involves setting up network management tools, operating systems, and software used across the entire network.
Network Operation – Operations is all about keeping the network running smoothly and without problems. It includes monitoring the network for performance problems and faults, as well as fixing problems before they affect end users, or at least in the timeliest manner possible.
Network Maintenance – Maintenance includes the repair and upgrade of network equipment (including routers, transmission cables, servers, workstations, and switches). It also involves updating and patching software on an ongoing basis, along with implementing preventative policies, updating access control measures, and improving faulty configurations.
Network Provisioning – The provisioning task is all about allocating and configuring network resources to best suit a particular service or need. For example, a project may have a lot of people coming in from offsite, which could increase the need for broadband. If a team needs extra storage space or file transfer capabilities, the responsibility falls on IT. The network administrator works to provide resources to meet the growing and changing needs of the business.
Network Security – Keeping a network secure is important for the network to function in a healthy way to fulfill the needs of the business. This involves installing and maintaining network protection software, monitoring IP and network behavior, tracking endpoint devices, and quickly resolving security issues or breaches.
What Tools Help With Network Management?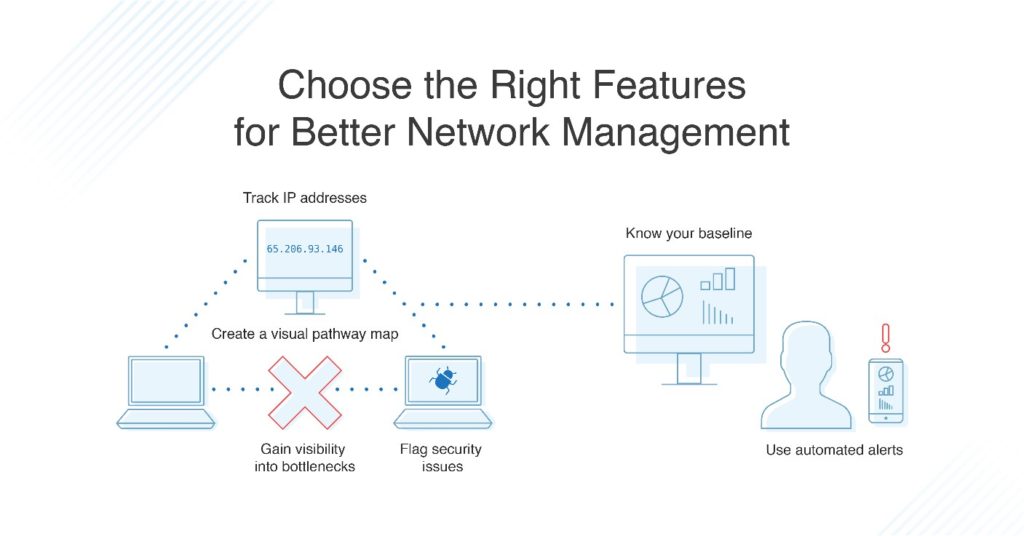 Using tools to help with network management ensures you don't miss issues that could take down your systems or impact quality of service. Network management programs also help to ensure once an issue is flagged, you can troubleshoot it promptly with a solid resolution.
Your best bet is to use a designated network performance monitor, for example, Network Performance Monitor (NPM) from SolarWinds. As a network scales, it becomes harder and harder to visualize the network in your mind. Many network monitoring tools construct visual maps for you, so you can see the entire network and how it's laid out. These tools may use the SNMP protocol (or similar) to track packet paths and provide a granular look into network traffic. This kind of deep packet inspection is a proven and effective way to understand network activity more closely. Or you can manage Wi-Fi connectivity with a device heat map.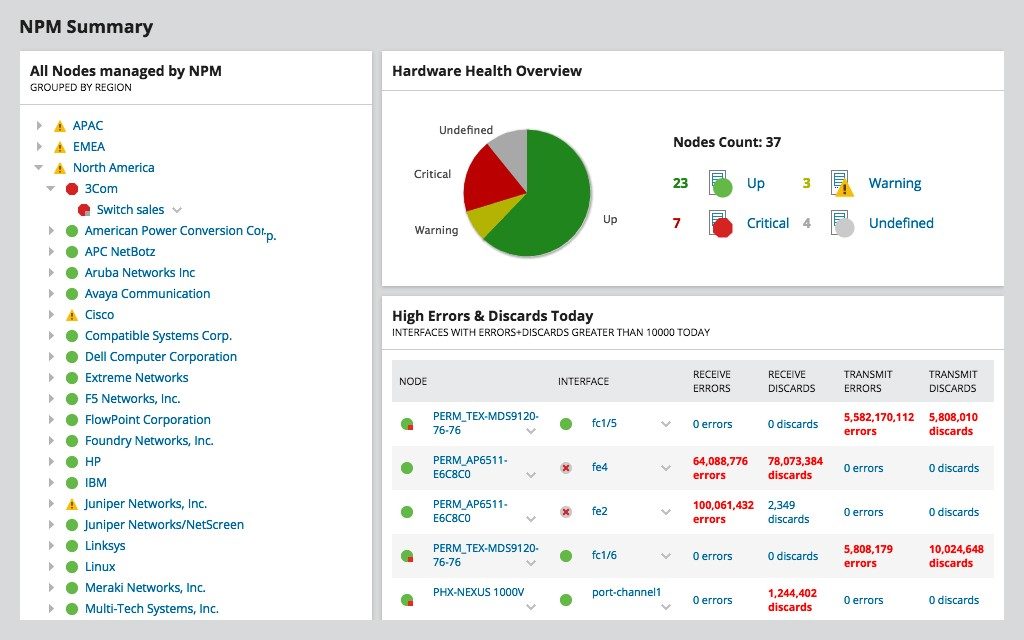 With a packet-level tool, it's easier to troubleshoot problems or pinpoint slowdowns, and with a visual map of packet paths, you can navigate more quickly through the network to where the issue is. Many of these network performance monitoring tools will also include troubleshooting features so you can find and fix problems in a centralized way.
Configuration management tools also help you with setting up and configuring your network, even with complicated or changing network topologies. These kinds of tools allow you to deploy software across the entire network and ensure the network is configured in the right way for compliance and regulatory requirements, with appropriate security measures in place.
Of course, network management is a task that's particularly relevant to MSPs. At the same time, in this environment, network management is a different beast than maintaining a single personal or business network.
As such, it can be worth your time to look for tools that simplify network management specifically for MSPs. For instance, N-able N-central helps you effortlessly monitor and manage your clients' networks remotely.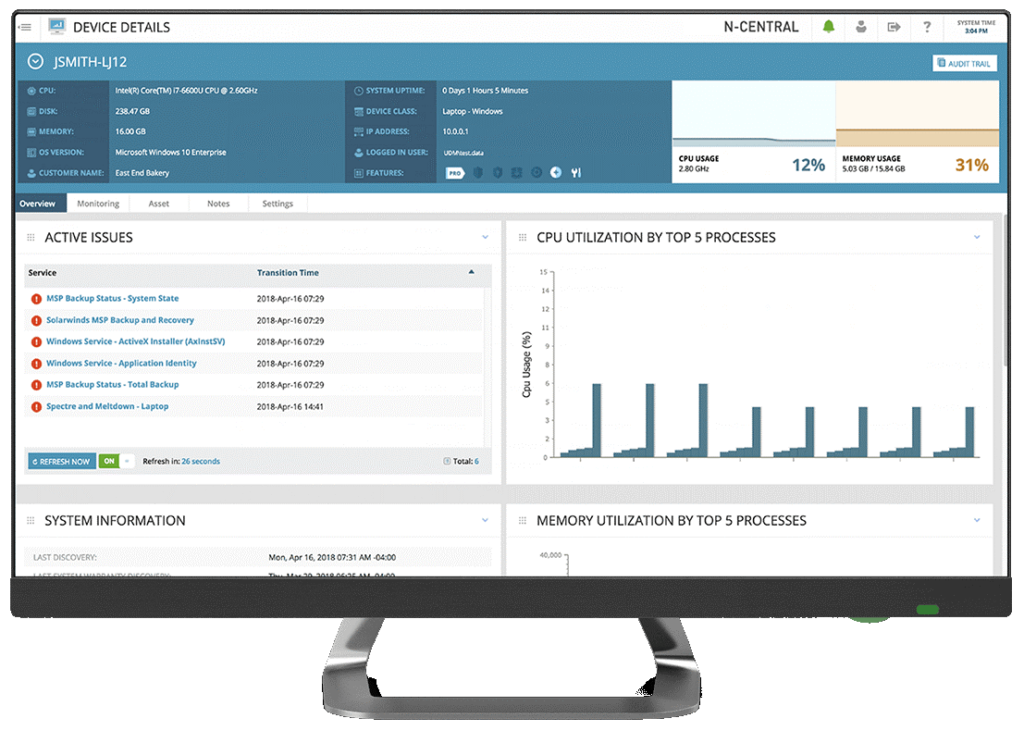 N-central is compatible with Windows, Mac, and Linux, making it an ideal choice if you have a diverse clientele. It enables you to monitor network, mobile device, and virtual machine performance—as well as perform maintenance and even automate key tasks.
Another tool you can look into is called IP address manager (IPAM), for example, the IP Address Manager (IPAM) solution from SolarWinds, which helps to ensure the IP addresses on your network are set up and allocated correctly.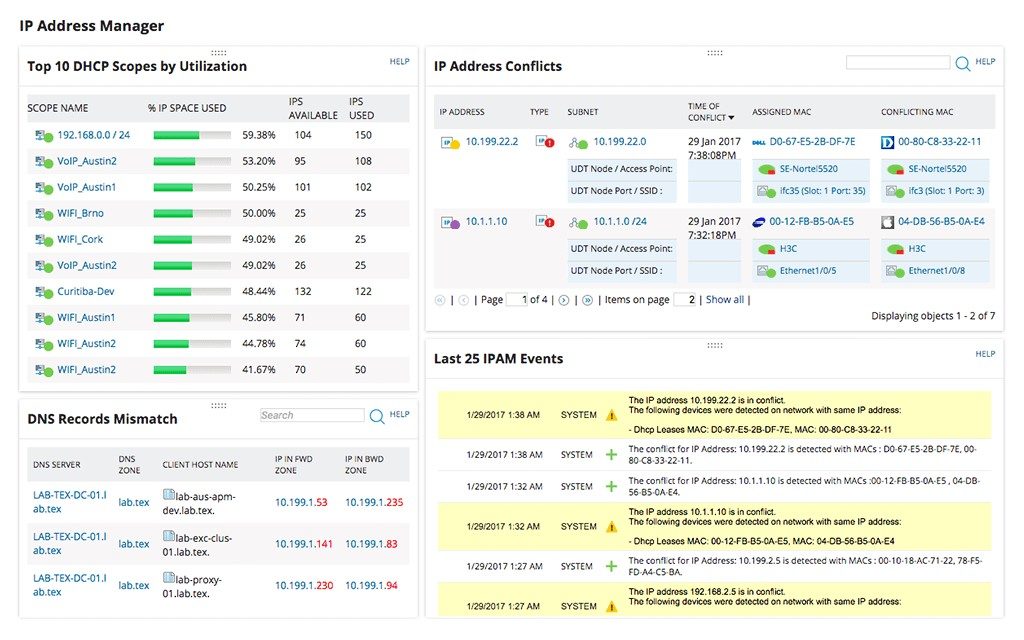 If your network is quickly growing or changing, you may find blocks of IPs aren't used anymore (from decommissioned machines or devices), and this kind of tool can help you to discover these and reclaim them for use. It can also ensure that IP address behavior remains constant, and alerts can be set up if IP address or network behavior changes or becomes alarming.
Finally, debugging and security tools are necessary to keep your network healthy, particularly if you keep sensitive, vital, or proprietary information on your servers. Ensure you use security and virus protection software on your servers and networks to keep your network protected from attacks and malware. Using alerts on your network performance manager, IP address manager, and security tools can help flag unexpected behavior to keep your networks secure and functioning well.
Best Practices for Network Management
Admins must approach network management with an effective strategy and a suite of tools to allow you to do everything in one place. In this way, you have a better overall picture of your network, which makes it easier to track performance issues, spot security issues as soon as they arise, and perform more network-wide tasks automatically, rather than addressing each device individually. This reduces the downtime or potential downtime for your network, which maximizes the use of your time. There are a number of best practices you can follow to ensure your network is always in good shape.
Know Your Network – Understanding how your network normally behaves can help you to quickly spot any abnormalities or issues, which will help you to resolve them faster. Having clear baselines in your network management software can also help you to set appropriate alerts for when something goes beyond the normal range of expected behavior.
Appropriate Escalation Protocols – The next step when a problem arises is to make sure the right person is notified of and aware of the issue. Having one person responsible for security, another for firewalls and another for systems or virtualization can help to speed up the resolution in each of these areas.
Layered Breakdowns – Make sure whatever network monitoring or management software you're using can provide information and troubleshooting at each layer of the network (e.g., physical cables, IP address issues, transport protocol issues, etc.). This allows issues to be resolved quickly.
Failover Protection – When you use network management and monitoring software, it's normally installed on the network you are managing. This means when a problem with the network arises, the network management system can go down, too. The network should be structured in such a way the server or point at which the monitoring system is installed is accessible even in the event of a major network failure in another part of the network.
Appropriate Growth Planning – When you set up a network for your organization, always plan for it to grow. If you haven't planned for the network capacity to increase, you'll run into problems later when you try to expand the network. Use monitoring systems to ensure your network is running well within capacity and look at components that may need to be extended in the near-term future.
Centralized vs. Decentralized Network Management
Centralized and decentralized networks refer to two differing philosophies for how to best create manageable, effective networks. Most businesses will, in fact, lie somewhere in between these two models, with elements of both. 
Centralized network management refers to managing a network built around a single server. This central server handles major processing, while workstations with lower compute capabilities can run applications, data storage, and utility requests through that server. This approach is generally efficient and affordable—with only one central server, it's easier to keep machines patched and track data as needed. This can be necessary for industry-specific compliance purposes, like HIPAA. On the other hand, if the server goes down, so does the entire network. And while using a single server is cost-effective, trying to scale by adding more storage, processing power, or bandwidth can increase costs.
Decentralized network management, on the other hand, refers to the management of an increasingly common form of the network—the decentralized network. This configuration is generally used for more efficiency and flexibility, as it allows departments to select the equipment they really need, with less baked-in redundancy. With a decentralized network, there's no one single point of failure, because individual workstations don't rely on one central server. And because data does not pass through a single centralized point, it's harder to track—therefore potentially allowing for greater privacy (which may not be appropriate for compliance-related purposes). It's also easier to add overall network compute power to a decentralized network—admins can simply add more workstations. On the other hand, it can cost more to add and maintain these machines, compared with relying on one server.
Network Management Doesn't Need to Be Hard
While managing a complex, large network might sound difficult, you'll be well on your way to running everything smoothly by understanding the basics of how a network functions. Automating parts of your network by making use of network configuration and performance managers, IP address managers, and security tools can free up time for more urgent matters. They'll also help ensure you keep your network in top shape and free from issues that could affect your business quality of service.