Both MySQL and Microsoft SQL Server (MSSQL) are widely used enterprise database systems. MySQL is an open-source relational database management system (RDBMS), while MSSQL Server is a Microsoft-developed RDBMS. Enterprises can choose between multiple MSSQL Server editions to suit their individual needs and budgets. Savvy programmers and database administrators (DBAs) should think carefully about the difference between MSSQL and SQL Server before making their decision, to ensure they choose the right RDBMS for their requirements.
This guide will consider the difference between MySQL and Microsoft SQL Server, in addition to making a detailed MySQL vs. MSSQL performance comparison. If you're looking for reliable database performance monitoring and analysis tools, you should consider SolarWinds® Database Performance Analyzer and SQL Sentry as industry-leading solutions.
---
MySQL vs SQL Server
SQL is the ideal language of choice for relational databases, whether you want to retrieve, edit, or store your data—which is how dynamic applications and websites perform practically every user request. Before engaging in a more nuanced MySQL vs. MSSQL performance comparison, let's first look at some of the basic similarities and differences between MSSQL and MySQL Server.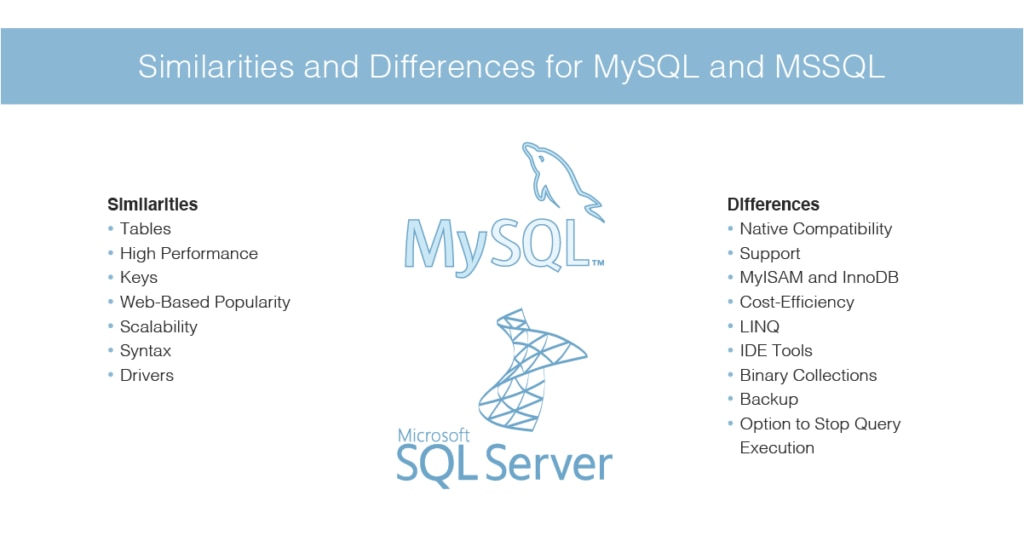 Similarities Between MySQL and SQL Server
As both MSSQL and MySQL are relational databases, there are several similarities. Most developers, however, specialize in either one or the other. Although MSSQL and MySQL seem similar, their underlying architecture differs. Here are the key similarities you should know.
Both platforms use the standard relational database table model for storing data in columns and rows.
Your database is the backbone of your applications, responsible for storing and returning data as quickly as possible. Both MySQL and MSSQL offer high-performance speed.
Both platforms use primary and foreign keys to establish the relationships between tables.
With the exception of Oracle, MySQL and MSSQL are the most common databases for use with web applications. When you sign up for hosting, you're usually given the choice between MSSQL and MySQL.
Both platforms can scale with your company as it grows. They're suitable for small and large projects and can support millions of transactions every day.
The syntax of these two database platforms is similar, although you should expect some small differences across varying CRUD (create, read, update, delete) statements.
Fortunately, you can find connection drivers for almost any popular language just by searching the web. This allows you to easily connect to both MySQL and MSSQL without the need for complicated coding.
MSSQL Server was introduced in 1989, while MySQL was introduced in 1995 as an open-source project. This makes MSSQL several years older than MySQL. As both solutions have been in production for more than two decades, they both have a strong foothold in the market. MySQL can run on either Linux or Windows, usually as part of a LAMP environment. MSSQL runs on Windows and is usually part of a Windows environment.
Both MySQL and MSSQL can handle small and large software projects, so users should anticipate similar performance levels. No matter which of these servers you choose, performance will primarily rely on your DBA's ability to optimize queries and code.
Differences Between MSSQL and MySQL Server
Although these platforms are similar, especially in relation to interface and basic relational database standards, they operate very differently. Most of these differences are accounted for by the underlying architecture and happen in the background, which means they often go unnoticed by the average user. It's important, however, for DBAs to understand these differences because they play a significant role in your decision-making process.
SQL Server was originally developed exclusively for the Windows operating system by Microsoft. Microsoft has recently made RDBMS available on both Mac OS X and Linux. This gives enterprises the option of running the database system on three separate platforms. Unfortunately, users still lack the option to use certain capabilities while running SQL Server on Mac OS X or Linux. MySQL, on the other hand, can run smoothly on multiple popular operating systems, including Linux, Mac OS X, and Windows.
Both MySQL and MSSQL support multiple programming languages, including Java, C++, PHP, Ruby, Python, Delphi, Visual Basic, Go, and R. MySQL supports additional languages like Tcl, Scheme, Perl, Eiffel, and Haskel. Because MySQL is so versatile in its support for programming languages, it's popular among many developer communities. While you can use both database types for Windows and Linux projects, MySQL works natively with PHP, and MSSQL is mainly used with .NET. Integration is simpler if you use MySQL for PHP and MSSQL for Windows projects.
These engines are configurations for MySQL, which allow the developer to perform an array of design and programming activities. MSSQL doesn't allow you to specify different engines when you create a database.
MySQL is free and open-source, although you'll have to pay for support if you require it. MSSQL is more expensive to run, because you'll need licenses for the server running the software.
MSSQL allows you to set up your entity framework classes in .NET, meaning you can get started with LINQ queries. With MySQL, you'd need to download third-party tools if you wanted to use .NET.
Both MySQL and MSSQL have IDE tools, but you'll need to match the right tool with the appropriate server. MySQL has Enterprise Manager and MSSQL uses Management Studio. These tools allow you to connect with the server and manage configurations for architecture, security, and table design.
MSSQL and MySQL are designed as binary collections. MySQL allows developers to use binaries to manipulate database files even while running. Database files can also be accessed and manipulated by alternative processes at runtime. Conversely, MSSQL doesn't allow any process to manipulate or access binaries or database files. If you wanted to achieve this, you would need to run an instance. This eliminates the opportunity for hackers to access or directly manipulate data. As such, MSSQL is more secure than MySQL.
If you're using MySQL, you'll need to back up data by extracting it as SQL statements. The RDBMS provides a tool to block the database while data is being backed up. This feature minimizes the chance of data corruption occurring while switching between MySQL versions or editions. The downside is this makes data restoration a time-consuming process, because it requires executing multiple SQL statements. MSSQL doesn't block the database while backing up data, enabling users to backup and restore mass amounts of data with minimal effort.
Option to Stop Query Execution
MySQL doesn't let users kill or cancel a query once it starts running. To stop the SQL query execution, users have to kill the complete process. MSSQL users can truncate a database query while it's running without killing the complete process. Moreover, MSSQL uses a transactional engine to maintain a consistent state. This gives MSSQL a notable advantage over MySQL.
Choosing the Right Database Monitoring and Analysis Tools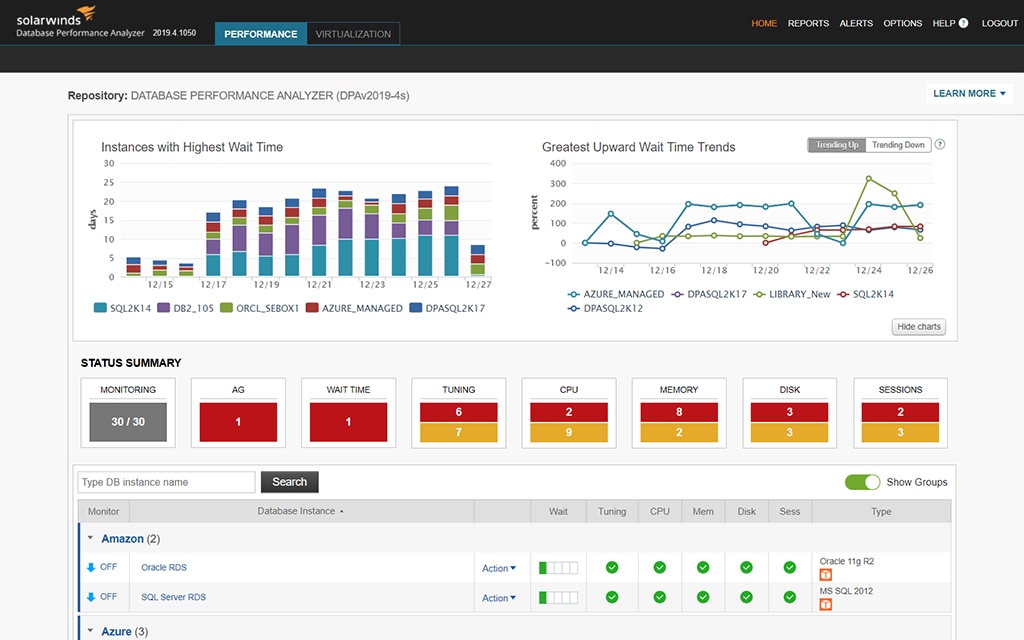 SolarWinds DPA gives you access to response time analytics, helping you correlate activity, wait types, SQL statements, and other dimensions for both MySQL and MSSQL. It provides detailed insight into plans, queries, resources, changes, wait times, and historical analysis, helping you pinpoint the root cause of bottlenecks. DPA's agentless architecture is safe to use in development, test, and production, and in virtualized and cloud environments. It features an easy-to-use web-based interface that allows teams to collaborate with maximum efficiency. As a MSSQL and MySQL performance monitoring tool, DPA provides multi-dimensional performance analysis through a user-friendly interface. You can start with a 14-day free trial of DPA.
SQL Sentry is designed to help you tackle performance issues in SQL clusters more easily. While it can be difficult to troubleshoot the issues after they have occurred, SQL Sentry allows users to review performance over a period of time and identify when the issue occurred and troubleshoot it immediately.
© 2023 SolarWinds Worldwide, LLC. All rights reserved.
SQL Sentry can allow you to:
Monitor SQL Server running in physical, virtual, and cloud environments, such as Azure®
SQL Database, SQL Server Analysis Services (SSAS), and Windows® and VMware® hosts
See historical analysis of performance counters with the ability to go back in time or over a range to see changes in the SQL Server
Review top SQL and blocking at specific moments in time, including what queries are running and historical blocking
SQL Sentry is available in a 14-day free trial.
DPM is a MySQL performance monitoring solution that puts all the performance data you need at your fingertips, enabling you to measure latency, errors, throughput, warnings, execution plans, and much more. With this solution, you can gain insight into every query executed, in microsecond resolution. DPM monitors and classifies multi-dimensional data on every user, query, process, database, CPU, disk, and other key system components. It can capture more than 10,000 metrics per second from every system it monitors.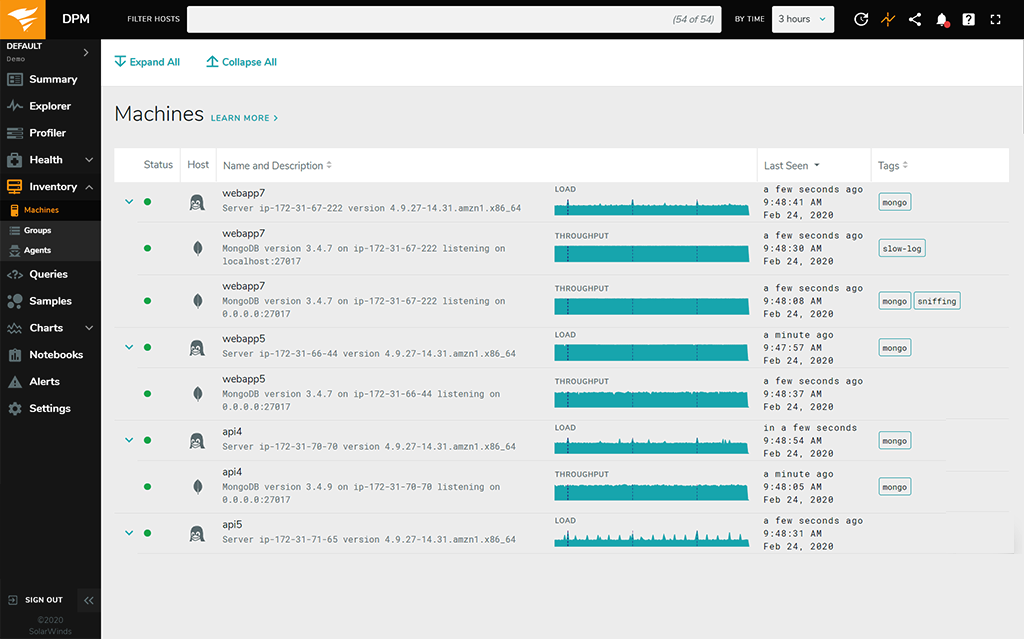 As a cloud-based monitoring system, DPM doesn't require you to provision, buy, or maintain anything. The tool is upgraded continuously, giving you automatic access to new features. DPM's agent auto-discovers every component, making installation a breeze. Agents are passive and rely on a range of techniques, including inspection of system views and network traffic capture. With at-rest and in-flight data encryption, agents are highly secure.
DPM features a state-of-the-art big data analytics platform with regression analysis and queueing theory to deliver in-depth insight into the relationship between CPU, I/O, queries, and more. This tool also includes adaptive fault detection technology capable of finding small interruptions to server or service availability, such as micro-fine server stalls. A 14-day free trial of DPM is available.
Getting Started With Database Monitoring
Both SQL Sentry and SolarWinds DPA are easy to use, navigate, and maintain. The SolarWinds support community is accessible via the THWACK® community and you get 24/7 access to SolarWinds support technicians if you run into trouble. If you still aren't sure which of these tools is right for you, take advantage of the free trials available and give them both a try.