Once upon a time, "server monitoring" was a delightfully straightforward category of the monitoring sub-discipline within IT. There was a box, the box had an operating system, and that operating system did certain things for the organization. Even when the word server became conflated to mean both "the box in the data center" and "the function I need that box to do"—such as a print server or a file server—it was still easy to figure out what was needed and find or create server monitoring software that would tell us if those functions were performing well.
Alas, time marched on and terms became ever-more intertwined: when monitoring the Exchange server, is our focus on the machine, the foundational components such as storage, the Exchange application itself, or the users' experience of that application? Or all of the above?
Today, the disintermediation of cloud means that it's hard to know where the application ends and the hardware begins, and if we should even care (spoiler alert: yes, you should). However, the good news is that server monitoring software has kept pace with the ever-changing landscape, and there is an embarrassment of riches for we who do the hard work as gatekeepers of observability in our environments.
After doing a bit of digging, some research, and no small amount of testing, it's become clear to me that this is less about finding the "best all-around server monitoring software" as it is figuring out which tool is right for a specific use case, business niche, and budget.
That's what I'm doing in this post. I'm not going to try to list out each and every one of the open-source, free, freemium, or paid server monitoring tools out there. Instead, I'm going to look at a few of the most common use cases and offer up my best choice of server monitoring software in those categories. My hope is that this will help give you a leg-up on your own process, whether you are just starting to dig into finding a server monitoring software that meets your needs, or you already have one that you might have outgrown.
When it comes to a solution that combines a wide range of capabilities, the ability to scale from small shops to global enterprises, a support ecosystem that ensures you can expand horizontally into other technologies, and a price that—relative to what you're getting—is bargain basement, there's really only one choice: SolarWinds® Server and Application Monitor (SAM).
On top of that, SAM is easy to install and maintain, comes with over 1,200 pre-built application "templates," hundreds of reports, and an alerting engine that allows you not only to fire off an email, page, or ticket, but also respond automatically to events to try to resolve the issue before support staff gets involved.
Best Open-Source Server Monitoring Tool: Nagios Core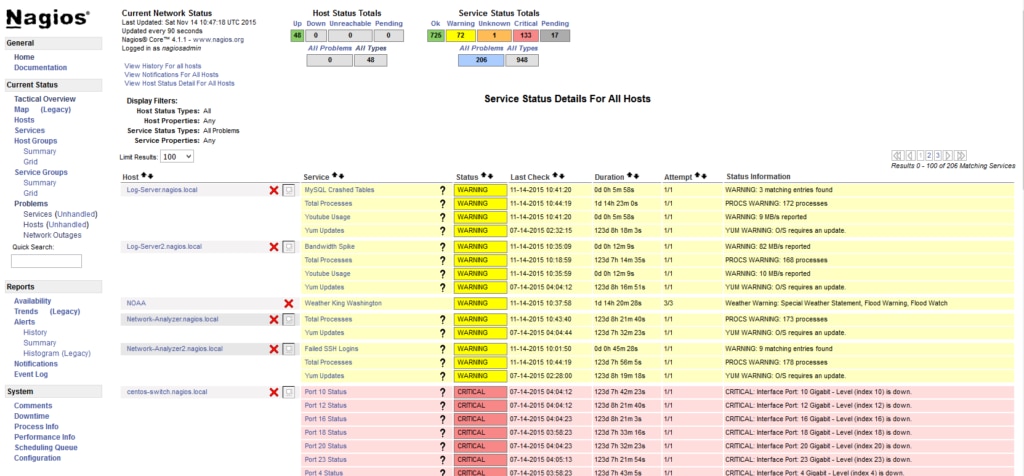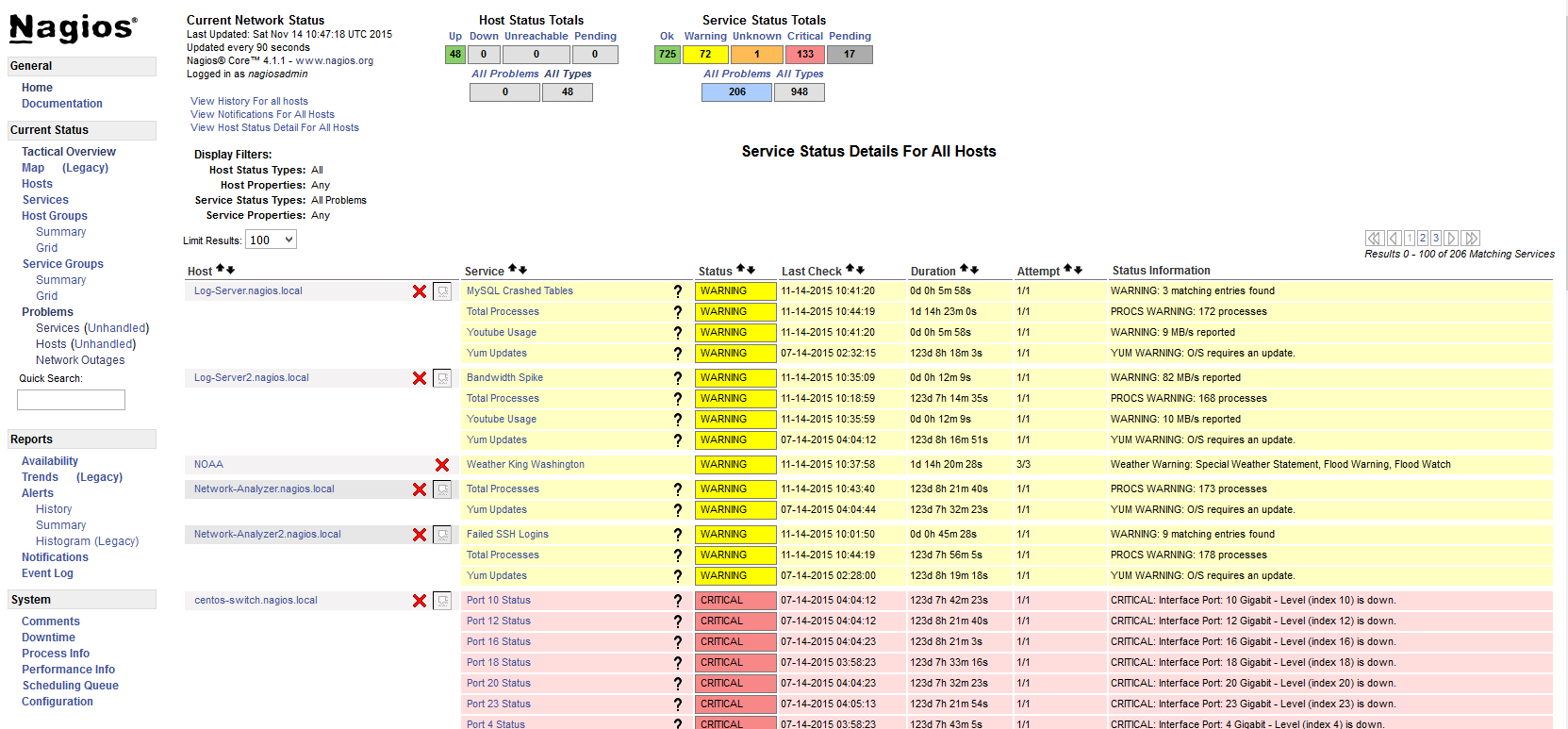 Sysadmins like Nagios because it does everything. Whatever it doesn't have can be built—or more likely, already has been built by the incredibly engaged Nagios community.
There are two versions of Nagios. Nagios Core is open-source and free, and Nagios XI is a commercial tool based on the Nagios Core but with added features. Nagios can be overwhelming for beginners as well as enterprises that don't have enough IT support staff, but it provides good server monitoring powers. For support, users can get help from the Nagios community, or opt for a commercial support package from Nagios Enterprise.
Best Server Monitoring Software for On-prem Virtualized Environments: Virtualization Manager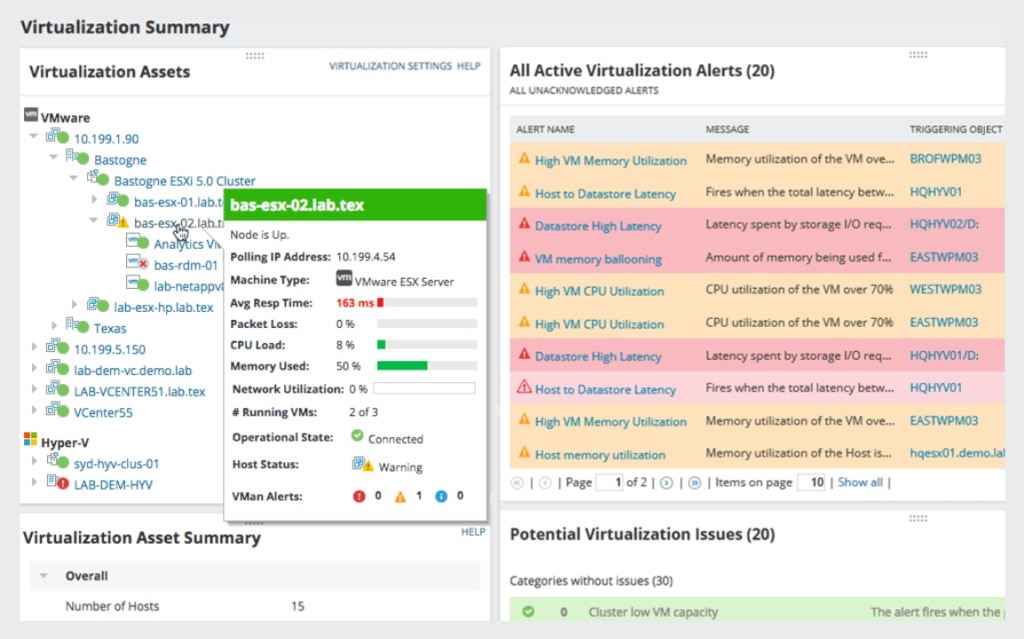 Despite all the talk of cloud migrations, there are still plenty of applications that, for one reason or another, have to remain with their feet (and servers) firmly planted on the ground in the on-premises data center. And for the most part, those applications are running in virtual machines that present their own challenges to monitoring. The obfuscation of real hardware from that presented to VMs, of instances which move from host to host as resources come into contention, and of the actual usage of systems versus their provisioned capacities can all but overwhelm IT staff.
SolarWinds Virtualization Manager monitoring helps resolve all that by tracking and displaying the relationship of data center to host to VM, the link between LUNs and the applications they serve, the status of storage resources that make up a vSAN, and the vMotions that occur during the day.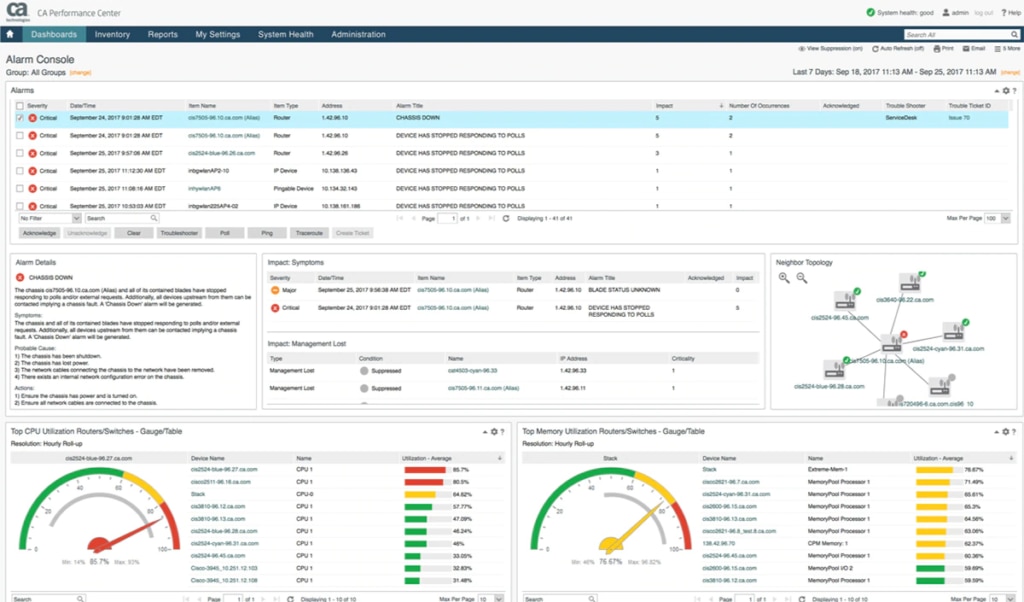 Believe it or not, there are still organizations that haven't begun their cloud compute migration. The reasons are valid and varied—security and audit requirements, budgetary concerns, skill gaps, and more—but the upshot is that many of today's server monitoring solutions are either outside those parameters or simply have features they don't need and don't use. I wanted to highlight CA Network Operations Analytics, one of the classic tools that formed the foundation of server monitoring when cloud wasn't even a glimmer in the eye of a DevOps unicorn.
Like similar products—IBM Tivoli and BMC Patrol come to mind—this tool is at the top end of the cost scale, and will require an investment in staff to install, configure, and operate. But once you get it running, the range of systems it can monitor and the list of applications it can surface performance metrics about is vast.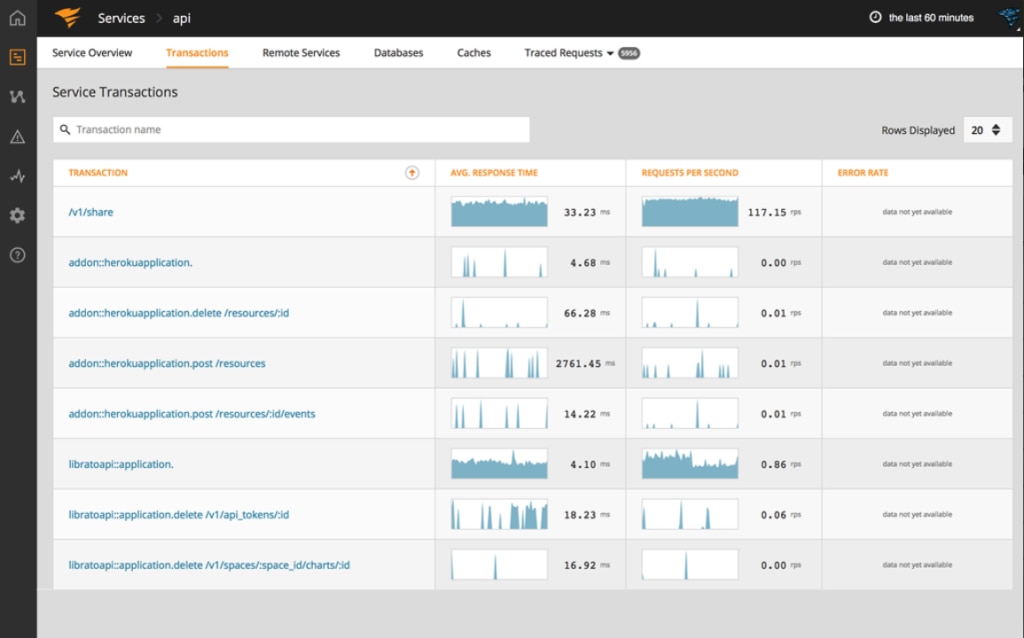 If your organization isn't cloud-native, but it's also not completely on-prem, what is it? Welcome to the weird twilight zone of hybrid IT, where you have systems and solutions in your data center, hosted in the cloud, and probably in other halfway solutions like "private cloud." In that case, what's a poor monitoring engineer to do? When you need to have all three pillars of observability (metrics, logs, and traces) AND you need to connect those pillars to multiple deployment platforms, the best server monitoring tool we've found is SolarWinds Application Performance Monitor. Built on the foundation of the previously-mentioned SAM, this extends your visibility to include tracing across the application stack.
Best Server Monitoring Tool for Beginners with No Budget: Spiceworks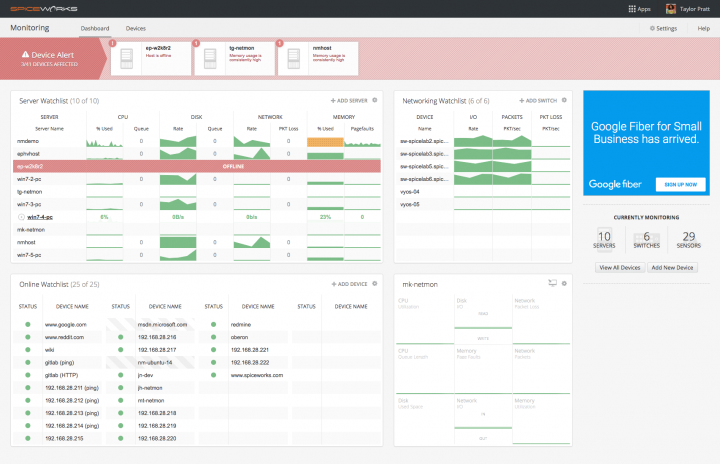 Built on agentless techniques like WMI (for Windows machines) and SNMP (for network and *nix systems), the Spiceworks free server monitoring tool can monitor servers, switches, SNMP devices, and services. You can also set up customizable notifications and restart services from within the app.
Best Server Monitoring Tool for Managed Services Providers: N-able N-central
Now let's look at something completely different. What if you're looking for a bigger and better solution—one that offers abundant features and all the tools you might need?
This is particularly relevant for MSPs and those in similar businesses. You need something robust that's still easy to use, which is where N-able N-central comes into the picture.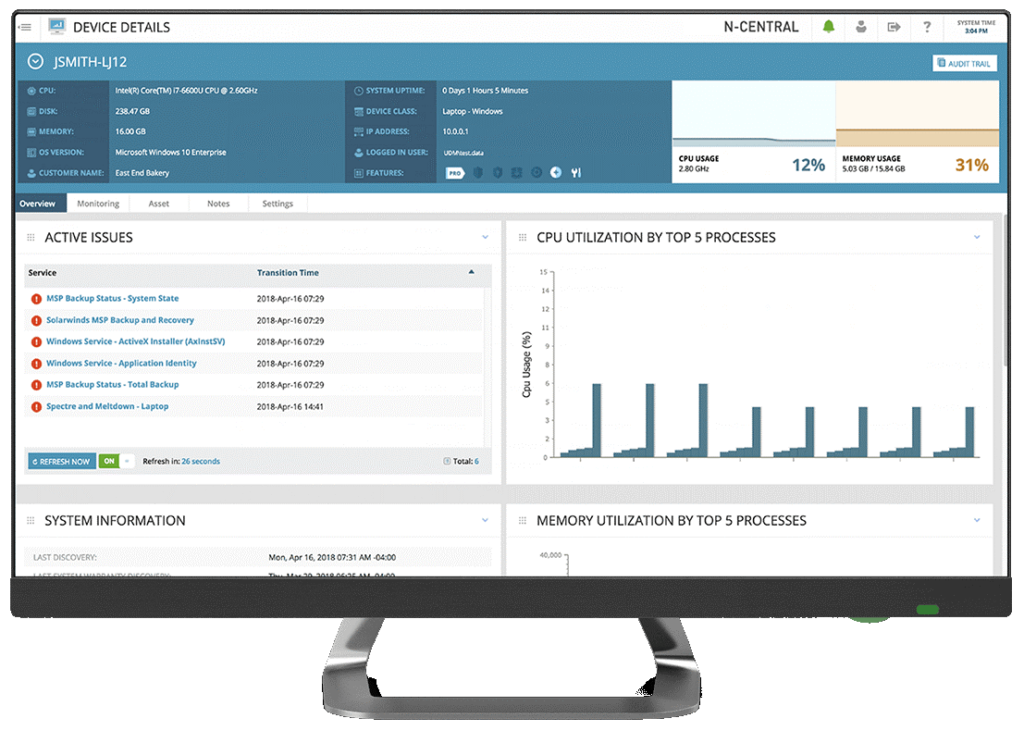 N-central is a remote-network-monitoring solution with a wide array of tools. It enables you to efficiently monitor different elements of your clients' networks. You'll get security and performance alerts, the ability to monitor mobile devices and virtual machines, full customization over user roles and permissions, and quite a bit more.
Another Great Server, Network, and Application Monitoring Solution: ipMonitor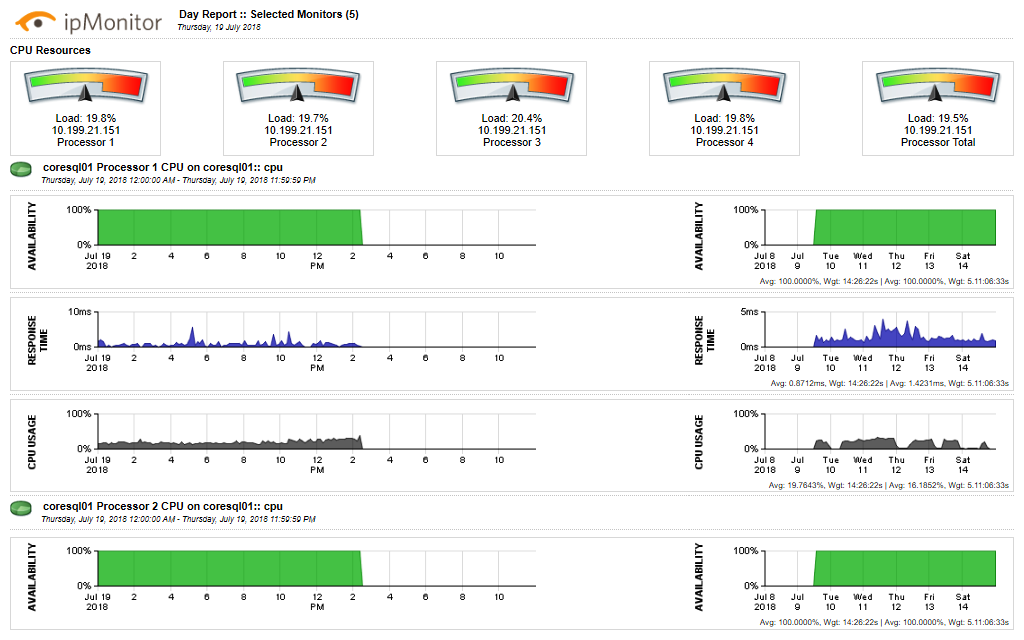 Another great solution to consider if you're looking for an overall server monitoring solution offering a wide range of capabilities is SolarWinds ipMonitor®. This fast, easy-to-use, and scalable solution monitors your various servers in addition to other elements of the network—like your applications and other devices—to give you a fuller image of what may be impacting your network performance.
Because server monitoring is such a nebulous area, it's important to get a solution designed to go beyond monitoring your servers to monitor the many different elements of your network capable of impacting your server performance—or ones poor server performance can impact. ipMonitor lets you monitor servers as well as network devices, applications, and VMware hosts all from a single console. After the tool conducts its automated discovery process, it automatically creates a network map and NOC view you can use to pinpoint performance issues. With ipMonitor, you can quickly see what servers, devices, and applications are experiencing performance or availability issues. You can then easily drill down to get specific metrics associated with the problem for faster troubleshooting.
When it comes to effective monitoring, it's important to be able to stay on top of current network performance and potential problems while also getting visibility into historical performance to get to the root cause of problems. The robust customizable alerting system in ipMonitor (which comes with more than a dozen different notification types) makes sure the right people on your team are alerted when the tool detects a potential issue related to your network servers, devices, or applications. This solution's built-in dashboards and reports then help ensure you can always see these potential issues in context. ipMonitor also offers customizable reports to help you monitor historical performance data. These point-and-shoot zoomable reports let you view data from a specific event or time period to help you get to the root cause of issues. This can lead to faster, more effective troubleshooting and problem resolution.
When people talk about "free," most of the time they mean either "free for xx time" or "freemium," in which a subset of features are free, but you have to pay money for the full suite. But there's a whole other class of server monitoring tools that are just "free-free." They do a particular task very well, and there's no cost (with the exception of the odd pop-up ad during installation). I go more in-depth into a few of the free tools I have in a "monitoring_utilities" directory on my system and make liberal use of on my review of the top FREE server monitoring tools.
The Mostly Un-Necessary Summary
Like the other "top monitoring software" articles here, this list is by no means complete. As you can see, server monitoring is a vast and varied sub-specialty within the monitoring discipline, and there are solutions out there to fit almost any use case. If you are just beginning your search for the right server monitoring tool for the job, I hope this has given you a head start. And if you already have a tool and are either considering a change or an addition to your lineup, I hope this has given you more data to consider. With that said, SolarWinds Server & Application Monitor is still my top pick for the best overall server monitoring tool after considering its overall features and price.