Logging is a critically important part of managing an IT environment, as it helps you spot issues with the system and reveal problems. Syslog is a kind of messaging protocol devices use to send messages about their status, events, or diagnostic information that can help with errors and troubleshooting.
Syslog servers are used to centralize syslog information in one place, and there are numerous syslog tools available on the market. Some free syslog server tools are high quality, but large enterprises need to look at what professional solutions are available and find something that works for you.
My recommendation is SolarWinds® Kiwi Syslog® Server, as it's powerful, affordable, and has useful features to help you manage your logs from one place. Using tools like this can help ensure your troubleshooting and monitoring processes are smooth and efficient.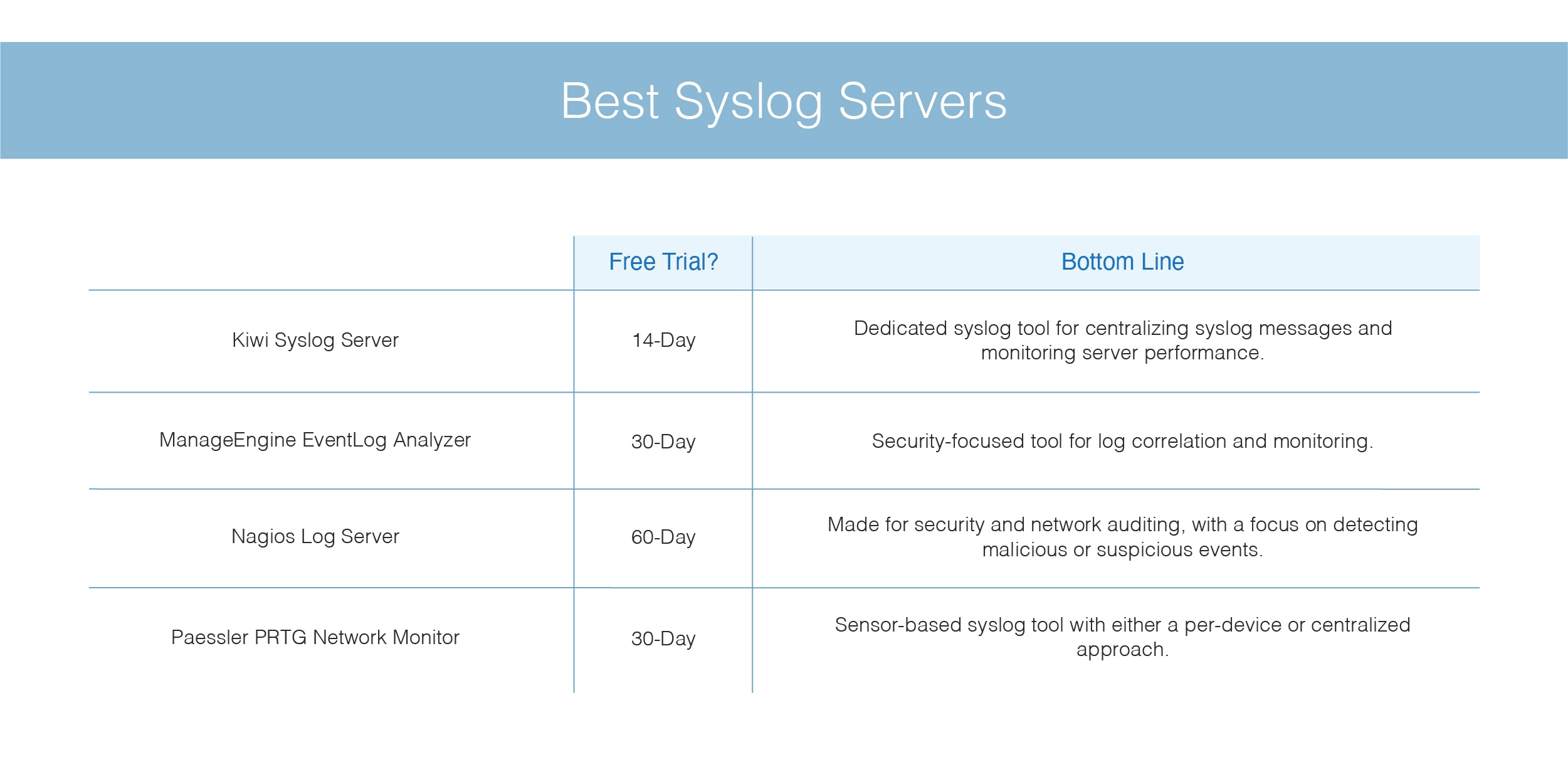 What Is a Syslog Server? What Are Syslog Servers Used For?
Best Syslog Tools
What Is a Syslog Server? What Are Syslog Servers Used For?
A syslog server is where system logs are centralized, making it easier to manage and monitor them. Syslog servers allow you to collect your error logs and system logs in one place, and you can coordinate and combine logs from across different systems. This is usually used when investigating an issue or troubleshooting problems and you want to see what went wrong.
The system log (syslog) is a record of events specifically from the operating system. The syslog covers general informational events, errors, and warnings. This allows the user to keep track of how the operating system is functioning, whether anything has gone wrong, and whether any critical issues have arisen.
A syslog server also keeps event logs for longer periods of time, so you can see the history of events on your operating system. This allows you to see whether any longer-term issues are occurring and whether you need to tackle any missed historical events.
All kinds of log servers are useful (not just those that aggregate syslogs), as they help centralize error messages across your IT environment. They also make it easier and faster to search through your logs if you want to find something specific, help you deal with monitoring and alerting, and reduce the amount of effort you need to put in to fix issues with your IT setup.
Best Syslog Tools
There are several kinds of tools you can use for monitoring and centralizing system logs, but some are more suitable than others for enterprise settings or large businesses. You can view your events through the Event Viewer in Windows, but if you're using another operating system or managing multiple machines, especially in a large company, it's a good idea to use a syslog server to centralize everything.
As I noted before, my top choice for syslog tools is Kiwi Syslog Server. Kiwi Syslog Server is a great tool for centralizing and simplifying your log messages. It's easy to set up, and you can start analyzing your:
syslog messages,
SNMP traps,
and Windows event log data
typically within a few minutes.
You can use Kiwi Syslog Server through a safe web interface, which allows you to display and monitor your syslog. All messages coming from Linux, UNIX, and Windows systems are included, and you can view them all in one place instead of having to use a different tool relating to each OS.
If an alert or error message arises, you can also use Kiwi Syslog Server to automatically respond. You can set up different automatic responses, including email alerts, running scripts, log to a file or ODBC database, or forward messages to other people if someone else is in charge of handling the issues.
Kiwi Syslog Server archives and maintains a historical record of your syslog, which allows you to search back through logs to find older issues or ongoing problems. Log archiving and cleanup can also be scheduled to ensure the number of logs you're dealing with is within the right timeframe for what you need.
Finally, you can use special filtering to easily search through syslog messages and use advanced syslog buffering to help ensure your log collection doesn't slow down your entire system. Kiwi Syslog Server is a well-planned and comprehensive tool offering the benefits of a syslog server. Try its features and download a 14-day free trial here.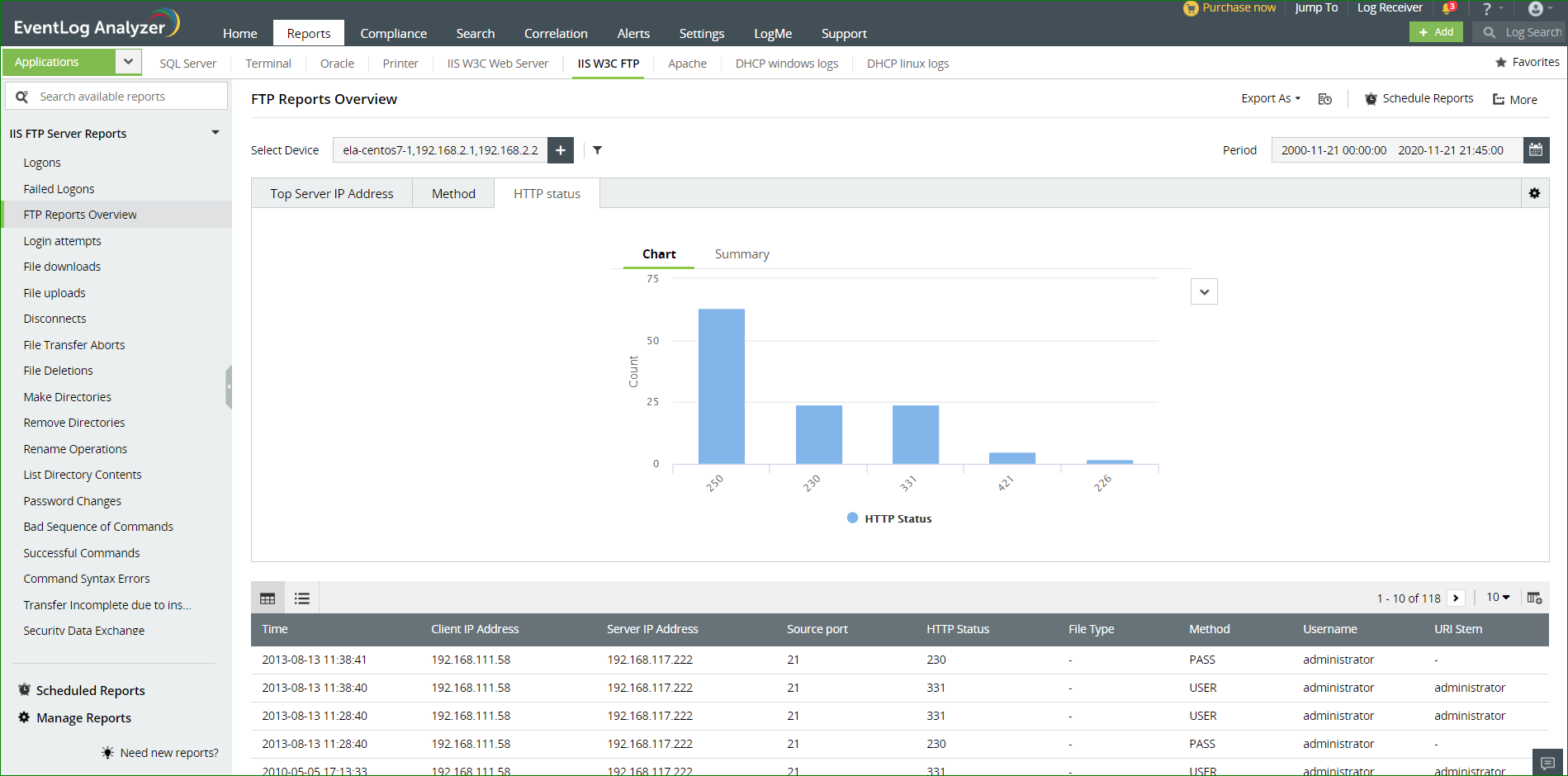 Another great choice for a syslog server is ManageEngine EventLog Analyzer. EventLog Analyzer provides tools for real-time event log correlation, so you can quickly determine when a problem has occurred, or if any logs look suspicious (or like a security threat). You can also build custom rules for alerts, so you're notified of what's most important to your organization in terms of service uptime or security issues. It also includes predefined rules for security event logs.
For compliance purposes, EventLog Analyzer also includes reporting templates for numerous different regulations, so if you need to produce a report on what events have occurred, you can do so with ease. Archiving log data also helps you comply with historical data maintenance requirements. Combined with auditing capabilities, you can audit the log data from your perimeter devices and keep an eye on routers, switches, user log-ons and log-offs, and determine whether any malicious or harmful traffic is going through your network.
EventLog Analyzer is primarily a security-focused tool, rather than purely for monitoring and managing for troubleshooting purposes. It includes search tools and analysis tools, but this one is generally better suited for situations in which you want to monitor your logs primarily for security purposes or potential breaches.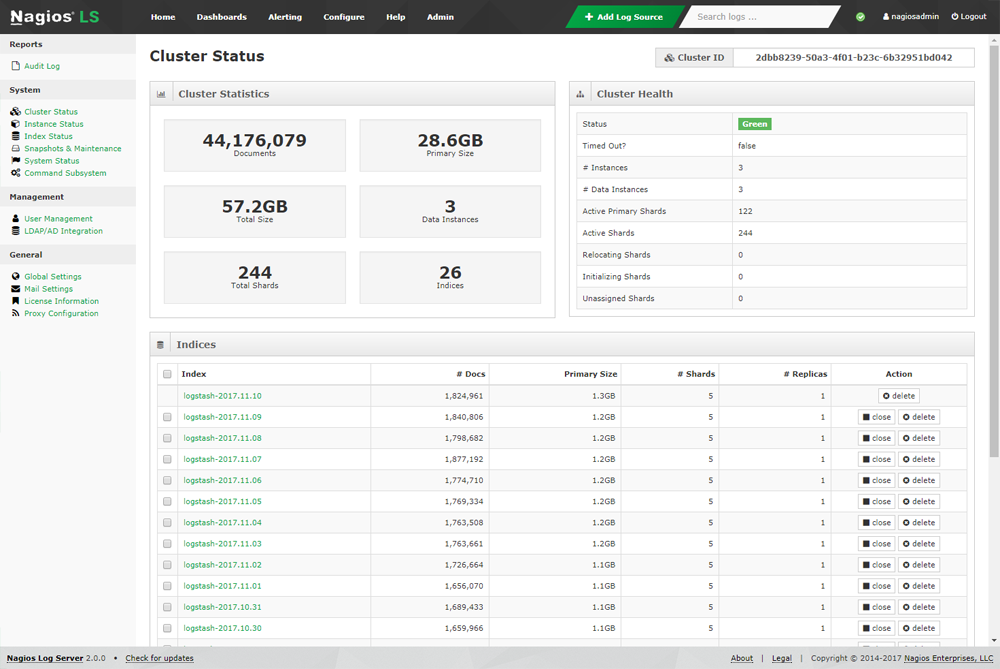 I also recommend Nagios Log Server for security and threat monitoring and for general system health and monitoring. Your log data is in one location, and you can easily scale the Log Server instances to add more to your monitoring cluster as your network grows. This tool is designed for large and small organizations.
Nagios Log Server correlates log events across your servers in real-time, which allows you to quickly troubleshoot and fix problems before they impact your end users. With an accessible and easy-to-use API, you can also integrate Nagios Log Server with third-party solutions and external applications if necessary.
Like EventLog Analyzer, Nagios Log Server is designed more specifically for security and network auditing, so you can get quick notifications for malicious or suspicious events. It also includes the ability to execute scripts or send emails in response to a problem. My favorite aspect is the multi-user capabilities, so your entire IT team can have access, as well as any other staff who needs monitoring insights.
Finally, the GUI is customizable, so you can set up the dashboard in terms of layout and design to fit each user and their preferences. In general, this is a good all-around tool for any size business.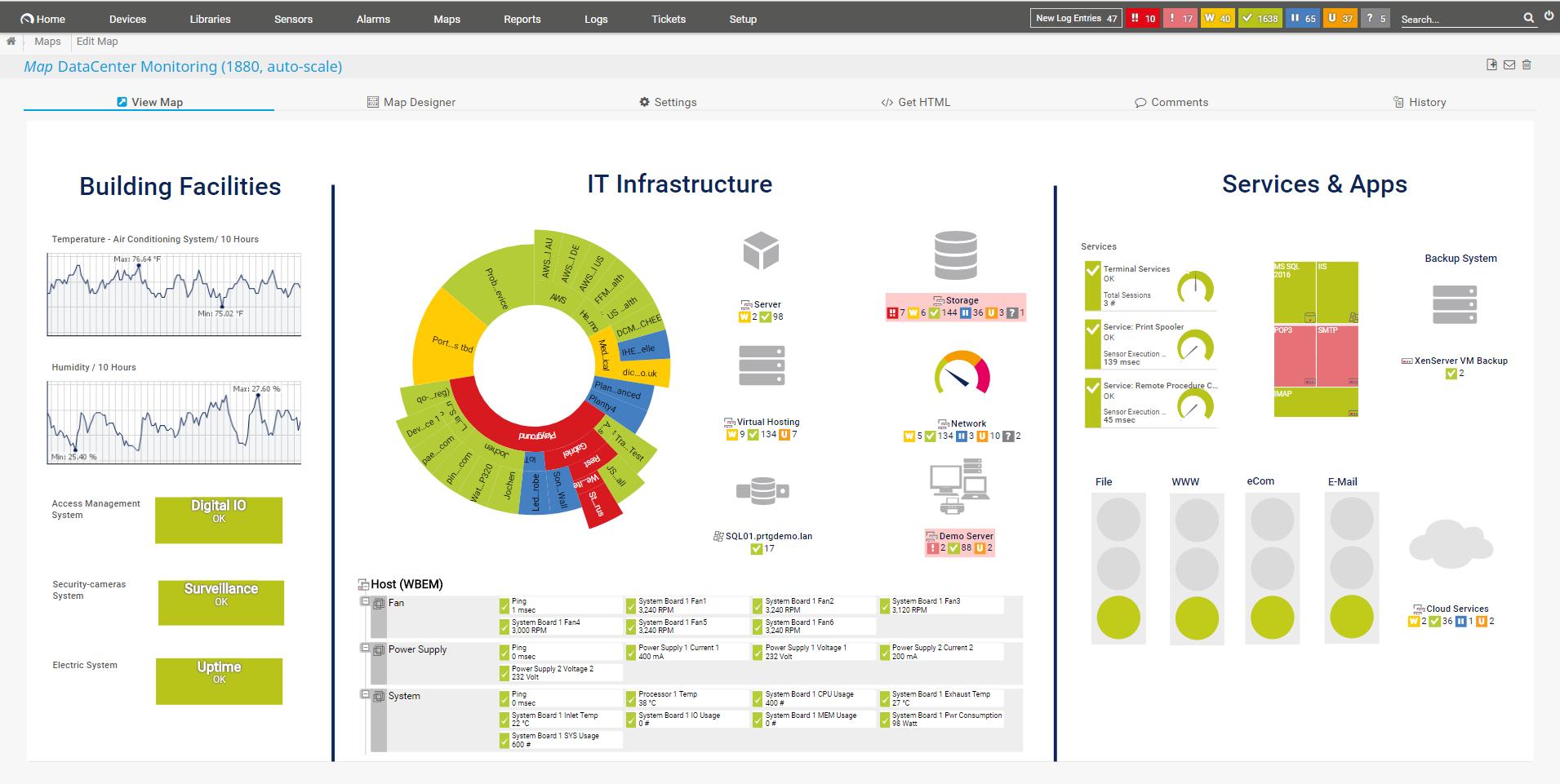 PRTG Network Monitor is another useful tool you can use as a syslog server. PRTG works primarily with sensors, which are installed throughout your network and then used as monitoring devices at certain points.
One of the ways PRTG works as a syslog server is by using their Syslog Receiver Sensor. This sensor receives and analyzes syslog messages, including how many have been received each second, how many are described as a "warning" or "error" message type, and whether packets are being dropped on the syslog port. However, you cannot use a large number of these types of sensors, or they will have a big impact on your system performance. If you're running a very large network with many devices, using so many sensors can end up slowing things down.
You can set up the Syslog Receiver Sensor as either a centralized sensor to monitor all messages coming through your network, or you can set up each sender as a device and then apply a Syslog Receiver Sensor to each one. The centralized sensor reduces the number of sensors you need but puts more strain on your CPU. The sensor-per-device approach reduces the strain on your CPU but can significantly increase the number of sensors you need, depending on your network size.
PRTG also acts as a general network monitor for your network, with device health monitoring, network performance management, and other useful tools.
How to Choose a Syslog Tool
When choosing a syslog tool, you need to make sure it's suitable for the type of organization you're running. If you're working with a large enterprise, a professional (paid) tool is going to provide you with the best service, as you'll receive support from the organization selling the tool. While there are many free syslog server tools available, many of them don't have sufficient documentation or support capabilities for a large organization in need of round-the-clock functionality and fast troubleshooting. Some options are sold as a syslog service, particularly cloud-based offerings. My choice would be Kiwi Syslog Server, and SolarWinds is a well-known and good quality provider, so you can be sure their syslog server tool is high performing as well. Even better, you can test out a free trial for up to 14 days.
Once you've chosen your tool, don't forget to follow a thorough process to set up a syslog server on your machine. No matter how good your syslog tools are, they won't be effective if you don't install and configure them correctly.