When sending files, you want to make sure they're transferred following the best security and compliance protocols without compromising performance. Choosing between file transfer protocol (FTP) vs. cloud storage for secure file transfer can be a difficult decision. There are pros and cons to each service—FTP servers are designed to upload and download encrypted files directly to and from servers, whereas cloud services enable you to encrypt and share a file via web browser.
For the best of both worlds, use a web-based file transfer solution like managed file transfer (MFT). MFT handles secure file transfer from one server to another via the internet, combining convenience features with data security to improve on secure FTP encrypted file sharing methods. In my opinion, one excellent software option is SolarWinds® Serv-U® MFT, designed to increase the protection of file transfers and simplify the file-sharing process. Serv-U MFT lets you customize a web-based console to encrypt data in transit and at rest and offers automation tools for management and file-sharing capabilities. Download a 14-day free trial of Serv-U MFT today.
What Is FTP and FTP Client?
File transfer protocol is a standard way to transfer files containing personal, proprietary, or otherwise confidential information between end users. Usually, FTP is protected with sign-in authentication protocols, which is essentially a username and password granting only those with appropriate permissions the ability to access, upload, and download files from FTP.
However, FTP in its simplest form can be easily captured by malicious hackers and attackers. Because FTP on its own is simply plain text secured by authentication methods, those seeking servers, usernames, or passwords could guess them easily. To prevent unauthorized users from accessing your protected files and information, you could use an FTP client. FTP clients are designed to increase the security of FTP files using encryption methods such as:
FTPS — FTP running on Secure Socket Layer (SSL), or FTP/S
SFTP — FTP based on Secure Shell (SSH) protocol communication
HTTP — Encrypts FTP files for online and web browser use
HTTP/S — HTTP supported by SSL encryption
These encryption methods are designed to increase protection against unauthorized access of crucial FTP files, even for peer-to-peer or ad-hoc file transfers. FTP clients could even enable anonymous authentication to protect the identity of end users for further safety measures.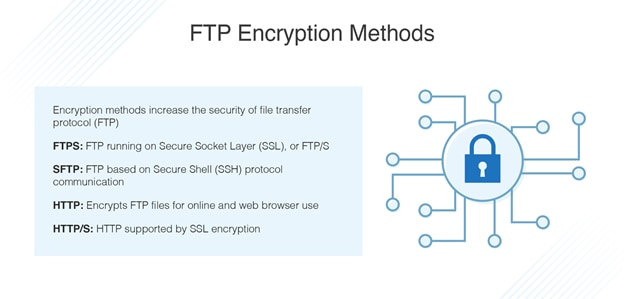 What Is Cloud Storage?
Cloud storage, or cloud computing, is a general term describing cloud-hosted FTP services such as file transfer, encryption, and management. This method uses remote servers hosted on the internet, as opposed to the local servers used in FTP. Sending files on a cloud server means you don't have to waste space and energy to manage, process, and store important data. Instead, an end user only needs a way to access the cloud to perform effective file transfers.
Cloud computing is designed to offer you the ability to access file transfer protocol services wherever and whenever you can access the internet. This ability opens opportunities for file transmission on any server, such as a web browser, tablet, or mobile device. Cloud storage file sharing also enables you to send and receive files at any time or retrieve file transfer monitoring metrics when you need them.
Similarities and Differences — FTP Server vs. Cloud
While FTP client services can be costly upfront, they offer incredible potential to save money and resources over time. The one-time purchase of an FTP server enables you to grow and develop your IT infrastructure without incurring more costs than you did before. FTP cloud services can appear more cost-effective than FTP clients at first glance, but often cloud computing servers offer subscriptions or pay-per-device plans and increase in cost as your IT environments and requirements expand.
FTP may seem simple on its own, but you can increase security and monitoring capabilities with help from a managed file transfer (MFT) service. MFT servers like Serv-U MFT enable local FTP clients to act similarly to cloud-hosted servers. For example, you could use an MFT to support multiple anytime access, ad-hoc file transfer, compliance assurance, and automated logging and tracking capabilities.
Because cloud services can be accessed through any device with an internet connection, it's easier for them to be compromised. Even with added security methods, cloud-hosted servers are more at risk of attack than local FTP file transmissions. While FTP by itself is insecure due to its plain text format, MFT services and other FTP protection servers can encrypt files for the utmost security.
Recommended Tool for Transferring Files
As a web-based file transfer solution, Serv-U MFT enables you to access the best of both worlds, so you don't have to choose between FTP vs. cloud storage. With Serv-U MFT, you can gain all the security and compliance assurance of FTP while accessing fast, simple cloud-hosted file transfer and management. Serv-U MFT is built to work on any device that can connect to the internet, including tablets, mobile devices, and web browsers. By using familiar functions like drag and drop, Serv-U MFT enables you and your team to perform necessary file transfer activities while helping to ensure files are sent safely. The many encryption options Serv-U MFT provides—including all standard FTP, SFTP, and FTPS protocols plus HTTP/S encrypted file sharing—allows you to share specific files in the particular ways they require.
Most importantly, Serv-U MFT doesn't add to your cloud storage or your IT infrastructure. Because it's designed to exist solely on the web, you can expand your network freely without worrying about space constraints or unruly expansions. Serv-U MFT enables you to take charge of your file transfers without compromising efficiency and speed due to immense building blocks. Along with opening expansion opportunities, Serv-U MFT is designed to ensure compliance with federal and industry regulations like FIPS 140-2—thanks to this feature, you can feel confident in your protocol used to send and receive important data.
The tool can also support seamless integrations, including the ability to sync and authenticate against Microsoft Active Directory. This could help your business increase protection and accuracy across platforms and for peer-to-peer file transfer. Serv-U MFT is built to run automated tasks to assist with file transfer management and administrative tasks like:
Scheduling file transfers
Deleting files
Sending emails
Writing and running programs based on triggered events
Serv-U MFT's automated tools are also designed to find metrics and statistics to create easy-to-read visualizations. These charts and graphs contain critical data and can be found on the Serv-U dashboard.
The Serv-U MFT dashboard is located on a centralized console designed for anywhere, anytime web-based access. Serv-U MFT's console enables you to customize text, logos, and other advanced CSS templates. This can increase aesthetic appeal, impressing external and internal partners, and simplify functions. Between its beautiful, easy-to-use interface and powerful file sharing capabilities, Serv-U MFT could help you improve the speed, efficiency, and clarity of your file transfers.
The Right First Steps for FTP Storage
In my opinion, Serv-U provides protection, compliance, and security when it comes to your file transfers. With readily available integration options, customizable user management options, and various encryption methods, Serv-U MFT enables you to confidently send and receive files without having to use FTP server vs. cloud computing. A SolarWinds Serv-U MFT 14-day free trial is available for download.