More and more, businesses are relying on technology in their day-to-day operations. Since a greater number of employees are using devices and programs to do their jobs, IT teams must provide top-notch services to keep operations running smoothly. But it's no easy task. To improve their quality of support, IT teams use a practice called IT service management (ITSM), and associated ITSM software tools.
But what is ITSM software? These days, I hear a lot of people talk about it in vague terms. In this post, I want to set the record straight: I'm going to outline what ITSM processes are, how they can be beneficial for a company, and which tools businesses should be using to develop best ITSM practices.
What Is IT Service Management?
IT service management, or ITSM, refers to any activity that supports or manages the lifecycle of IT services. It involves managing people, practices, and technology so businesses can get the most out of their IT resources.
In order to really "get" the ITSM system, you must understand that IT teams today aren't always in the loop with every part of a business. A marketing team has different needs than a customer support team; an employee who travels needs a different computer than someone who works at a desk. In order to improve the relationship between what an employee (or customer) needs and what an IT team can offer, businesses need ITSM software. Without it, IT teams will struggle to deliver fit-for-purpose support.
Types of ITSM Software
These tools come in different shapes and sizes. For this blog, I want to outline three tools IT teams can use to instantly improve their IT service management: service desks, help desks, and server and application monitors.
Service desks are essentially communication centers providing a single point of contact between a business and their customers or employees. Their primary purpose is to streamline communication—both internally and externally.
Help desks fall into a similar category. They're designed to help companies resolve customer issues by automating complaint resolution practices. This software generally works around a business's ticket management processes. A good help desk tool can greatly improve the rate at which incidents are resolved, both for customers and employees.
And finally, there are application and server monitors, which are designed to monitor and manage the performance of application dependencies, transaction times, and overall user experiences.
As you can see, ITSM software is wide-ranging, both in what they can do and in the quality of their abilities. To help you get on the right track as you start ITSM processes, here's a review of some of the most popular software on the market.
Top ITSM Tools
SolarWinds Service Desk (formerly known as Samanage) offers a cloud-based IT service management software as reliable as it is robust. It has a slew of features—from change management tracking to self-generating knowledge bases—that can be beneficial to IT teams. Additionally, the service desk tool allows users to manage service tickets and company assets from any smartphone or tablet. This makes it an ideal tool for device-heavy environments, or for employees working remotely.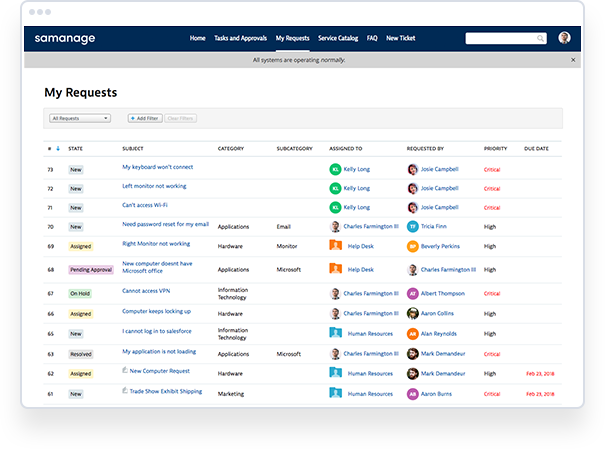 A key feature of Service Desk is its single sign-on (SSO) functionality. Although many other service desks only support SSO either via Google Apps or Microsoft Active Directory, Service Desk supports both. This makes it very easy to integrate with apps like Salesforce.com, OneLogin, etc.
One of the aspects I love most about Service Desk is that it's easy to install and customize. Because it comes ready-to-use right off the shelf, admins won't have to worry about tediously personalizing the software to fit their needs.
This is another top pick for an ITSM system. SolarWinds offers a web-based help desk providing ticketing, change management, IT asset management, and a knowledge base.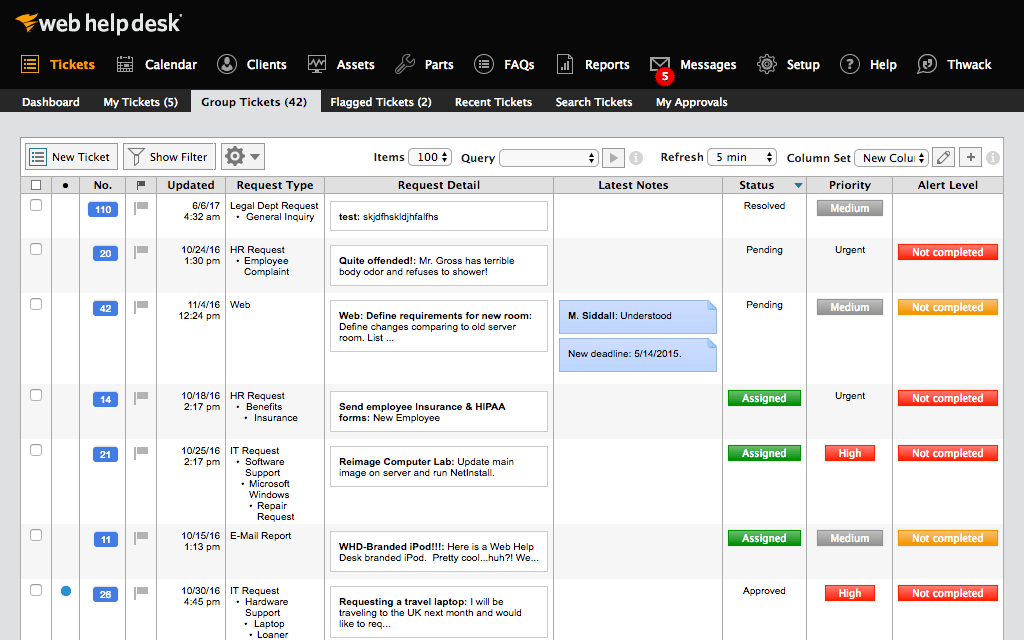 Many businesses use Web Help Desk as a bonafide ticket-managing utility, but it can function as a highly efficient asset manager as well.
The best quality of this help desk is its intuitive dashboard. Users will have an easy time navigating between tabs and platforms as they track a support ticket or check if an asset is available. Additionally, one of its marquee features is that it allows agents to assign assets to customer tickets—this helps IT admins keep track of what issues are being solved and which tools are being used at any given time. What's more, the SolarWinds Web Help Desk is easy to integrate into legacy systems, making it a viable solution for any kind of vertical.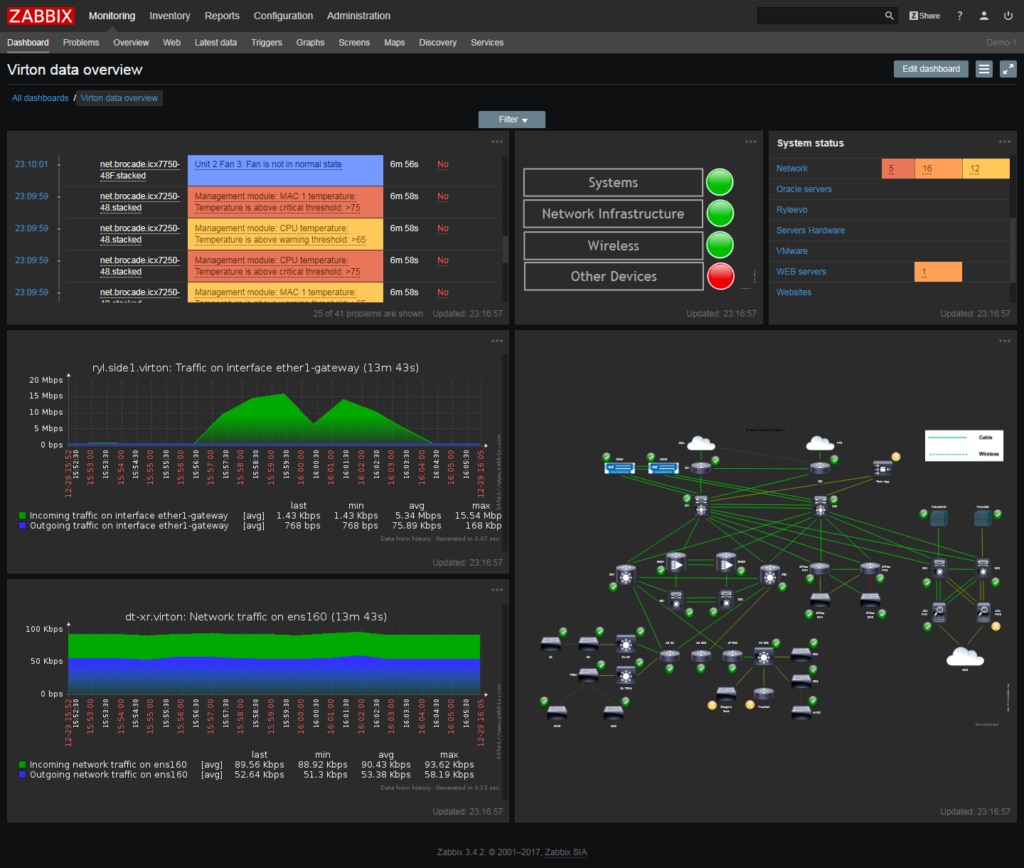 Zabbix is a popular open-source IT server monitoring tool. Zabbix stands out from other open-source server monitoring tools because there's no separate version for its commercial use—the whole product is open source and freely available. This makes it particularly good in configuration change management.
As much as I can appreciate open-source tools like this, I'm hesitant to jump on the Zabbix support train. Users are almost guaranteed to hit walls with its steep learning curve. It takes more time and know-how to customize these kinds of tools as needed, and even then, it may never be as reliable as an enterprise needs.
SolarWinds has a large portfolio of monitoring products, but the one I want to talk about for this blog is its Server & Application Monitor (SAM). SAM is a state-of-the-art ITSM tool with the capability to monitor over 1,000 applications at a time.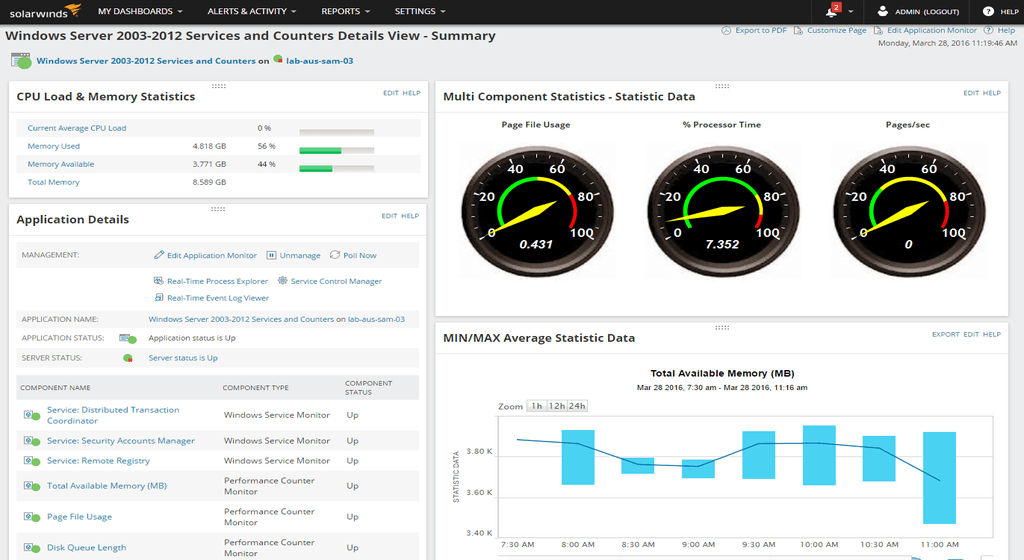 These days, a lot of organizations use cloud infrastructure alongside physical servers. With this in mind, one of SAM's premier benefits is that it can be used to track and monitor applications deployed in the cloud on Amazon Web Services (AWS) or Microsoft Azure. It's also just easy to use—you can get set up in minutes, and customize the dashboard, dependencies, and alerts to fit your environment and requirements. If you're looking for a feature-rich tool for enterprise ITSM use, this is it.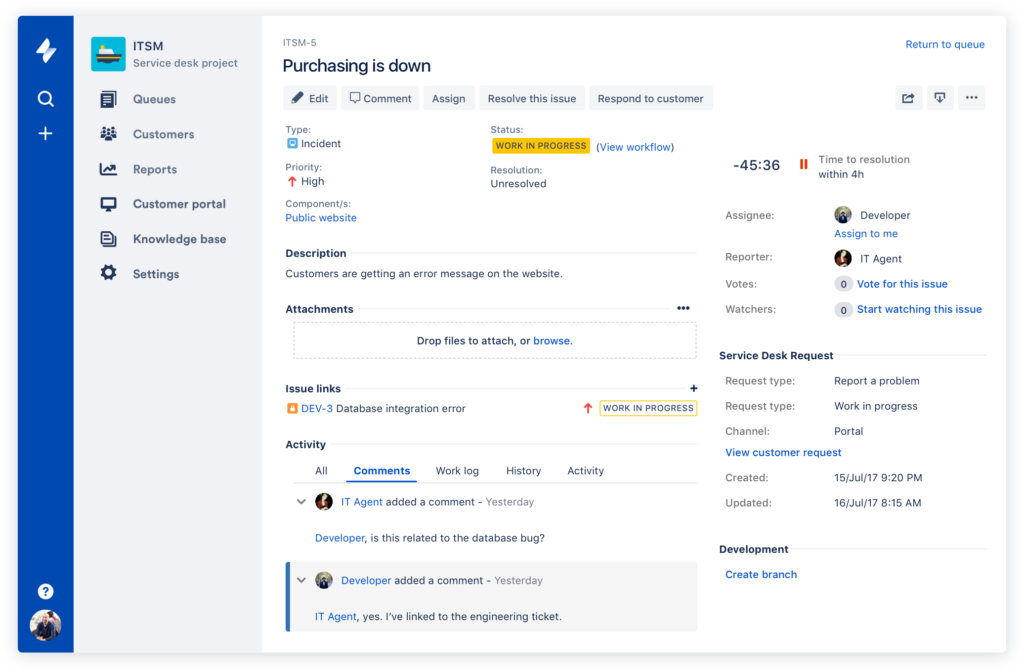 Jira Service Desk is both a cloud-based and on-premises IT service management solution. It's most known for its efficient self-service feature. Customers are able to self-resolve tickets and queries by accessing its knowledge base, making it very customer-friendly.
I would be excited by this product if not for its poor help desk feature. The dashboard isn't really designed for non-tech savvy users, especially given how buggy it can be. Being customer front-facing may be admirable, but this approach won't work for every business.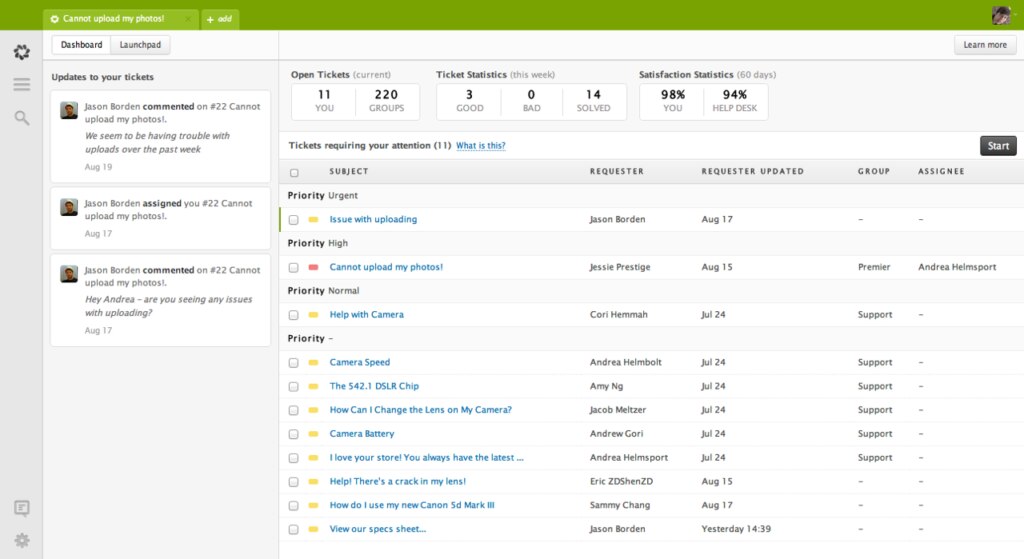 Zendesk has a cloud-based help desk management solution that offers customizable tools to build customer service portal, knowledge base, and online communities. Its best feature is without a doubt the live chat, which is deployed through a centralized console that lets users communicate with their customers more easily.
As weird as it sounds, there are times I feel this software can be too user-friendly and intuitive—I kept feeling like I was missing out on some cool functions because everything felt so streamlined. Also, not all settings can be customized on a per-form basis, which makes it difficult to personalize reporting and analytics.
Choosing the Right ITSM Framework
One of the great things about ITSM tools is all the different software options out there that can be used creatively to improve a business. Whether you want to focus on application monitoring or customer support, there are tools out there to help you reach your goals. I'd say check out SolarWinds Service Desk. It offers a range of capabilities and is also just a high-quality product to support a better ITSM framework.
Digest:
Best Application Monitoring Tools 2019: A look into common application monitoring use cases and recommendations for the best tools.
Best Server Monitoring Software 2019: Looking for better server monitoring in 2019? Check out this list of my top picks.