Millions of file transfers happen every day—each time a webpage is loaded or someone uploads or downloads a file, a file sharing transaction occurs. You must manage and monitor your file transfer events to ensure files are securely sent to and from the right recipients. Secure file transfer includes protecting your data from unauthorized users with malicious intents as well as double-checking files have been delivered quickly, reliably, andaccurately.
One productive way to implement the most secure file transfer protocols is to invest in a secure file transfer solution, such as a File Transfer Protocol (FTP) or Managed File Transfer (MFT) software. The best secure file transfer solutions are designed to offer data security for large files, plus share files through cloud-based and on-premises applications with easy-to-use features like drag and drop.
My top pick for a file transfer solution is SolarWinds® Serv-U® Managed File Transfer. Serv-U MFT can support FTP secure file transfer and more encryption options. Serv-U MFT also enables you to safely send large files anywhere, anytime, from a web browser, mobile device, and other on-premises or cloud-hosted interfaces. Serv-U MFT's centralized user interface (UI) is designed for simple, speedy file transfer. Download a 14-day free trial of Serv-U MFT here.
Read through the whole article to learn more about secure file transfer or jump to my top recommendations:
Why Secure File Transfer Is Important
When it comes to secure file transmission, things can get complicated fast. Security is never a guarantee for any file sharing protocol, and large complex files make data security more difficult. Ad hoc file sharing can also be tricky to navigate. How do you safely send files to those outside your immediate network—with email, external applications, or something else? You should employ an integrated, easy-to-use platform that enables all users to send and receive large files while following file transfer protocol.
Secure file transfer files can help avoid loss and corruption of sensitive information, as only the intended recipients can view the specified data. In addition to increased data security, most secure file transfer software adheres to regulations to avoid industry non-compliance fines and open up business opportunities. Ensuring your file sharing has safeguards in place will in turn help protect your business operations, reputation, and management endeavors.
Run data protection and file sharing processes simply and efficiently with the help of a secure file transfer solution. You could even gain additional management and convenience features such as drag-and-drop UI, cloud-based virtual folder access, and automation capabilities like reporting, alerting, and tracking. When it comes to secure file sharing, playing it safe is always a better solution than the alternative—the stakes are simply too high when it comes to the safety of important personal and proprietary information.
There are three main types of file transfer solutions available:
File Transfer Protocol (FTP)
FTP is a simple, old-school system that works on a command prompt window through a web browser or UI tool. File transfer protocol is often used for large files, unusual file types, videos, and legacy data.
Peer to Peer (P2P)
P2P completes file transfers over a distributed network of peers instead of a centralized server. This can be used to create an unstoppable TOR and is useful for sharing files with small groups of people. Sometimes, files unavailable in public repositories are sent through P2P.
Cloud Services
Cloud-based file transfer solutions use a central repository, where user A uploads data which users B and C can then download. Cloud-based services use a third-party system, which always includes the risk of unauthorized data access, but users can specify the types of permission levels put on files. Cloud-based secure file transfer is sometimes used for fast file sharing and generating data backups.
Two other secure file sharing methods are email providers and removable storage solutions. Email file sharing is the least secure file transfer type but can be used for small files and data needing context or explanation. Removable storage solutions require you to manually upload data to a USB flash drive or another external hard drive, then plug the device into the destination computer. This is best for massive files and extremely sensitive data.
Top 5 Secure File Transfer Solutions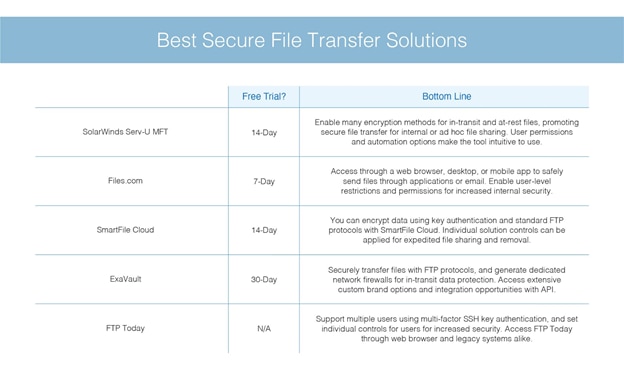 There's a handful of elements you should consider when selecting an FTP secure file transfer solution — price, security capabilities, compatibility and integrations, limitations, and user control settings. When reading about these top secure file transfer solutions, keep these attributes in mind as well as how they relate to your individual business requirements and goals.
SolarWinds Serv-U MFT is designed to bring enhanced security levels to your managed file transfer processes by enabling FTP, FTPS, SFTP, and HTTP/S encryption for unlimited domains, users, and sessions. Serv-U MFT can support internal and external secure file sharing, enabling you to safely upload, download, and edit files ad hoc using familiar procedures like drag and drop. Send large files from anywhere at any time, on a mobile device or web browser, plus enable or disable individual ciphers and MACs based on individual security requirements with help from Serv-U MFT.
Serv-U MFT has a centralized interface built for accessibility and includes an intuitive management console for quick access to user-managed options, system and domain settings, and more. You can access controls on folder permissions, groups, systems, IP, lockout, bandwidth, time-of-day, passwords, and quotas for Serv-U MFT. Automation features could also be supported on Serv-U MFT, so you have access to accurate and updated data.
With integration capabilities with Active Directory, LDAP authentication, and other applications through Windows or Linux, Serv-U MFT could help you easily integrate with features essential to business operations and customer service. With adherence to FIPS 140-2 government standards, Serv-U MFT enables you to work with government organizations using the utmost security protocols, even for data at rest in your demilitarized zone (DMZ) using the Serv-U Gateway add-on. There's a 14-day free trial of Serv-U MFT available for download.
Files.com is designed to encrypt data in transit and at rest using FTP, FTPS, and SFTP encryption with key authentication. You can access Files.com through a web browser, a desktop, or mobile app, and send file links through email protected with unique security codes.
Enable user-level IP address restrictions and permissions with Files.com, including read, write, and list capabilities—however, delete functions are only available when a user is granted all other permissions in the folder. As a Microsoft Office cloud storage partner, Files.com is built to support real-time collaboration with applications such as Word, Excel, and PowerPoint. You can also integrate with cloud applications like Amazon, Dropbox, Google, and more.
Although Files.com doesn't meet compliance with FIPS 140-2, it's compliant with HIPAA, PCI-DSS, and SSAE-18 protocols. Files.com can enable you to overprovision the network, yielding fast transfers but often leading to performance issues stemming from resource allocation complications. Download their seven-day free trial today.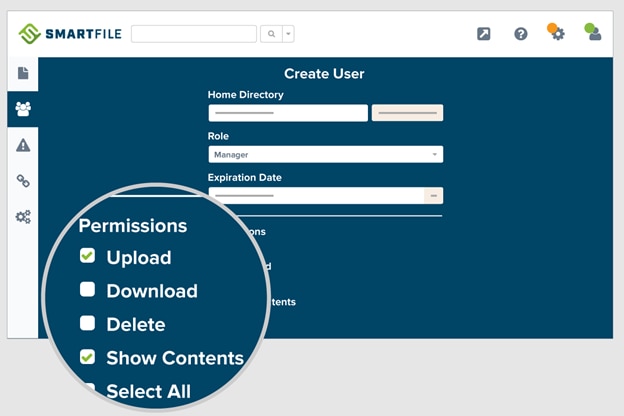 SmartFile Cloud is built to provide in-transit and at-rest data encryption using FTP, FTPS, SFTP, and HTTP/S file sharing protocols. You can enable key authentication for even more security measures. SmartFile Cloud is designed to do file versioning and create HIPAA-compliant activity logs using automation tools, which can also automate workflows. Email notifications and file previews help you stay on top of managed file transfer operations and data security efforts.
One downside of SmartFile Cloud is you cannot change protocol settings. This means IT administrators cannot manage security standards on their own. However, the individual solution controls are vast—apply file upload, download, delete, and list directory permissions to all required users for simple, managed, and expedited file sharing.
You can access files securely from anywhere with SmartFile Cloud, making it easy to send and receive files through desktop, web browser, FTP client, and other file-sharing applications. SmartFile Cloud offers a 14-day free trial.
ExaVault is built to let you transfer files through a web browser, mobile device, or FTP client using extensive security and standard FTP encryption protocols (FTP, FTPS, and SFTP). Enable vulnerability scanning and full off-site data backups with ExaVault and generate dedicated network firewalls for protecting files in transit. Although ExaVault doesn't comply with FIPS 140-2 or HIPAA, it does adhere to SSAE-18, GDPR privacy compliance, and more.
Access extensive custom branding options—such as name, logo, URL, and colors—while file sharing with ExaVault. ExaVault is designed to offer ripe integration opportunities with internal and external applications via API, even from the command line. ExaVault supports unlimited users and collaborators, but you can't differentiate between user roles and administrators. Download a 30-day free trial of ExaVault.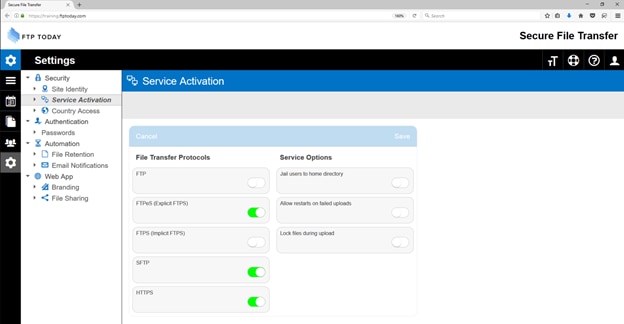 FTP Today is designed to use FTP, FTPS, SFTP, and HTTP/S protocols to encrypt data in transit and at rest. You can support multiple users using multi-factor SSH key authentication, and these authenticated users can send expiring links to those without accounts to facilitate ad hoc secure file sharing. FTP Today also enables you to separately set controls for individual users—including upload, download, delete, and list directory permissions—so administrators can gain full control over end-user activity.
FTP Today offers further security capabilities including dedicated firewalls, hacker blacklististing, and access restriction based on country and IP address. This allows you to effectively bring data loss and modification prevention methods into your file transfer methods. You can also duplicate production clouds nightly to another location for disaster prevention and achieve maximum uptime using virtualization technologies to yield high availability.
The customizable UI on FTP Today supports branding on web browser connections and can support unlimited bandwidth, file size, and file transfers. Web browser access on FTP Today is also compatible with legacy systems, meaning you won't have to do a massive overwrite of your operations. Meet FIPS 140-2 compliance, HIPAA, SSAE-18, PCI-DSS, and more when sharing files from FTP Today. There's no free trial available, but you can compare pricing options here.
Final Thoughts on Secure File Transfers
Monitoring your file sharing protocols enables you to send valuable information without fear of loss, modification, or theft. Keeping an eye on your managed file transfer solutions will also enable you to keep proprietary and personal information safe and help ensure shared files get to and from the right places without latency or unauthorized changes. Easy-to-use UI features help you swiftly, securely, and efficiently send large files on cloud based and physical servers.
One of the best secure file transfer solutions is SolarWinds Serv-U MFT, designed to encrypt data files with compliance-ready protocols and organize essential file sharing events for you to gain in-depth knowledge. Send large files anywhere, anytime, and to anyone with help from Serv-U MFT. Download a 14-day free trial of Serv-U MFT today.