It's easy to feel pressure when sending data files containing valuable information. File corruption, loss, and other complications can be detrimental to your business, and slow file transfers can be frustrating for end users and IT administrators alike. That's why learning about the best FTP server for your enterprise is important.
It can be challenging to find the right FTP server for your enterprise, especially when you already have FTP clients and related operating systems in place. So, I'm sharing my top best FTP server options, starting with SolarWinds® Serv-U® Managed File Transfer (MFT). Serv-U MFT is an excellent choice for a comprehensive FTP server, offering encryption designed to supply all your files with protection for in-transit and at-rest data. You can download a 14-day fully functional free trial of Serv-U MFT for secure file transfer and file transfer management.
Why Is FTP Server Software a Good Option to Implement?
FTP servers enable you to quickly, reliably, and securely transfer large files around your network and between databases. FTP, which stands for File Transfer Protocol, is insecure by default since it transmits data unencrypted. Unprotected file transfers can yield unwanted data modifications, latency issues, and malicious attacks, plus unauthorized users can easily access valuable information present on in-transit FTP files. The encryption supplied by secure FTP servers is crucial to protecting data and ensuring the right information gets to the right people.
Different FTP servers could offer unique benefits and features, including but not limited to:
External user access
Web browser and mobile access
Clear, user-friendly UI (user interface)
Dashboards, alerts, and reporting capabilities
The best FTP server software can encrypt FTP and HTTP files at rest and in transit to prevent unauthorized users from accessing valuable information or modifying files. SFTP (SSH File Transfer Protocol) and FTP/S (FTP over SSL) file transfers supply even more encryption for increased security.
You should use an FTP server to send files using FTP, as FTP server software connects to an FTP client to promote safe file transfer. FTP clients are designed to transfer FTP files between multiple locations, such as two operating systems. However, without a secure FTP server, your FTP client cannot properly perform functions such as file transfers, remote file access, and other security features like synchronization.
Best Secure FTP Server Software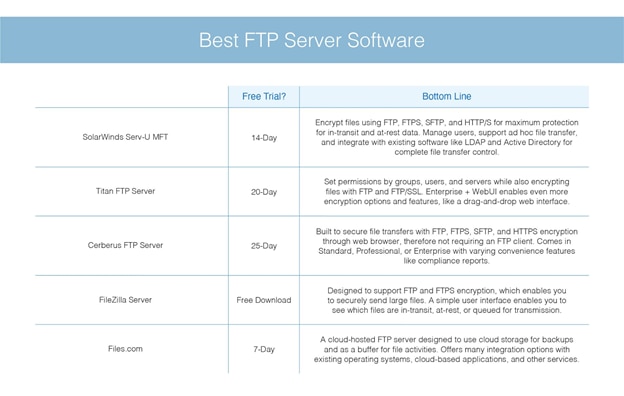 SolarWinds Serv-U MFT is a safe, reliable FTP server designed to support FTP file transfer along with FTPS and SFTP, plus HTTP/S (HTTP over SSL) protocols over IPv4 and IPv6 networks. This makes Serv-U MFT an excellent choice for files of all sizes and purposes, as well as for many different operating systems. Serv-U MFT is also built for peer-to-peer file sharing, which enables you to send, receive, and request files ad hoc for simple yet secure file transfer between end users. Serv-U MFT supports a centralized console on a web browser, further enabling quick and wide-reaching file sharing.
Serv-U MFT could encrypt at-rest and in-transit files using SSH, SSL, and TLS 1.2 protocols. This includes SSH private keys, ciphers, and MACs as well as SSL Certificates. Serv-U is designed to use these encryption protocols to protect your website, files, and other valuable data from potential threats. Serv-U MFT's encryption options also allow end users to safely send and receive FTP file transfers from a web browser.
Along with protecting your file transfers, Serv-U MFT is also built to adhere to government standards of security like FIPS 140-2. Not only does this contribute to the protection Serv-U MFT offers your file transfers, but also brings you and your business opportunities—any organization that may want to do business with a government entity must prove they can support the highest safety and compliance protocols, and Serv-U MFT could supply the proof needed. Serv-U MFT's drag-and-drop interface helps users of all skills and backgrounds simply transfer files, even on a web browser or mobile device.
Serv-U MFT is a comprehensive program on its own, but also could offer even more protection through the Gateway add-on. This optional feature uses a reverse proxy, which helps prevent data from being stored in your demilitarized zone (DMZ) for added security and compliance with PCI DSS and other regulations. Serv-U MFT can also integrate with Active Directory as well as existing AD/LDAP servers to sync user accounts, simplify factor authentication, and apply custom limits and settings to file transfer operations.
Protect your file transfers and valuable data, set up high availability groups, and support unlimited domains and concurrent sessions with help from Serv-U MFT to meet your file transmission needs and goals. There's a 14-day free trial of Serv-U MFT available for download.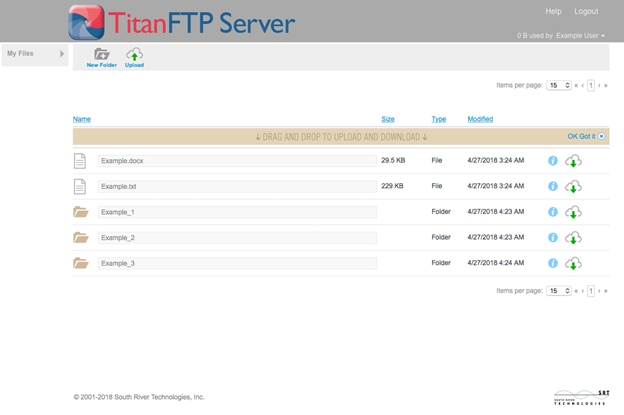 Titan FTP Server is built to support FTP and FTPS encryption. There are three levels available for Titan FTP Server—Professional, Enterprise, and Enterprise+WebUI—with various additional features and capabilities. Professional only offers FTP and FTP/SSL encryption for up to 200 simultaneous connections, whereas Enterprise and Enterprise+WebUI support unlimited connections plus SFTP server encryption.
With Titan FTP Server Enterprise+WebUI, you can access an optional web browser user interface for file transfer with HTTP or HTTP/S. WebUI is designed to transfer multiple files and folders simultaneously with drag-and-drop features and can be used with Windows, Linux, and Mac operating systems among others. You could also use WebDrive, a file transfer client that easily integrates with Titan FTP Server, to send and receive SFTP client drive mapping.
All Titan FTP Server versions enable you to set permissions by servers, groups, and users for added security measures. Titan FTP Server is also designed to offer configurations for granular control, file integrity checking, and event triggers for automated operations. You can enable hacking prevention mechanisms while using Titan FTP Server, such as banning suspicious IP addresses, users, and file types if necessary.
While the add-on WebUI can be used with almost any operating system, Titan FTP Server is for Windows use only. You can download a free 20-day trial of Titan FTP Server Enterprise+WebUI.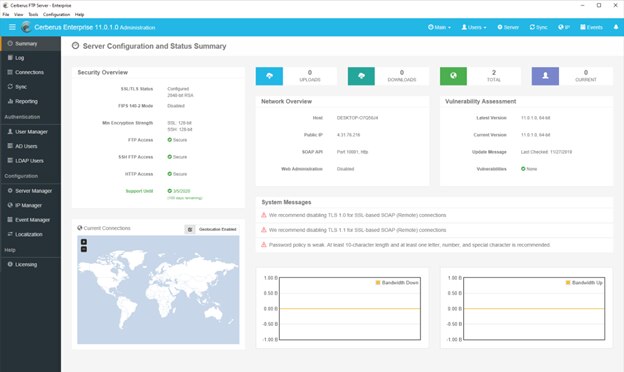 Cerberus FTP Server is built to securely send and receive files using FTP/S, SFTP, HTTPS, or SSL encryption. Because Cerberus FTP Server uses web browser transfers, it requires no FTP client. Instead, Cerberus FTP Server connects to your server through a web browser on your computer, tablet, or phone to quickly send and receive files using familiar features like copy and paste. Not necessitating an FTP client is both a good and bad thing—this may prevent third-party companies from accessing your files, but also lessens your ability to manage file transmissions. Cerberus FTP Server has counteracted this downside in a few ways, such as supporting two-factor authentication for ownership over users, servers, and storage. There are no bandwidth monitoring or per-user fees when using Cerberus FTP Server, further contributing to its appeal despite lacking FTP client compatibility.
Cerberus FTP Server comes in three different packages: Standard, Professional, and Enterprise. Standard is the most basic version of Cerberus FTP Server, offering limited features and a maximum of 50 connections. Opportunities increase when using Professional Cerberus FTP Server, such as integration capabilities with LDAP and Active Directory. Enterprise Cerberus FTP Server is all-inclusive and can enable you to create file retention policies, generate email notifications and compliance reports, and share files ad hoc.
You can access a 25-day free trial of Cerberus FTP Server in any version, but only on a Windows operating system.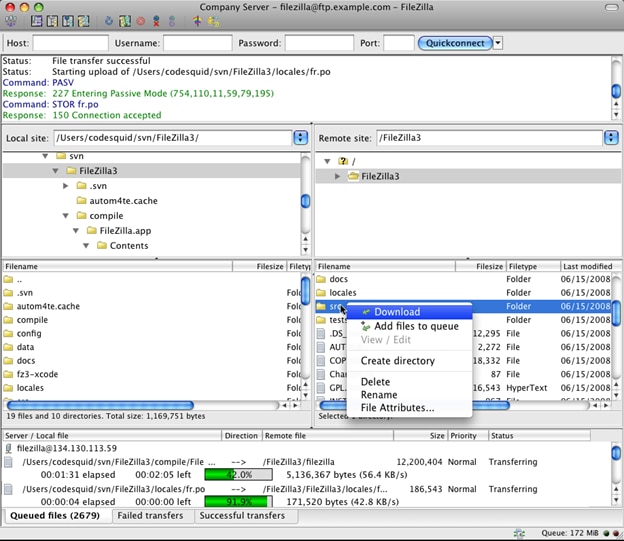 FileZilla Server is an open-source FTP server offering basic visibility and control into your file transfers. FileZilla Server uses FTP by default. To enable FileZilla Server to support FTPS encryption, you must enable FTP over TLS/SSL yourself. FileZilla Server is built to enable FTP and FTPS encryption for file transfers and downloads up to 4GB in size.
FileZilla Server has an easy-to-configure platform and is intuitive to navigate—the Quickconnect bar displays message logs with information on file transfers throughout your environment, while the left and right columns display files and directories connected to the server. Comparing this information side by side enables you to see which transfers are completed and which have yet to be accomplished. FileZilla Server also enables you to view a list of files currently being transferred through the Queues file section.
FileZilla Server's UI also supports drag and drop, which can contribute to simpler file transfers for all end-user skill sets. FileZilla Server is also designed to support file search, IP filtering, and logging capabilities for even more security and peace of mind. Create user accounts, groups, and granular permissions to keep file transmission organized and within your control. You can cap the number of file transfers using configurable transfer speed limits, offering even more control over your file transfers.

While FileZilla doesn't offer enterprise features like compliance or reporting capabilities, it's a great option for a free FTP server and works with many operating systems. View the download options for FileZilla Server here.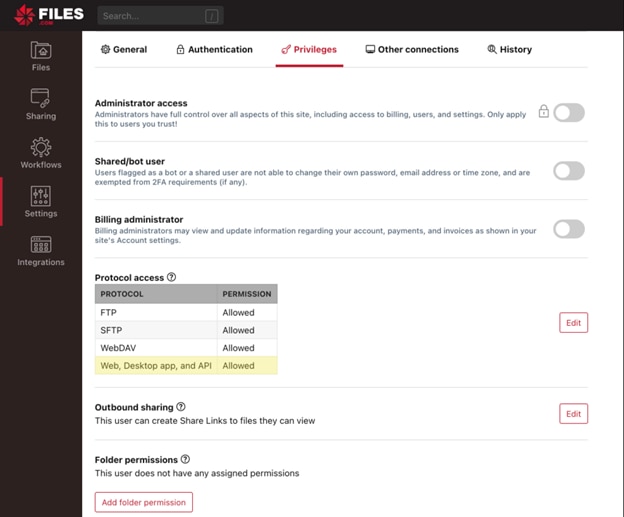 Files.com is a cloud-hosted FTP server designed for team sharing and collaboration capabilities. You can enable several users to access and edit a document using Files.com, and cloud storage acts as a buffer for file activities. Files.com can also store backups of files on your server in case of loss or for extra protection against data loss.
Since Files.com is cloud hosted, you can download related desktop and mobile apps for iOS and Android. This enables you to access files anywhere, anytime, and on the go. Files.com leverages no-code automation opportunities, enabling you to achieve high levels of integration between Files.com and your servers, clouds, and personal applications. You can enable Files.com to attach to Google Drive, Dropbox, and OneDrive for even more collaboration opportunities.
Files.com is designed to encrypt files using FTP and SFTP for in-transit and at-rest files. Files.com is also built to enable two-factor authentication for file access and can use unique file links via email to further increase the safety of your file transfers. Support files up to 5TB and help ensure compliance with HIPAA while using Files.com. There's a 7-day free trial of Files.com available.
Final Thoughts on Best FTP Server for Secure File Transfer
In my opinion, the best secure FTP server is SolarWinds Serv-U Managed File Transfer (MFT). Along with supporting safe file transfer for large files, Serv-U MFT enables you to track file servers and activity logs, automatically run programs, demonstrate regulatory compliance, and support end users from all over the world. With reliable security features and encryption protocols for in-transit and at-rest data, you can feel secure when sending files ad hoc or within your network using Serv-U MFT. Download the Serv-U MFT 14-day free trial today.