Every minute, your routers, switches, printers, firewalls, and more are sending syslog messages regarding their activity and overall functioning. To collect—and make sense—of these messages requires the use of a syslog server. With so many syslog servers on the market, finding the right one for your IT team depends on the size of your company, so I've built this list of free syslog server tools and some of their paid counterparts.
My favorite? When it comes to performance, SolarWinds® Kiwi Syslog® Server free and paid solutions offer robust, comprehensive management of syslog messages through real-time statistics and alerts as well as an intuitive web console. Kiwi offers a free syslog tool that's a limited version of its commercial version. It allows you to collect, view, and archive syslog message and SNMP traps for up to five sources. And if you need to monitor more than five devices, you can easily upgrade to the commercial edition. The paid version also has a free 30-day trial, so you can test it on all your network devices to see if it's the best syslog server for your company.
Best FREE Syslog Servers
The free edition of Kiwi Syslog Server from SolarWinds is, in my opinion, the best free syslog server for companies in need of monitoring messages from a few devices (the tool can handle up to five).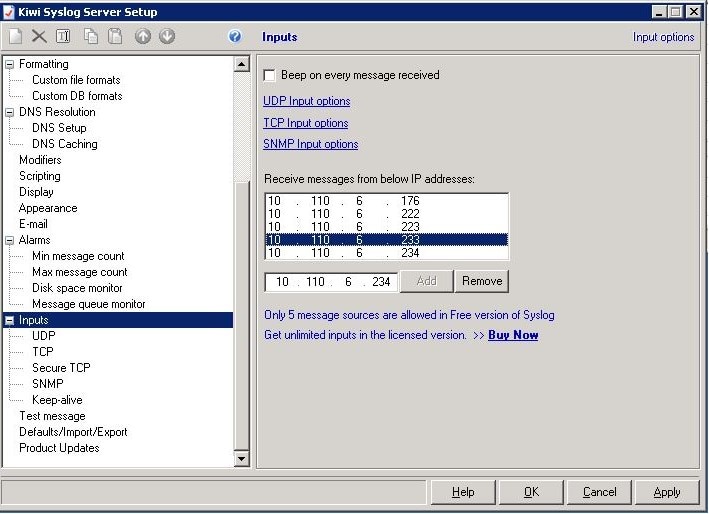 With this tool in hand, you'll receive centralized management of syslog messages and SNMP traps, be empowered to view and respond to messages, and even be able to archive messages and facilitate the compliance process. The free Kiwi Syslog Server also provides real-time statistics and daily statistic summaries so IT teams can keep their finger on the pulse of all activity. As far as free syslog servers go, this is by far the most comprehensive on the market.
If you're looking to put a little spend behind your syslog server, the paid version of SolarWinds Kiwi Syslog Server can go a long way. In my view, Kiwi Syslog Server is not only the best syslog server for Cisco devices, but also a great syslog server Windows users within my community have come to rely on.
You can set custom alerting thresholds to monitor your entire IT infrastructure, all within one intuitive console. There are even a host of built-in actions to react to syslog messages, making it easy to trigger notifications and reports, run scripts, or forward syslog messages or SNMP traps to another host. The tool boasts detailed graphs of syslog statistics over designated time periods and automatically stores and archives logs, helping keep you compliant with SOX, HIPAA, PCI DSS, and more.
Like SolarWinds, Paessler offers free and paid tools to help with syslog management through its PRTG network monitoring software. The free version for Windows helps IT teams capture and monitor syslog messages via a syslog receiver sensor and view all relevant information associated with syslog messages, like IP addresses and time of the message, through a single dashboard. From a security standpoint, PRTG will alert users if the contents of a syslog message exceed your predefined threshold values and even offers a ranking system. Messages with a "0" signify an emergency, while a "7" is typically an indication of a minor issue, like a debug. The free version of this software is powerful but can only be leveraged if you have a small network. While it offers extensive capabilities, the program's functionality has been known to falter.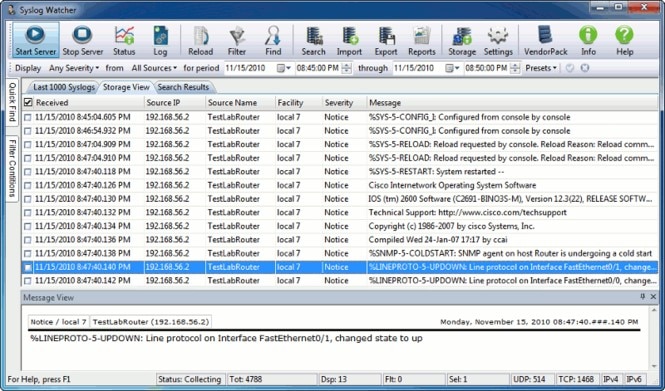 This free syslog server helps enhance the stability and reliability of your network through its syslog collection, sorting, and analyzing capabilities. It's a high-performing tool designed to handle a heavy load, processing thousands of messages per minute and offering alerts via email in the event of unusual activity. You can even export syslog messages and data to your database or to a variety of file types, like CSV, XML, or JSON. Overall, it's a strong tool, especially with its $0 price tag. Just don't expect the more comprehensive centralization and reporting compliance of paid programs.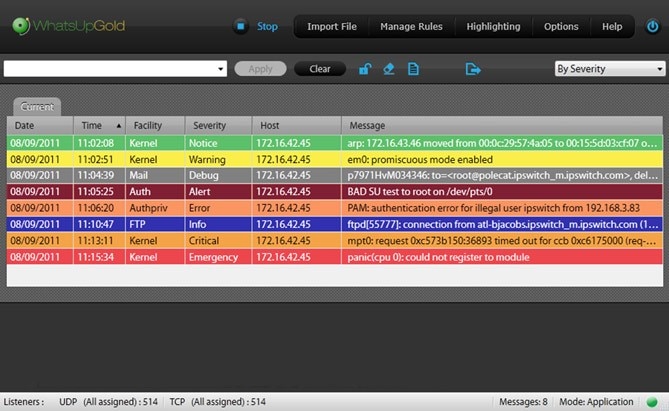 Another free syslog server software, WhatsUp Gold Syslog Server is a straightforward way to manage your syslog needs. It monitors syslog messages and provides real-time views into message data as well as filters to help you sort through the approximately 6,000,000 messages it can process per hour. To help customize your experience, Syslog Server encourages users to create rules for processing, sorting, and receiving syslog message alerts. These features make it easy to stay abreast of network activity and security. Since this is a free tool, the scope of its capabilities are fairly limited, but it's great for smaller IT teams looking for a simplified syslog message management option.
How Do Syslog Servers Work?
However, to understand syslog servers, we must have a basic understanding of syslog. Syslog, short for System Logging Process, is a universal protocol for system message logging. All network equipment, like routers, switches, printers, workstations, and firewalls, can send syslog messages. These messages keep IT teams informed of all network equipment event activity. The syslog server collects and analyzes thousands of these messages per minute and determines the appropriate course of action. Without these analytic tools, syslog messages often fall through the cracks. This can drastically inhibit your company's productivity, as you clunk through repairs and issues, and even put sensitive information in jeopardy.
To keep your company safe and on track, I recommend equipping the IT department with a syslog server that offers:
Consolidation – To boost efficiency, syslog servers should centralize logs from systems and network devices, so you can quickly view syslog messages and pinpoint issues in minutes, not hours.
Real-Time Alerts – A strong syslog tool will empower you to set predefined criteria for syslog messages based on time, type of message, or source, and alert you when these criteria have been met.
Remote Capabilities – As an IT professional, you never know when an issue will arise. Staying in tune with your network health at all times, from any location, is essential. Look for a syslog server with a web console you can view when you're at the office, or while you're on a business trip.
Compliance Reporting – Log collection and retention are the mainstays of many compliance frameworks. An advanced syslog server should be equipped to schedule automated log archival and cleanup and generate syslog reports, making it easy to comply with industry standards and keep your company in good standing.
Sorting – Trying to sift through millions of syslog messages is no easy task. Find a syslog server with advanced filtering, so you can search messages by host name, host IP address, priority, time of day, and more to quickly access the critical data you need.
Depending on the size of your business, many free tools offer robust capabilities that could be just what you're looking for.
Finding the Syslog Server
 Finding the right tool for your company can be overwhelming amidst so many options. I recommend looking for a syslog server that centralizes all network and device logs, offers advancing filtering qualities, alerts you to anomalies, and helps keep you compliant with industry standards. My personal favorite? Both the free and paid version of SolarWinds Kiwi Syslog Server offer robust, comprehensive syslog message management. Download the free 30-day trial and try it out for yourself.
Additional Resources 
4 Best Software Deployment Tools: With the right software deployment tool, you can elevate existing update services, automate deployment tasks, and put security best practices in place. Here's my list of the top four solutions.