As a network grows, ensuring it's functioning correctly becomes increasingly difficult. Managing IT infrastructure requires knowledge of the devices connected—the inventory—and continuous and regular insight into their health, performance, and availability. Some networks will have hundreds of connected devices; others may have thousands. As the network increases in size, the number of components to be monitored balloons, making manual infrastructure monitoring without the assistance of appropriate software practically impossible—not to mention prone to human error that could cripple your network.
Before going into my list of the best IT infrastructure monitoring software, I'm going to give a quick outline of what infrastructure monitoring entails, why you need it, and best practices.
What Is Infrastructure Monitoring?
Why Is Infrastructure Monitoring Important?
IT Infrastructure Monitoring Best Practices
Best Infrastructure Monitoring Tools
How to Choose an Infrastructure Monitoring Solution
What Is Infrastructure Monitoring?
Infrastructure monitoring involves diagnosing performance and availability issues across the complete technology stack, so action can be taken before problems become critical. "Complete stack" refers to everything contributing to your infrastructure: the hardware, the virtualized environment, the network, the operating system, the storage, the devices, and the applications. Large-scale infrastructures can span numerous locations and use both the public and private cloud, which complicates matters further. Infrastructure monitoring covers numerous complicated components interacting with and impacting each other, so managing infrastructure monitoring without the appropriate IT monitoring tools is challenging, if not impossible.
With so many key players and moving parts to monitor, automation is key. Automated infrastructure monitoring allows for rapid response. Because it doesn't rely on a human being at their desk, an automated solution can manage a problem outside of working hours, can reduce errors enormously when programmed appropriately, and doesn't need to rest. Essentially, proper automation can help you achieve optimal performance with minimal intervention and resources. That means less time, money, and labor spent on IT monitoring.
However, all this depends on automation being programmed properly. For example, you may want to establish thresholds (e.g., for network bandwidth and server utilization), which will trigger an automated response—defined by the administrator—when breached. If you set the thresholds too low or too high, they become useless, so it's important for threshold levels to be considered carefully and monitored to ensure they remain appropriate.
Typically, infrastructure monitoring is conducted in real time, allowing immediate action when something goes wrong. A dashboard is a useful and popular way of monitoring your infrastructure, giving you a centralized location where you can view real-time updates and generate reports.
Effective infrastructure monitoring also involves other elements:
Adding devices to be monitored
Removing devices
Performance monitoring
Health monitoring
Network and data movement monitoring
Reporting and logs
Alerting
Why Is Infrastructure Monitoring Important?
I've already answered this question in part: infrastructure monitoring is necessary because of the growing complexity of IT infrastructure. The various components, which include devices, network, server, applications, storage, operating system, and hardware, are constantly impacting each other. If something goes wrong, finding the source and rectifying it depends on effective infrastructure monitoring tools or strategies.
Infrastructure monitoring affords you a real-time awareness of your infrastructure, which can be invaluable. It can also contribute to the achievement of your organizational objectives. By collecting and reviewing infrastructure data on an ongoing basis, you can measure the current status and the network's overall progress. If, for example, your business has established an objective of achieving a specific network response level, then IT monitoring tools could give you insight into where the network responsiveness is at present and where it has been in the past. You could identify spikes and lags and diagnose why they occurred. This diagnosis can inform your strategy going forward and make a significant contribution to your progress toward your network responsiveness objective.
Tracking the health and performance of devices in your IT infrastructure is another important contribution made by effective infrastructure monitoring. With analysis of devices and your wider IT infrastructure, you can better pinpoint imminent failures before they impact performance.
Here are just two examples of what can happen if you don't have adequate infrastructure monitoring tools and strategies in place:
You wind up with a "zombie server"—a server sitting idle and disused, consuming power without producing anything. This is a complete waste of resources.
You risk malware infiltration. This entails malware infiltrating a corporate network and using it to fire off spam, deliver malicious payloads, sniff network traffic for sensitive information, and launch DDoS attacks. An appropriate infrastructure monitoring solution would flag up an unknown application sending thousands of emails or communicating with a Russian server, so this could be prevented.
IT Infrastructure Monitoring Best Practices
When using infrastructure monitoring tools, keep in mind the following best practices. By implementing these, you can help boost the successfulness of your infrastructure monitoring strategy.
Prioritize. This is key. Before establishing threshold and notification settings, you should first determine which are the most important to you. I recommend listing these in descending order, starting with what could potentially put your job at risk and finishing with minor issues, like spam email.
Create alert resolution processes. You should always aim to achieve the fastest and most efficient resolution for each type of alert you set up. This is tied in with prioritization and should consider escalation. What does the CEO need to know about? What can be dealt with by an apprentice or intern?
Practice redundancy. If you have numerous data centers, make sure you're monitoring each of them from more than one location.
Use support. Make the most of support offered by your vendor.
Combine monitoring tools. You can get on-premises and cloud-based tools. Use both if you can.
Keep tabs on the monitor. Don't assume just because you aren't receiving alerts, nothing is wrong. There could be a problem with the monitor itself, or the settings.
Buy instead of building. This tricky one attracts contention and debate. The question is, do you build your own IT monitoring solution from the ground up, or do you purchase infrastructure monitoring tools? While it's tempting to avoid the cost and risk of being locked in with a vendor by building your own, modern IT systems are complex, so it's far safer to buy IT monitoring tools.
Review metrics on a regular basis. The thresholds you establish might be too high or too low. If you're receiving too many alerts or you aren't notified when a legitimate issue occurs, it's time to review the threshold settings.
Conduct tests. You shouldn't find out whether your alert system is effective only once a critical issue has arisen. When you first implement your monitoring and alert system, it's likely to need some fine-tuning. Conduct tests so the robustness and effectiveness of the system is certified before an issue occurs.
Best Infrastructure Monitoring Tools
Now that you have a good idea of what infrastructure monitoring entails, why you need it, and the best practices to boost its effectiveness, let's look at the best IT infrastructure monitoring software on the market. In curating this list, I've considered range of functionalities, user-friendliness, sophistication of capabilities, scalability, and overall design.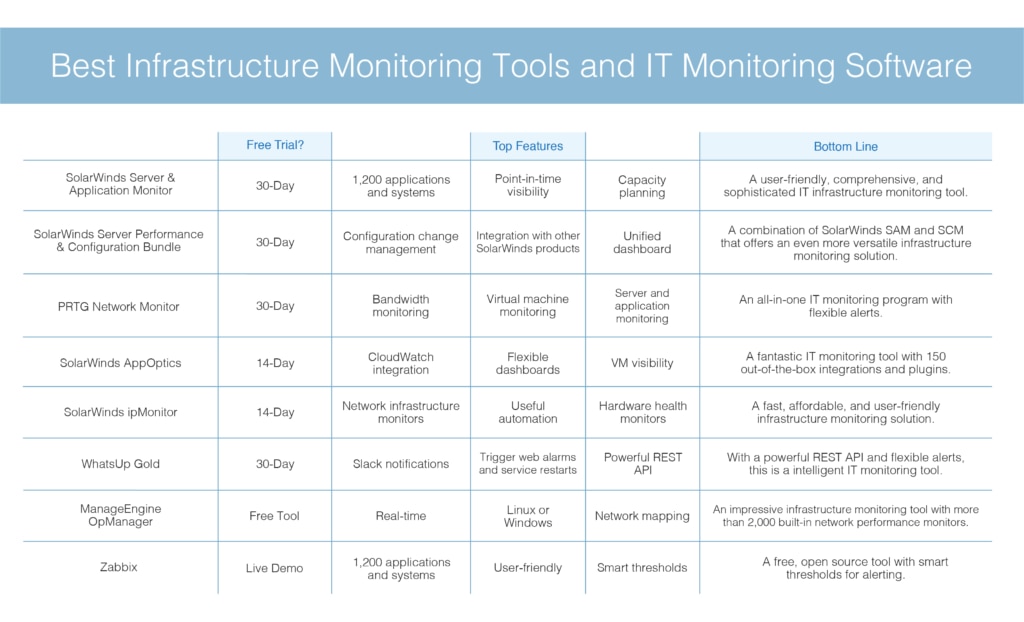 Several of the offerings on this list are from SolarWinds, which has a reputation for combining sophistication with ease of use. The SolarWinds range of tools—covering network management, systems management, IT security, compliance, network configuration, resource management, database management, IT help desk, application management, and more—require minimal training and experience. They are beginner friendly, come with ample support, and have been designed in an intuitive way that makes navigation and data interpretation easy. While one of the company's best-known products is SolarWinds® Network Performance Monitor, the entire product line is worth raving about. You'll find SolarWinds products at the top of most "best of" IT solution lists, and with good reason.
When it comes to IT infrastructure monitoring, you can't do better than SolarWinds Server & Application Monitor (SAM). This is one of the most comprehensive and advanced infrastructure monitoring tools on the market. It supports more than 1,200 applications and systems, including Azure, AWS Cloud, Microsoft, Apache HTTP Server, and Active Directory. Of the tool's numerous features, the most notable are custom app monitoring, application dependency mapping, Azure monitoring, server capacity planning, and application monitoring.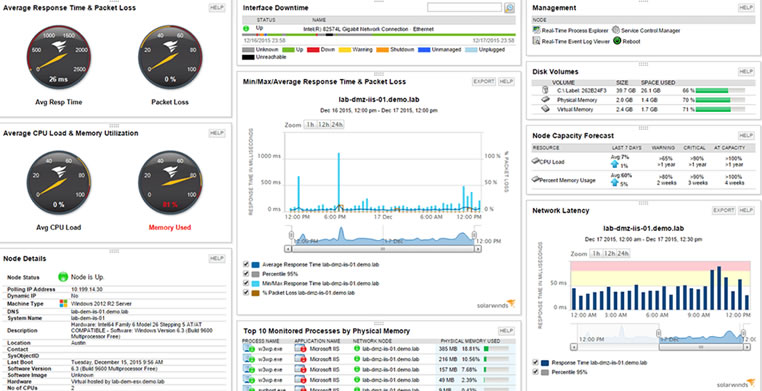 Application performance monitoring with SAM allows you to conduct deep-dive diagnostics, giving you insight into complex problems with point-in-time visibility. It will alert you to baseline deviations and can undertake automated application management, discovery, monitoring, and performance reporting, saving you time and resources. You can also monitor synthetic transactions, ensuring the end user of your website or application gets the best possible performance out of it. And it gives you the ability to track physical and virtual server resource utilization and capacity metrics, so you can forecast needs and manage workloads appropriately.
SAM also assists with capacity planning, helping you forecast exactly when you'll run out of server resources. Via the dashboard, you can rapidly identify which resources have reached capacity, like CPU and memory, to inform hardware and resource investments. In addition, you can monitor virtual and storage resource capacity bottlenecks impacting the health and performance of your applications.
Because SolarWinds products use the Orion® Platform, they can be integrated and combined to extend your IT monitoring and management solution. With the SolarWinds AppStack™ dashboard, you can view your entire application stack, including virtual machines, storage arrays, servers, apps, and more. This enables the identification of capacity issues at every level. AppStack can be used with not only SolarWinds SAM but also SolarWinds Virtualization Manager and SolarWinds Storage Resource Monitor, with the metrics viewable in one unified dashboard.
SolarWinds has a real knack for dashboard designs, which are always dynamic and easy to use, representing data in a graphical way to improve the speed and accuracy of data reading. If you want to give SAM a try, take advantage of the 30-day free trial.
SolarWinds Server Performance & Configuration Bundle (SPCB) is an extended version of SAM, which bundles with SolarWinds Server Configuration Monitor (SCM). These programs have been integrated seamlessly, creating a unified and highly effective IT monitoring solution. The bundle is suitable for those of you who would benefit from a combination of server, application, and configuration changes monitoring. Like SAM, SPCB is extremely sophisticated, but nonetheless user-friendly.
The SCM component of the bundle is fantastic for improving visibility and team accountability. It keeps you informed of any unusual or unauthorized configuration changes, as well as giving you insight into exactly when they happened and who was responsible. SCM decreases troubleshooting time because it helps you identify whether configuration changes line up with performance issues or outages.
SPCB allows you to proactively monitor your applications and servers, with one customizable dashboard that natively includes templates for monitoring more than 1,200 application, system, and infrastructure vendors. It also offers centralized asset management, with auto-discovery of hardware and software on all workstations and servers.
There's also intelligent application infrastructure dependency mapping, cross-stack IT data correlation, Azure and AWS monitoring, and configuration comparison capabilities. Furthermore, SPCB can monitor both on-premises and hosted infrastructure.
A 30-day free trial of SPCB is available.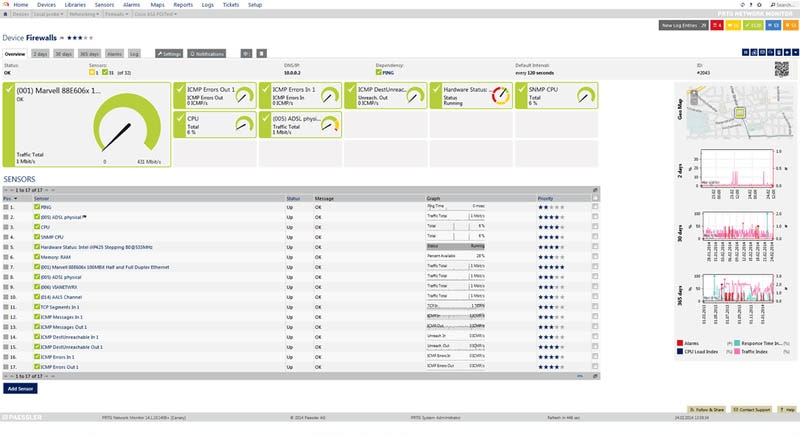 PRTG Network Monitor by Paessler is another popular IT monitoring tool. It's an all-in-one solution covering bandwidth monitoring, network monitoring, VM monitoring, and server and application monitoring. It's easy to install and use, though its dashboard and user interface could have a cleaner aesthetic, which would improve the accuracy and speed of data interpretation.
PRTG comes with robust reporting utilities, a web interface, and alerting capabilities. The alerts are flexible and can be received via SMS, email, or push notifications through mobile applications. PRTG mostly depends on agentless monitoring—using SNMP, WMI, SSH, and other protocols to do so—but it also supplies an agent you can install on devices you want monitored.
This program takes a sensor-based approach, which means you can build a solution tailored to your unique needs. The first 100 sensors are free. If you want to try the unlimited version, a 30-day free trial is available.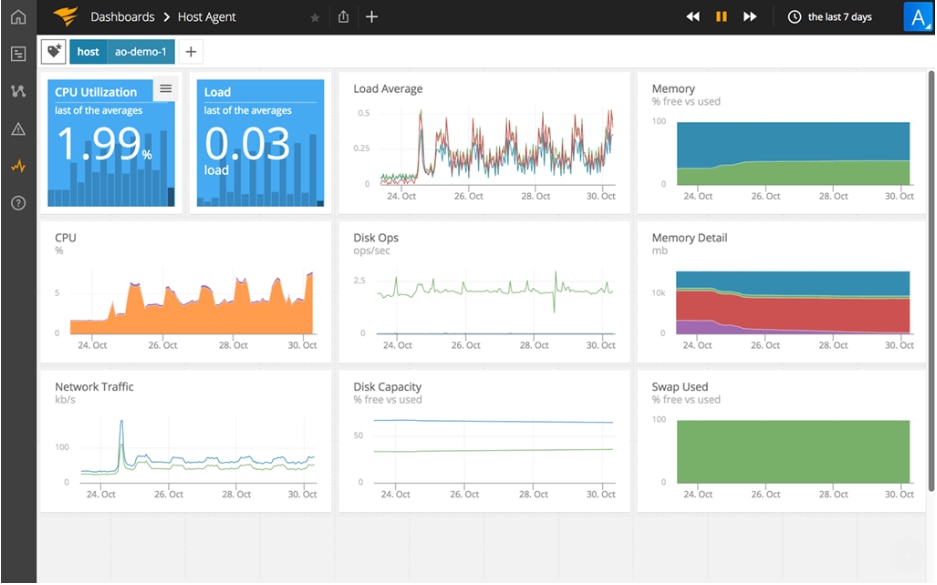 AppOptics™ is another SolarWinds product, which means it boasts a user-friendly and intelligent interface, with graphical representations of data throughout. This infrastructure monitoring solution affords you instant visibility into container orchestration, VMs, and cloud services. It's scalable and ready to use pretty much from the moment of launch. It offers 150 out-of-the-box integrations and plugins, including for Amazon AWS and Microsoft Azure, alongside load balancers, web servers, databases, and much more.
The single-pane approach to viewing your data makes interpretation a breeze, removing the need to jump between tabs, pages, and tools. AppOptics gives you a bird's-eye view of all your hosts, and lets you see any hosts or containers that have been exceeded or are approaching thresholds for performance and utilization. You can drill into infrastructure to access host detail views of CPU, memory, disk, and network metrics. You can also drill down into logs with one click.
There's lots to like about AppOptics, including Amazon CloudWatch integration, Azure infrastructure services, a quick setup, and flexible dashboards. You can access a 14-day free trial here.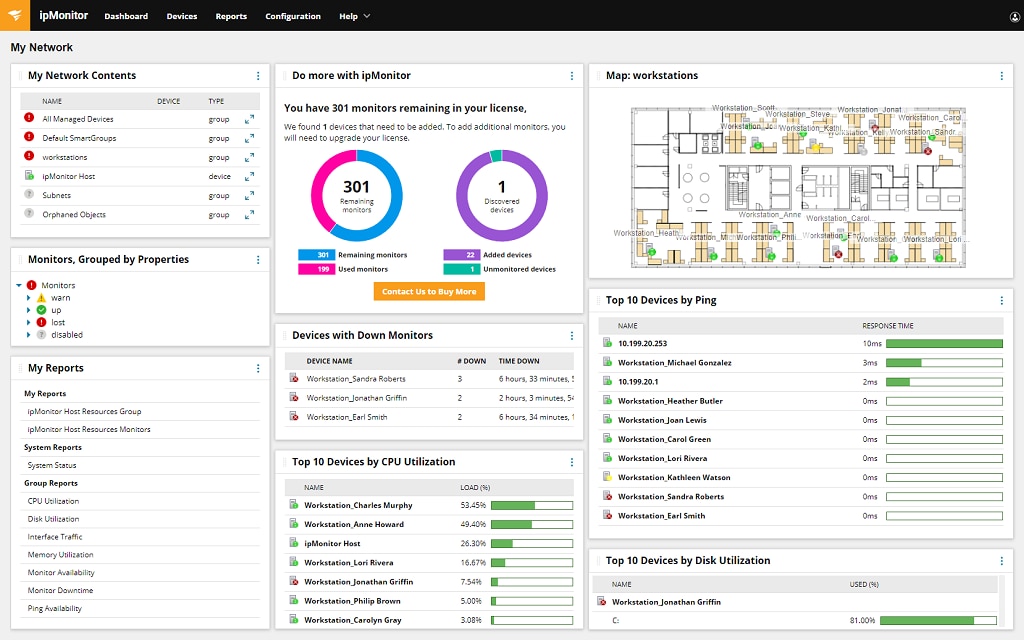 Another powerful solution when it comes to monitoring your infrastructure is SolarWinds® ipMonitor®. ipMonitor offers you great visibility into your network infrastructure—including your virtual servers, physical hardware, and other assets—in the form of a fast, affordable, and lightweight tool using an agentless architecture as the backbone of its comprehensive feature set. The tool is designed to be user-friendly no matter your level of expertise.
Automation is key when it comes to successful infrastructure monitoring. Luckily, ipMonitor delivers in this area. The tool's Startup Wizard can help guide you through the automated discovery and alert configuration processes, and it helps you understand what you should be monitoring on each device thanks to its out-of-the-box recommendations. With ipMonitor, you can quickly discover critical IT devices and begin monitoring them within minutes to keep track of their availability, performance, and responsiveness.
ipMonitor goes beyond standard infrastructure monitoring by offering key insights into hardware health as well as standard metrics tied to RAM, CPU, disk utilization, and more. Key hardware health monitors include the following:
The Battery Monitor, which offers an accurate picture of battery health and current operational conditions by testing the remaining charge in a device battery
The Fan Monitor, which provides an accurate picture of fan health by retrieving the current status of a fan
The Humidity Monitor, which assesses humidity levels in specific areas by retrieving and analyzing the responses received from a humidity sensor
The Temperature Monitor, which assesses temperature levels in specific areas by retrieving and analyzing the responses received from a temperature sensor
As with many SolarWinds products, ipMonitor provides high-quality monitoring in a user-friendly package designed to let you see the most important information on a single, clear console before letting you drill down into greater detail to get to the bottom of potential issues. The configurable alerts in ipMonitor help ensure you're always in the know about what's happening within your infrastructure. ipMonitor also offers more than a dozen different notification types, so the right members of your team always know when and where their attention is needed, better equipping them to address problems before they escalate.
If you're interested in learning whether SolarWinds ipMonitor is the right fit for your organization, you can try a fully functional 14-day free trial before making a commitment.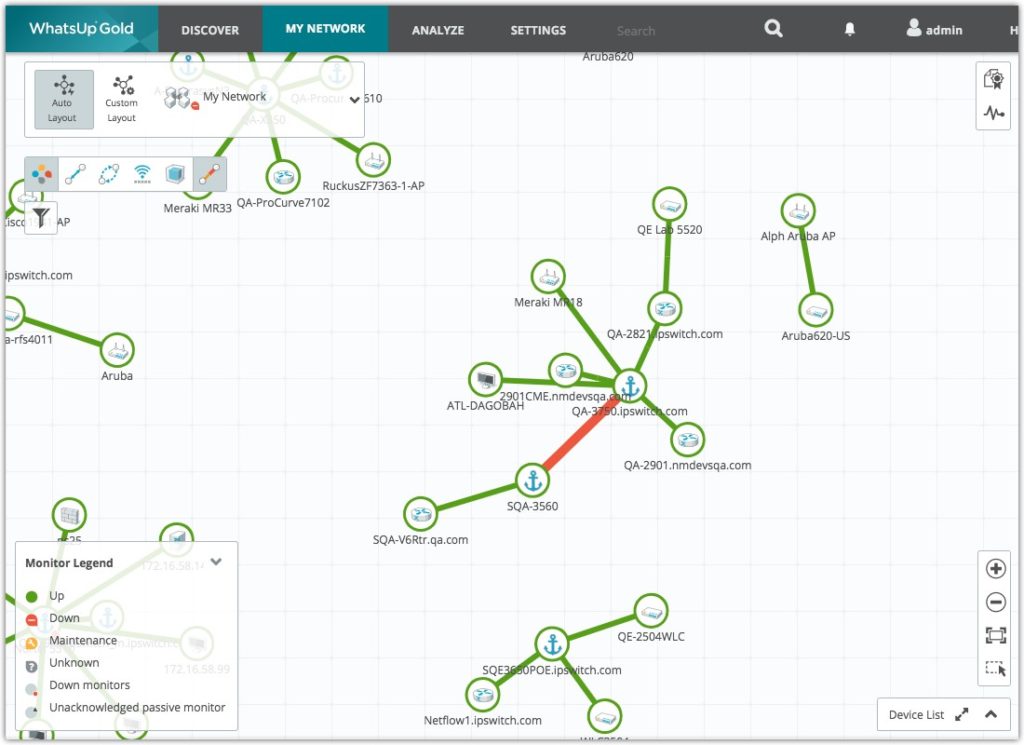 WhatsUp Gold, by Ipswitch, has been used across the globe for about a decade and is a highly efficient IT monitoring tool. It covers network monitoring, managed file transfer, FTP server, and FTP client. The WhatsUp Gold network monitoring software allows you to view up/down availability and performance on an at-a-glance basis, reducing the amount of time spent conducting analysis and diagnostics.
This tool works for the cloud and on-premises, affording you full visibility into the status of your applications, systems, and network devices. I'm a big fan of its topology-aware approach to monitoring, which gives you in-depth insight into network dependency and access to more intelligent alerts. You can be notified via SMS, email, web, and even Slack. Other actions can be triggered by an alert, like service restarts, IFTTT posts, and web alarms.
The powerful REST API automates your workload, and the program comes with auto-discovery capabilities to map out your entire network. The dynamic zooming on these maps, which show connectivity and dependencies, is useful: click on any device and you'll get access to a wealth of associated reports and network monitoring settings. Dashboards are customizable with reports for servers, applications, wireless, virtual, cloud, and network traffic. You can export and schedule report runs, which can then be shared with departments or teams.
The mobile application is another welcome feature, which lets you stay in the loop even when you're on the go. Overall, WhatsUp Gold is a great infrastructure monitoring tool; however, it lacks the sophistication of some other tools and isn't as easily scaled. You can download a free trial here.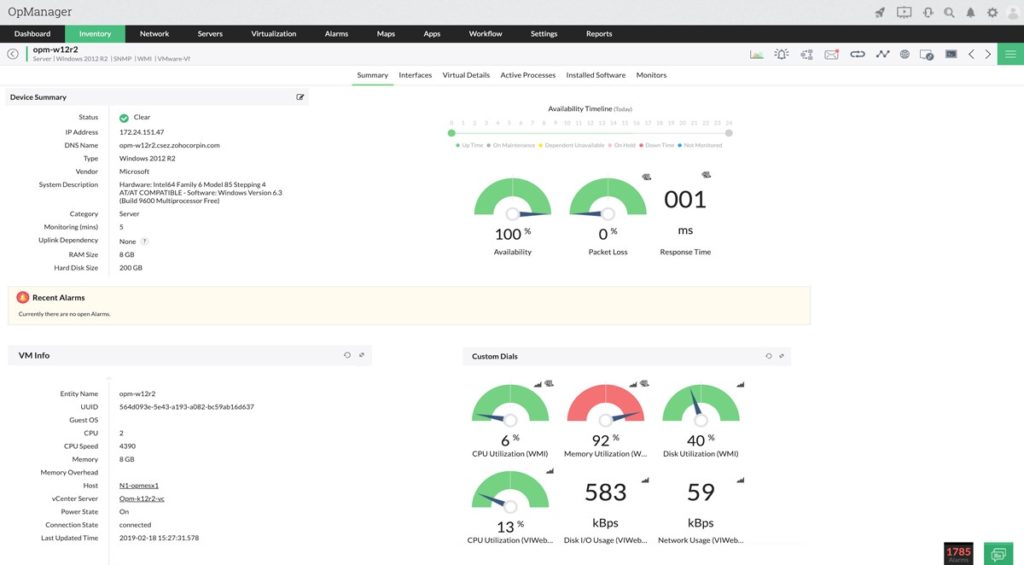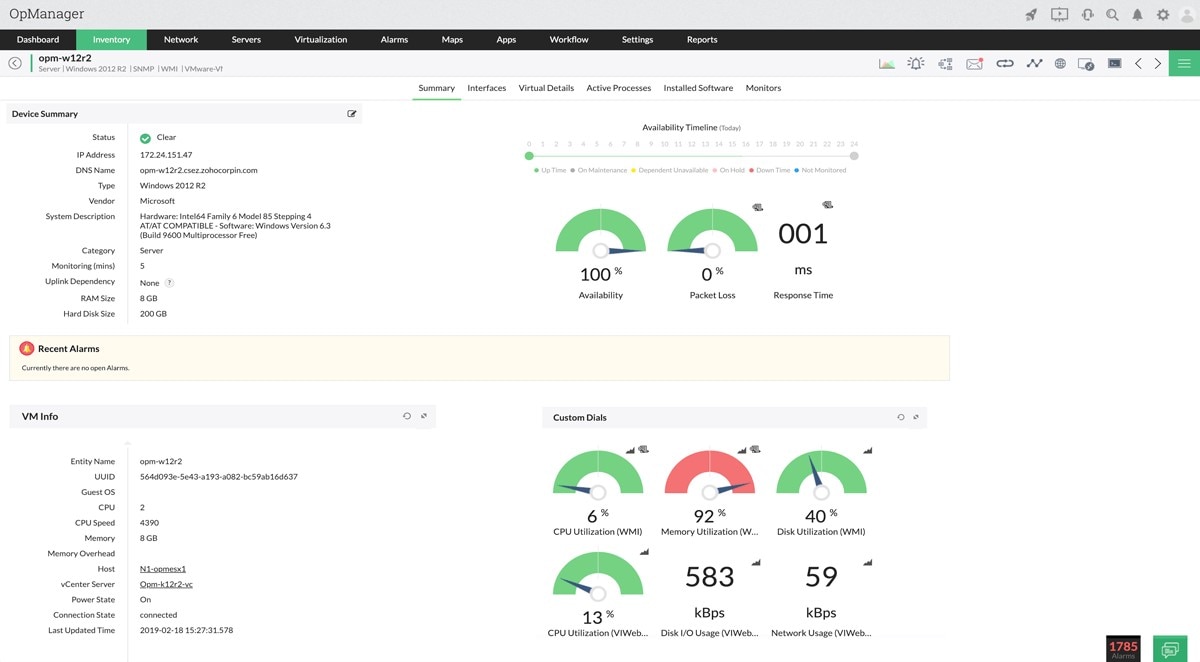 I love ManageEngine OpManager's web interface, which is highly responsive. OpManager can be downloaded on either Linux or Windows and offers a range of useful and intelligently designed features. The program covers network mapping, physical and virtual server monitoring, monitoring templates, reporting, network configuration management, and network traffic analysis.
The tool's real-time network monitoring capabilities are driven by more than 2,000 built-in network performance monitors, including critical metrics like latency, speed, packet loss, errors and discards, and analysis of performance bottlenecks. OpManager also comes with customizable dashboards, WAN link monitoring, and multi-level thresholds, which trigger alerts when a breach occurs.
In my view, OpManager could be a little more beginner- and user-friendly. The Standard and Enterprise versions each offer a 30-day free trial. A free edition is also available, but it only covers three devices and two users, with limited monitoring functionalities.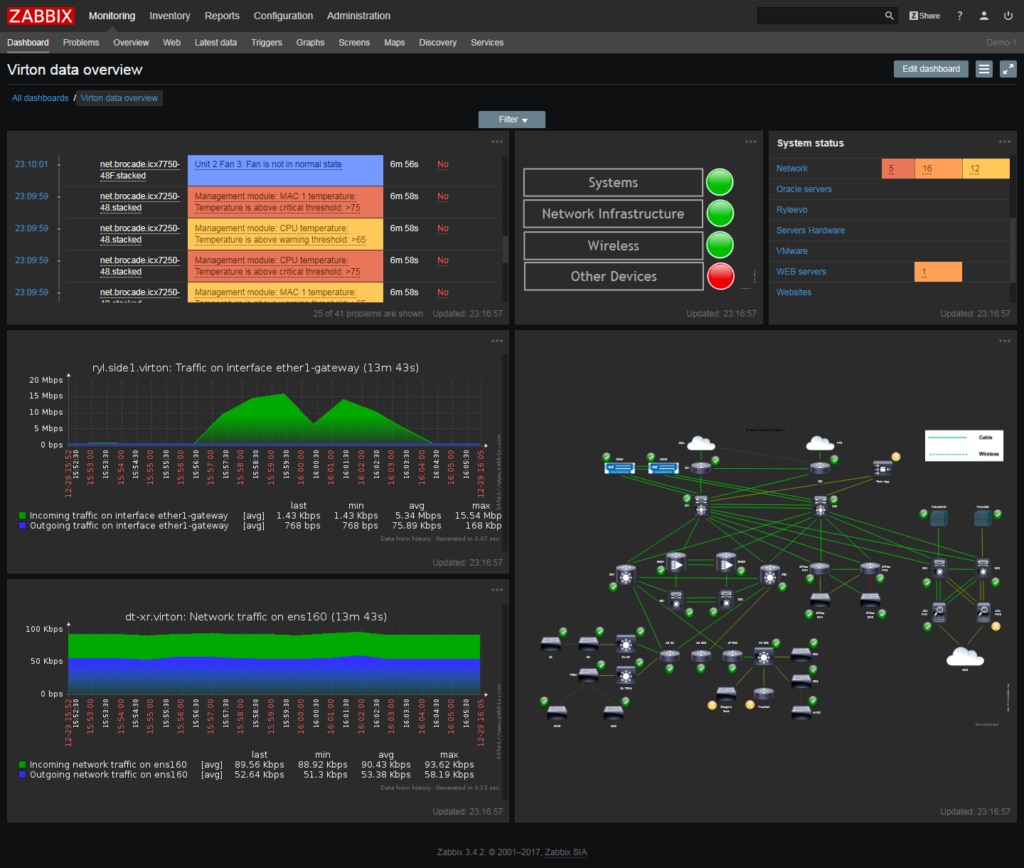 Zabbix is a fully comprehensive open-source network monitoring tool. Its capabilities are far-reaching, covering cloud, application, server, and network monitoring. It supports thousands of integrations, including Active Directory, .NET, AWS and AWS CloudWatch, and Apache. It also supports multiple metric collection methods, with multi-platform Zabbix agents, SNMP and IPMI agents, agentless monitoring, custom methods, calculation and aggregation, and end user monitoring.
My favorite feature of Zabbix is the smart thresholds capability, which gives you access to highly flexible definition options and the ability to establish separate problem conditions and resolution conditions and set multiple severity levels. You'll also benefit from root cause analysis, anomaly detection, and trend prediction.
The main drawback of this program, impressive though it is, is open-source tools aren't especially suitable for business use. If you have enterprise-grade requirements, I'd recommend a paid, closed-source tool. You can request a live demo here.
Managed Service Provider Solution: N-able RMM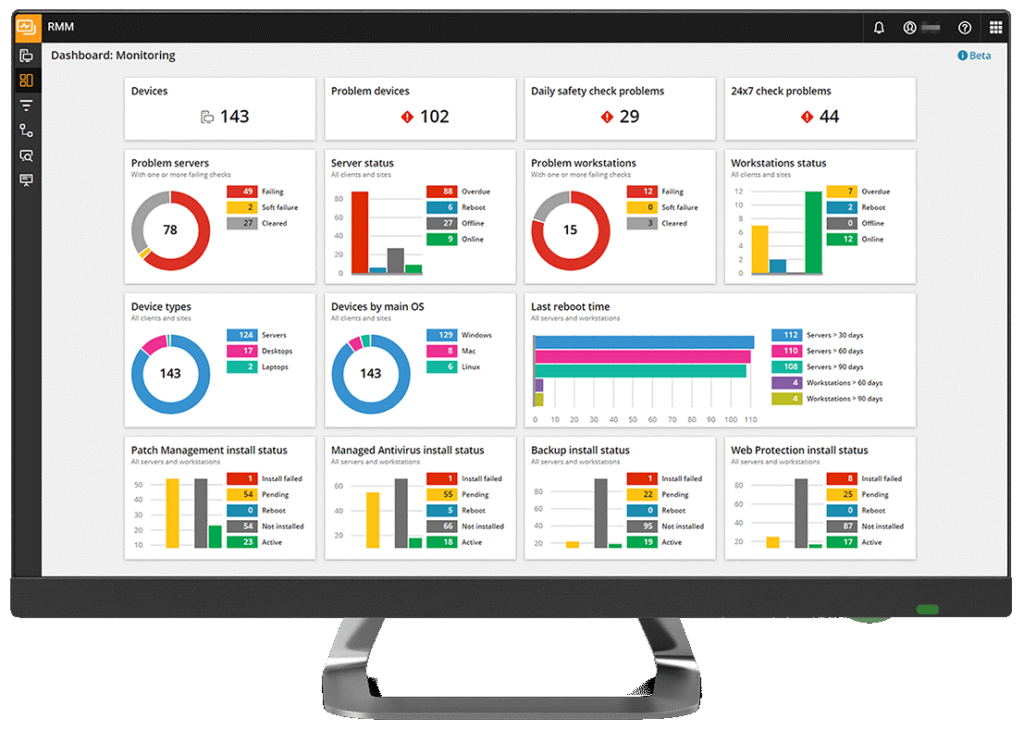 Some tools are designed to be used by many types of businesses, while others have a more specific focus. This is why Remote Monitoring & Management (RMM) is worth mentioning separately. It's built from the ground up in response to the needs of managed service providers, who require a solution that enables them to monitor the infrastructures of hundreds or thousands of unique client networks.
RMM is a holistic remote monitoring tool, providing a full feature set designed to help managed service providers offer the best customer service possible. It includes monitoring for security threats, managed antivirus software, robust patch management, and even a backup and recovery feature. This solution simplifies the job of monitoring many networks and responding to potential problems quickly and effectively. You can request a free 30-day free trial here.
How to Choose an Infrastructure Monitoring Solution
It simply isn't cost- or time-efficient to manage infrastructure monitoring of a medium to large network without the use of software. The IT infrastructure monitoring software you choose will depend on your organization's specific requirements. If you'd benefit from an IT monitoring tool with a focus on servers and applications, but don't require any more scope of functionality than this, SolarWinds Server & Application Monitor is your best bet. Overall, this is the most efficient, user-friendly, and sophisticated IT monitoring tool on the market, balancing range of capabilities with top-quality features.
If more is better for your business, and you want the ability to monitor configurations too, then SolarWinds Server Performance & Configuration Bundle may be more suitable. This program combines Server & Application Monitor with Server Configuration Monitor, which extends the solution's functionality, so it can detect unauthorized configuration changes to your applications and servers. Choosing between SAM and SPCB comes down to the question of how much you need the extended functionalities of SPCB. If configuration monitoring is inessential, then it may make more sense to choose SAM to satisfy your infrastructure monitoring requirements.