Successful service desk management requires a complete and clear understanding of internal processes, service desk metrics, and end-user expectations. Besides having relevant technical experience, skills, and competencies, IT service desk managers must know how to keep their employees happy and team of technicians well-managed to fulfill end-user expectations.
What is an IT Service Desk?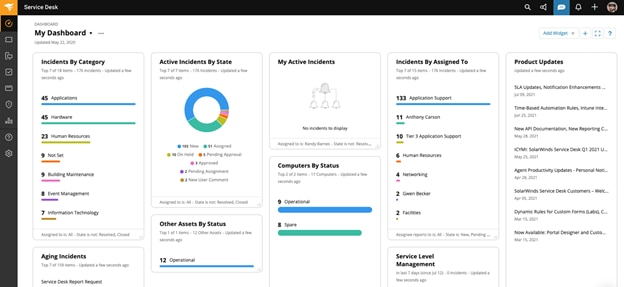 An IT service desk is an advanced IT help desk solution designed to simplify and accelerate the ticket resolution process. It deals with individual employees' questions, tracking tickets, and identifying recurring issues, and acts as a point of contact for service requests, problem management, and configuration changes. It focuses more on business process enhancement by improving IT processes, monitoring and assessing current processes, trends, problem resolution, and end-user education.
Benefits of Using ITSM Solutions
An ITSM solution helps to:
Align IT and business processes: ITSM tools facilitate quick and seamless collaboration and communication between IT and other internal departments to help create, assign, track, resolve tickets, and prevent glitches.
Enhance operational efficiency: Service desks use standardized ITIL best practices and guidelines, enabling teams to get higher ROI from their platform, develop better strategic planning, and transition their service delivery day-to-day operations from being reactive to proactive.
Improve asset management: ITSM platforms serve as an IT hub for the organization's assets throughout their lifecycle. This enables teams to quickly retrieve asset information, configuration information, and take action as quickly as possible to restore normal service, meet licensing compliance, or prevent and minimize downtime.
Make data-driven decisions: IT service desks are the primary point of contact that collects, stores, and updates data from tickets and assets to help teams make data-driven and smart IT decisions about process automation and scale their operations in supporting their org and business.
Seven Essential Tips for Desk Managers to Achieve Success in their Roles
Document All the Processes
Process documentation is one of the most effective methods to complete a task or process successfully and ensuring your predecessors won't have to redo everything from scratch next time similar issues occur. Outlining all the necessary steps of internal, ongoing operations helps employees learn and gain insights from past experiences. Documenting processes also enables support teams to improve and optimize core processes, business performance, and operational agility. Modern service desk solutions enable you create catalog items for service or change requests to help streamline and provide a coherent level of service across the board. They also enable you to convert incident resolution texts into knowledge base articles with ease.
Track and Document SLAs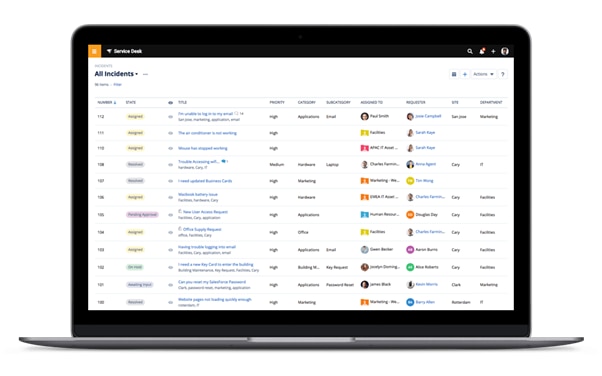 Similarly, documenting SLAs allow service desk managers to pre-define internal and external services and measure the success of the support services based on the desired end-user experiences and business goals. Having clear SLA documents in place enables service desk managers to track the performance of support teams against business objectives and enforce agreed timelines and quality of service.
Create a Knowledge Base to Offer Self-Service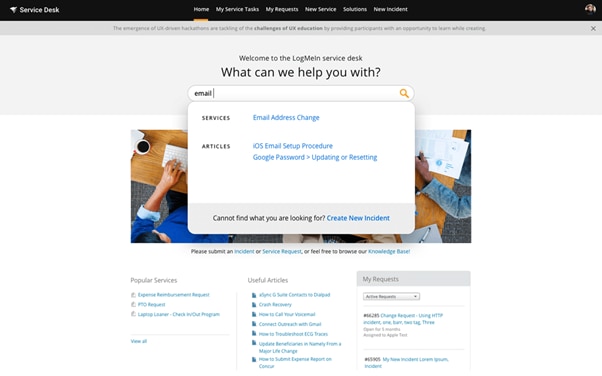 Creating a knowledge base accessible via a self-service portal is an effective way to help end users find solutions to their common queries. A knowledge base is a centralized database of FAQs, simple employee queries, guides, and instructions to troubleshoot issues. It improves support services and enhances employee productivity by enabling teams to handle high volumes of common end-user questions.
Service desk managers must create a knowledge base or consider using a self-service tool included within a service desk software to save technician's time and efficiency and enable end-users to independently resolve IT issues—no matter where they're working.
Promote End-to-End Transparency Through Real-Time Visibility
End-to-end visibility of the entire service and asset lifecycle is important to managing and maintaining IT teams, budgets, and resources while delivering quick support services.
Incorporating an automated service desk that can provide real-time shareable insights into ticket and asset lifecycles and statuses can help technicians resolve or escalate issues faster and promote transparency with the other stakeholders.
Use Prioritization to Make Strategic Decisions
Managers must build a priority matrix based on impact or urgency of an incident or a service request to make quick and more strategic decisions and help their teams be more proactive than reactive. Automation rules can come in handy in helping you and your team assign and route tickets automatically, while updating their priority as needed (based on SLAs, time-based record actions, and more).
Create an Escalation Matrix
Having an escalation matrix is one of the best ways to notify support teams about critical issues such as resource shortage or technical issues based on their management levels. A proper escalation matrix allows support teams to diagnose, track, and monitor situations that require swift action. To create a well-defined escalation matrix, support management must:
Define the types of problems to include in an escalation plan to ensure effective service delivery
Highlight the relevant contacts hierarchically and define their roles
Measure Customer Satisfaction (CSAT)
'Regularly measuring customer satisfaction and then reviewing the trends over time by team, technicians, categories, and other elements can help you keep track of the performance of your teams. Modern service desk platforms allow you to track the level of customer satisfaction in every service process and show you relevant trends, so you can take more strategic decisions—with just a single click.
Conclusion
A cloud-based service desk is on the frontline when it comes to providing end-user support, especially in the era of working remotely and distributed teams. It becomes crucial to have a solution designed to improve the efficiency and productivity of the support team alongside real-time collaboration and end-to-end visibility.
When deploying a service desk solution, it's vital for managers to evaluate and discover the functionalities it offers and whether it fits the organization's or team's requirements. Additionally, embracing service desk best practices can help manage costs, maximize return-on-investment and time-to-value, and enable support teams to deliver excellent service with exceptional end-user experiences.