There are a lot of options available when it comes to service desk software, whether you run a small business or an enterprise-level company. Choosing the right help desk solution can set the tone for how you deal with customer support requests, which is significant if you want to keep users happy and returning.
The best way to find the ideal service desk solution for your company is to focus on the features. This means understanding what critical functionality service desk software should include and which are the most important for your business.
In this article, we'll talk about the importance of using service desk tools and what features you should look for in the solution you choose.
Why Your Business Needs Service Desk Software
Service desk software can benefit your business in a myriad of ways. When you're running a company, you'll likely need to deal with occasional (or frequent) support requests due to technical, billing, or even shipping issues. Service desk tools can help you receive, process, and manage those tickets in an organized fashion.
In a nutshell, a service desk serves as the point of contact between your organization and your users who need support. This assistance may be required before or after they purchase your products or services.
The more your business grows, the higher number of service requests you'll get—which means you'll need a larger support team. Giving them access to service desk software will enable them to do their jobs efficiently.
3 Key Features of a Good Service Desk Software Solution
Although service desk features can vary depending on which software you use, most solutions include some basics. Ideally, you'll weigh which of them are the most important to you and use the information to choose the best solution for your business. Let's look at three essential features to watch for.
1. Multiple Channels for Submitting Service Requests
Not all your customers will prefer to use the same channels to submit service requests. While some users might choose email, others will want to stick with live chat or phone support.
By providing end users with multiple options, you increase the chance of them reaching out to you when they run into problems with your products and services. Not only can these requests ensure you help your customers, but they can also make it easier to identify any issues with your products.
To make your team's work more manageable, the service desk solution you choose should be able to route tickets from every channel and notify the corresponding staff members about new submissions. Using software that incorporates automation within its ticket management system can also simplify getting requests to the appropriate party in a timely manner.
2. A Self-Service Portal
Today, a significant portion of your customers may be relatively tech-savvy. They might be inclined to find solutions to problems on their own and fix them without submitting a service request.
To make this process easier, you might want to use a service desk solution that lets you set up a self-service portal. It could include a comprehensive knowledge base with articles covering:
Solutions for the most common support requests your team deals with
Answers to pre-sale questions to help users make informed decisions
On top of helping users troubleshoot problems, a self-service portal can also double as sales marketing material. With most sales pages, you're limited in the amount of information you can include. However, with a knowledge base, you can have entries for every question users might have, including issues related to billing, subscriptions, and more.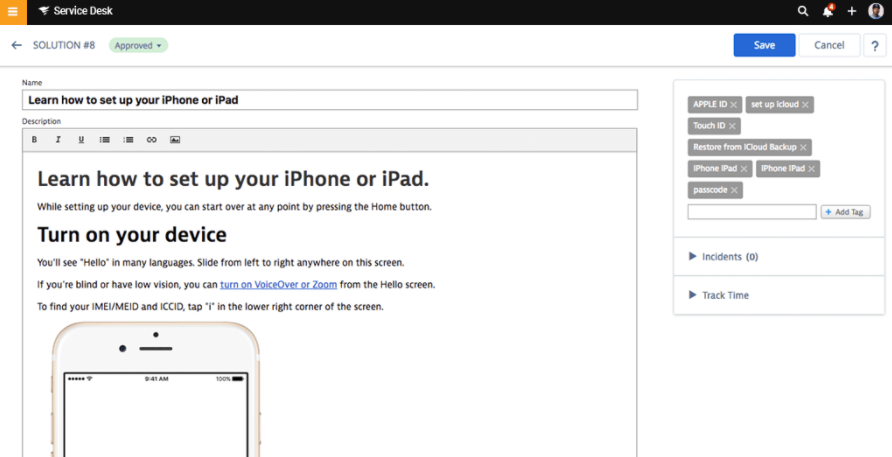 Finally, ideally a self-service portal should include an option to let users submit service requests if they can't find the information they're looking for. They should also be able to look up their tickets' status using the portal, making it a one-stop destination.
With a service desk, you'll be able to build a self-service portal and add articles to it with ease. Depending on the software you use, you may even be able to generate knowledge base entries based on support requests, which should help streamline the entire process.
3. Satisfaction and Efficiency Metrics
Since service desks are all about helping customers, this software should enable you to monitor user satisfaction. This includes providing customers with the option to rate the service they get, leave comments on problems they had with tickets, and more.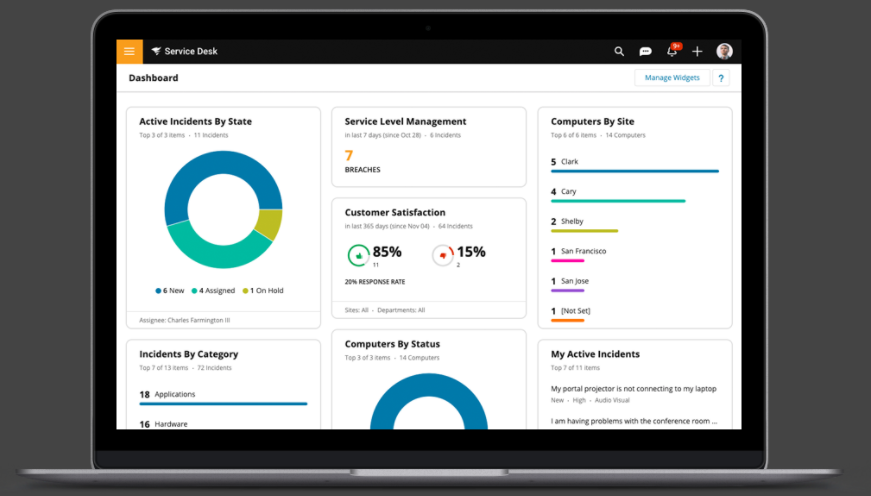 Satisfaction markers give you insight into how well your employees deal with service requests. If customers are unhappy with the support they receive, they might be less likely to extend their relationship with your business.
At the same time, an IT service desk should also give you access to internal metrics, such as:
How long it takes to close tickets on average
How many tickets need to be escalated
The time it usually takes for customers to get an initial response to their requests
All these metrics help you put together a picture of how well your team is working, and help you decide if you need to make any changes. However, the metrics you can measure will depend on your service desk software.
What Makes a Good Service Desk?
A solid service desk solution will help you keep customers happy and spot internal problems well before they become serious issues. The service desk software you choose should depend on the features you want to prioritize for your business.
Service desk features vary drastically depending on the tool you use. However, if you want to get the most out of your choice, we recommend you keep an eye out for the following three options:
Multiple channels for submitting service requests
A self-service portal
Satisfaction and efficiency metrics