Regardless of the industry you operate in and whether you manage employee, customer, or both types of tickets daily, implementing a Service Desk ticketing system can make your life a lot easier. Take a look at this list of highly functional and exceptional ticketing software options!
---
Top IT Ticket Management Tool
Whether you're managing tickets for employees, customers, or both, having a service desk ticketing system in place is essential. These platforms take the exhaustive task of IT ticket management and turn it into a streamlined operation making life easier for everyone involved. Through automated workflows, ticket categorization protocols, and prioritization practices, your team can tackle any task at hand, quickly and efficiently.
It can be hard to know where to begin with so many IT ticketing software options on the market. I've sifted through the noise to create this list of the best help desk ticketing software and why you should give them a try.
List of the 7 Best Helpdesk Ticketing Software
Web Help Desk from the team at SolarWinds boasts an array of features that streamline and centralize ticketing tasks.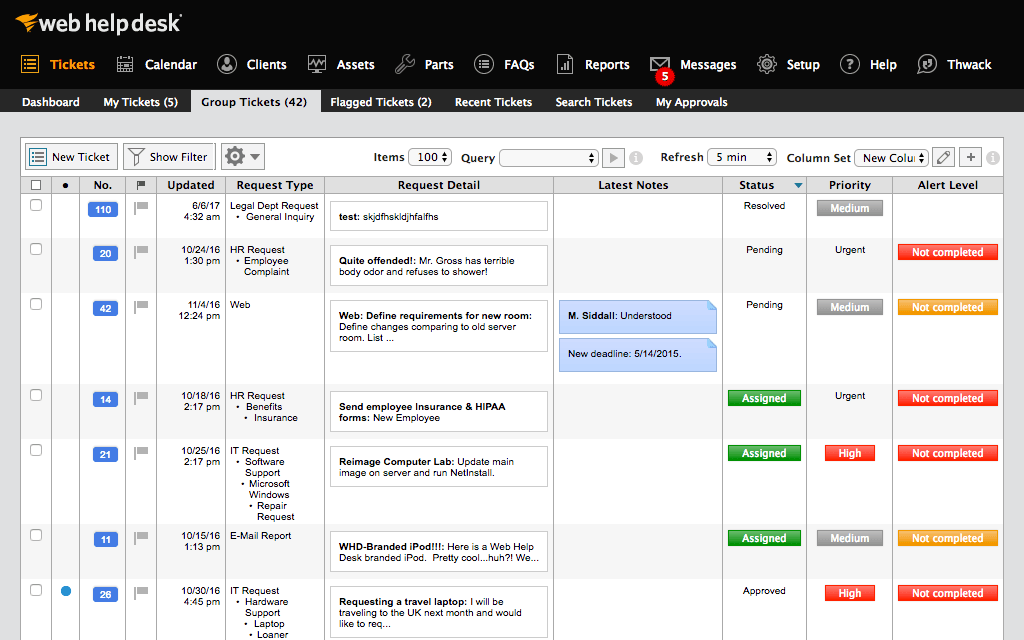 © 2022 SolarWinds Worldwide, LLC. All rights reserved.
With SolarWinds Web Help Desk, you can automatically turn email requests into help desk tickets and create rules for ticket routing, escalation, and assignment. You can even link similar incident tickets under a single umbrella problem ticket. Once this lead problem ticket has been cleared, the corresponding tickets are also automatically cleared, and the appropriate parties are notified. Web Help Desk also offers a reporting and performance monitoring dashboard, so you can know where items stand at all times. You can try this tool during the free trial period. This multi-layered approach to ticket management boosts efficiency and can help keep your team on track.
Service Desk (formerly Samanage but recently acquired by SolarWinds) is an innovative, cloud-based IT service desk software. Service Desk includes a hefty list of capabilities that can be used in conjunction with many other SolarWinds products or as a standalone; it all depends on the unique needs of your company.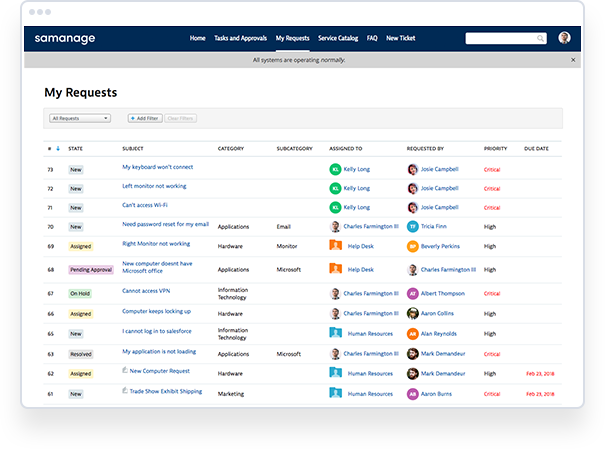 © 2022 SolarWinds Worldwide, LLC. All rights reserved.
I admire the simplified, automated ticketing framework and workflows in SolarWinds Service Desk that is designed to help prevent bottlenecks and ensure nothing falls through the cracks. These features can also be leveraged to implement notification rules, equipping your team with the information they need to act quickly in emergency situations, like SLA breaches. But that's really just the tip of the iceberg—benchmarking, reporting, change management protocols, and expanded risk detection technology are all part of this comprehensive ITIL ticketing management package. You can also try out Service Desk for free.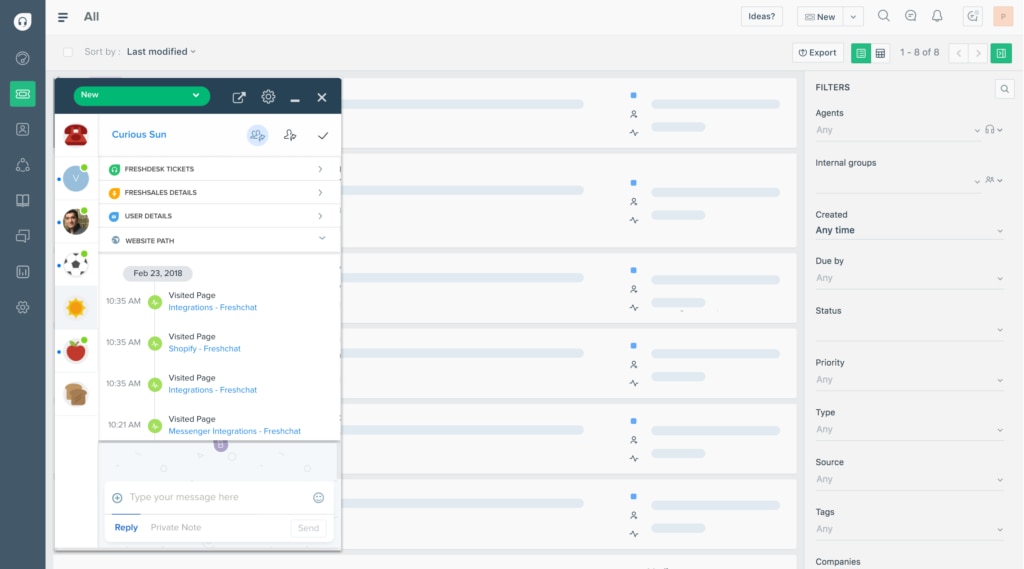 © 2022 Freshdesk. All rights reserved.
Freshdesk offers a number of automated integrations and is ideal for customer-facing teams. Canned responses and automatic pop-ups featuring relevant solutions allow you to address common questions and concerns on the spot, saving time for your agents and customers. It's also great for fostering collaboration among team members. The "Team Inbox" allows all employees to track and manage incoming support tickets from multiple channels within one central inbox, while the "Team Huddle" feature makes it easier to work together to tackle a complicated ticket. The platform also has a sharp interface and is easy to use. So, what's the downside? The sophistication of Freshdesk's ticket management system doesn't quite reach the level of other options on the market.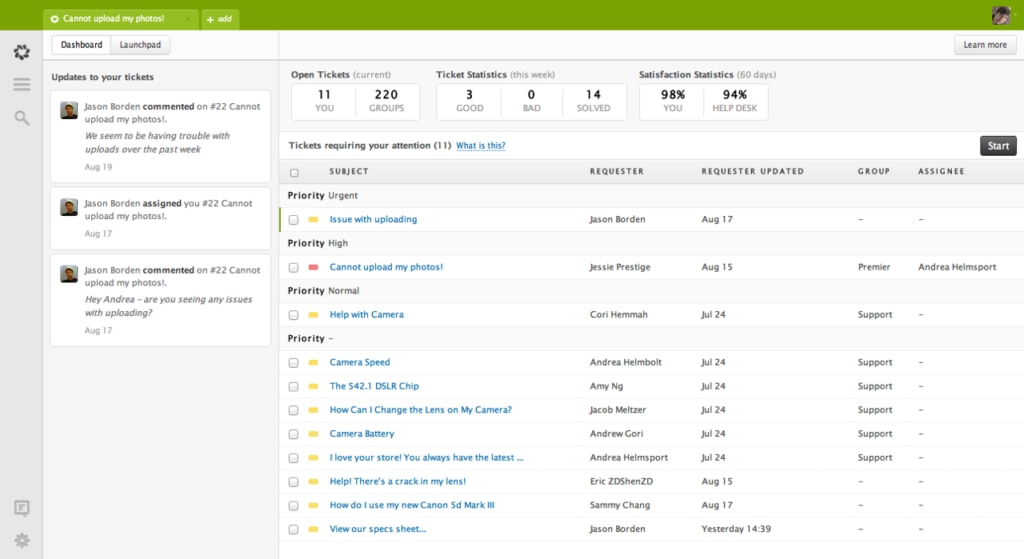 © 2022 Zendesk. All rights reserved.
The Zendesk ticketing system makes it easy to hit the ground running and scale quickly when needed. For startups and large enterprises alike, it's a good option. The tool supports customer interactions across phone, chat, email, and social media in one central location, so your team can easily stay abreast of all queries. Like Freshdesk, it's built for businesses with trouble ticketing and managing questions and concerns from external customers. A few things to note—the best Zendesk features come at a higher price tag and, unlike other offerings, change and asset management aren't included.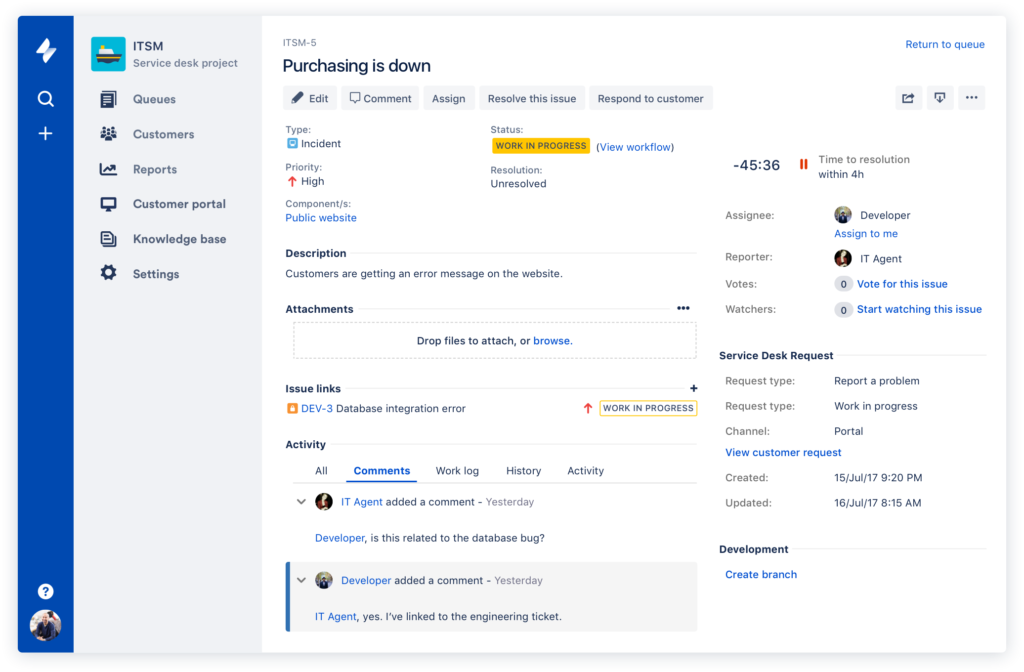 © 2022 Atlassian Corporation. All rights reserved.
Jira Service Desk from Atlassian provides a comprehensive platform designed to help IT teams address incidents faster and implement critical adjustments with confidence and ease. The tool's help center makes it easy for customers and employees alike to submit requests. Intelligent machine learning is constantly running in the background, recommending the right service and learning from each interaction to ensure accurate, timely responses. Just keep in mind—Jira Service Desk doesn't support multiple domains in Google Apps.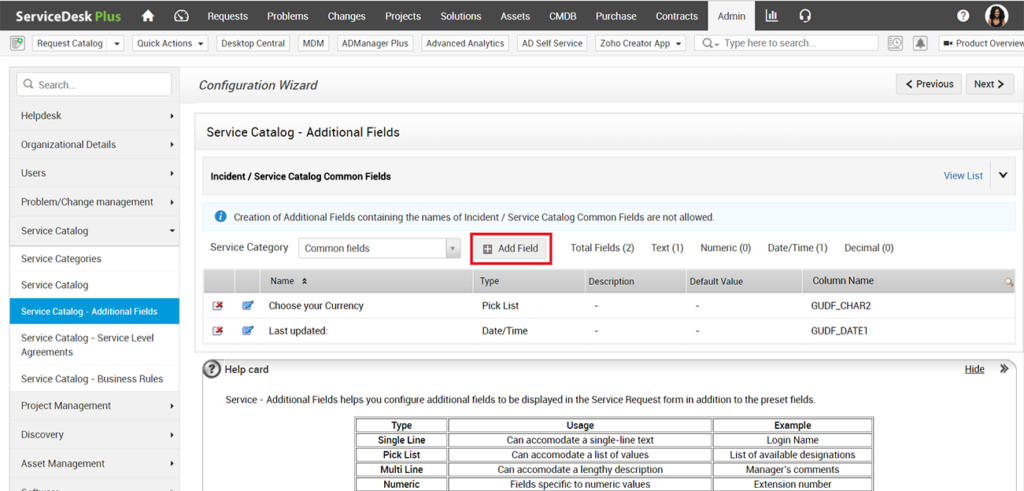 © 2022 ManageEngine. All rights reserved.
Ticket tracking is made easy with ManageEngine's Service Desk Plus ITIL-based features. This tool puts control back into the hands of IT departments through automated workflows that streamline planning, approval, and implementation processes. The software also makes it easy to stay ahead of problems, helping teams identify the root cause of an incident so it can be avoided in the future. With this type of system in place, IT departments can reduce outages and improve productivity. The only real drawback is the usability—it's a bit of a complicated tool to get a good handle on.
Finally, let's look at a helpdesk ticketing system designed with a specific use case in mind. If you're a Managed Service Provider (MSP), this software is built from the ground up to meet your needs. It offers a huge suite of tools and features.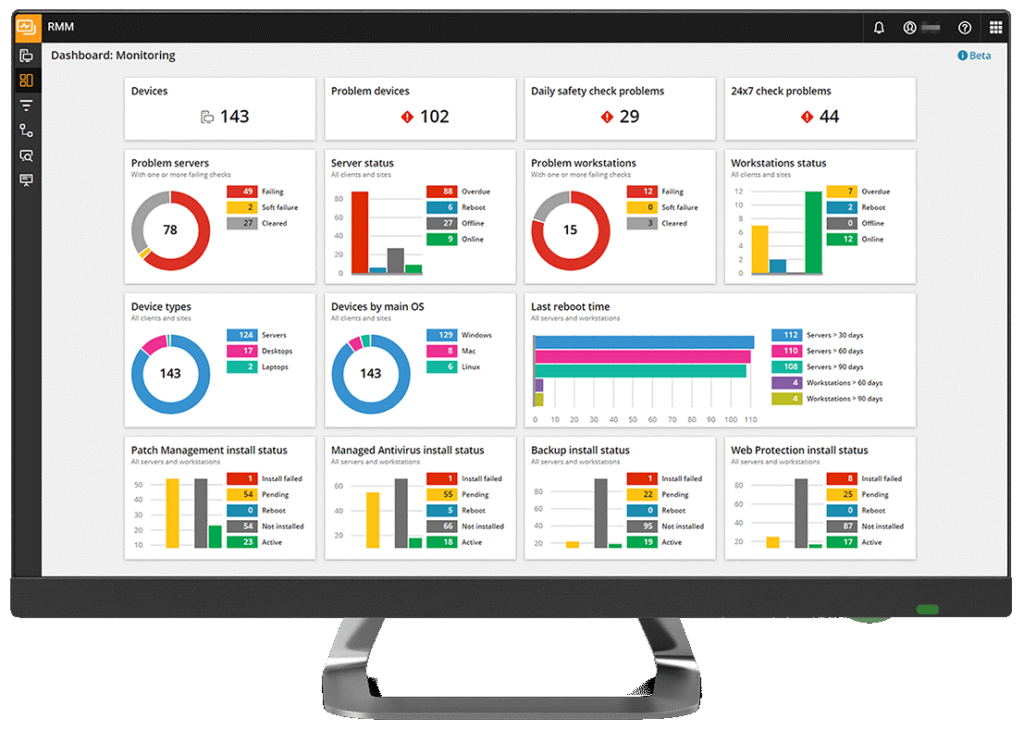 © 2022 N-Able Technologies International Inc. All rights reserved.
This includes robust Service Desk Software for MSPs. This solution is designed to streamline your IT workflow, automate as much of the process as possible, and save you time without impacting results. It includes powerful ticket management features, quick ticket creation for your clients, a dedicated mobile app, and more.
Why Is Help Desk Software Important?
Managing tickets can be a cumbersome, complicated, and time-consuming task for many IT departments. It's a never-ending game of categorizing, assigning owners, sifting through irrelevant tickets, and attempting to prevent human error from negatively impacting performance metrics. These challenges are compounded in larger organizations with a broad consumer base or an extensive array of internal departments, each with their own unique issues.
Software advancements have emerged to improve efficiencies for IT departments across the country. These solutions are designed to streamline processes through a number of automated features that help you:
Prioritize – Your team needs to know which tickets to tackle first. With the right software, you can create a custom, automated ticket prioritization system. Define keywords, like "broken" or "urgent," that signifies a top-priority ticket, or set prioritization based on status, putting C-suite requests at the front of the line.
Categorize – Leverage tools to help you prompt those submitting ticket requests to list their department and define their request type. This can save your team hours of time on the back end.
Designate Tasks – Assigning ticket requests to members of your team based on current workload and area of expertise helps you to not only get the right person for the job but someone who has the bandwidth to tackle it head-on.
Stay Secure – Knowing immediately when an unexpected configuration change occurs can help you ward off a potential data breach before any damage is done.
Best Help Desk Ticketing Solution
With so many IT ticketing software out there, it can be hard to know where to start.
The two leading help desk solutions I recommend are Web Help Desk and SolarWinds Service Desk. Both of these help desk ticketing tools pack a powerful punch, allowing IT departments to create automated rules for ticket handling, track progress as well as benchmarks through intuitive dashboards, provide knowledge base management, and more.
So, what's the difference between Web Help Desk and Service Desk? Web Help Desk is marketed as an affordable help desk ticket solution and offers many of the features you would expect in a well-rounded ticketing solution and does them well. SolarWinds Service Desk is designed to include even more help desk functionality and is marketed as a true ITIL management solution with features to match at a cost-effective price. The best news is you can try either or both for free before buying by downloading the Service Desk free trial or Web Help Desk free trial here.
Other similar articles
Best Website Monitoring Tools: Are you responsible for maintaining a dynamic consumer website? Then this list is for you. Learn about the free, freemium, and paid tools on the market and keep your business on track.
Best Network Monitoring Software: IT troubleshooting can consume the majority of a day's work, but network monitoring is an essential part of maintaining a healthy digital environment. Here's a list of the best tools on the market to keep your network safe and secure.