To ensure business success, it's important to have a well-managed customer service system. Help desk software and ticketing systems can help, but finding the right one can be challenging. In this article, we've compiled a list of the best five free help desk ticketing systems.
---
The Importance of Help Desk Software in Managing Customer Service
The success or failure of your customer service systems directly impacts everything else in your business. If your customers are unhappy, it's unlikely you're going to be especially successful in the long term. For the sake of business continuity and continuous improvement, monitoring and managing your customer service solution is of paramount importance. Leaving it to chance will result in a disorganized, mismanaged system, but staying on top of every customer service component can start to feel impossible – especially if you want to maximize efficiency, reduce agent labor and cost, and offer flexibility and user-friendliness all at the same time.
This is where help desk software and ticketing systems come in. In this guide, I've compiled a list of my favorite free ticket tracking software programs, to help you differentiate between the range of tools currently on the market. Finding the right free support ticket system is hard for several reasons.
For a start, many free tools are overwhelmingly limited, to encourage you to opt for paid editions by the same provider. Moreover, you have to pay attention to where free trouble ticket software comes from. If it's not widely user-tested, then it might well be more trouble than it's worth.
The list below gives you an overview of five high-quality free help desk ticketing systems.
For those who don't have the time to read the entire product list, Web Help Desk free version comes out on top, closely followed by Mojo Help desk. WHD is a complete solution with a user-friendly interface, advanced features, and a comprehensive approach to customer service.
Simply put, it's the best free help desk software I've used—and in this guide, I'll explain why.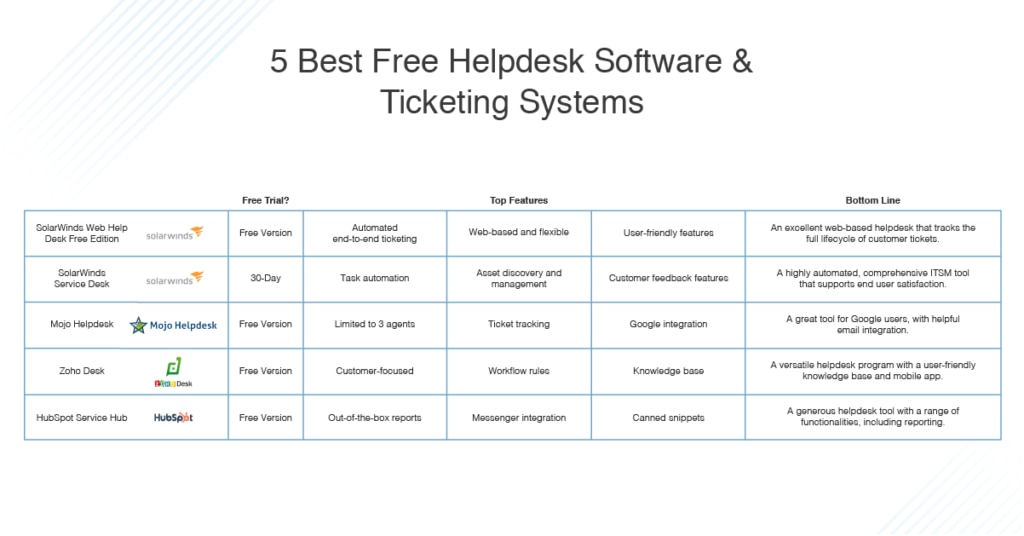 © 2022 SolarWinds Worldwide, LLC. All rights reserved.
TOP 5 Free Help Desk Software with Ticketing System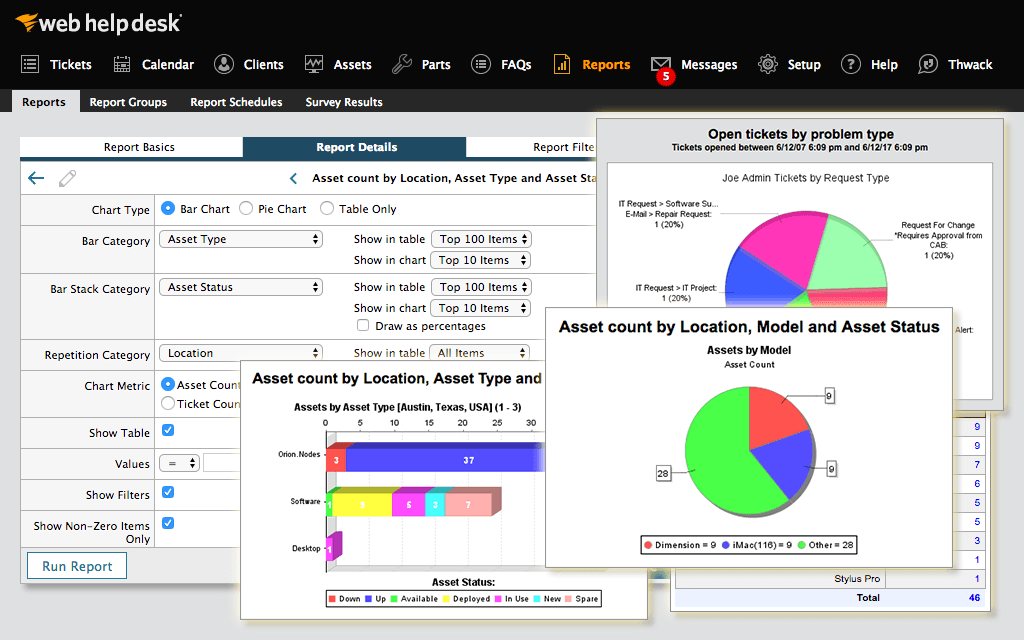 © 2022 SolarWinds Worldwide, LLC. All rights reserved.
SolarWinds® Web Help Desk comes in free and paid editions. While the free version of WHD is limited in many ways, it remains the best free help desk software on the market. SolarWinds is a big name in network management, systems management, IT security, database management, application management, and the IT help desk provider industry. It offers more than 40 products across these fields of IT infrastructure, each of which has a reputation among professionals and businesses for being dependable, sophisticated, and easy to use.
This is a rare combination of benefits. While some tools are able to offer you sophistication and advanced utilities, this advantage usually comes at the cost of user-friendliness. One of the many reasons SolarWinds has maintained its impressive market position is because using the vast majority of the company's products requires minimal training or experience.
Moreover, the SolarWinds support community, known as THWACK®, is thriving, and there are round-the-clock technicians to assist you if you need it. The company also offers a success center and a customer portal. Given that SolarWinds own support system is so well managed, it's no surprise its free ticketing system is so successful.
WHD, SolarWinds free help desk ticketing system, focuses on managing and tracking service tickets across their full life cycle, with consistency and maximum accountability. This free ticketing system, web-based and centralized, ensures everything you need is always at your fingertips. The centralized format allows you to link more than one incident to a specific problem, which boosts the overall efficiency of this free ticketing software.
Not only does WHD give you greater insight into how your help desk is performing, but it also shows you the performance metrics for specific technicians, so you can rapidly and reliably identify any weak links in the chain and rectify the issue (e.g., with a training boost). By showing technician performance and activity, the tool maximizes accountability, which in turn prevents finger-pointing when things go wrong.
It's important for customers using the free support ticket system to be able to help themselves wherever possible. Customers generally prefer to find the answers, provided they can do so quickly, without having to contact a company technician. WHD features an extensive, built-in database with answers to common questions. Customers can refer to this knowledge database to resolve their own queries, reducing the number of requests received by your team. This saves money and manpower.
In my view, the best thing about WHD is the service-level agreement (SLA) tracking and management utilities, which deliver alerts when an SLA breach is imminent. WHD can also send date-specific SLA reminders, helping you maintain SLA obligations and identify potential breaches before they wreak havoc on your system.
It's worth noting, this free trouble ticket software is limited. The paid version comes with all the same functionalities, and more. Here are some of the things the paid edition can do the free edition cannot:
Help desk task automation
Automated IT asset discovery
Asset-to-ticket association
Change management and change approval
Solicitation of help desk feedback via customer surveys
Purchase order management
Parts and inventory management
Billing management
Integration with remote support and remote-control software.
If you're set on free ticket tracking software, WHD free edition is the best of the best. But if you are considering upgrading to a paid alternative, then I highly recommend the paid edition, which offers a 14-day free trial.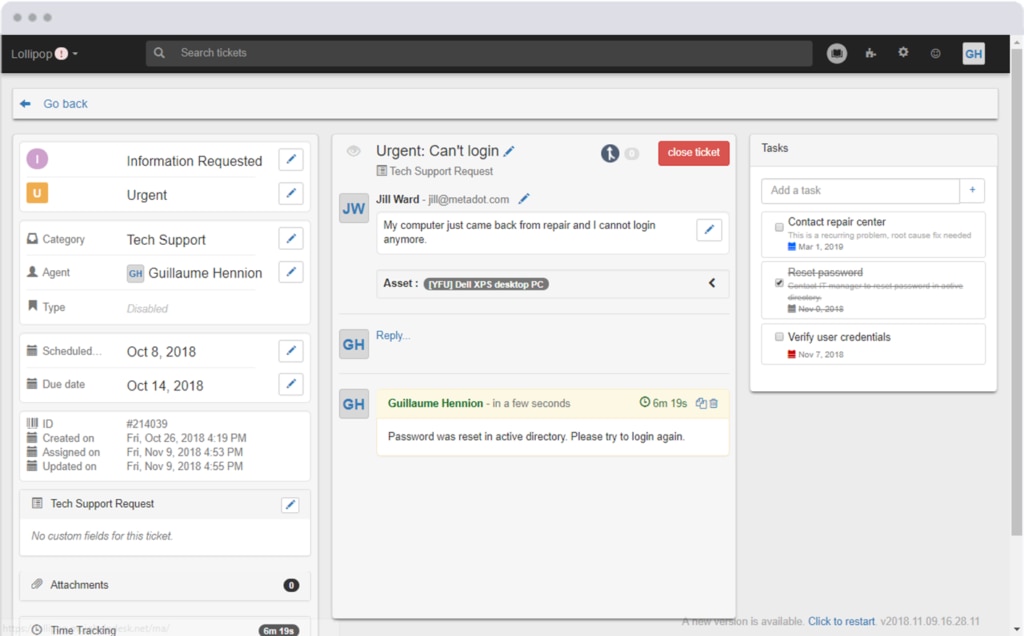 © 2022 SolarWinds Worldwide, LLC. All rights reserved.
Although this is one of the best free help desk software programs available, it's nevertheless relatively limited. The free edition includes up to three agents and full ticket tracking functionalities. The paid versions (Professional, Enterprise, and Unlimited) have more to offer.
Professional allows up to 10 agents, with the option to add more for a small fee. The Professional version includes full ticket tracking as standard, along with Google integration, email integration, canned responses, automations, a knowledge base, a self-service portal, and more. The Enterprise version features everything included with Professional, plus:
domain branding
50 triggers
improved security
ticket merging
a private knowledge base
time tracking
white glove service
and phone support, among other capabilities.
Unlimited has everything Enterprise has but is suitable for larger teams. As its name makes clear, it's completely unlimited, and it comes with over 1TB of storage.
All paid editions can be billed monthly or annually. While this pricing model can become costly, with a cost of $2 per additional agent for the Professional edition and $3 per additional agent for Enterprise, it's at least transparent and flexible. You can cancel or change plans at any time.
Now that you know what's included with each edition, I'm going to look at some of the best features of Mojo Help desk. Bear in mind, the tool's free ticketing system is limited exclusively to ticket tracking.
One of my favorite Mojo Help desk features is Google integration. You can use your G Suite account to log in with single sign-on, easily add Mojo Help desk to your Google domain, and navigate from G Suite to Mojo Help desk in a single click. It's these utilities that make Mojo Help desk the best free help desk software for avid Google users. Mojo Help desk can also be integrated with email, which allows you to reply from Outlook or Gmail, as well as with Microsoft 365 and Active Directory. Moreover, the interface itself is familiar, with a Gmail-like aesthetic making it user friendly.
When looking for the best free help desk software, always keep an eye out for automated functionalities. Automation can save a huge amount of time. Luckily, Mojo Help desk lets you auto-comment, auto-assign, and auto-escalate. Agents can even be auto-alerted. I also like the self-service portal feature. Though not automated, this can save agents time too. According to Mojo Help desk, using the knowledge base results in 50% fewer tickets because customers can find answers for themselves.
The custom forms are another great feature. You can create a form for each specific type of request, like a repair request, return request, purchase request, vacation request, and exchange request. Customers fill out the form, giving you all the details you need.
This free ticketing system, web based and centralized, can be up and running in minutes. You don't have to buy any hardware or do anything to install or maintain the program. If you want to give this free help desk ticketing system a try, sign up here. Alternatively, if Mojo Help desk's premium features have swayed you, you can view prices and access 30-day free trials of the Professional, Enterprise, and Unlimited editions here.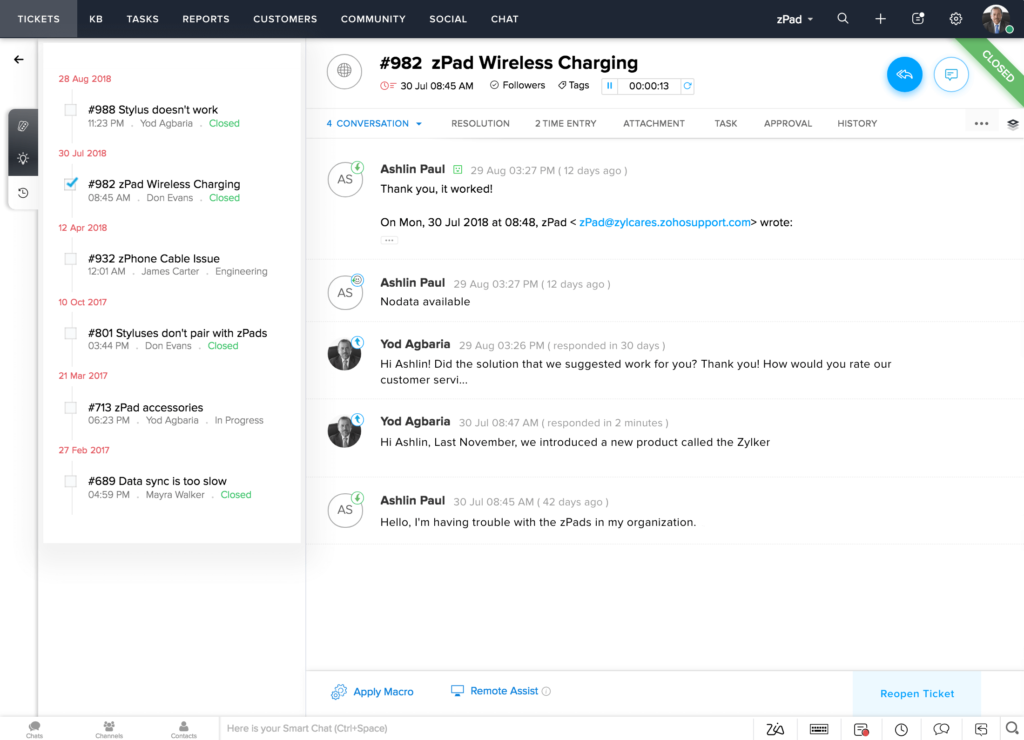 © 2022 SolarWinds Worldwide, LLC. All rights reserved.
When looking for an IT ticketing system, free and paid editions vary enormously. Most free help desk ticketing systems are extremely limited, to encourage you to choose the premium version of the same program. Zoho Desk is an exception to this rule. While the differences between the free and paid editions are still substantial, the free plan itself is surprisingly generous. You get up to three agents, email ticketing, customer management utilities, a help center, a private knowledge base, predefined SLAs, macros, a multi-language help desk, 24/5 email support, and access to mobile applications. You don't even need to give your credit card details to access this plan – it's free forever.
The paid plans are generous and cost-effective too. They are billed annually or monthly, with the Standard package offering social and community channels, product-based ticket management, a gallery of help center themes, and a public knowledge base, as well as SLAs and escalations, workflow and assignment rules, supervision rules, customer happiness ratings, reports and dashboards, work modes for tickets, marketplace extensions and integrations, and an embeddable self-service tool. The Professional and Enterprise versions offer all this and more – including agent collision prevention utilities, ticket templates, mobile SDK, multi-level IVR, artificial intelligence, live chat, and role-based data sharing.
I like the Zoho Desk interface, which shows all tickets in columns corresponding to their status and due date – e.g., "Overdue," "Due in 6 Hours," etc. The interface is nice and simple, with tabs at the top allowing you to easily navigate between "Tickets," "Tasks," "Customers," "Reports," "Community," "Social," and "Chat."
Using Zoho Help desk means you can be available for your customers via multiple channels. They can contact you via live chat, social media, phone, email, and more. This flexibility is valuable. The mobile application provides even more flexibility and is well-suited to the mobile interface. You can view open tickets, all tickets, closed tickets, customer responded tickets, missed chats, overdue tickets, response overdue tickets, and so on. You are also able to move, close, assign, and pick up tickets from within the mobile application, which is available on the App Store and Google Play.
Zia, the artificial intelligent bot included with the Zoho Desk Enterprise edition, is another notable feature. Zia Voice speaks to your customers to help them resolve tickets themselves. Zia Notifications alerts you when there is unusual activity, while Zia Dashboard monitors critical Zia metrics via a unified screen. Ask Zia shares relevant knowledge base solutions with your customers, and Zia Skill Builder allows you to train Zia to perform certain actions and tasks.
My main issue with Zoho Desk is the free plan, though surprisingly feature-rich, lacks a public knowledge base. I consider this to be an essential component of the best free help desk software, because a public knowledge base can reduce agent labor significantly and also contributes to increased customer satisfaction. Still, Zoho Desk comes with many benefits. If you want to download the Zoho Desk free ticketing software, you can do so here. Click here to view the prices of the Standard, Professional, and Enterprise versions and access 15-day free trials.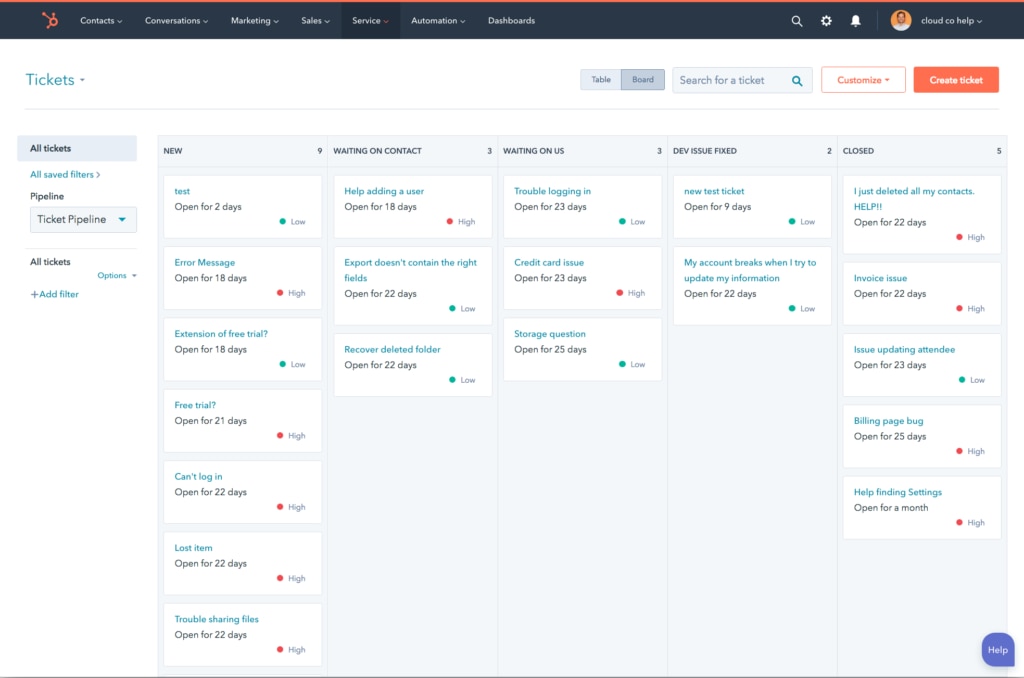 © 2022 SolarWinds Worldwide, LLC. All rights reserved.
HubSpot Service Hub is another generous free help desk ticketing system. The free edition includes HubSpot CRM, ticketing, live chat and a conversations inbox, 15 minutes of calling, conversational bots, team email, up to five canned snippets and five email templates, and one personal meetings link for meeting scheduling. It provides 10 out-of-the-box reports, including standard customer service reports, rep productivity reports, and time-to-close reports. Email tracking and alerts can deliver up to 200 notifications, and messenger integration is available. I was pleasantly surprised by this offering, which is more than most free support ticket systems provide.
There are three alternatives to the free edition of HubSpot Service Hub: Starter, Professional, and Enterprise. To give you an idea of how they differ from the free version, here are some of the most notable Enterprise features: up to 100 inboxes for conversations, 33 hours of calling, 1,000 canned snippets, 1,000 email templates, 1,000 personal and team meeting links for scheduling, 25 custom dashboards, unlimited email tracking and notifications, 1,000 documents, 1,000 email sequences, 150 daily enrollments, 50 ticket pipelines, 200 currencies, 500 custom reports, and an insights dashboard.
HubSpot's inbox-based system is remarkably familiar and user-friendly. Creating a new ticket is like sending an email, and there are folders on the left side, as in a typical email account. You can choose to view all conversations, those assigned to you, unassigned conversations, email, chat, and bots, among other options.
The Service Hub knowledge base is another fantastic feature, with more than 21,000 articles already published. You can add to these, to help customers find answers quickly and easily. This is not your average FAQ page. It learns, picking up on what people are looking for and providing informed suggestions.
To boost your customer service offering further, HubSpot Service Hub features feedback and advocacy utilities, so you can get your customers' opinion on how you're doing. This is a valuable capability, because reports and statistics can only tell you so much. Customer feedback can reveal the finer details of your performance, and often flags new issues.
The problem with the free version of HubSpot Service Hub is some of the features have clearly been provided to do little more than tempt you to purchase a paid edition. For example, it's unlikely 15 minutes of calling and five snippets will be enough for anyone, no matter how small their business. Sign up here to access the HubSpot Service Hub free edition, or view the premium package prices here.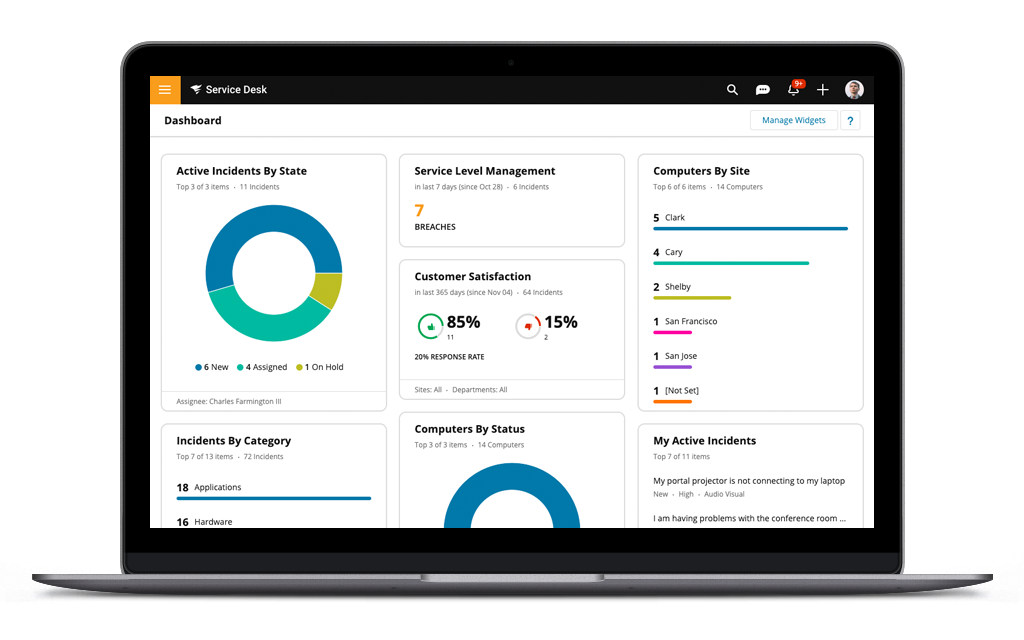 © 2022 SolarWinds Worldwide, LLC. All rights reserved.
As a paid tool, SolarWinds Service Desk technically shouldn't be on this list; however, given how fantastic it is as a help desk, it felt wrong not to include it. Service Desk does come with a free trial during which the product is fully functional, which lets you try it with zero financial risk for 30 days.
Service Desk is more than a help desk: it's a highly comprehensive and versatile IT service management solution. I could go on all day about its features, simply because there are so many, but instead I'm going to focus on my favorites. First, there's the fact that Service Desk centralizes all your tickets, sourcing them from multiple locations. This means tickets can be received via email, phone call, service portal, and even walk-up. No matter where the queries come from, they all end up in the same place, so you don't have to jump between platforms to find them.
Another of my favorite utilities is ticket relation, which flags other items related to a given problem. This allows you to resolve several items at once, saving you time. Incident escalation is also a great feature, letting you change a query into a potential problem, or associate it with an upcoming release.
Many IT help desk tools offer a customer portal, where users can track their tickets and find answers for themselves. SolarWinds Service Desk goes one step further, offering an employee service portal maximizing organization within your team, giving them full transparency into the status of their tickets and current requests. Team members can comment and participate in resolution by completing approvals and tasks.
Service Desk is also great for facilitating collaboration between teams. If you're a growing company, you're likely to be divided up into different departments, or units of people who specialize in particular areas. With this tool, you can streamline ticket routing by establishing rules directing the query to the right person or team based on the content. This helps keep collaborative processes organized so nothing gets lost and speeds up resolution.
All the best tools will have a knowledge base of some kind, but Service Desk's knowledge base is especially well designed. It includes step-by-step articles and tutorials, which can include links, videos, and images. You can create articles from scratch and tag them so they're easy to find. If you're getting a query over and over again, you can establish a knowledge base article and send new customers there directly when they've a related query. This saves support agents time.
Service Desk has utilities designed for continuous improvement, like benchmarking. The program compares your service desk performance to industry standards in real time, so you can see if you're falling behind. If you're ahead of the curve, this can be a great way of proving to stakeholders what you're doing is working.
A program is only as good as its dashboard. SolarWinds Service Desk is dynamic, clear, and easy to read, and makes the most of graphs and dials to display data. It can report on active incidents by state, service level management breaches, computers by site or by status, incidents by category, and more. Moreover, the dashboard is customizable, so you can prioritize critical metrics. To see whether Service Desk is right for you, check out the 30-day free trial.
What Is the Best Free Help Desk?
These are five of the many help desk and ticketing systems currently available. In my experience, you can't go wrong with either the free SolarWinds Web Help Desk or paid option SolarWinds Service Desk you can try out risk-free during a free trial. These products were designed by a developer with proven talent for combining user-friendliness with top-quality features. The free edition of WHD is feature-rich and easy to use. You won't need to spend hours learning how to use it, and you can get set up in no time.
There is a huge amount of variety among the help desk tools out there, and hopefully this guide has given you some insight into which is best suited to you and your business. Keep in mind free tools are only cost-effective to an extent, and they aren't especially appropriate for enterprise use. If your business outgrows a free tool, which most inevitably do, then a paid program is a necessary substitute.