Companies rely on hundreds of printers, computers, phones, software, and more to operate successfully on a day-to-day basis. Managing the health, inventory, and contractual agreements associated with each of these devices is no easy task. With a proper IT asset management system in hand, you can consolidate your assets into one central location, remain compliant, and boost security by ensuring all relevant updates are in place.
Why Is IT Asset Management Important?
Employees rely on technology now more than ever before to fulfill their day-to-day tasks, reach long-term goals, and communicate with team members in offices across the globe. Managing every IT asset your team relies on—from monitors to mobile devices, software to printers—can be an overwhelming task. You have to stay abreast of regular updates, performance metrics, issues that arise, and IT asset inventory levels at all times.
An IT asset management system can put automation into play and eliminate many tedious, time-consuming tasks, helping you:
Remain Compliant – Staying compliant with software licenses and warranties is a must for any business. It ensures you're meeting relevant industry standards, avoiding unnecessary risk, and providing your company with the most up-to-date software available. The last thing any IT team needs is a critical piece of software that expires unexpectedly, setting employees back and putting sensitive information in jeopardy.
Centralize – With so many moving pieces, it's easy for something to slip through the cracks. Asset manager software helps consolidate everything into one place to give you a greater sense of control and help you identify areas that require action. A birds-eye-view can even save your business money, helping you clearly see areas where spending could be reduced.
Increase Efficiencies – When you have a better understanding of all the parts at play, you can align similar incidents and tackle multiple IT asset issues at once. A high level of visibility will also equip you with the information you need to avoid future issues, saving your company time and money.
Top IT Asset Management Software Reviews
The SolarWinds acquisition of Samanage has opened the door to new integrations and features through the SolarWinds Service Desk. If you're looking for asset management IT software that puts automation and security at the helm, this is it.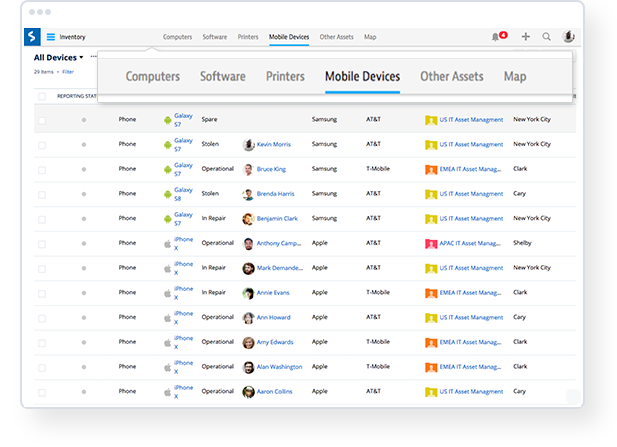 SolarWinds Service Desk includes an expansive dashboard that aligns contracts and licenses to the assets they support, so you can easily monitor everything from a single location. There's even a vendor management function that helps you contact your hardware, software, and service suppliers with ease. Gone are the days of tracking down old emails and invoices. But what really makes Service Desk stand out is its risk detection capabilities. This asset management software notifies you when potential risks arise and helps you take proactive steps to ensure all your software assets have been updated with the latest antivirus protection.
SolarWinds offers excellent IT asset management as part of its suite of Web Help Desk services. With this comprehensive tool, you can discover, track, and report on hardware and software assets within your team's IT infrastructure.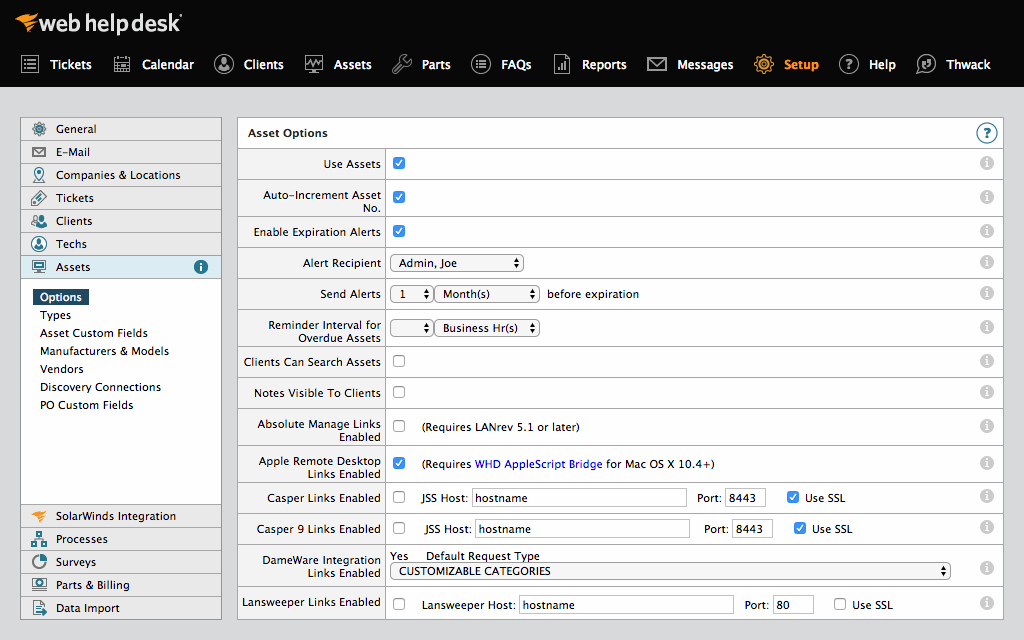 Adding a new asset to the mix is especially convenient. Enter the purchase order information and SolarWinds Web Help Desk takes care of the rest, automatically calculating lease and license expiration dates so you don't miss a thing. It even alerts you when your IT asset inventory is running low. The platform also provides a complete audit trail of service tickets associated with each asset. This level of visibility helps you identify any issues at hand and avoid purchasing unnecessary, expensive replacement parts.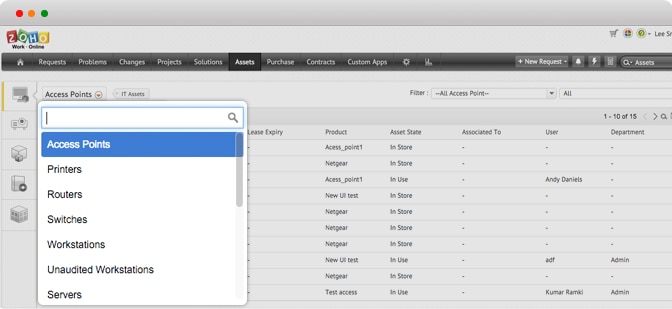 This web-based IT asset management software helps you manage and monitor your hard and soft assets throughout their entire lifecycle. It performs periodic scans, so IT teams have up-to-date information at their fingertips. AssetExplorer from ManageEngine also helps with purchase order management, providing the in-depth information you need to identify redundancies and make informed decisions that could save your business thousands of dollars a year. This tool is designed with large, global companies in mind. Smaller offices may want to look elsewhere.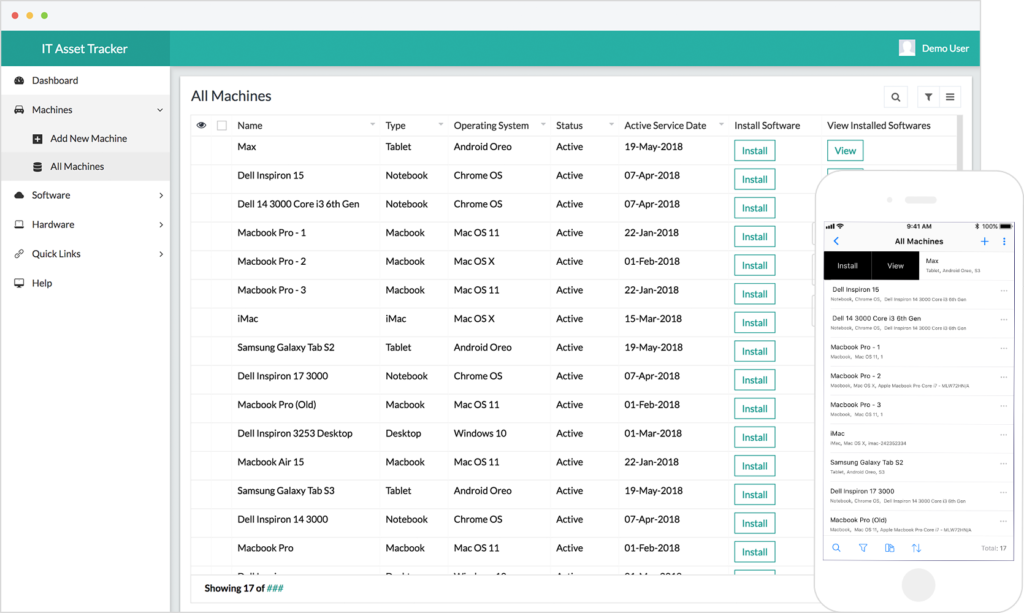 If you're in need of a simplified asset sourcing and tracking tool, look no further. With Zoho IT Asset Tracker, you can track asset locations and changes through live updates that let you know when a laptop or mobile device was loaned, where it is, and how long it's been held. This information lets you assess which assets are in demand, so you can put your budget where it's needed most. Keep in mind—this app requires Zoho Creator to get up and running.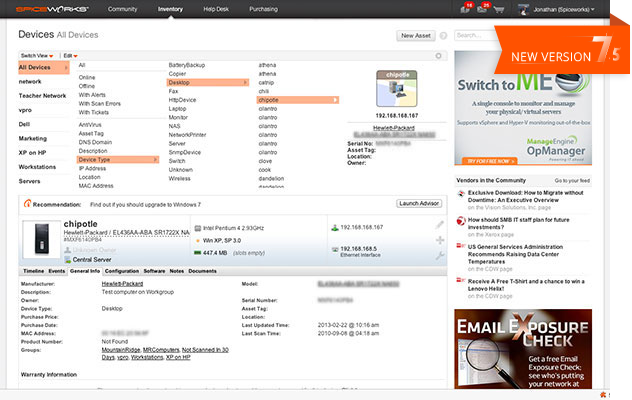 The IT asset inventory management system from Spiceworks makes it easy to find, collect, and categorize information on an extensive array of routers, monitors, software, and more. With this information in hand, you can easily track when licenses and contracts need to be renewed so you remain compliant at all times. Reporting is especially advanced with this platform—any information Spiceworks collects can be turned into an eye-catching report fit for the eyes of the c-suite. The biggest con here is the program's interface, which isn't particularly intuitive.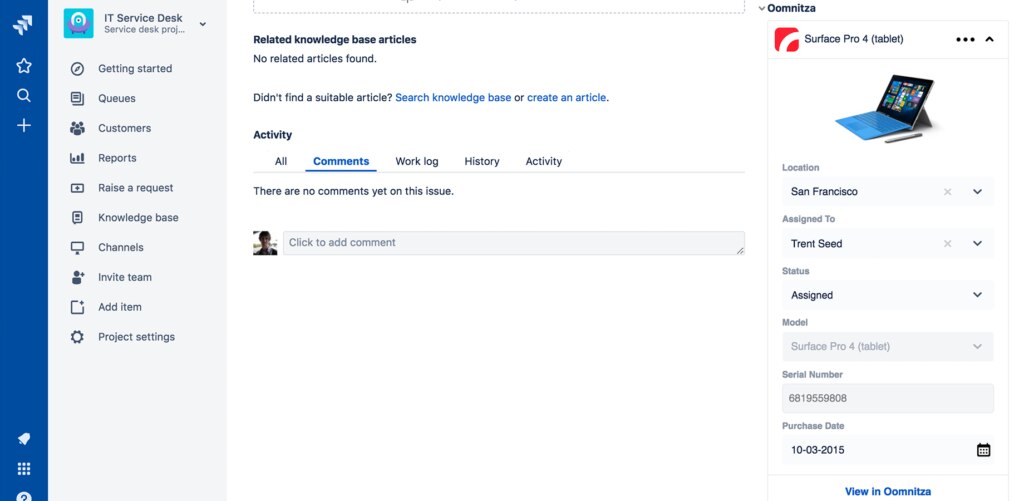 Both Zendesk and Jira Service Desk Cloud can be integrated with Oomnitza, a cloud-based asset tracking software. Oomnitza's automated capabilities help IT teams avoid manual, time-consuming tasks and stay alert to all things asset-related. This ensures all critical hardware and software is running smoothly, so employees can stay productive and never miss a beat. Ommnitza also prides itself on its security features, which empower you to lock down everything on your network at a moment's notice. While this integrated tool doesn't come equipped with all the bells and whistles of others, it's a smart choice for many.
Final Thoughts: Best ITAM Tool
So, which IT asset management tool do you choose? The team at SolarWinds have a few options that are hard to beat. Web Help Desk offers in-depth visibility into all things asset-related, helping you increase efficiency and put your dollars where they're needed. If you're looking for an expanded platform with a slew of integrations, I recommend trying SolarWinds Service Desk. This tool has all the bells and whistles larger companies need to succeed.
Related Articles
Best Server Monitoring Software 2019: Are you running multiple applications, servers, and databases? Then you need to maintain your server's overall health. Here's a list of the best monitoring tools on the market.
Best Log Management Software 2019: IT teams need to remain knowledgeable all times to maintain the safety and health of their IT infrastructure. Luckily, there are log management tools to help. Here's a list of a few of my favorites.