Managing a help desk can be difficult. If you're coordinating a complex system, you probably deal with a seemingly endless flow of urgent tickets. It might seem like all you can do is react to each issue as it comes up.
Fortunately, this isn't your only option. Implementing some best practices can help you achieve better help desk management. By following a few simple principles, you can make meaningful changes to set your organization up for success.
In this article, we'll cover why a smoothly running help desk might be important to your organization. Then we'll explore five best practices to help you optimize your IT support performance.
The Importance of Help Desk Management
Help desks are probably the first point of contact for anyone with IT issues in your organization. This tool can have an impressive impact: research shows 86% of service teams agree help desks increase their productivity. Increased efficiency can lead to a better customer experience.
Considering these potential benefits, you may want to use a help desk solution to your advantage. Help desk management refers to how you approach the use of your help desk software. This broad term can refer to anything from the strategic use of resources to supporting your technicians.
Finding ways to optimize your work can contribute to your whole organization running smoothly. Therefore, you may want to try adhering to best practices for help desk management. No matter what IT help desk you use, a few techniques can maximize its effectiveness.
5 Best Practices for Better Help Desk Management
Below are five recommendations to consider if you're looking to improve your help desk management.
1. Make Sure Your Technicians Are Well-Equipped
Let's start with your technicians. Even the most skilled IT help desk professionals are likely to get overwhelmed by huge ticket volumes. This obstacle can become an even bigger challenge if multiple tickets require escalations to more experienced employees.
Fortunately, there are a few ways you can cut down on the number of tickets. First, you could consider establishing a knowledge base. A knowledge base can help with case deflection by empowering end users with self-service solutions for common issues or simple requests.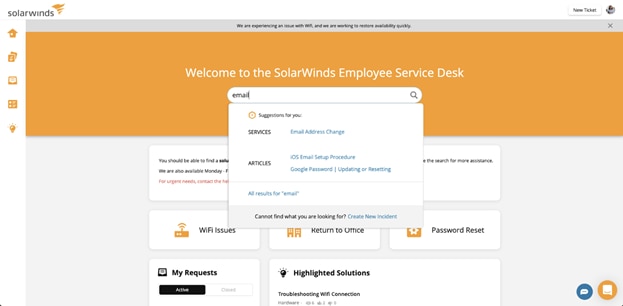 For your technicians, a knowledge base can help speed up resolution times by giving them one-click access to existing solutions. This reduces the need for technicians to spend valuable time replicating the same resolutions over and over, freeing up resources to focus on other priorities. If you find providing technicians with resources has a positive impact on productivity, you may want to think about expanding your IT knowledge management for team members.
2. Prioritize Transparency for Your Customers
A recent survey showed 86% of Americans believe it's more important than ever before for businesses to demonstrate transparency. Whether your help desk is serving external customers or internal customers—employees—a friction-free experience starts with direct communication.
Make it easy for customers to track the status of their ticket. Whether submitted via email or a service portal, a help desk solution should provide customers with regular updates as their ticket progresses from submission to resolution. Customers are usually dealing with a problem when they contact you. They're possibly confused and maybe a bit frustrated. As such, giving submitters the chance to track your resolutions may provide a sense of control. Setting service level agreements (SLAs) can also provide reassurance to customers—not only has their issue been received and is in progress, but you've also set an expectation for when they can expect it to be fixed.
Additionally, clarity has other advantages. If someone sees your team approach their concerns in an organized way, they could be more likely to trust your brand. Therefore, transparency has the potential to cut down on repeat tickets or progress inquiries as well.
3. Act on Your Help Desk Metrics
Several pieces of help desk software will track your performance. These can be anything from the current number of malfunctioning computers to the average resolution time. If you have access to data, consider using it to improve your work.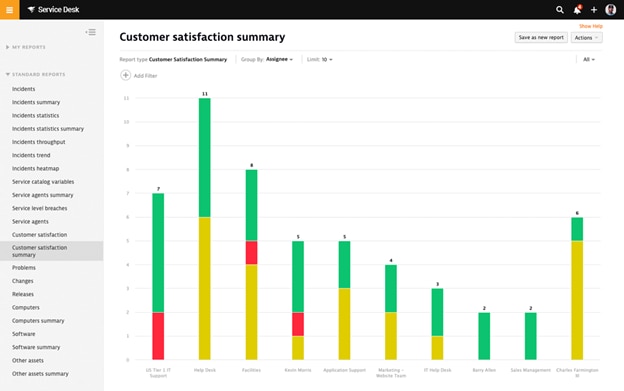 Regular help desk reporting and monitoring can help with setting goals, tracking and reviewing performance, and providing ongoing in-depth analysis of the help desk and your technicians.
In addition to improving your work, analyzing your metrics can also prevent future issues. For example, you may identify a trend in peak times of day during which your technicians receive an influx of tickets. This can help inform staffing decisions to maximize the efficiency of your help desk resources and alleviate potentially unmanageable incident queues or delayed resolutions.
4. Make Ticket Submissions Convenient
Help desks mainly exist to solve customers' pain points with the technology they depend on. As such, you might want to spend more time making the process feel like a solution from the start.
One way to do this is by making ticket submissions as convenient as possible. For example, you can let customers send a request through as many different avenues as possible: email, phone, chat, service portal, or in-person (if applicable).
By providing multiple channels for customers to engage with the help desk, you can meet them where it's most convenient for their needs. Smart technology like artificial intelligence (AI) can further streamline the process for customers by recommending relevant self-service solutions, service request forms, or pre-populated fields (like category or device type) in a ticket submission.
5. Listen to Calls for Improvement
Part of growth is understanding your problem areas and finding ways to target them effectively. While you'll likely have a better understanding of issues behind the scenes of your help desk, your customers offer a valuable barometer for the front-end experience.
Unfortunately, negative customer experiences are nearly inevitable. A slow response here or there isn't necessarily an indicator of much-needed improvement. However, if you're facing a new or significant amount of complaints, it may be time to change your approach.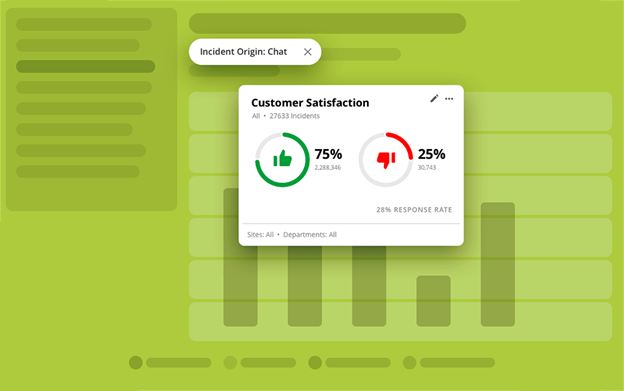 Try soliciting reviews in a quick, accessible format after help desk interactions. You could also add an optional open-ended question field to collect even more data. Learning from your customers is a simple way to make them feel respected while also improving your performance.
Conclusion
When it comes to keeping your organization running smoothly, a help desk can be a powerful tool. However, there are also steps you can take to bring your team to the next level. By embracing best practices in help desk management, you can set the stage for productive, painless interactions.
In this article, we covered five best practices you might want to consider for your help desk:
Start your technicians off with powerful resources and training.
Emphasize transparency throughout the ticketing process.
Take the time to act on unusual performance metrics.
Streamline ticket submissions wherever possible.
Invite feedback to improve your system.