Today, organizations depend entirely on information technology and system support for their business to function. Any IT incident, including disruption in business-critical systems, server shut-downs, or breakdowns, may result in devastating consequences. Modern enterprises demand robust incident management more than ever before to ensure operational agility and business continuity.
What Is Incident Management?
When an unplanned interruption to an IT service hampers the service quality and disrupts business operations, it's referred to as an incident. Therefore, an organizational strategy to manage incidents to resolve or prevent IT system issues is called incident management. The right incident management solution helps companies instantly restore IT service to normal and minimizes the impact of disruptions on overall business operations.
With a robust incident management solution in place, the IT support teams are well equipped to ensure the best possible level of service availability and quality. The support team agents are empowered not just to determine issues but leverage advanced functionalities to diagnose and manage issues proactively.
Why Do Businesses Need Incident Management Solutions?
Services outages may severely hamper an organization's reputation and bottom line. Incident management becomes a highly critical process that demands a strategic way to quickly respond to and resolve service interruptions.

Smart incident management solutions are imperative to help businesses in:
Minimizing the service level agreement (SLA) violation risk
Eliminating manual tasks and human errors
Reducing service team's workloads and overall costs
Enhancing visibility across service operations and improving efficiency
Improving service quality through standard processes and faster response management
3 Key Incident Management Features
An incident management solution is built to automate and accelerate every step of the incident management process – identification, diagnosis, and resolution. It helps the service teams efficiently process, escalate, and close tickets while providing recommended solutions to problems. Incident management software is a fundamental part of an organization's IT service management solution and must have the right blend of features.
Let's have a quick look at the critical features for effective incident management.
Automatic Communication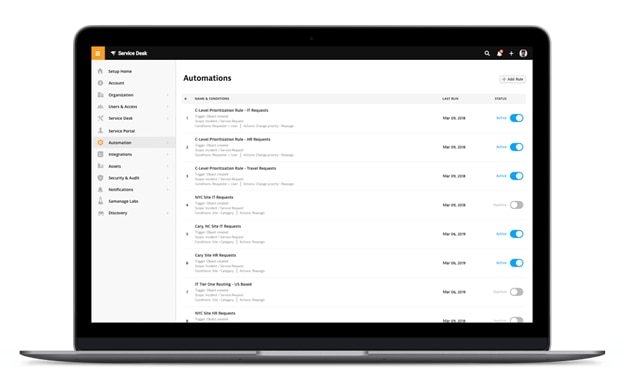 Real-time communication is critical to diagnose and resolve an incident efficiently. Automating the incident communication simplifies and accelerates the response management while streamlining the incident lifecycle management. It's crucial to assign an incident ticket to the right service agent without delay and ensure easy and consistent communication throughout the incident handling process. Organizations must alert users by sharing the requisite information via a user-preferred communication channel in the wake of any service outage or substandard performance.
Automatic incident management communication plays a significant role in handling IT issues by instantly and efficiently disseminating vital information to help the service team focus on implementing solutions. Incident management solutions let organizations plan and prepare communication before a probable incident occurs to ensure effective incident communication during the crisis. It helps in responding better during downtime while building trust with both internal and external users. Intelligent incident management solutions provide an easy way to set automatic rules to manage incident communication while reducing the overall time and effort in managing incidents.
Dashboards With Smart Alerts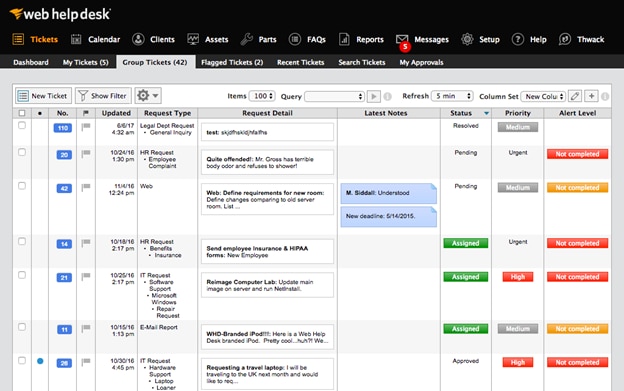 IT service interruptions and system downtime cost companies lost revenue, low employee productivity, and maintenance charges. Therefore it becomes increasingly crucial for businesses to track key performance indicators (KPIs) for proactive incident detection, diagnosis, and resolution to avoid a crisis. A dynamic incident management software is designed to track KPIs such as the total number of incidents or average time to resolve an incident to detect and troubleshoot system issues and set benchmarks to improve IT support operation.
Incident management solutions with intuitive dashboards provide deeper visibility and clarity throughout the incident handling process. Dashboards with easy customization based on an organization's unique requirements help analyze and identify areas for improvement effectively. Besides, dashboards offering visual alerts to highlight critical incidents help track anomalies and deep dive into the root causes to address them in real time.
Knowledge Base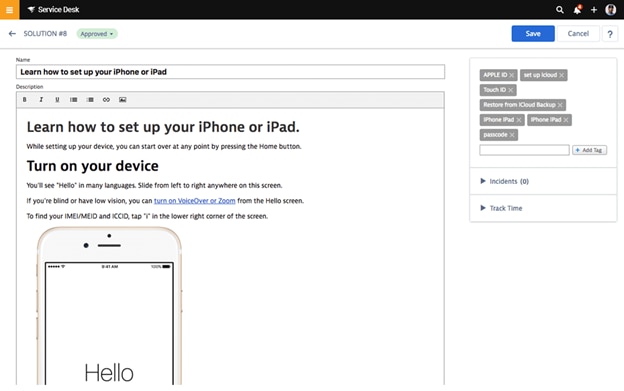 An incident management solution with an integrated knowledge base helps to deflect repetitive tickets. It improves service desk efficiency and increases team productivity by providing quick answers to common IT issues via a searchable content database. IT support teams can identify and document incident resolutions in a knowledge base for future reference. With a comprehensive knowledge base in place, organizations tend to encourage self-service by offering faster incident resolution anywhere, anytime.
IT teams spend less time handling tickets about recurring incidents with the help of an accurate knowledge base and focus on managing critical incidents. An integrated knowledge base facilitates faster incident diagnosis and resolution without waiting for the support team to address an incident ticket according to a standard ticketing process.
Select the Best Incident Management Software
There are several incident management software options currently available today, but organizations must opt for the system best suited to their business. In our opinion, comprehensive incident management software solutions such as SolarWinds® Web Help Desk® and SolarWinds Service Desk are intelligently designed to help companies across industries streamline their incident management process. To get hands-on experience and see whether these are right for you, check out their free trial today.