While many of us—technology support staff and general end users alike—take IT service desks for granted, the concept of an IT help desk didn't exist until the late 1980s. These early help desks were focused primarily on technology and hardware, rather than the end-user experience. When ITIL got involved in the 1990s to standardize and streamline practices, the IT service desk we use today was born.
Service desks are important and useful for many reasons, and they often rely on specialized software to track tickets, manage assets, and store a body of knowledge. In the following section, we'll look at the most important help desk features that make these tools so effective.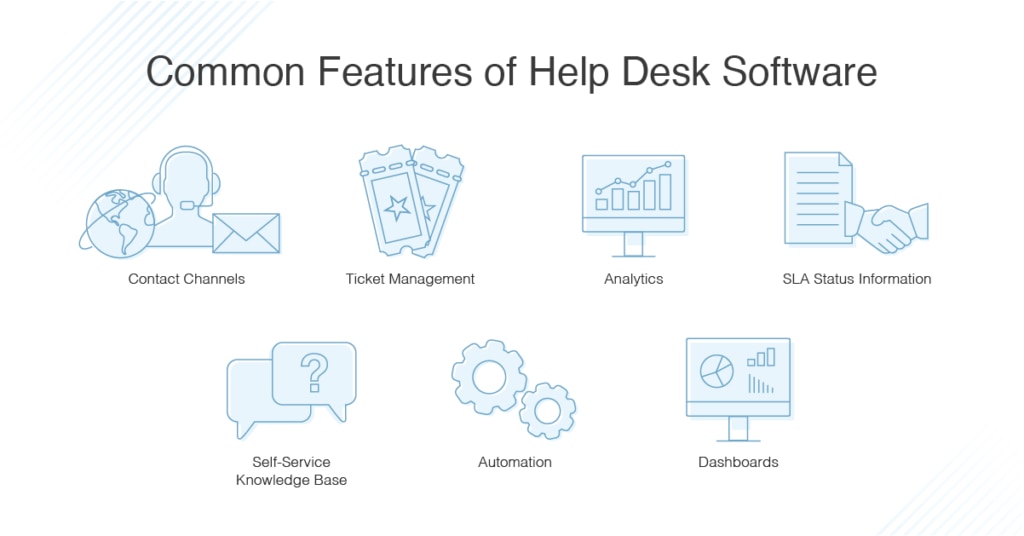 Help Desk Software Key Features
Help desk features tend to fall into three primary categories:
Contact channels
Ticket management
Analytics
Let's break down what each of these help desk software features mean:
Contact channels. To be able to provide service and assistance to customers or end users, a help desk first needs to be accessible. The contact channels feature encompasses the different ways a service desk can be reached.
Support might be accessed by speaking via phone, emailing, instant messaging, using social media, and undertaking self-service processes. These are all examples of points of contact between the help desk and the customer or user. Help desk software will usually offer integration for multiple channels, while some options will offer support channels as added features available for purchase.
Ticket management. Possibly the help desk feature closest to the heart of the mission of a service desk, ticket management is the process of recording and organizing user complaints, so they can be addressed. The best help desk software options include ticketing systems to track the progress of issues—from the moment the service desk receives a problem to when the problem has been resolved—while also indicating who's responsible for each task or subtask, to avoid redundancy or doubling up on the service side.
The service desk environment is also strategically poised to serve as a data collection site. Incoming customer and end-user issues can be indicative of market trends or opportunities for development, expansion, or added sales. Help desk software applications offer the ability to sort and graphically represent customer queries to show useful metrics like customer purchasing preferences, market demographics, and top product complaints. These insights can be leveraged in turn when determining business strategy.
While these three elements form the bedrock of an effective IT service desk, there are some other features I consider essential to providing efficient and effective service. In my opinion, an expanded help desk features list should include information on service level agreements (SLAs), a resource base, automation capabilities, and a good dashboard.
SLA status information. Ticketing systems with SLA information make it easier to quickly identify which issues should take priority. This helps businesses avoid SLA violations.
Self-service knowledge base. Some help desk software can compile frequent or recurring queries into how-to articles or automated FAQ-style responses you can publish on your organization's site. This not only helps to create a databank available for end-user access around the clock, but it also allows technology support teams to devote their time to resolving issues in need of more creative problem solving.
Many help desk software options incorporate automation into other aspects of their functionality as well. By automating routine, time-consuming, or predictable administrative tasks—from issuing daily reports to sending ticket progress notifications—the tool can help make IT server desk staff more effective.
In general, dashboards are useful for how they consolidate various data streams into a centralized user interface, and this functionality is especially helpful with help desk software. By displaying data in easy-to-understand modules, dashboards give admins and supervisors alike quick visibility into resolution rate, pending tickets, incoming calls, and other important metrics.
Why Use Help Desk Software?
Providing robust support for end users is an essential part of building reputations, brand relationships, and—ultimately—a profitable bottom line. In addition to what's been alluded to above, software help desk features provide several practical benefits. These include the ability to:
Resolve tickets with greater precision and accuracy. Using the software tools, help desk staff can quickly direct queries to the proper member or team.
Ensure no tickets slip through the cracks. Help desk software with alerting systems work to keep desk staff on track with notifications and reminders about the current ticket log. When this is combined with automation, the tool can convert emails into tickets and route them directly through the ticket management flowchart.
Remain attentive to SLAs. Tickets associated with different SLAs can be routed to the proper service desk workflow to avoid breaking service agreements.
Resolve tickets faster. Help desk software increases visibility on tickets, enabling help desk members to tackle issues collaboratively, while also providing the ability to escalate tickets to superiors.
Resolve tickets consistently. By tracking both the recurring and distinct queries, help desk software applications work to create a reference log of issues and how they were resolved. This can be used to quickly remediate future issues, regardless of whether the service desk member working on the ticket has encountered the issue before.
Best Help Desk Software Solutions
Two effective help desk software solutions are Web Help Desk® (WHD) and SolarWinds® Service Desk. The help desk features these tools provide range from efficient ticket management systems to smaller touches that make the jobs of technology support staff easier—like the ability to create checklists within tickets to make sure each individual step is carried out.
WHD offers on-premises ticketing, knowledge base functionality, and partial asset inventory management, while Service Desk's SaaS model encompasses an even more robust set of tools. Both include free trial periods, so you can get a feel for the range of help desk features each provides before purchasing. You can try Service Desk free for 30 days or download WHD free for 14 days.