Remote access solutions are incredibly common in enterprise and large business setups, as administrators can quickly and easily resolve support issues or go through troubleshooting without needing to be physically present at the device. There are several remote access software options on the market, and SolarWinds® Dameware® provides three options to accommodate the full range of business needs. The SolarWinds Dameware product line comprises Dameware Mini Remote Control, Dameware Remote Support, and Dameware Remote Everywhere, each of which is tailored for specific situations. Dameware tools are developed with multi-platform support in mind and are all simple to install and configure. Before reviewing each of the tools, let's look at what Dameware is and what it's used for.
---
SolarWinds Dameware Products Reviews
How to Choose the Best Remote Support Software
What Is Dameware Used For?
All of the Dameware tools are what's called "remote support software." Remote support software is software that allows IT technicians to access their clients' or employees' devices remotely, to troubleshoot, provide support, or perform maintenance. This has made a huge difference in IT support processes, as it can reduce time to resolution, and as a result, makes problems less costly for businesses to resolve. Many businesses running Windows machines and processes use SCCM (System Center Configuration Manager) to remotely manage many desktop computers. Dameware offers the same core features of SCCM—including remote control, access, and support capabilities—but with additional features to help support staff save time when troubleshooting. In addition, you can control Mac and Linux machines from the same console, which can help significantly with multi-platform infrastructures. SolarWinds offers three Dameware tools: Dameware Remote Everywhere (DRE), Dameware Remote Support (DRS), and Dameware Mini Remote Control (MRC). What is each tool used for, and how do they compare to one another? In the following section, I'll review each of the Dameware tools, breaking down their notable features, so you can determine which is best suited to your needs.
SolarWinds Dameware Products Reviews
SolarWinds Dameware Remote Everywhere (DRE) offers many of the same features as other Dameware products, but it's a cloud-based rather than an on-premises solution. DRE connects to workstations over the internet, in most cases in less than eight seconds, and includes encryption protocols to keep user data safe over the connection. It also includes support for two-factor authentication and multilevel permissions and the ability to access out-of-band machines like Dameware Mini Remote Control and Dameware Remote Support. The tool's approach aims to minimize disturbances for your end users. It collects and displays a large amount of data right at the beginning of the session, so your admins can get down to solving issues as quickly as possible. Data includes system info, BIOS, device details, and Windows event logs and updates. For reporting purposes, DRE allows you to take screenshots and record videos during the support session, which can then be saved to a file on that user or issue. This may be useful for technicians with the same issue; it can also help later if you're going back to the same machine or user. DRE additionally includes reporting on technicians, with information on technician performance, session details, and reports from end users on their satisfaction. DRE offers live chat, calls and messaging with end users, so you can more efficiently get to the root of issues. You can run several sessions simultaneously, using multiple mini-windows to switch between workstation screens. Users can also request help through a lightweight ticketing system. Like the other Dameware tools, DRE is available as a 14-day free trial. You can also integrate it with SolarWinds Service Desk.
A slightly more expanded offering is SolarWinds Dameware Remote Support (DRS), which offers the same abilities as Dameware Mini Remote Control, enhanced by added utilities. You can initiate remote connections over the internet or via LAN, which helps expand the number of end users you can assist with your remote support software. Dameware Remote Support can access Windows reboot systems and start/stop services and processes, view and clear event logs, and delete or move files. This enables administrators to significantly simplify the administration process for Windows machines. To save even more time, Dameware Remote Support offers a partly remote system, in which you can use system tools and TCP utilities to troubleshoot issues on a computer without needing to launch a fully remote-control session on the host. This means faster troubleshooting and less disruption for end users. Moreover, Dameware Remote Support is built to support Android and iOS, allowing for the delivery of remote support using mobile devices. This gives your IT team even greater flexibility, with the ability to deliver support no matter where they are. Compared to MRC, Dameware Remote Support offers more extensive access through Active Directory, including the ability to manage AD domains, groups, and users. You can remotely unlock user accounts and reset passwords when necessary, and export system configurations and properties from AD for simpler resolution of configuration issues. Like MRC, Dameware Remote Support has built-in security features such as user account and permissions management, as well as two-factor smart card authentication. Overall, it's a more comprehensive package than MRC, with the same great core features. A 14-day free trial is available. Moreover, DRS integrates with another SolarWinds tool, Web Help Desk. For more information please visit SolarWinds website.
SolarWinds Dameware Mini Remote Control (MRC) is the most lightweight and affordable of the Dameware offerings. It works with an unlimited number of end users, but varies in pricing depending on how many technicians you'll be setting it up for. With MRC you can remotely control Linux, Windows, or Mac OS X computers from a centralized console. MRC speeds up this process by including customized and automatic-deployment remote control agents.
So, What Is Dameware Mini Remote Control used for?
The tools available for your remote session include remote chat, messenger, screenshot capture, and file transfer. You can also disable the user's keyboard and mouse to stop your end users from getting in the way of your work. These tools allow you to more easily connect with end users and troubleshoot their problems. The installation process is quick, with a simple button for deploying MRC on remote hosts. You can also create custom installation packages for standardization across all the computers on your network. In addition, you can connect to out-of-band powered-off or sleeping computers, with support for KVM, Wake-on-LAN, and Intel vPro with AMT. This means you can troubleshoot and perform maintenance even on unresponsive machines or those shut down by users. Notably, MRC includes built-in features to help prevent security issues. Two-factor authentication using smart card logon is designed to protect sensitive data. To combat internal and external security risks, MRC can be set to access computers depending on their permissions or by integrating with Active Directory and accompanying access privileges, which prevents MRC from accessing highly sensitive users or devices to avoid its misuse. Dameware Mini Remote Control is free to try for up to 14 days.
Dameware Competitors
There are several competitors to the Dameware products on the market. Let's take a quick look at three of the most popular, to see how Dameware compares.
1. TeamViewer Corporate License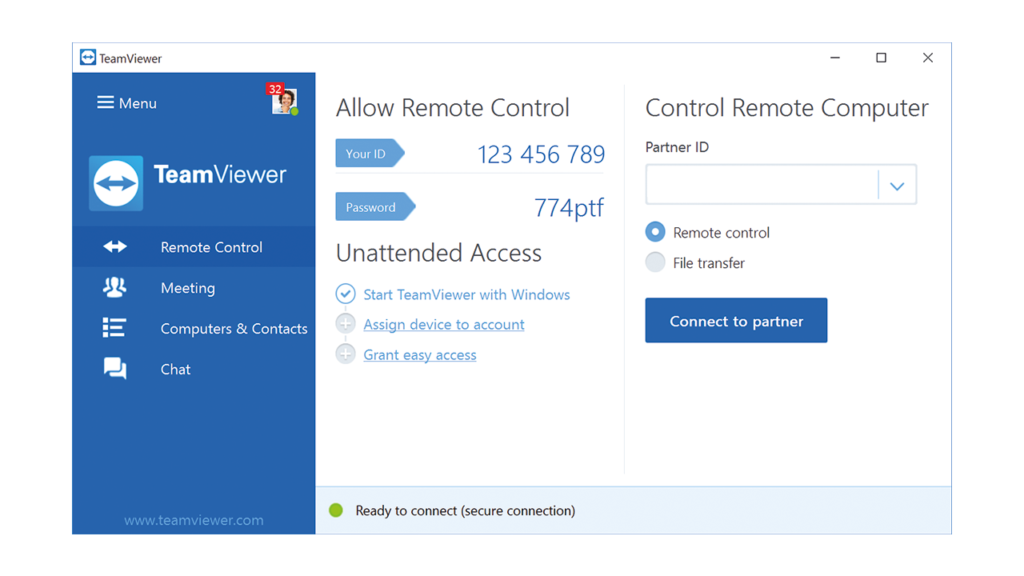 TeamViewer provides a lot of similar features to the Dameware tools, including remote control and access to workstations, as well as out-of-band powered-off or unattended computers. It also provides a shortcut route to key tools using the Quick Steps toolbar, which facilitates faster troubleshooting and resolution. Like Dameware Remote Everywhere, TeamViewer Corporate License allows you to manage multiple remote sessions simultaneously, with sessions organized like browser tabs for easy access. The centralized dashboard provides details on the remote device you're accessing, such as RAM, processor, and hard disk information. TeamViewer Corporate can provide cross-platform support — for example, for mobile to mobile, mobile to PC, or PC to mobile. As long as the platforms support either Windows, macOS, Chrome OS, iOS, Android, or Blackberry, TeamViewer can work as a tool for remote desktop support. Like the Dameware tools, TeamViewer also provides remote screen, mouse, and keyboard control; messaging systems; and the ability to wake up hibernated devices. The main downside of TeamViewer is the cost. The tool comes with an impressive suite of features and the price tag is impressive to match. There are three types of annual licenses for non-personal use: business, premium, and corporate. The corporate version, which is the most extensive of the offerings and is most comparable to the Dameware offerings, can accommodate up to 500 devices as well as concurrent sessions. TeamViewer does not offer a free trial. If you want to try it out, there's a free version available for personal use only.
BeyondTrust, formerly known as Bomgar, offers tools that provide privileged access management capabilities, remote support, general privilege management, vulnerability management, and change auditing. The BeyondTrust privileged remote access and remote support features can work together to provide a comprehensive remote protection and support suite. BeyondTrust remote support offers support for Windows, Mac, Linux, iOS, Android, network devices, and peripherals. This includes screen sharing and remote control, and the ability to customize the support process through features like customized chats. Security is enforced through a permissions system. Teams, users, and roles can be set up with different permissions for support purposes, to maintain appropriate privileges in remote access. BeyondTrust also integrates with tools like Active Directory, ITSM tools, SIEM tools, and third-party authentication systems and password managers. While this is a great piece of software it may lack some of the features you prefer and more ideal for smaller businesses. You can download a free trial of the remote support software or view an online demo of the privileged remote access software.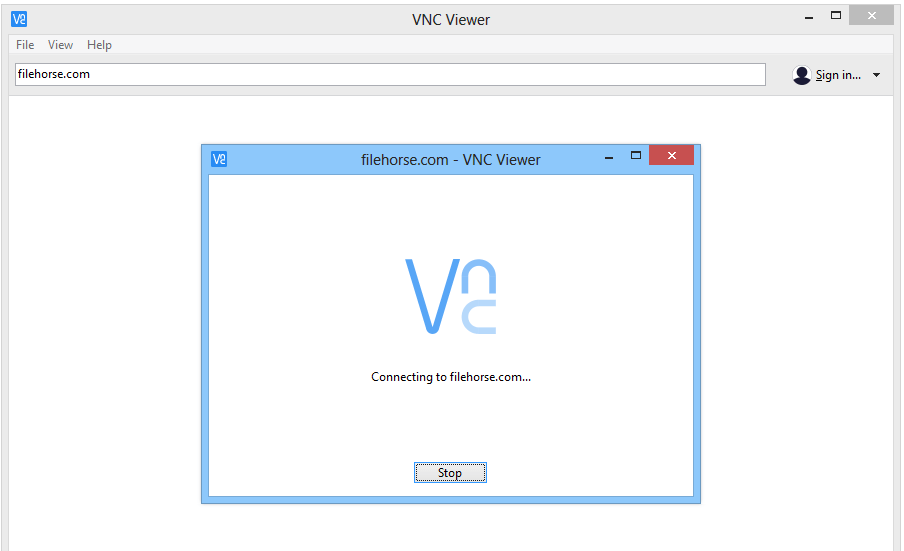 RealVNC makes a tool called VNC Connect for remote access and support. VNC Connect is easy to deploy. It provides access to both active and unattended devices, as well as the ability to connect either directly or through the cloud. You can pre-install it on host computers, or connect on demand with an install button, as with Dameware MRC. Like other remote support software, VNC Connect provides support for Windows, Mac, Linux, and iOS and Android devices, with cross-platform support. It also includes core features like file transfer (both to and from the host machine), remote printing, and chat capabilities. You can use VNC Connect as a remote deployment across an entire enterprise, setting it up on each device in your infrastructure simultaneously. Not only does this save a great deal of time, but it also helps administrators get everything set up with the same configuration, which results in support tickets being resolved more efficiently. Finally, with Linux computers on an enterprise subscription, you can use VNC Connect to create virtual desktops and enable visual remote access to Linux systems, or to create separate workspaces when two users want to use a shared resource at the same time. VNC Connect differs from Dameware in a couple significant ways. In terms of pricing, the VNC Connect model is somewhat different from the Dameware pricing. With VNC Connect, you pay a monthly fee for access to the service. The tool also offers a free version. That means that you have more options available if you aren't ready to commit to a comprehensive web-based access solution. Beyond its pricing, VNC Connect differs from Dameware when it comes to customer support. Unlike Dameware, which offers 24/7 support with live reps, VNC Connect has support available during business hours only. VNC Connect is a solid choice if your needs are pretty basic when it comes to remote access. It's straightforward and fairly easy to learn to use, meaning that you can start engaging in remote access and support quickly. VNC Connect is available as a 30-day free trial.
How to Choose the Best Remote Support Software
Remote support software is becoming increasingly crucial to business success. Dameware comes in three versions to facilitate different levels of remote support, and in comparison with other tools, it comes out on top. Dameware Mini Remote Control is best suited to smaller organizations with fewer administrators; it offers an affordable and lightweight solution packed with useful tools. For a more comprehensive package built on the same foundation, Dameware Remote Support includes the same core functions, with additional utilities to provide greater functionality for larger enterprises. Finally, Dameware Remote Everywhere is a robust cloud-based tool and provides a remote-access SaaS solution for enterprises. In my opinion, the remote access software by Dameware is well-designed, easy to use, and well-known. You can feel confident these tools excel at what they do.