Network traffic monitoring tools can give companies invaluable visibility into their networks, helping them get ahead of problems, often before their impact is experienced by the end user. With a network traffic monitor, you can identify outages causing bottlenecks, reduce downtime, and increase the efficiency of troubleshooting activities.
The market for tools that allow you to view network traffic, measure network traffic, and trace network traffic is becoming increasingly saturated, which makes it challenging to choose the right network traffic monitor for your business. To help inform your decision, this guide reviews some of the best network traffic monitor tools available in 2022.
Overall, SolarWinds® NetFlow Traffic Analyzer is a comprehensive and advanced network activity monitor. This scalable and user-friendly network traffic monitor provides businesses with the capabilities necessary to view network traffic, measure network traffic, and analyze network traffic without requiring any former network monitoring experience.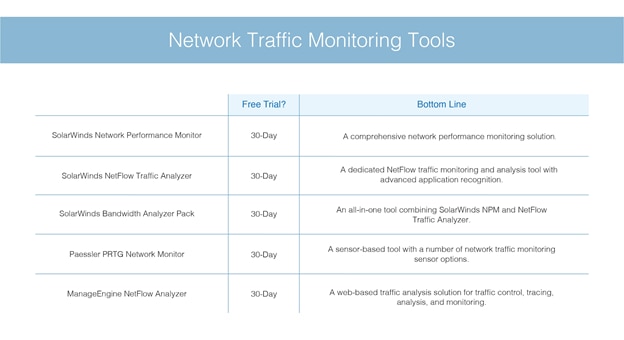 Read on to find out how other top network activity monitor tools compare and about the key functions of network traffic monitoring tools.
Functions of Network Monitoring Tools
Before reviewing the best network traffic monitoring tools available, let's first look at the key functions of an enterprise-grade network traffic monitor. When choosing a network traffic monitor, you should consider which of these functions are most important to your business. This will help ensure you select the network traffic monitor best suited to your company's individual needs.
Network Traffic Control
Network traffic control refers to the activities involved with managing network traffic and bandwidth usage, with the aim of preventing bottlenecks and unexpected spikes in traffic. With the increased use of VoIP and video chat programs, networks have become more complex, increasing the importance of having complete control over network traffic. By being able to establish network traffic control, companies can avoid downtime and mitigate the risk of bottlenecks.
Network traffic control can help your company anticipate traffic spikes and identify bandwidth hogs, enabling your team to take remediating action before network performance is negatively impacted. A network traffic monitoring tool that facilitates network traffic control can help you achieve complete visibility, improve your service quality, proactively discover security threats, and predict and prevent bandwidth bottlenecks.
Network Traffic Analysis
Network traffic analysis involves analyzing traffic communication trends to identify and remediate performance issues and security threats. Traffic analysis offers a means of monitoring a network's activity and availability, enabling companies to identify anomalies, such as operational or security issues. Typically, tools with traffic analysis capabilities provide a record of historical and real-time network traffic, and vulnerable protocol usage, troubleshoot slow networks, eliminate blind spots, and improve internal visibility.
Network Traffic Measurement
In computer networking environments, network traffic measurement refers to the activities involved with measuring the type and amount of traffic on a specific network. Network traffic measurement is important because it facilitates successful bandwidth management.
Trace Network Traffic
Tracing network traffic typically involves measuring how network traffic reaches its intended destination. Traffic tracing tools can be used to generate session information by determining the route packets take on an IP network. This can assist with diagnosing application issues. For instance, a utility that lets you trace network traffic might work by enabling you to measure the number of hops and time taken for a data packet to get to its destination. With this information, you can gauge your network stability.
Network Traffic Issues
In addition to the network traffic monitoring tool you choose being able to monitor, analyze, and trace traffic, it should ideally facilitate targeted network traffic issue detection and remediation. Common network problems include failures associated with the server, firewall, router, or general traffic (i.e., high latency and bottlenecks). Tools designed to not only display network traffic, but also provide insights and recommendations can help you determine the root cause of network traffic issues and address them as quickly as possible.
Displaying Network Traffic
Displaying network traffic is the most basic functionality of a network traffic monitor tool. Advanced tools for business use should, however, combine displaying network traffic with other functions, such as network traffic issue detection and remediation, network traffic analysis, network traffic tracing, and network traffic control.
Every network activity monitor will approach displaying network traffic differently, but this is an important consideration when choosing a network traffic monitoring tool for your business. The way you view network traffic determines how quickly and easily you can accurately interpret the data, which informs the efficiency of your network performance improvement activities. Network activity monitor tools that allow you to customize the way you view network traffic and provide visual representations of data where possible are especially useful and can streamline data interpretation.
Best Network Traffic Monitor
To help you choose the best network monitoring tools for your organization, we have ranked the best solutions available this year. In these reviews, we have considered user-friendliness, range and sophistication of features, scalability, and other factors.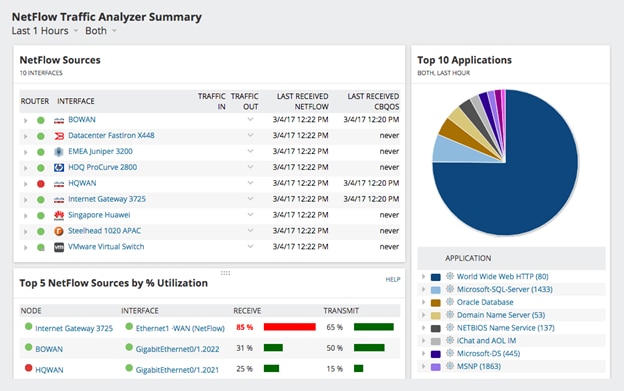 SolarWinds NetFlow Traffic Analyzer is a NetFlow analyzer and bandwidth monitoring tool providing bandwidth monitoring, network traffic analysis, application traffic alerting, VMware vSphere distributed switch support, advanced application recognition, and more. NetFlow Traffic Analyzer includes network analysis features to enable you to analyze trends and patterns in network traffic over the course of months, weeks, days, or minutes, simply by drilling into the network element you'd like to investigate. This tool collects network traffic data and correlates it to be displayed in a practical format. Data is then displayed via the web-based interface, which can be accessed from any device with an internet connection, at any time and from anywhere.
To keep you informed, NetFlow Traffic Analyzer features a sophisticated alerting system designed to inform you in real-time if an application's traffic suddenly spikes, declines, or completely disappears. This empowers users to take rapid and targeted action to remediate issues.
This solution also provides a range of advanced reporting tools, allowing you to generate, schedule, and send in-depth bandwidth and traffic analysis reports in typically a couple of clicks. You can leverage these dynamic and easy-to-interpret reports to review historical trends, which assists with identifying peak bandwidth and adjusting policies to improve network management operations.
This specialized network traffic monitoring tool is suitable for small and large businesses alike, is highly scalable, and requires no training or experience to get started. You can download a 30-day free trial here.
To note: SolarWinds NTA is an add-on to SolarWinds Network Performance Monitor and is required to use NTA. Free trials for both products are available for download in the SolarWinds Network Bandwidth Analyzer Pack.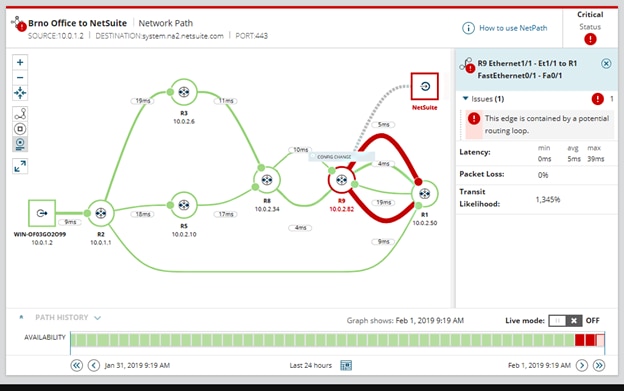 SolarWinds NPM is a multi-vendor network monitoring tool designed to scale with your business as it grows and expands to meet the needs of your network. This all-in-one network monitor provides an impressive range of utilities, including Cisco network monitoring, cloud server monitoring, deep packet inspection and analysis, LAN monitoring, link analysis, router traffic monitoring, and much more.
NPM covers, but is by no means limited to, all the key functions listed above, allowing you to monitor network traffic. When it comes to displaying network traffic and other metrics, NPM is particularly impressive because it represents data in the form of graphs and charts when appropriate, for ease of interpretation. I found the dynamic NPM dashboard is easy to navigate and highly intuitive, making this tool easy to use. Statistics are displayed as widgets, which means you can move them around to reflect your priorities or areas you want to pay attention to.
As a network monitor, NPM continuously monitors your network for performance, fault, and availability of all your applications and devices. With this tool, IT professionals can leverage comprehensive monitoring reports to vastly improve the efficiency and success of their troubleshooting activities when issues occur. NPM also features intelligent alerting, keeping you informed of the status of key metrics. You can customize thresholds for your performance metrics, so you're alerted if a threshold has been breached.
In addition to offering a diverse selection of network tools covering every aspect of network monitoring, NPM also provides a dedicated router traffic monitoring utility. This feature automatically discovers your network routers and displays the connections. You can use NPM's Discovery Central utility to acquire a centralized overview of the number of routers and the types of routers you're currently monitoring with any SolarWinds products you're already using. This integration capacity eliminates the need to move between tools, so you can focus your attention on a single dashboard.
Other notable SolarWinds NPM features include the ability to analyze latency issues, map network devices, check current hardware health, analyze the network path, and more. This tool offers advanced scalability, making it the ideal choice for companies anticipating rapid growth. A 30-day free trial of NPM is available for download.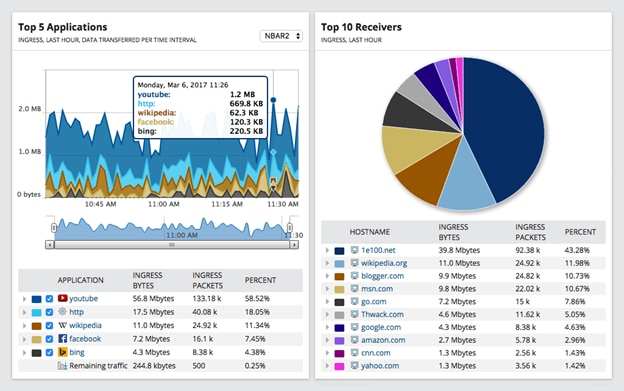 If you're looking for an all-in-one network monitoring and management solution beyond network traffic monitoring, SolarWinds Network Bandwidth Analyzer Pack is a popular choice. This tool combines SolarWinds NPM and NetFlow Traffic Analyzer into a single solution, consolidating their capabilities.
Here are some examples of utilities Network Bandwidth Analyzer Pack (integrated NPM and NTA) offers:
Multi-vendor monitoring
Support for NetPath™, which facilitates critical path visualizations
Wireless network management and monitoring
Performance baselines for the network
Traffic analysis capabilities
WLC traffic monitoring
Optimization features for CBQoS policy
Customizable reports
Advanced application recognition (NBAR2)
Bandwidth monitoring
A fully functional 30-day free trial is available.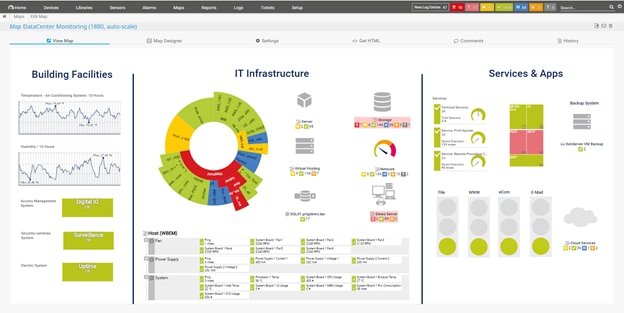 Paessler PRTG Network Monitor takes a sensor-based approach to network monitoring, enabling you to create a solution to suit your individual needs. With PRTG, a sensor is a monitoring element, with a single sensor typically dedicated to monitoring one measured network value—for example, server CPU load, available disk drive space, or switch port traffic. With thousands of sensors to choose from, you have the option of creating a specialized network traffic monitoring tool or a more comprehensive network performance monitoring and management solution.
PRTG provides a range of sensors for tracing and monitoring network traffic, including a Traceroute Hop Count sensor, a Packet Sniffer sensor, NetFlow sensors, and SNMP sensors.
You can use up to 100 sensors for free with this tool, although you'll need between five and ten sensors per device (on average) or one sensor for every switch port. This means you're likely to use up these free sensors quickly. You can trial the unlimited edition of PRTG for free for 30 days by clicking here.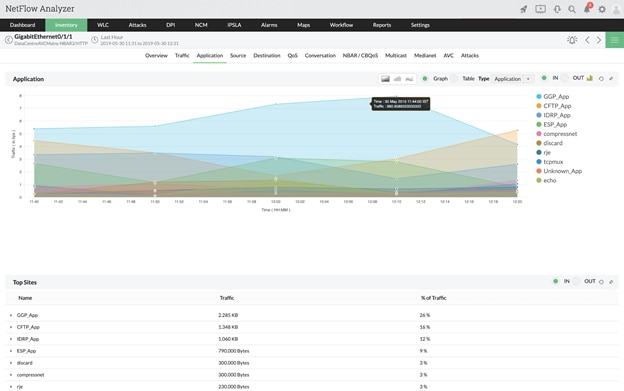 ManageEngine NetFlow Analyzer is another popular and versatile solution capable of providing the functions listed earlier in this guide, including network traffic analysis, monitoring, tracing, control, and measurement. This tool also functions as a web traffic monitor, protocol analyzer, usage monitor, Cisco ASA monitor, application monitor, and much more.
This web-based traffic analysis solution uses flow data and stores it for analysis, generating in-depth traffic reports. NetFlow Analyzer collects data from NetFlow, sFlow, IPFIX, J-Flow, and more, then correlates and displays it in a readable format. With real-time graphs and comprehensive reporting utilities giving you insight into traffic behavior, this tool allows for advanced network traffic monitoring and analysis.
These features are the tip of the iceberg with ManageEngine NetFlow Analyzer. To experience this tool's full functionality, download the 30-day free trial.
Choosing the Right Network Traffic Monitoring Tools
The tools listed in this guide are enterprise-grade and capable of delivering a comprehensive range of network traffic monitoring utilities. The tool that's right for your company will depend on the extent of your requirements and how you prefer to approach monitoring.
For a fully consolidated and centralized network traffic monitoring tool to help you optimize network performance and increase your team's efficiency, we highly recommend SolarWinds Bandwidth Analyzer Pack. If you still aren't sure which tool is right for you, consider downloading the free trials linked throughout this guide and experiencing them for yourself.