When IT services are disrupted, prompt resolution is critical to ensure uninterrupted operations. Incident management software not only helps you track and manage these issues but also provides analysis and reporting capabilities. This article offers a brief overview of the ten best software packages available for effectively resolving IT disruptions.
---
Incident Management in IT
Disruptions in IT service need to be resolved promptly so your end users can get back to work. Tracking these problems is part of incident management and is best done with the help of incident management software, such as a service desk.
The best incident management tools don't just track incidents. They also include analytics and reporting to help prevent similar issues from reoccurring, and they integrate with ITIL processes. Following a quick review of incident management, this guide will detail 10 of the best available incident management software packages.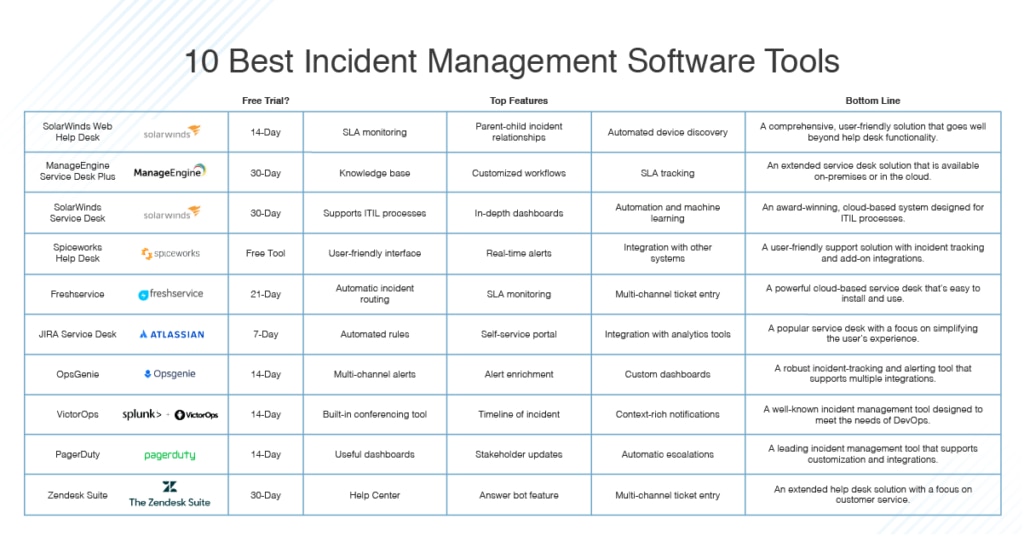 © 2021 SolarWinds Worldwide, LLC. All rights reserved.
What Is Incident Management?
Incident management starts with any unexpected disruption to an IT service impacting the end user's ability to complete their tasks. This is known as an incident. It could be the result of a network issue or a problem with an IT asset, such as a laptop or printer. Incident management focuses on getting operations up and running after the disruption with as little negative impact as possible. It's part of the process of IT service management (ITSM) and facilitates smooth communication between the IT team and the end users. Incident tracking software is necessary to properly handle incidents and follow them through to resolution.
To be fully effective, IT teams may also want to do the following:
Identify the active software and hardware assets in the company;
Monitor multiple systems to gather necessary data, including application performance and system logs;
Perform root cause analysis to identify what triggered the incident;
Escalate issues based on established rules and policies;
Maintain a knowledge base of information for future reference;
Provide dashboards to give visibility into the incident and resolution status;
Run reports to review incidents over time.
Best Incident Management Software
Companies should perform incident management software comparisons to ensure they have the best tool for their business. With this in mind, here's my list of the best available incident management tools.
© 2021 SolarWinds Worldwide, LLC. All rights reserved.
SolarWinds Web Help Desk (WHD) is a user-friendly IT solution designed to go beyond help desk functionality. The asset management feature automatically tracks your software and hardware assets, and the tool's automated device discovery provides detailed information about make, model, serial number, and more, removing the need to manually identify assets. This gives you all the information you need to keep your inventory up-to-date and assist with planning.
The software also helps you stay aligned with ITIL processes for change management, allowing you to keep a history of changes over time. Additionally, the tool records root cause analysis and any assets or incidents involved to help prevent similar problems down the line.
As the name suggests, Web Help Desk comes with the standard help desk functionality for tracking incidents and resolutions. Its additional incident tracking software features allow you to manage problems and incidents separately, and you can create a parent-child relationship between problems and incidents to support the scalability of incident management.
This solution also includes reporting and analytics tools to use with service-level agreement (SLA) monitoring. You can configure a dashboard to provide alerts for both SLA time frames and ticket status, which helps ensure incidents are resolved in an acceptable amount of time. This is an on-premises software, but once it's installed, end users can access it from a browser. SolarWinds WHD can be run on the following operating systems:
Windows
Windows Server
Linux
Mac OS.
SolarWinds offers a 14-day free trial of Web Help Desk. Once the trial period is over, you can buy a license, switch to the free version, or stop using the software. Web Help Desk Free Edition doesn't have all the functionality of the paid version, but it can be a good starting point.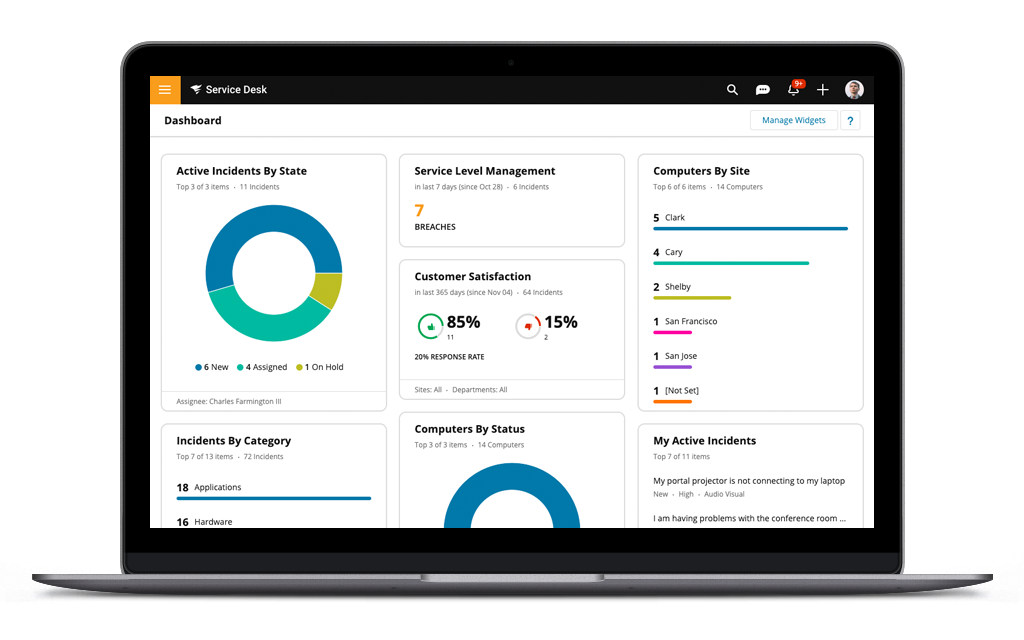 © 2021 SolarWinds Worldwide, LCC. All rights reserved.
One of the best options for a cloud-based incident management system is SolarWinds Service Desk. It won an award and received the highest rating in G2's mid-market list of incident management software reviews. Service Desk was designed with ITIL in mind, and it has different levels to meet varying business requirements:
Team: For smaller teams, this includes incident management and a knowledge base
Business: For growing teams, this includes change management, service catalogs, and SLAs
Professional: For mature organizations, this includes advanced automation and customizable service
At the highest level, you'll have full support for incident management, asset management, change management, and problem management. The tool's asset management functionality compares the licenses being used in your company to the ones you purchased to help prevent compliance issues. Service level management helps keep you aligned with your SLAs and improves overall customer satisfaction. The dashboards in Service Desk give you real-time information about what's happening with your service desk. These dashboards are customizable to provide the details necessary to keep your team members informed.
The solution also provides automation and machine learning to streamline IT operations. It provides ways to investigate reported problems with workflows and scripts, and the ITIL processes then propose solutions and project management tasks to address identified issues. You can access Service Desk through a mobile app supported on both iOS and Android devices. The app provides critical notifications to the IT team wherever they are, so they can stay aware of the status of incidents. It also supports historical data review to better work through issue resolution, even when agents aren't at their desks.
Service Desk is a cloud solution, but SolarWinds will provide the software for use on-premises if customers request it. You can start with a fully functional 30-day free trial of Service Desk. Afterward, SolarWinds charges on a per-agent or per-device basis, making Service Desk an affordable solution for organizations of any size.

© 2021 ManageEngine. All rights reserved.
With ServiceDesk Plus, you can choose between three levels to find the right features for your business:
Standard: This level includes basic help desk software to get teams started
Professional: This level includes asset management and help desk software
Enterprise: This level includes additional features to cover ITIL processes
Incident management functionality is part of the Standard plan and each of the higher levels. This includes the ability to automatically assign tickets to members of the IT team based on their expertise. Additionally, the solution has SLA tracking and supports escalations to prevent SLA violations. The knowledge base in the Standard edition is designed to provide an easy way for users to find known solutions and other information needed to streamline ticket closing. Out-of-the-box reports provide the ability to review performance and other important metrics.
The Professional version of the software comes with IT asset management. This functionality allows you to scan the network to find software and hardware assets. It also helps safeguard your database. The Enterprise edition provides additional functionality for a full IT service desk. This includes change management, which comes with workflows to walk your team through steps to prevent problems from reoccurring. These workflows can be customized to handle different scenarios, including routine changes and emergency situations. ServiceDesk Plus can be used as on-premises software or accessed online as a software as a service (SaaS) solution. The on-premises version works with Windows and Linux.
ManageEngine offers a 30-day free trial for the cloud and on-premises solutions. Afterward, the pricing depends on the level you choose and the number of technicians.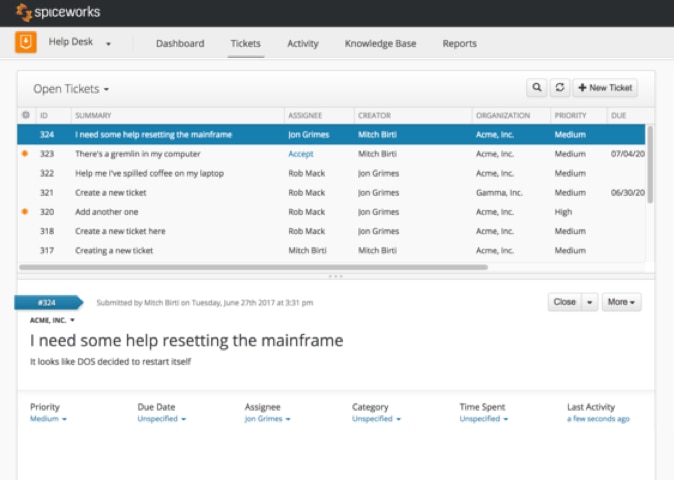 © 2021 Spiceworks. All rights reserved.
Unlike other solutions, Spiceworks Help Desk is completely free, and you don't need to upgrade to a paid version later. To pay for itself, however, the system is supported by ads displayed in a side panel. If you can live with the ads, this solution has many good features. Its user-friendly interface allows you to monitor the network and perform inventory for your devices. You can also get alerts and updates in real time to stay current with the status of the help desk, and you can view information in a dashboard.
Spiceworks is open-source and has an active user community providing many plug-ins through the community forum. You can use these to integrate the system with other applications. The solution can be installed on your servers for Windows or Mac OS, or it can be run online. The online version, Spiceworks Cloud Help Desk, doesn't have all the features of the on-premises solution, but it can be accessed from any location. You can also get to the dashboard through iOS and Android mobile devices.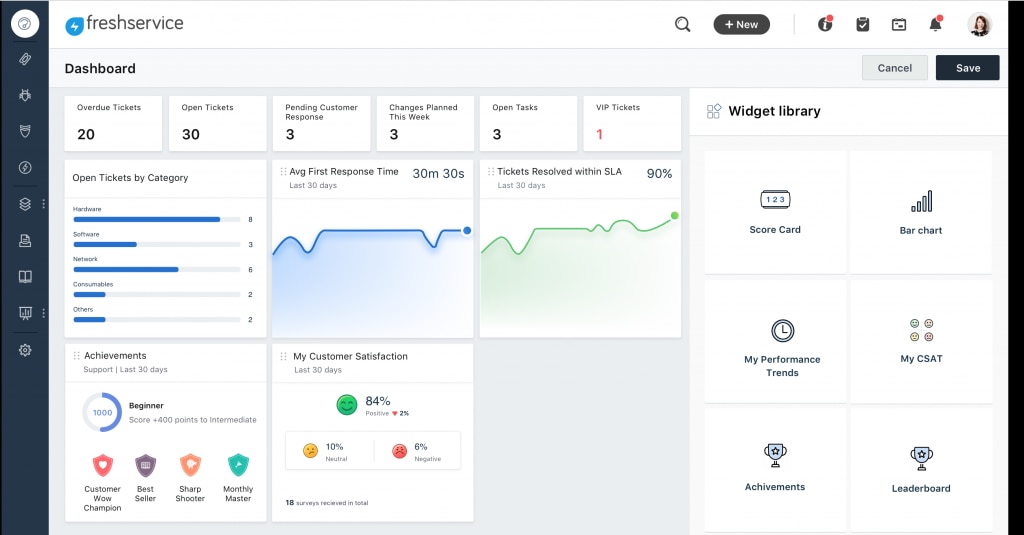 © 2021 Freshservice. All rights reserved.
Freshservice is a web-based incident management system made by Freshworks, and it has multiple levels of functionality to support businesses in different stages:
Blossom: For small teams, this includes basic help desk functionality and standard reports
Garden: For growing teams, this includes asset management and customizable reports
Estate: For large teams, this includes additional ITIL processes such as change management, problem management, and analytics
Forest: Enterprise-level businesses have access to audit logs and one-hour SLA support
Incident management is available at all levels and allows users to enter tickets through multiple channels, including email, chat, and a support portal. The incident handling works with the knowledge base by suggesting articles to users capable of addressing their issues. For more complex problems, incidents can be automatically routed to the correct team member or group, and once they're resolved, the information is added to the knowledge base for future reference. Automation allows you to track and manage SLAs to prevent violations. You can also create your own rules to monitor tickets and follow up when necessary. The survey tool module allows users to provide feedback on issue management and resolution.
IT teams can use this to identify problem areas and focus on improvement. Freshservice is user-friendly and supports integration with many other cloud services, such as Google Apps and Dropbox. It's available as a 21-day free trial; afterward, the cost varies depending on the number of agents and the level you choose.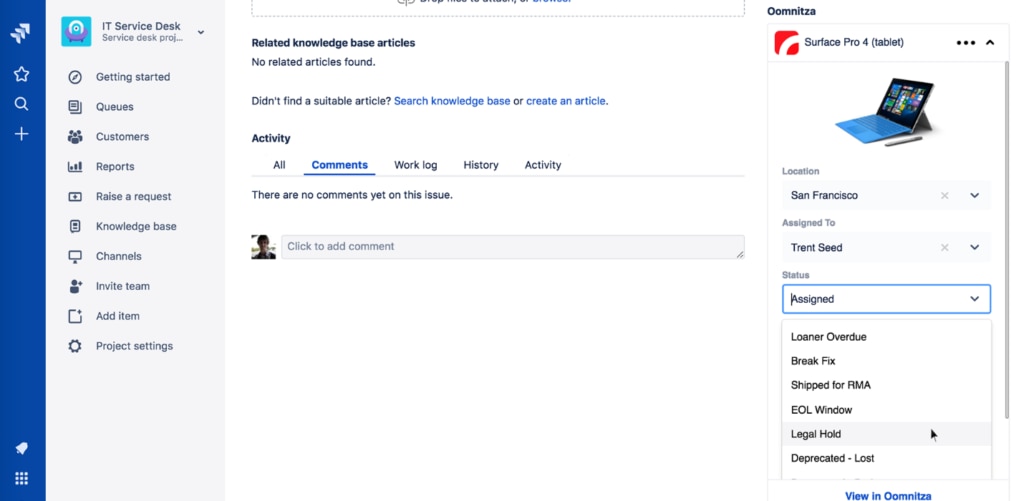 © 2021 Atlassian Corporation. All rights reserved.
Jira Service Desk is part of Atlassian's suite of products on the Jira platform, and it has the flexibility to meet the needs of different sizes and types of teams. It's available as a cloud solution and has different levels depending on the number of agents. Service Desk can also be self-managed at the customer site. Service Desk supports incident management, including automation for custom or out-of-the-box rules and routing alerts to the appropriate people.
This tool also focuses on the end user. The self-service portal allows users to search for answers to their problems, and the SLA policies track deadlines to prevent violations. Customers can easily provide feedback, which helps measure customer satisfaction. This solution comes with many standard reports to identify key incident metrics. It also integrates with analytics tools, which you can use to create more customized reports.
Service Desk supports other ITIL processes including
problem management
change management
asset management
configurable workflows.
The higher levels also provide audit logs and increased access to storage and support.
Atlassian offers a 7-day free trial of the cloud version. Afterward, you have to pay a monthly fee based on the number of agents. The on-premises version has a 30-day free trial, after which you have to pay an annual fee based on the number of agents.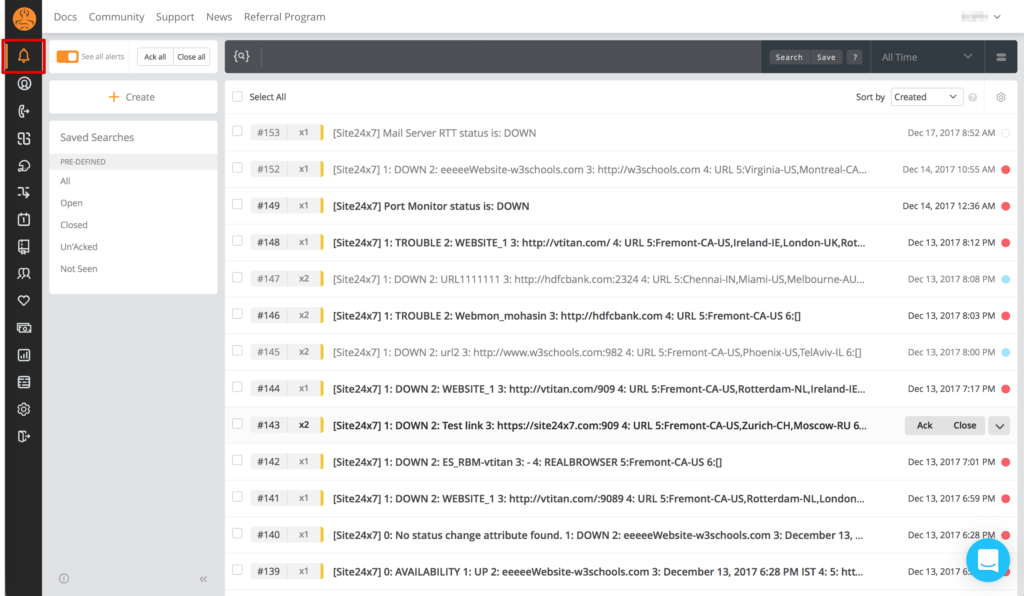 © 2021 Opsgenie. All rights reserved.
Opsgenie is another cloud-based tool by Atlassian focusing on incident management for always-on services. It offers several levels for different needs and company sizes:
Free: For teams of up to five users, this includes basic alerting and on-call management.
Essentials: For large teams, this includes additional notification and integration services
Standard: For large teams, this includes more advanced alerting and analytics
Enterprise: The Enterprise version includes full incident management, more analysis, and higher levels of support
All levels allow agents to monitor and respond to incidents from a mobile app available for iOS and Android devices, making the tool easy to use for distributed teams. The alert functionality is one of the most powerful aspects of Opsgenie. It gives you access to multiple channels for critical alerts, ensuring no one misses necessary notifications.
This solution also offers alert enrichment, enabling users to add more information to their alerts. The aim of this feature is to provide enough context for IT agents to decide how to proceed without having to look elsewhere for details. Analytics and reporting provide information to improve functions moving forward. By reviewing the information after an incident is resolved, teams can identify areas for improvement.
Opsgenie also helps you plan ahead. It can identify which template to use for an incident and how best to collaborate. Collaboration can be done by chat, via web conferencing, or by reviewing a central dashboard. For chat and web calls, Opsgenie integrates easily with other solutions. You can try any of the paid plans with a 14-day free trial before the monthly subscription fee applies, which is based on the number of users and the level you select.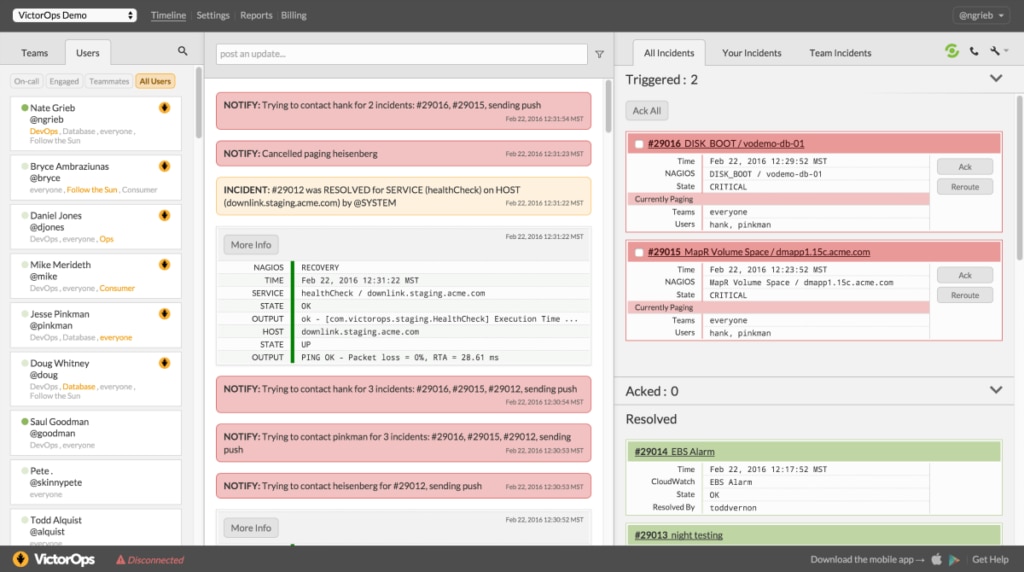 © 2021 VictorOps. All rights reserved.
VictorOps is an incident management tool designed with DevOps in mind. It offers three standard plan levels and the option to create a customized solution to fit unique needs:
Starter: For up to 10 users, this includes basic incident management and integration
Growth: For an unlimited number of users, this includes the same functionality as the Starter level
Enterprise: For an unlimited number of users, this includes additional integration, enhanced notifications, and additional reporting
Alerts in VictorOps come with more flexibility than in other systems. They can be updated to include links to other important information, such as server logs, and they also support noise reduction. The tool accomplishes this by grouping related alerts into one incident and classifying the priority of alerts so IT teams aren't disturbed during off hours except during true emergencies.
The solution also gathers information from other integrated tools to create a "timeline" showing all the information related to an incident. A dashboard and reports provide further visibility into incident frequency and response times. To improve collaboration and response times, VictorOps has a built-in conferencing tool. You can also use chat and a mobile app to stay in touch with other team members and resolve issues quickly. The mobile app is available for iOS and Android devices.
Additionally, the solution provides context-rich notifications, good documentation, and automated escalations. All levels of VictorOps are available to test with a 14-day free trial. Afterward, pricing depends on the number of users and the selected level.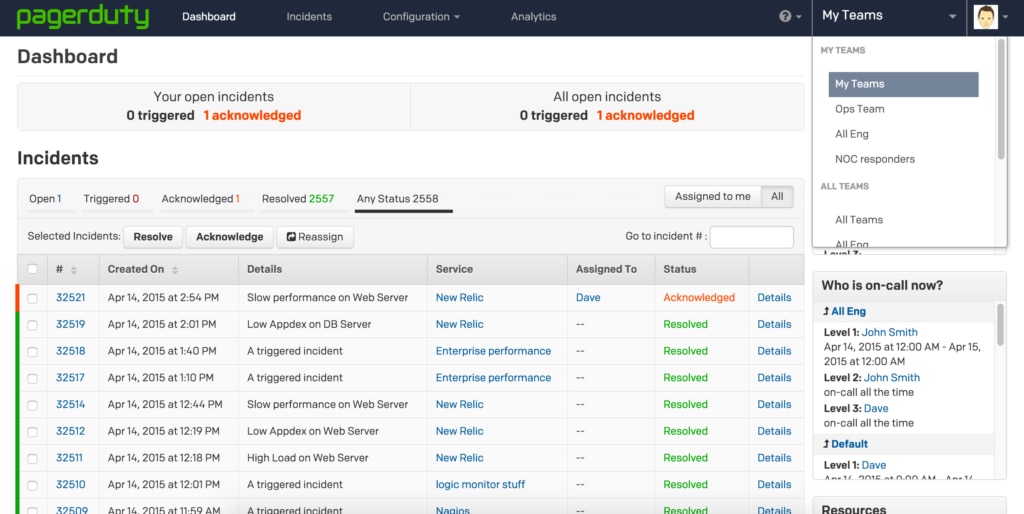 © 2021 PagerDuty. All rights reserved.
PagerDuty is a web-based incident management system, and it has flexible options for organizations of different sizes and needs:
Starter: This option includes basic alerting and on-call management
Team: This option includes increased incident management functionality and options for advanced alerts
Business: This option includes advanced analytics and integrations
One of the benefits of PagerDuty is its ability to access information related to incidents to find patterns. It uses this information to better automate escalations and make "intelligent" decisions about how to approach similar future problems. This solution keeps all key stakeholders aware of the incident status in real time, allowing everyone in the business to understand if and how they're impacted. Additionally, it keeps them updated on the progress of the resolution. Alerts can be customized and routed to the correct people to address each incident.
The software also collates alerts to reduce the noise from too many notifications, which helps keep the focus on incident resolution. Users can receive alerts through a mobile app available for iOS and Android devices. PagerDuty also provides dashboards and analytics to give further insight into incidents. This includes monitoring the performance of teams to optimize resolution times. Real-time dashboards provide links to related incidents, allowing managers to drill down for additional information to make the best decisions. PagerDuty offers a 14-day free trial for all levels of the software. Afterward, the price depends on the number of users and the level of functionality.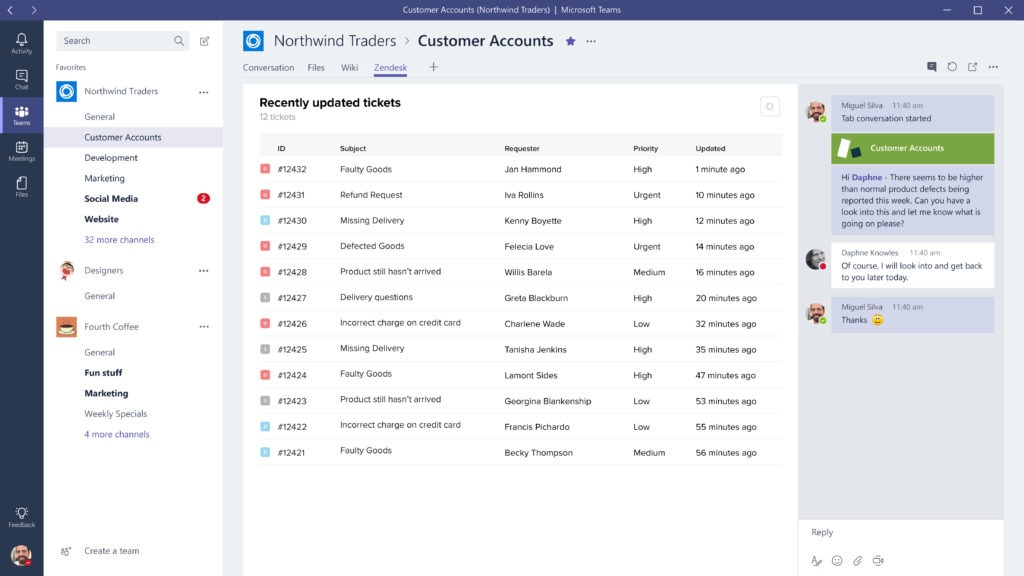 © 2021 Zendesk. All rights reserved.
Although Zendesk is mostly a help desk system, it has some notable features as a cloud-based incident management solution. Zendesk focuses on the customer experience, and its approach includes support for ticket creation by phone, email, or chat message. Once tickets are entered, they can be automatically routed to the right person based on their availability, current workload, and skill set. This helps balance the work across team members to provide fast and effective issue resolution.
Users also have access to a help center where they can search for solutions or find answers to their questions, and an answer bot is available to assist them. It uses machine learning and the knowledge base to help resolve issues across several channels and in multiple languages. Analytics and reports are used to monitor SLA deadlines and agent performance. A real-time dashboard provides metrics across all channels, giving you a consolidated view to better manage your operations. Zendesk facilitates proactive support with outbound calls and automatic triggers. This can help you address issues before they become critical.
The solution is also easy to use, with workflows designed to make it simple to navigate through the system. Zendesk has two levels, Professional and Enterprise. Both offer a 30-day free trial, and both support incident management. After the trial, the cost depends on the level and is based on the number of agents per month.
Planning for Incident Management
System problems are an inevitable part of ITSM, but using incident management software minimizes disruptions. The right tool will do more than track incidents, though. It'll also allow you to develop and maintain an inventory of your equipment, provide monitoring and alerts, and give you visibility into the situation with dashboards and reports. The solutions in this guide all support incident management and more depending on your needs, but a couple are worth pointing out.
If you want an on-premises solution designed to extend help desk functionality with asset management and SLA monitoring, I recommend Web Help Desk. If you're looking for a cloud-based tool with robust analytics and ITIL support, SolarWinds Service Desk is an excellent choice. Their huge advantage is that both have a free trial period.