Almost every business today uses a database to keep track of their data, but Oracle databases are optimized specifically for enterprises with massive data sets. These databases must be robust enough to handle large data volumes, flexible enough to accommodate changing business needs, and reliable enough to stay available on a near-constant basis. Oracle database performance monitoring is the only way to accomplish these three goals, but manually monitoring your Oracle database would be complex and time-consuming. How do you effectively monitor an Oracle database? That's where Oracle database administration tools come in.
How to Monitor Oracle Database Performance
The Best Oracle Database Monitoring Tools
Choosing Oracle Database Administration Tools
In this post, I'll give you a brief breakdown of how to monitor database performance in Oracle and count down my list of the best Oracle database monitoring tools. My top pick is SolarWinds® Database Performance Analyzer (DPA), but I've included some other great options that might be the best Oracle database monitoring tool for you. If you want to use DPA, you can find its detailed description on the following list and directly download a 14-day trial version.
How to Monitor Oracle Database Performance

There are two main approaches for monitoring Oracle database performance—reactive and proactive. Proactive Oracle database monitoring helps you pinpoint performance issues and compare Oracle databases issues before they become problems, while reactive Oracle database monitoring helps you mitigate and manage the effects of performance issues after they've already occurred. The reactive approach is good for troubleshooting and major incident reporting, but a proactive approach is less risky and better to improve the end-user experience.
The key to proactive Oracle database performance monitoring is keeping an eye on the right metrics. The four most important database performance metrics to monitor are:
Queries
Monitoring query issues like inefficient joins between tables, insufficient indexes, or overly literal SQL statements keeps your database running smoothly. Also, it improves the performance of the queries themselves.
Capacity Issues
Slow CPU speeds, slow or misconfigured disks, insufficient memory, and more can slow down Oracle database performance.
Conflicts Between Users
If there are a lot of users accessing the same database, transactional locks and deadlocks can bring operations to a screeching halt.
Configuration Issues
Misconfigured disks, a lack of query caching, or an insufficiently sized buffer cache can all slow down Oracle database performance.
Every database administrator learning how to monitor Oracle databases should familiarize themselves with the aforementioned metrics, but metrics aren't the only factors that matter. To effectively monitor Oracle databases, you need real-time monitoring, robust alerting, multidimensional analysis, and much more.
The Best Oracle Database Monitoring Tools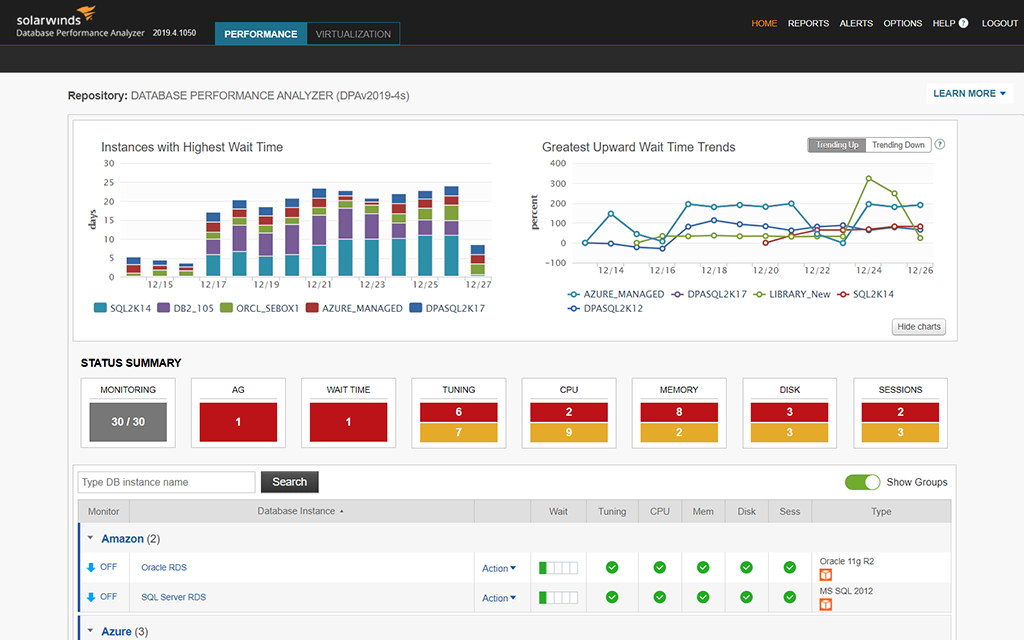 SolarWinds Database Performance Analyzer (DPA) is my top pick for monitoring Oracle database performance and ensuring Oracle database optimization. DPA helps you monitor a wide range of databases, including Oracle, SQL Server, IBM, DB2, SAP ASE, and more. Its clear, intuitive interfaces put the information you need to resolve issues quickly right up front, and you can click through bird's-eye views from a single screen. DPA also lets you create your own custom charts to help you visualize information. Database administrators who value clarity and efficiency can get a lot out of this tool.
When you compare Oracle database tools, DPA stands out due to its time-based approach and multidimensional performance analysis. Time is everything when you're learning how to monitor an Oracle database, even though most Oracle database optimization tools prioritize server health measures or execution ratios. Since time reflects the end user's experience, it makes sense to base Oracle database optimization on it. DPA uses response time analysis to break down operations into single, measurable steps, so you can pinpoint exactly which step is causing delays. This helps you tune and improve SQL query performance.
DPA combines response time analysis with multidimensional root cause analysis to make it easier for you to gather data-driven insights and make connections between SQL statements, system health, or wait-based analytics and performance issues. You no longer have to waste time filtering through hundreds of raw metrics with this tool—it's built to do the heavy lifting for you.
DPA features you get with the enterprise version are far superior. Here are just a few of the functions you get with the paid version of the DPA – Oracle database monitoring tool but not the free tool:
Additional support for RDS, Azure, AWS, and MySQL
Enhanced customer and technical support
Blocking and locking analysis
Historical trend dashboards
Real-time session monitoring and performance analysis for VMware and more
I personally recommend you download the free trial version and test it in your Oracle database environment. You can get it on the official SolarWinds website.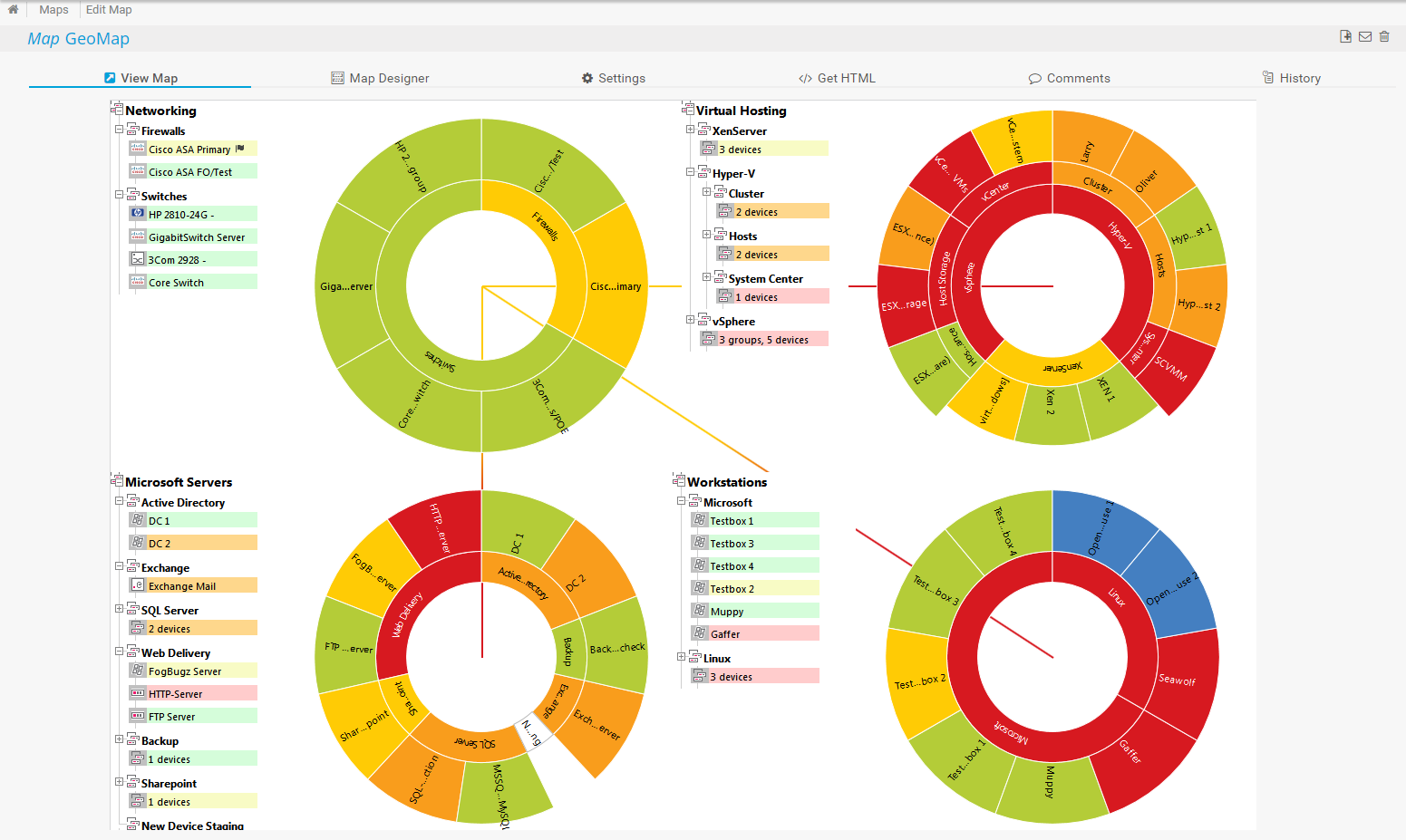 Paessler PRTG is an all-in-one Oracle database monitoring tool and a close second choice. I like PRTG because it's another one-stop shop for Oracle database optimization. You can monitor your entire IT infrastructure from applications to cloud services to IoT devices and more. It also supports a lot of technology, including all versions of SNMP and Flow technologies. If a particular technology isn't supported right out of the box, you can integrate PRTG with it using an API. The customizable dashboard lets you decide which metrics you want to prioritize.
PRTG is made up of monitors called sensors, which makes initial setup easy because you don't have to configure your own sensors and settings if you don't want to. You can also set up custom sensors to help you monitor specific data sets depending on how you prefer to monitor Oracle database performance. Unfortunately, if you're not using the free version of PRTG, Paessler charges you per sensor, which can get very expensive very quickly depending on the size of your network. Also, you might end up paying for more sensors than you need. Another potential drawback is PRTG doesn't have as many Oracle performance checks and coding support services as other tools on this list, but its large number of monitors can certainly make up for it.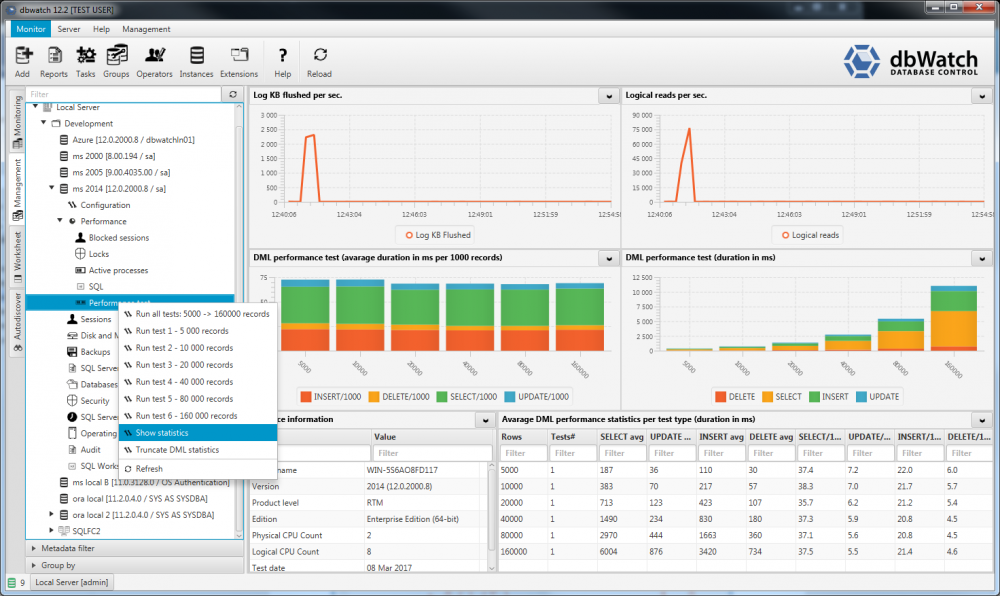 If you're looking for more specialized Oracle database optimization, dbWatch is one of the best Oracle database monitoring tools you can choose. In addition to Oracle database monitoring and management, this tool also offers monitoring for Microsoft SQL Server, Sybase, PostgreSQL, MySQL, MariaDB, and on-premises, hybrid, or cloud Azure SQL support.
This tool was designed to help you quickly respond to changes in database monitoring across your entire server farm because many database administrators have realized monitoring every single instance isn't the most efficient way to work. Instead, dbWatch gives insight into all your instances via one unified, global view, while giving you the option to drill down on these individual instances if necessary. You don't have to switch between different consoles.
The tool's architecture allows you to easily monitor a few instances or thousands, without sacrificing performance or putting undue strain on your network resources. It's customizable, easy to install, and supports more than enough locations, platforms, and versions to help you monitor database performance in Oracle. That said, if you're considering this tool, know it can only be used for Oracle database monitoring. You'll have to supplement dbWatch with other tools to monitor your other servers and applications.
If you're a managed service provider or do a lot of remote database monitoring, I'd recommend Site24x7 Oracle Database Monitoring. This cloud-based infrastructure monitor has a specialized screen devoted to Oracle monitoring and, as the name suggests, is designed to offer optimal Oracle database performance 24/7. Site24x7 database supervision automatically detects all database instances and includes them in the monitoring program, keeping a constant watch over the performance of your entire database and aggregating reports on the most important metrics. This tool is cloud-based, so you don't have to worry about installing software.
I particularly like the customizable alert parameters, live performance metrics, and capacity planning insights. Plus, the tool allows you to monitor an unlimited number of instances.
Choosing Oracle Database Administration Tools
All the Oracle database administration tools on this list have their pros and cons as standalone monitoring solutions or as parts of a larger monitoring ecosystem. Ultimately, the best Oracle database monitoring tool for you is going to be the one that gives you more of what you want and less of what you don't. In my opinion, you can't go wrong with a SolarWinds tool, particularly Database Performance Analyzer (DPA). DPA is an all-inclusive, easy-to-use tool designed to help you with monitoring Oracle databases, with numerous unique features like response time analysis to help you approach Oracle database optimization in new ways. As I have tested these tools on my own database environment, I can recommend it to IT staff working on Oracle database software.
See for yourself! You can download a fully functional and free trial of DPA for 14 days.