Managing IT assets is crucial for IT professionals, as it enables them to respond to issues faster and improve efficiency. Utilizing IT inventory tools is the best way to keep track of and manage IT assets. In this article, we'll explore some of the top IT inventory tools that can help streamline your asset management process.
---
1. SolarWinds® Server & Application Monitor (our pick)
4. SolarWinds Server Configuration Monitor (our pick)
5. SolarWinds Service Desk (our pick)
Why IT Inventory Management Software is Important?
Keeping track of and managing IT assets should be a high priority for any IT professional. Frequently updating inventory to maintain detailed data about your organization's IT assets and any asset configuration changes can enable you to respond to problems more quickly, lower your risk of downtime, and improve efficiency. Managing your IT inventory assets can also provide insights into underutilized or outdated assets, allowing you to allocate resources more effectively, saving you time and money.
The best way to track and manage IT assets is with IT inventory tools. Historically, practicing IT asset management has involved writing many notes by hand or diligently filling out spreadsheets. However, manually gathering asset data and compiling reports wastes valuable time and leaves plenty of room for human error. Fortunately, there are several powerful IT inventory tools on the market today.
In this article, I'll discuss some of my favorite IT inventory tools. By investing in IT inventory tools like those listed above, you can save your organization time, create more accurate budgets, and eliminate human error from inventory records.
My favorite IT inventory tools are from SolarWinds. SolarWinds Server & Application Monitor (SAM), Server Configuration Monitor (SCM), and Service Desk are all versatile offerings with IT inventory management and maintenance capabilities, a user-friendly interface, and other useful features. Download a free 30-day trial of SAM, a 30-day trial of SCM, or a 30-day trial of Service Desk today.
TOP 6 IT Inventory Software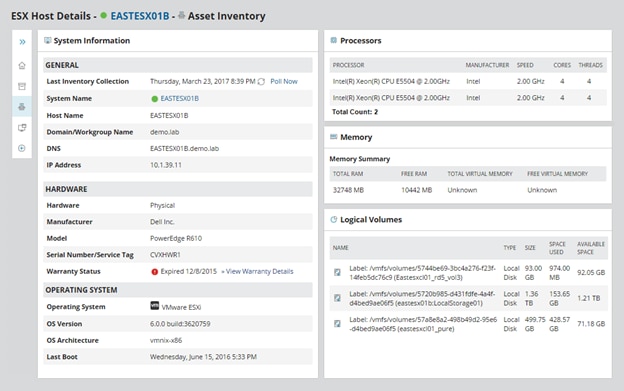 This comprehensive tool offers more than IT inventory management. SolarWinds Server & Application Monitor (SAM) is built to simplify monitoring servers and applications, enabling you to keep up with your hardware and application health for quicker troubleshooting.
Equipped with more than 1,200 out-of-the-box monitoring templates, over 1,000 community templates, and the ability to customize your own monitoring templates, SAM can monitor server performance across public, private, and hybrid cloud environments, offering users valuable visibility. You can view application dependencies via an updated visual map within SAM.
SAM is also equipped with an asset inventory feature, providing users with a detailed, up-to-date inventory of the hardware and software for each node. Not only can this IT inventory management software help you manage and maintain your infrastructure, but it can also help you track asset depreciation and collect information for insurance purposes. You can track your hardware components' warranty information, discover when servers received OS updates, view maintenance timelines, and monitor the life cycles of your hardware with SAM's help. Within the Orion® Web Console, you can view how many updates are available, when the most recent check for updates occurred, when the latest updates were installed, and more.
Deploying this IT inventory software is quick and easy—no professional services or consultations necessary. Generally, within an hour, users can start discovering, mapping, and monitoring their applications and infrastructure with SAM. Using SAM is also easy, thanks to its intuitive interface and built-in monitoring templates.
Try SAM for free with a 30-day trial today.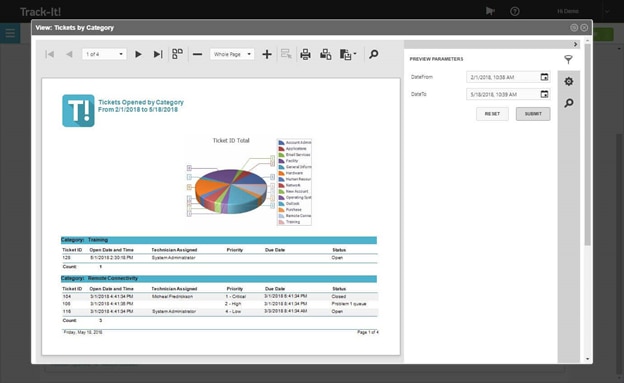 Equipped with useful features for managing assets and IT inventory, Track-It! is used by more than 50,000 small-to-medium-sized businesses around the world. This IT inventory software simplifies managing IT-related assets, saving users valuable time, minimizing some security risks, reducing maintenance costs, and helping organizations make practical purchasing decisions and create accurate budgets. You can use this IT inventory software to prepare for internal or external audits and to ensure your licensing is optimized, making it a valuable license inventory tool as well.
With the help of this inventory tracking software, you can easily identify your organization's assets and track them throughout their life cycle, allowing you to make well-informed decisions regarding licensing and future purchases. Discovering software and hardware, creating inventory reports, and auditing your IT assets is easy with this IT inventory software.
BMC Track-IT! also provides organizations with help desk software, enabling them to create tickets, track the time spent on projects, increase end-user satisfaction, and more. Access a free trial today.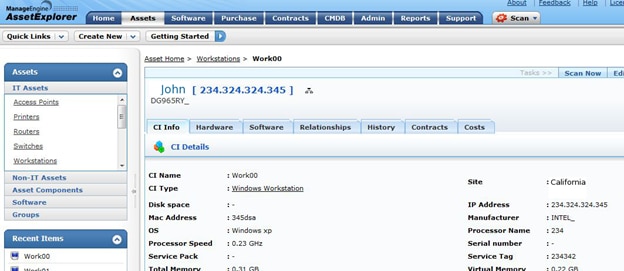 ManageEngine AssetExplorer is a good choice for organizations in need of IT hardware inventory software. This web-based IT inventory software allows you to monitor and manage your organization's hardware and software assets from the moment you start planning to acquire an asset to the moment you dispose of it. AssetExplorer periodically scans your assets for software, hardware, and ownership information, offering valuable insights into your assets. It also allows you to demonstrate software license compliance, track contracts, and track purchase orders.
With an easy installation process and out-of-the-box functionality, you can start tracking and managing your inventory with AssetExplorer almost immediately. Once you've started using this IT hardware inventory software, you can view easily digestible flash charts to help you show compliance with license agreements, generate detailed custom or pre-defined reports, and enable hardware and software auto-discovery. If you want to identify any licenses you don't use anymore or under-utilize, this IT inventory software can help with that, too.
A free version of this IT inventory software offers 25 nodes, a 30-day trial is restricted to 250 nodes, and there's a professional tier of AssetExplorer available. Download a free 30-day trial of AssetExplorer today.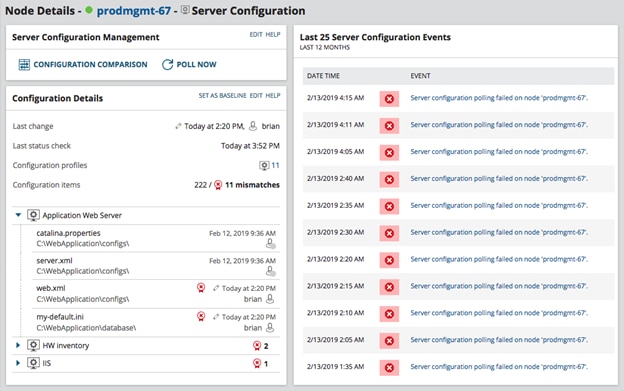 Created to monitor, detect, and compare server, application, and database configuration changes, SolarWinds Server Configuration Monitor (SCM) enables you to stay on top of your systems and see changes in near real-time. By using this inventory tracking software to understand when server, application, and database configurations change, which changes were made, and who made the changes, you can improve your organization's security, troubleshoot outages and performance issues faster, reduce vulnerabilities, and demonstrate compliance.
You can also use SCM's asset inventory tool to view an up-to-date list of your organization's software and hardware assets. SCM will discover your servers and applications, saving you time and keeping your inventory current, so you can make informed decisions. With the asset inventory tool, you'll be able to view the system name, hostname, domain role, IP address, manufacturer, model, warranty status, serial number or service tag, and location of your asset.
As part of the SolarWinds Orion Platform, SCM can integrate with SolarWinds Server & Application Monitor (SAM), enabling you to correlate performance with configuration changes. Download a 30-day free trial today to discover if SolarWinds Server Configuration Monitor is right for you.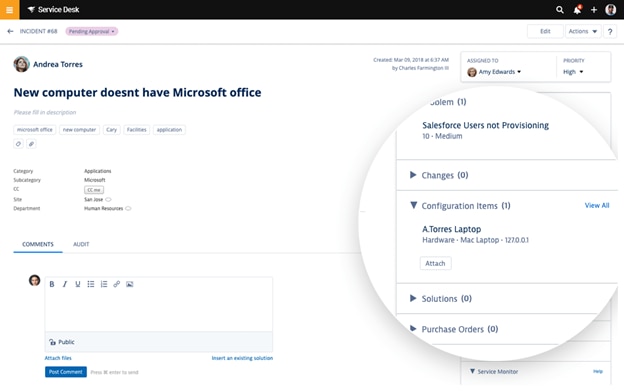 Designed to be a complete service management platform, SolarWinds Service Desk is more than a tool for eliminating barriers to employee support services—though it does excel at helping employees streamline support and service delivery processes. In addition to consolidating, managing, and prioritizing incoming tickets, this cloud-based service management tool enables employees to proactively manage their warranties, comply with regulations, and automate their IT asset management.
With the help of Service Desk's asset management tools, you can monitor and compare any actively used licenses to all the licenses your organization possesses, enabling you to pinpoint any currently underutilized ones and redistribute resources accordingly.
This IT inventory software saves you time and reduces human errors thanks to its Discovery feature. Discovery can find your assets, collect valuable data, and update your inventory, making Service Desk a powerful IT inventory management software. Discovery's work doesn't stop after a single scan to discover assets—it can provide continuous network monitoring and automatically update your inventory whenever changes occur. This IT inventory software goes a step further by enabling users to integrate their ticketing process with their asset inventory, providing deeper insights into the relationship between asset items and user issues.
Along with being a comprehensive service, configuration, and IT asset management tool, Service Desk was built to be scalable, so you can continue to rely on it as your organization grows. Try the fully functional 30-day trial of SolarWinds Service Desk today to see how it can benefit your organization.