The best remote support tool is secure, user-friendly, and provides five-star customer support. IT professionals seeking software for their organization should consider pricing and licensing restrictions, and compatibility with their existing infrastructure and compliance with industry regulations. As remote work continues to rise, we expect to see the use of remote support programs expand beyond IT help desks and customer support teams.
For that reason, Dameware® Remote Everywhere is our top pick for overall best remote support software on the market. Here's our roundup of this year's best remote access software, including best options for small businesses, budget remote assistance tools, top runner-ups, and the best remote desktop support nominee for ease of use.

1.  What Is Remote Support Software For?
Remote support software is intended to allow technicians to access, control, and operate on devices in another location. Using a remote support or remote assistance tool enables you (the "host") to view someone else's device (the "target") and collaborate with them on projects, technical issues, and more. Many remote support programs are designed to leverage capabilities like:
File sharing between remote devices and users
Communication features like live chat and on-screen writing
Session reporting and auditing including video records and chat transcriptions
Scheduling capabilities for attended and unattended remote sessions
Diagnostic tools revealing system information and configurations
Command execution like installations, updates, reboots, and patch management
User management to enforce organization and permissions
Cross-platform sessions across multiple devices and operating systems like Mac, Linux, or Windows remote support
2.  Remote Support and Remote Desktop – Differences
Remote support software and remote desktop tools share the same basic idea, but they're quite different in their purposes. When using remote desktop software, only the host can view and interact with the target device's screen. This means the end user of the remote device isn't involved in the activity occurring during the remote desktop process. There is little to no collaboration during a remote desktop session—it's mostly a means for IT staff to remotely maintain an organization's software and hardware.
On the other hand, remote support programs are made to facilitate communication between the end user and the host user. When using a remote assistance tool, both parties have the ability to see the remote device's screen and interact with it freely. This means many remote assist programs are also built to leverage features that support a productive and collaborative remote support session. Remote desktop software is often used to handle customer service for this reason.
3.  Benefits of Using Remote Support Programs – On-premises or SaaS
There are many benefits to using remote assist programs like Remote It support software and Windows remote support, such as increased customer satisfaction and improved training for IT administrators. SaaS remote support programs are known to offer complete flexibility since you can access remote devices from literally anywhere through SaaS remote assist programs. Web-based remote support software is also usually easier to set up, more intuitive to use, and requires less IT knowledge to configure.
On-premises remote support software must be accessed on the specific host device, limiting the accessibility of remote support capabilities. However, because these remote support programs live on a single device or group of devices, security can be increased. Also, on-premises solutions are highly customizable and can be designed to handle unique, industry-specific configuration challenges.
4.  How Do I Check if a Remote Support Tool Is Safe?
The safety of your remote support software's connections is critically important, especially for enterprises. Here are some steps to see if your remote assistance tool is providing safe remote connections:
Ensure all IT administrators and end users take risk prevention practices seriously before, during, and after all remote support sessions.
Guarantee all IT administrators have appropriate access rights when it comes to end-user devices and servers and authenticate all authorized users using two-factor authentication.
Encourage your end users and IT administrators to keep a secure, robust password manager to keep track of passwords, ensure their strength, and tell you when updates are necessary.
Delete all data stored in your clipboard (where you copy/paste) after a remote session is over, preventing unauthorized users from accessing sensitive details. Some remote support software, like Dameware, is built to leverage automatic clipboard deletions at the end of each session.
Using a remote assistance tool like Dameware, which is built to simplify Windows remote support administration operations, can help you stay organized and decrease the likelihood of a safety emergency.
How to Choose Remote Support Software
Before diving into this list, there were a few criteria I used to evaluate the remote support programs. An IT or network admin should consider these specs before choosing their own remote support solution, depending on their network's unique needs.
1) How user-friendly is it?
As remote support solutions become more prevalent, users will be less tech-savvy than the original clients (IT professionals). We wanted tools that were easy to use and easy to understand. Remote support desktop software should be simple to navigate and provide fast customer support. We assess tools for connection speed and for how efficiently the process was to connect to a remote client machine (without having to navigate complex settings).
2) How secure is the connection?
Cybersecurity should be the first thing IT professionals think about when evaluating any new software tool. We look for tools trusted by companies in different industries around the world. Security breaches happen on occasion, and when they do, how did the company respond? Does the remote desktop software use geographically-distributed servers to maintain a stable and secure connection? What other security features are in place to keep pace with industry standards?
3) Is the desktop support tool compliant and compatible?
E-commerce sites and healthcare organizations are two examples of businesses that need to meet a high bar as far as protecting customer data. Remote support software should have the ability to offer two-factor authentication and HIPAA compliance.
4) What customer support is available?
We looked for remote assistance software vendors committed to providing support 24/7 across multiple channels. Because remote work can lead to employees working in different environments and time zones, we looked for tools with assistance on email, live chat, phone, Twitter, and more.
With these questions in mind, these are the best remote desktop software tools we selected for this year.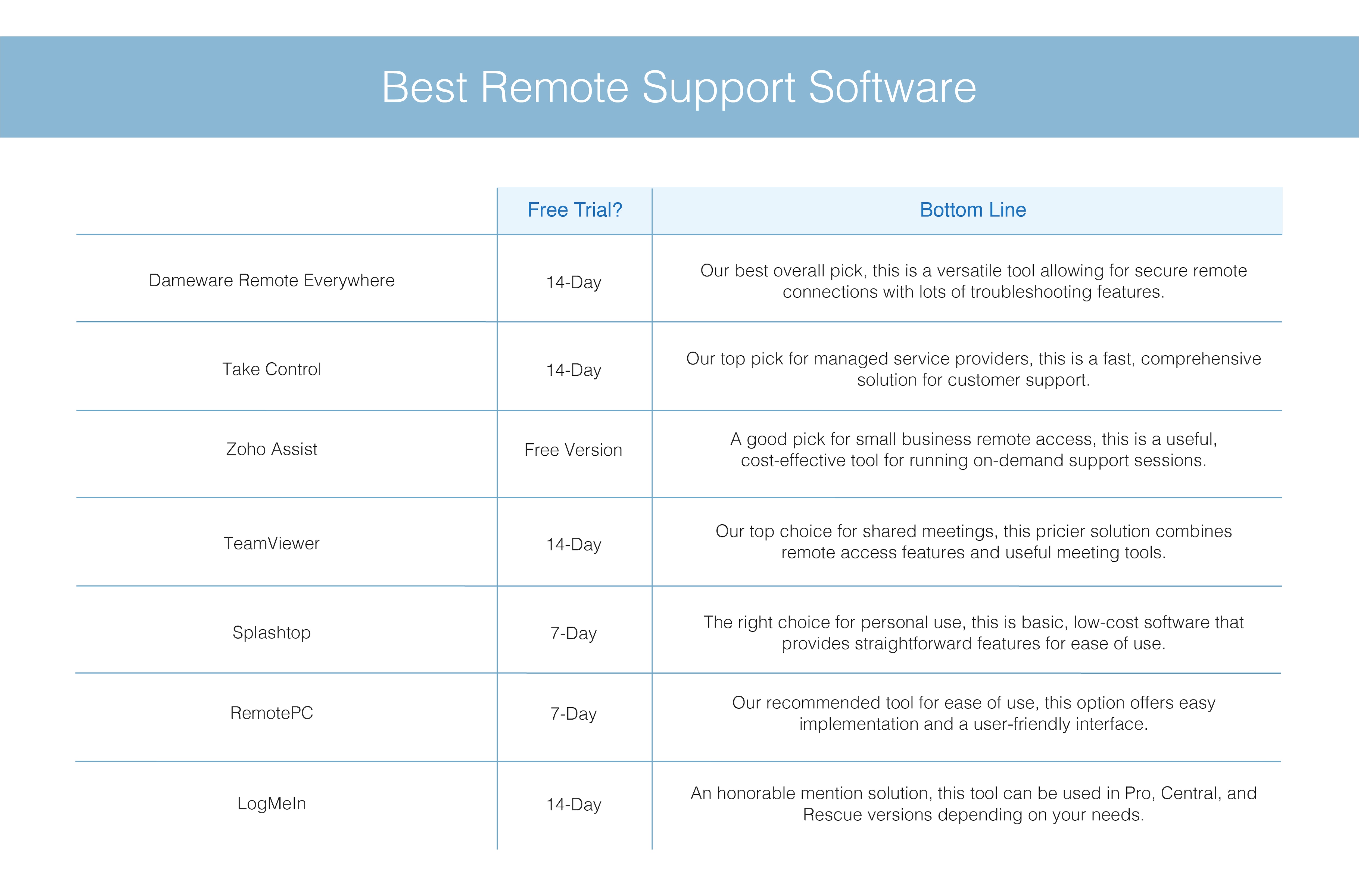 Dameware is our top pick for best remote support software. It's trusted by over 600,000 IT professionals, including PepsiCo, ESPN, and Boeing. This suite of tools provides functionality for remote support, management, and network oversight. And with the just announced Dameware Remote Everywhere (DRE), this cloud version of the award-winning Dameware Remote Support (DRS) is able to offer everything that DRS provides, and more!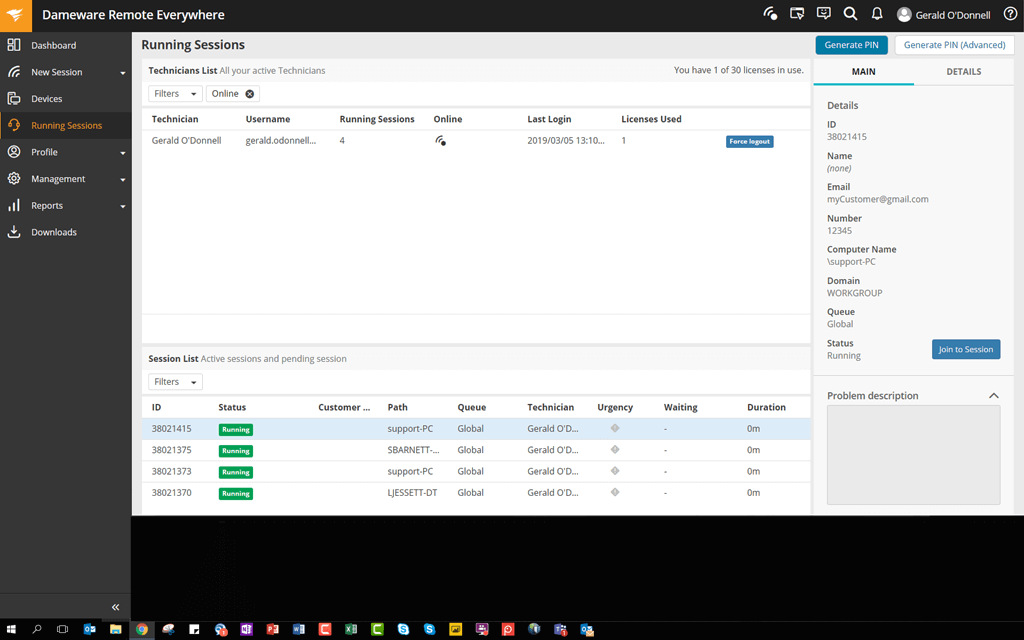 We think Dameware is one of the most versatile tools on the market—which is why it's our pick for best remote access software. TrustRadius named Dameware Remote Support their top-rated Remote Administration Software of 2017, and for good reason. DRS can work in two ways: from a direct client-to-server setup, or over a centralized server that can manage and monitor a larger group of computers. It's compatible with most systems and environments. And not to forget about the IT pros looking for cloud-based remote support solutions, Dameware Remote Everywhere is accessible from almost anywhere with an internet connection.
For IT administrators, Dameware is built to make life easy. No matter where the IT issue occurs, a network administrator can initiate a secure remote connection with computers inside the LAN. Use remote access to start and stop services and process, copy, or delete files, review and clear event logs, and more. Built-in remote system tools and TCP utilities can help administrators troubleshoot specific issues without having to log into a full remote session.
Best for Managed Service Providers: Take Control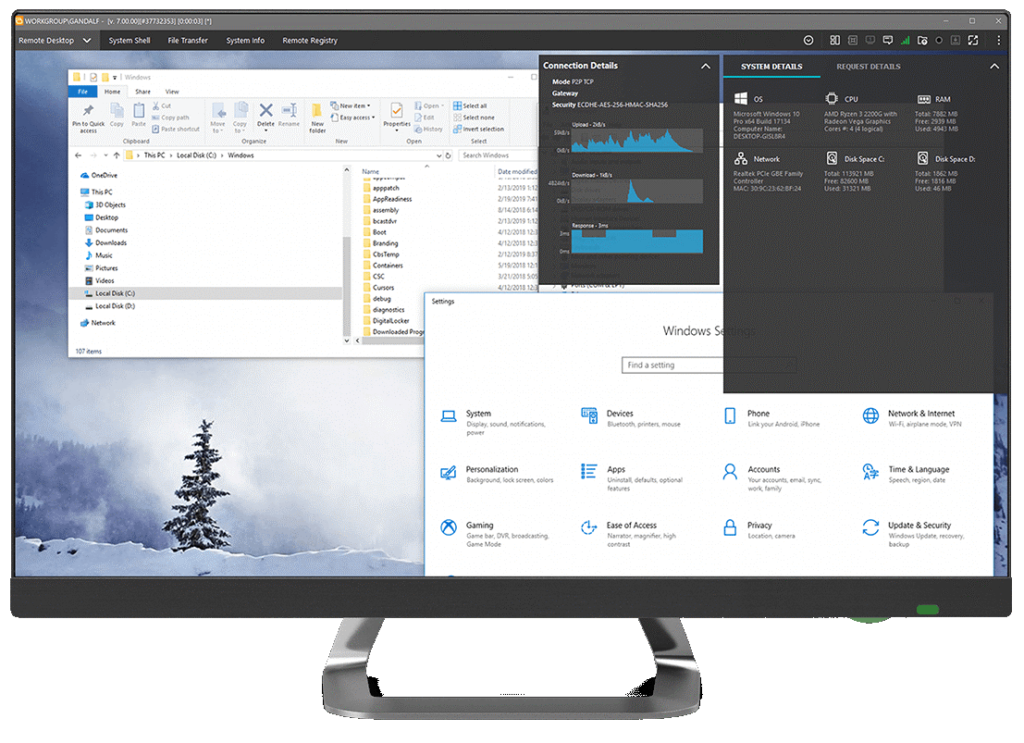 If you provide managed services for your customers or clients, you'll need a solution that enables you to assist them as quickly and effectively as possible. In this scenario, Take Control is our recommended pick.
With Take Control, fast connections help you provide nearly instantaneous support when your customers need it. This is also a comprehensive solution, providing plenty of helpful features, such as live chat and troubleshooting tools. It's compatible with just about any platform as well, which comes in handy when your customers are using a variety of OSs and devices. Plus, Take Control is a highly affordable option with 14-day free trial.
Best Remote Access Software for Small Business: Zoho Assist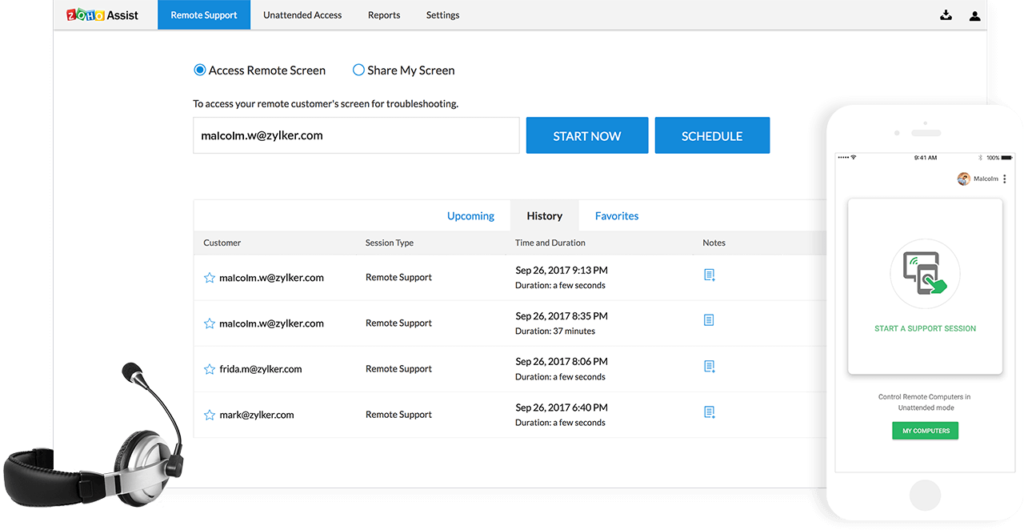 Small businesses may not have IT departments or help desks dedicated to troubleshooting—and as a result, their remote support solution needs are slightly different. Zoho Assist is designed for small businesses, and it's the useful remote desktop for SMBs who are cost-conscious.
Zoho Assist has two main products: Remote Support and Unattended Remote Access. Remote Support gives small businesses the capability to provide instant, on-demand support sessions to their customers. File transfer, instant chat, remote print, and session scheduling are all built into the remote support software. We think it's a great all-on-one tool for those needing the ability to support their customers through on-demand, web-based remote support sessions. We also found that it's relatively easy to set up.
Best for Shared Meetings: TeamViewer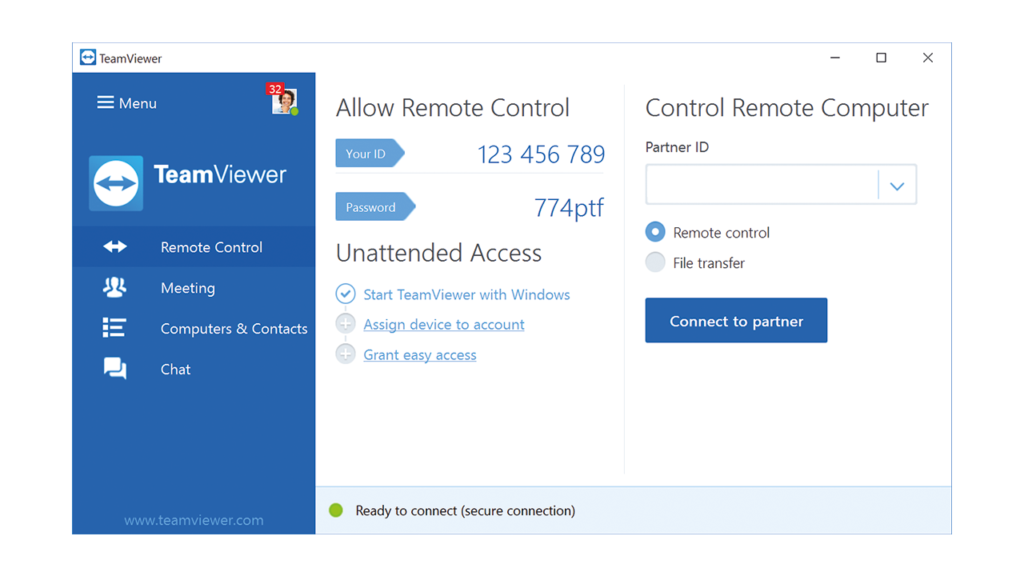 Larger enterprises with teams located all over the world will like TeamViewer, a remote support software that combines remote access and shared meeting tools in one app. We believe while the costs associated with using TeamViewer might be prohibitively high for some companies, the wide variety of technical capabilities available on this tool make it worthy of inclusion on this list.
One of the standout features of TeamViewer as a remote support software tool is its versatility. It's available across Windows, OS X, Linux, Android, and iOS, offering employees around the world to work remotely on and with any device they wish to use. We think there are a lot of bells and whistles built into TeamViewer—which is why it's a tool best suited for large corporations—but the interface is reasonably user friendly to navigate. Built into this remote computer access solution are features like wake-on-LAN, which gives users the ability to wake up a sleeping computer and put it back to sleep when finished. Plus: file transfer capabilities, cross-platform access, iOS screen sharing, secure unattended access, and more.
Best for Personal Use: Splashtop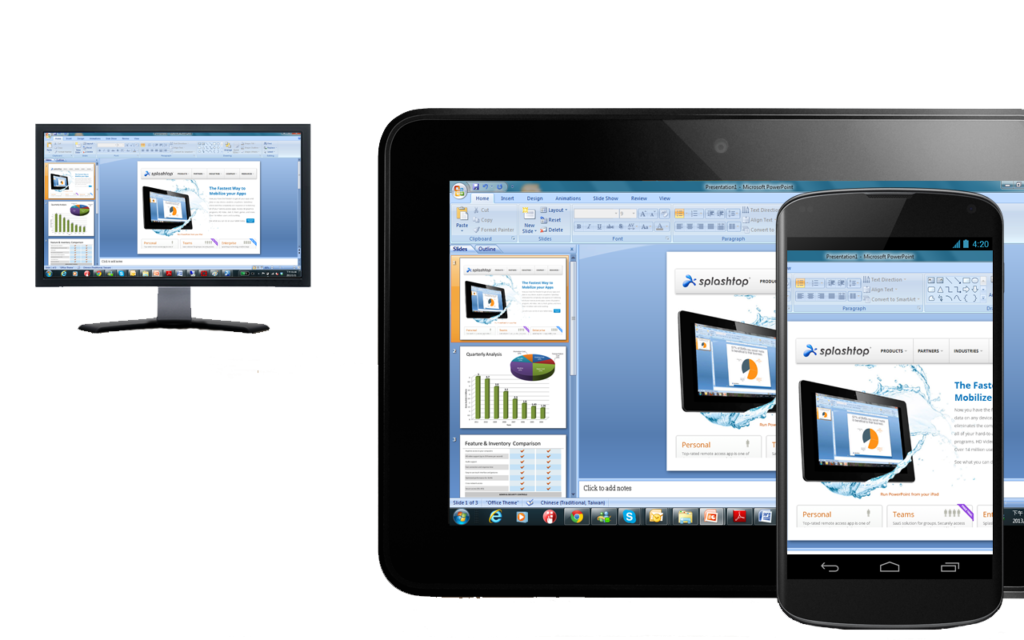 If you're seeking a basic, low-cost remote support software, we feel Splashtop is an easy pick. We found it to be a basic remote computer access software that does the trick.
There are two options for using Splashtop remote access: personal and business. Personal access includes free local access from anywhere, to everything covered on your home network. It's restricted to non-commercial use, which is a nice alternative from many other remote support software options specifically skewed toward IT professionals. The Splashtop Business version gives you all the basics: file transfer, remote print, access from any device, and more.
Many users deploy Splashtop to stream video and audio with minimal latency issues, or for using applications, transferring personal files, and managing desktop programs remotely. We believe the security settings are incredibly straightforward, giving users the choice to either enter the account credentials used on the remote machine with an additional code that specified by the user, or to enter a specific access code for the remote machine. Private users can even skip that step and remote in sans password, a nice feature for personal use on an at-home or small business network. We think the interface of Splashtop is relatively basic. So, while you won't find fancy features, we feel the low-cost and easy security settings make it a good choice for anyone seeking a low-cost solution for personal use.
Best for Ease-of-Use: RemotePC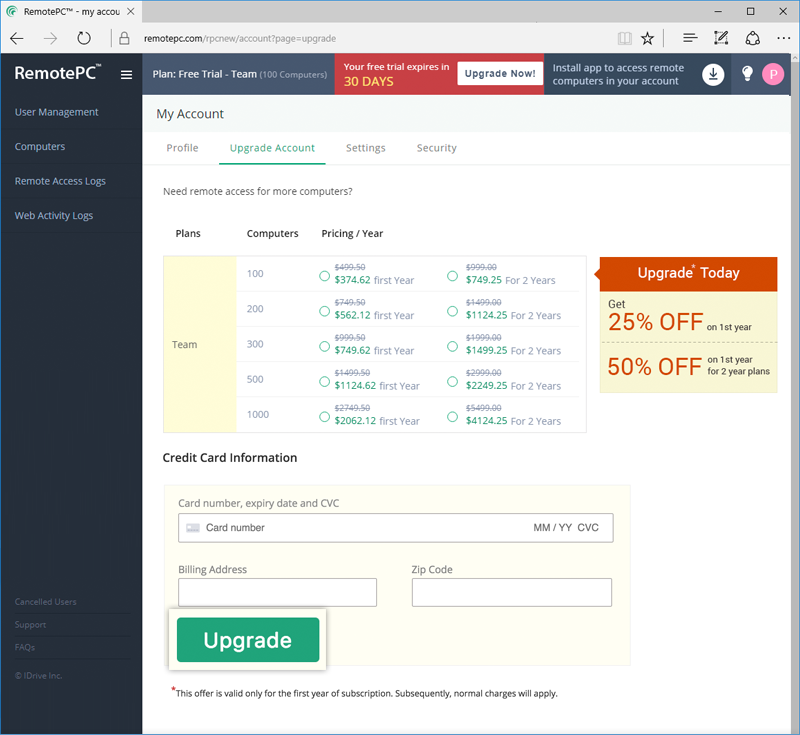 We like that RemotePC has an easy implementation and straightforward interface. We found it to be a simple installation and quick set-up that can deliver the essentials most IT professionals seek in a remote support program. It won't provide some of the features we like most in Dameware and TeamViewer, we felt it gets the job done.
RemotePC is built for convenience. RemotePC is designed for always-on remote access that can be set up once by sharing a unique access ID and key. We found this process to be quick, and generally reduces the time spent verifying devices; because RemotePC is available across multiple platforms and devices, end-users can conveniently chat between computers and drag and drop file transfers. Unlimited concurrent access makes RemotePC competitive against some of the other picks that charge fees for more than one user utilizing the software at once. The platform comes with TLS v 1.2/AES-256 encryption and is scalable. Customer service and support options include video tutorials, customer support via phone, live chat, FAQs, and a blog with resources and tips.
Honorable Mention: LogMeIn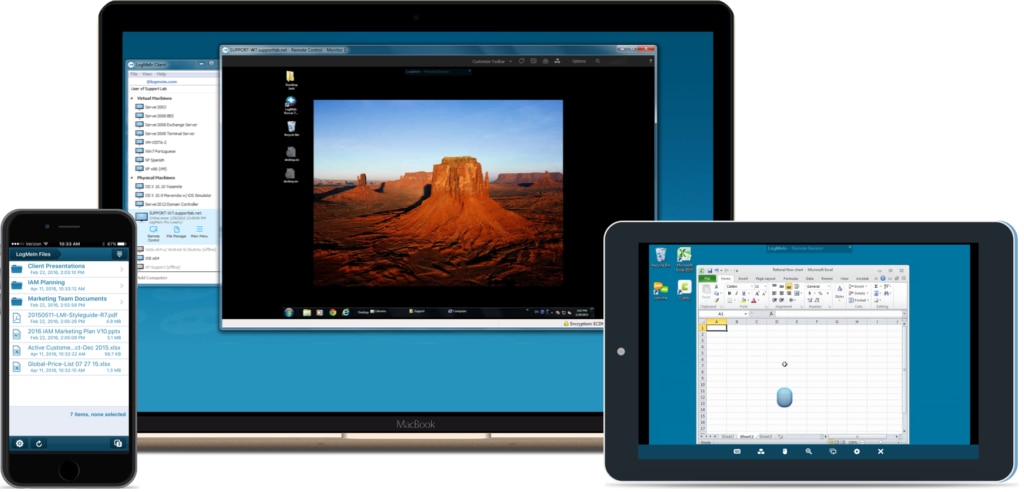 LogMeIn is our first runner-up for all-around best remote desktop software. Three different options—Pro, Central, and Rescue—give enterprises the choice of which features and budget are right for them. Pro and Central are the remote access software tools, while Rescue is geared toward providing traditional remote support.
We believe there are a few perks LogMeIn offers unlike other software tools. Password management (complimentary access to LastPass) is a nice benefit, as is the 1TB of file storage users can share across the network. We also found there's a lot of customer support available through their community forum and knowledge base. The multi-monitor display and screen-sharing capabilities also make this a great tool for remote teams looking to work together collaboratively.
The Final Say on Remote Support Solutions
There are a plethora of remote software tools available, and each year these platforms seem to improve their offering. If you want the most robust and reliable business option, we recommend going with Dameware Remote Everywhere—you won't be disappointed. Inevitably, it's worthwhile to start vetting the best remote support software sooner rather than later to prepare for the rise of remote work outside of IT help desks.
*As of November 19, 2020