Of all the "monitorings" one can do (server, application, storage, cloud, etc.), network monitoring is often the first foray an IT professional makes once they get past simply pinging a device to see if it's up. This is when many of us begin to consider how CPU and RAM affect bandwidth processing; when we start to truly wonder how many big buffer misses there have been in the last two hours; and whether, had we known about that flapping route a little sooner, we could have avoided the Sev1 call with the CIO.
At the same time, networks continue to grow, both in size and complexity, so that those simple (and admittedly simplistic) metrics of yesteryear have given way to a need to monitor complex and varied elements such as virtual port channel status, ACL rule mismatches, and switch-stack failover cabling.
The good news is that network monitoring tools have been keeping pace with network growth, resulting in a wide range of options that can do everything from simply monitoring up/down time to receiving real-time information about devices on your network.
While I'm not going to list out every open-source, free, freemium, or paid software out there, this network monitoring tools guide covers many common network monitoring pain points for which I'll provide my choice of best tool to solve the issue.  My hope is that this will help you during your own research process, whether you are looking for your first tool or want to replace or upgrade your current solution because it no longer meets your network monitoring needs.
When it comes to a tool that combines a wide range of features, scalability, and ease-of-use at an affordable price, the network monitoring tool that really sticks out among the crowd this year is SolarWinds® Network Performance Monitor (NPM).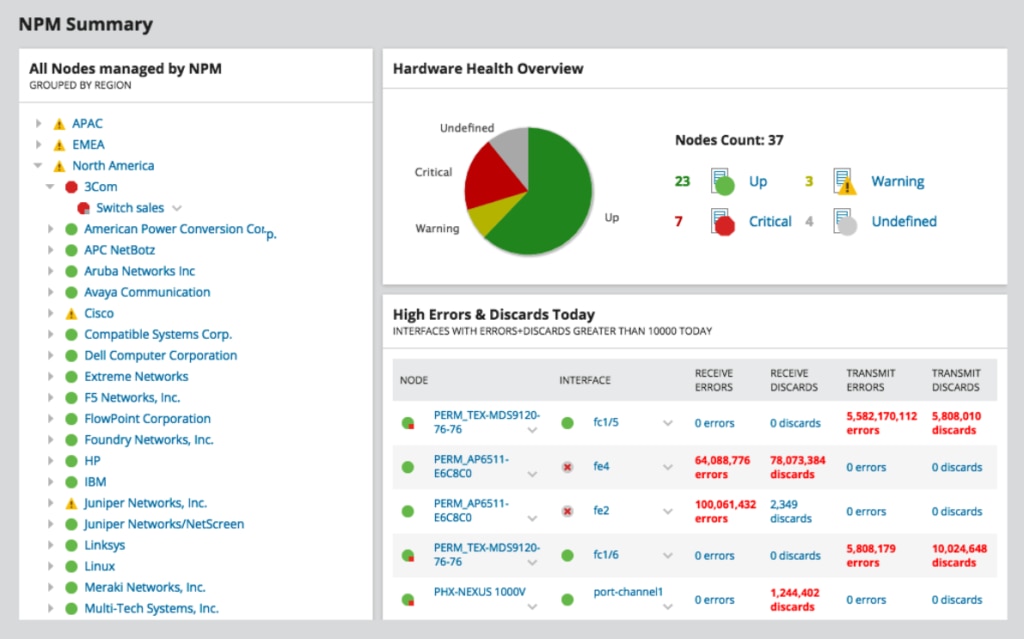 Not only is NPM easy to install and maintain, it also comes with over a hundred pre-built reports out-of-the-box to get you up and running in no time. Need to schedule a custom network performance or availability report? No problem—the customization and automation features included in NPM can help you do that too.
With its exclusive PerfStack™ feature, you can more easily pinpoint and analyze the root cause of network issues. PerfStack allows you to drag and drop network performance data from multiple sources into a single chart to create a better view of what's happening across your network.
What's great about NPM is that it's one of those tools that's stuffed with "I-didn't-know-it-could-do-that" features, like mapping your routes hop-by-hop through the network to remote services, creating wireless heatmaps, and automated network mapping based on detected network traffic.
Best Open-Source Network Monitoring Tool: Nagios Core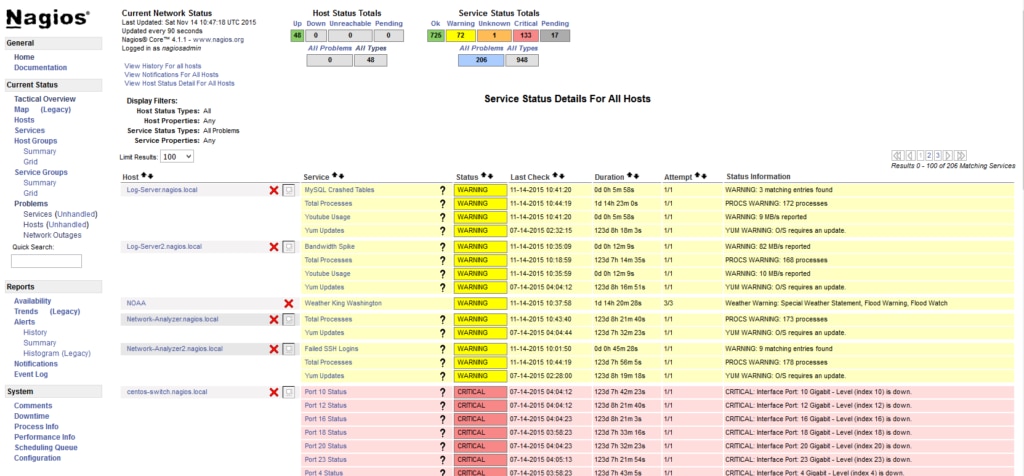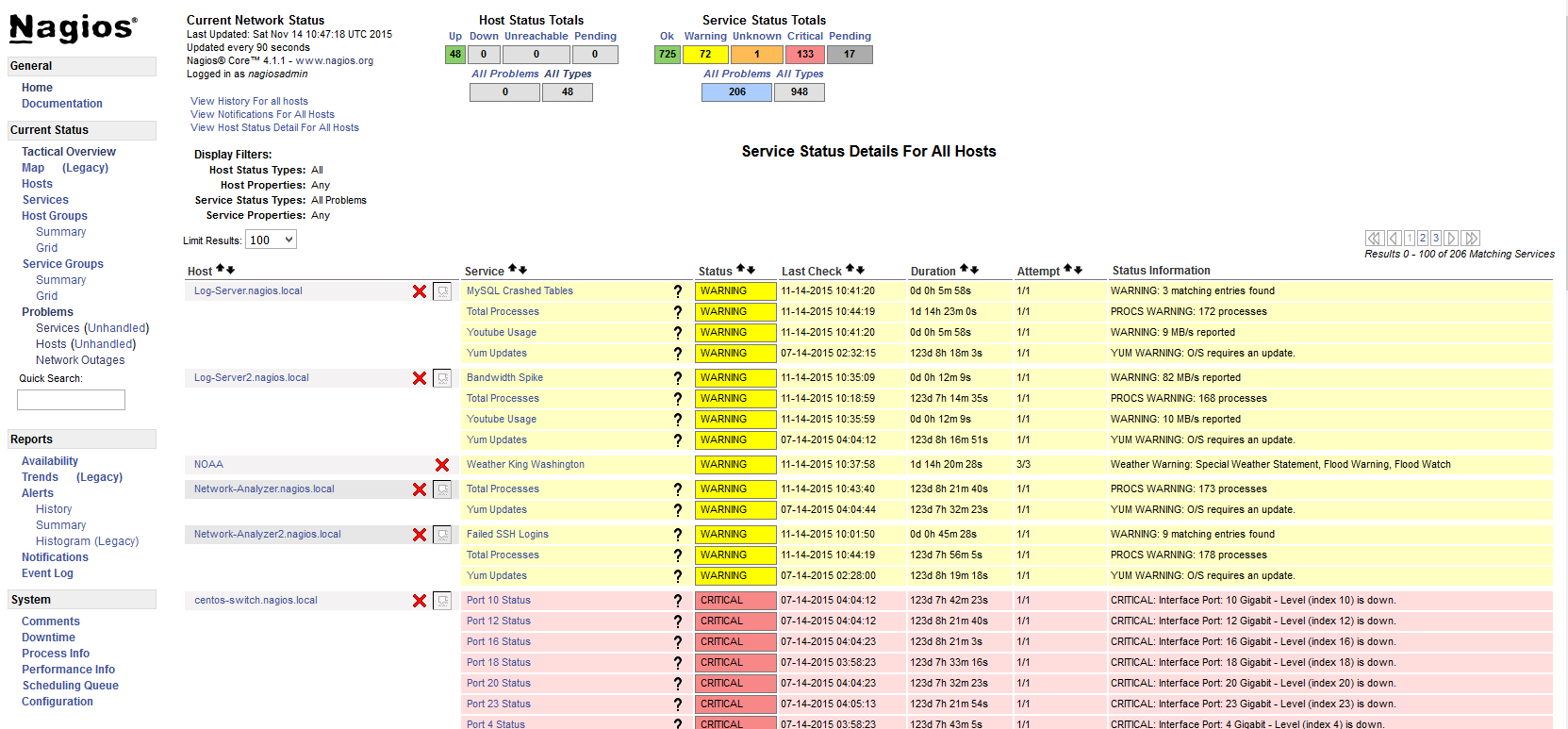 Nagios comes in two different flavors: Nagios Core is open-source and free with limited monitoring capabilities, and Nagios XI is the commercial network monitoring tool based on Nagios Core but with added features. The active development community and support for external plug-ins are some of the reasons for this tool's popularity. One word of caution: beginner techs as well as organizations without sufficient IT support may find that installing, setting up, and configuring Nagios can be overwhelming. However, users can get help from the Nagios community or opt for a commercial support package from Nagios Enterprise.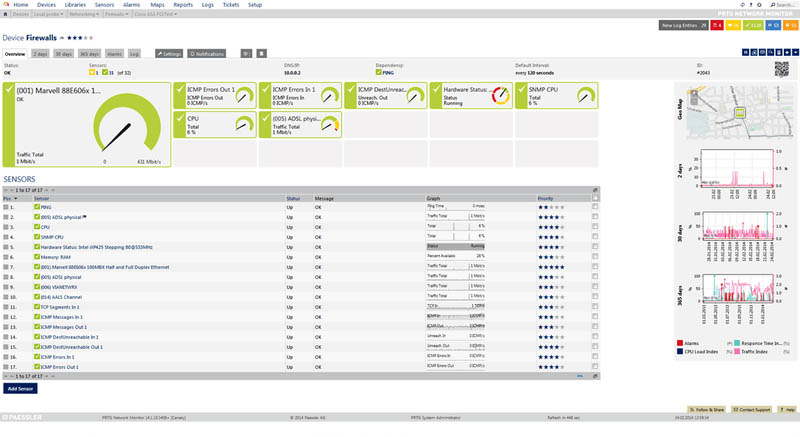 For many folks, PRTG hits the right notes: small, cheap, and easy to wrap their heads around. It's a good choice for organizations with little to no experience in network monitoring. You get a blend of infrastructure monitoring, flow and packet sniffing, and a REST-ful API to hook into if you like to dabble with customization.
Affordable and quick network, server, VMware hosts, and application monitoring tool: ipMonitor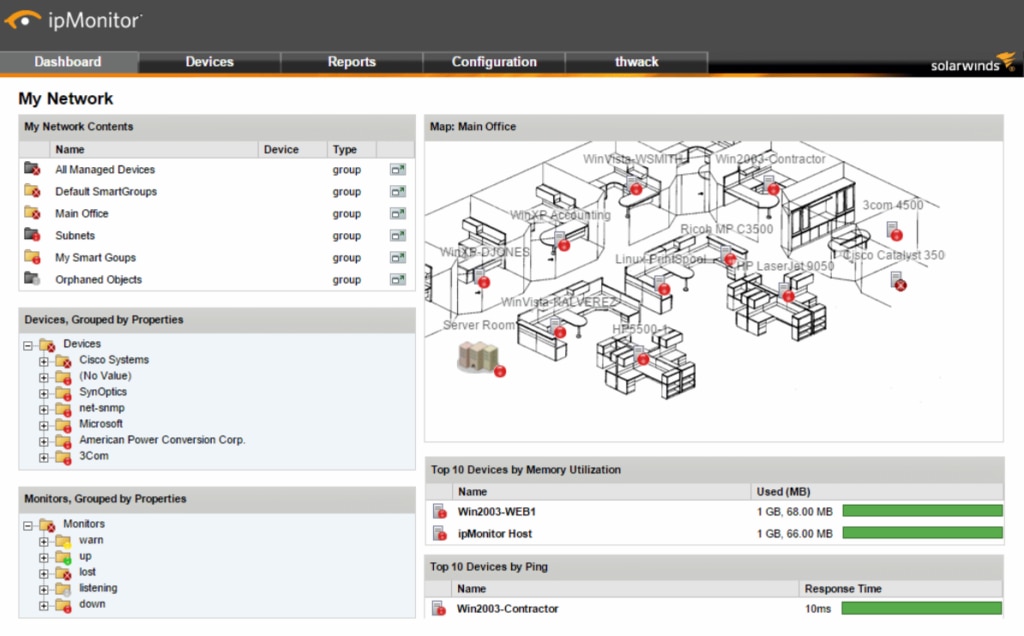 SolarWinds ipMonitor® is another one of my favorite network monitoring tools on the market. It's a network, servers, VMware hosts, and application monitoring tool specifically designed to monitor critical IT environments and help you resolve issues before they have a major impact on end users. ipMonitor includes a built-in database and web server, making it lightweight and cost-effective. It's also fast and easy to use no matter your level of expertise. In fact, ipMonitor can start monitoring your network typically within minutes of being downloaded. The tool's Startup Wizard not only guides you through the automated discovery process, it also provides built-in recommendations on what exactly you should be monitoring on each of your devices and applications.
When it comes to effective network monitoring, visibility is key. Luckily, ipMonitor delivers when it comes to visibility. The tool provides an easy-to-use web interface with a centralized NOC dashboard to provide visibility into the health of your IT infrastructure. ipMonitor dashboards are highly customizable and help ensure teams get the data they need (statistics, graphical data, and reports) at their fingertips. You can also zero in on specific metrics and data to get to the root causes of issues typically with just a few clicks from the initial dashboard. In addition to automatically discovering the various devices and applications on your network, ipMonitor also creates dynamic maps to show the connections between each of those devices and applications and the network.
Another great ipMonitor feature is its robust notification system. The tool offers more than 14 different types of notifications to inform teams about network issues and application failures, so they can begin troubleshooting right away. To ensure your teams can focus on the issues that really need your attention, ipMonitor also offers automated remediation services if a failure occurs, including restarting failed applications, executing scripts, rebooting servers, and restarting Windows to minimize downtime. To try ipMonitor, you can download a free 14-day trial.
Sometimes it's not enough to just look for high quality network monitoring software. You might have unique needs, and you're looking for additional scope and features. This would certainly be the case if you're a Managed Service Provider (MSP), and responsible for monitoring the networks of hundreds of different clients.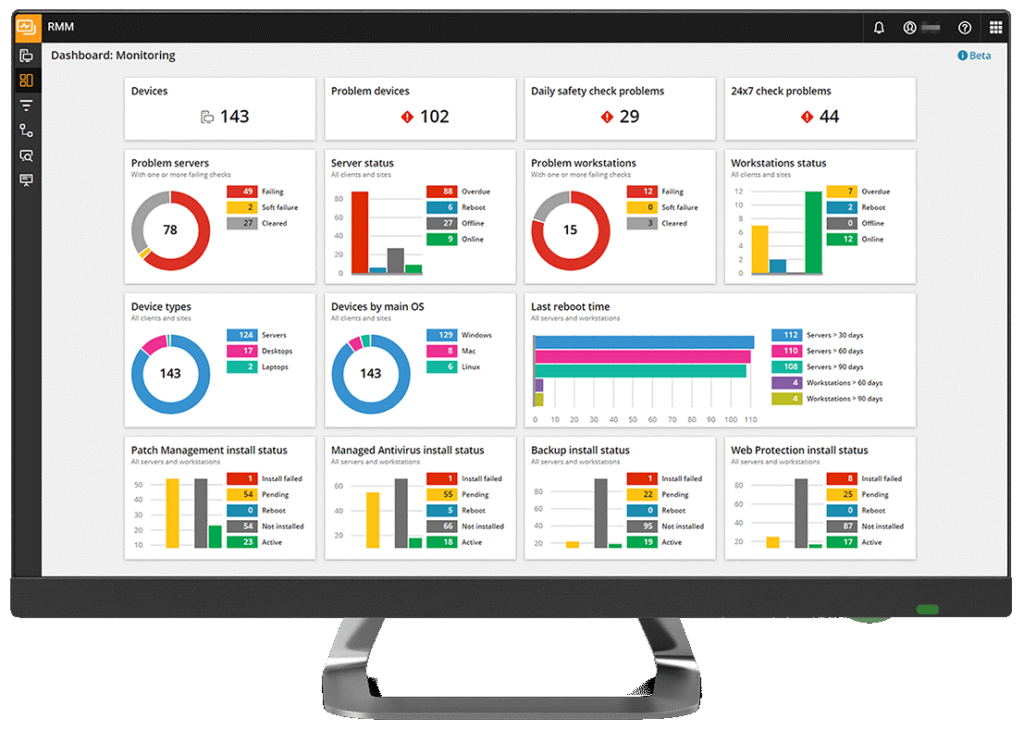 Thus, consider RMM from N-able. This all-in-one solution is built specifically for MSPs, providing a full feature set to cover all your needs and potential use cases. While it's perfectly capable of performing basic network monitoring tasks, it goes beyond that to offer fast and safe remote access, documentation and password management, detailed and easy-to-access reporting, and much more.
When people talk about "free," they typically mean "free" (but only for a certain amount of time) or "freemium" (where all the features you really want you have to pay for). But there are several network monitoring tools that are just "free-free." Check out my list of the best FREE network monitoring tools.
The Mostly Un-Necessary Summary
As you can see, there are so many different network monitoring tools on the market today that can help solve almost any use case. If you are just beginning your search for the best network monitoring tool for the job, or already have one but are considering what else is out there, I hope this has helped you start to think about the benefits of finding the right tool to meet your needs. As for what I think is the best overall network monitoring tool on the market today, SolarWinds Network Performance Monitor is my pick based on the tool's features, ease-of-use, and price.