For administrators managing assets across enterprise networks, Active Directory is one of the most important tools in their toolbox. It doesn't matter how large or small your operation is—managing assets, users, and authorizations across your network can be a headache. While Microsoft Active Directory (AD) is pretty indispensable when it comes to keeping tabs on network objects, updating who has access to what, and staying in compliance with necessary regulations, I'm probably not surprising anyone by saying that the program can be cumbersome to operate on its own.
Thankfully, you don't have to just grin and bear it when it comes to Active Directory's native tools. By using third-party Active Directory management software, network administrators have the ability to tap into additional capabilities that can make their lives easier. Looking to centrally manage user authorizations? Hunting for a solution to streamline the compliance reporting process? Wishing you could automate security alerts, so you know when something really needs your attention? The best AD tools can help network administrators get the most out of an important, albeit unwieldy, platform.
Best Active Directory Management Tools
Feel free to jump ahead or continue reading:
Each of these AD management tools comes with its own advantages and disadvantages, but the bottom line is that third-party options will all help you get more done with Active Directory than the platform's native tools. That's not to say that isn't an essential part of enterprise networks and cybersecurity strategy. I'm just acknowledging that most teams are going to need to invest in additional solutions to actually reap the benefits AD has to offer.
If you're in the market for that kind of solution, my list below should be a good place to start. I start with what I consider the most enterprise-ready solution. But after that, I just provide the basics on various tools, so that you can take a look and see if any of the solutions better suit your needs. Ideally, your final choice will be the result of conversations across your IT department to pinpoint what exactly you need and what would be helpful in resolving day-to-day issues that AD isn't equipped to handle on its own.
Here's the Active Directory tools I think you should consider:
SolarWinds Access Rights Manager (ARM) is the right Active Directory tool for you if you really want to up your game on AD monitoring and management. With ARM you can monitor AD and group policy, track changes around access management, and get visibility into user access for better internal security. Provision and deprovision users more quickly, too.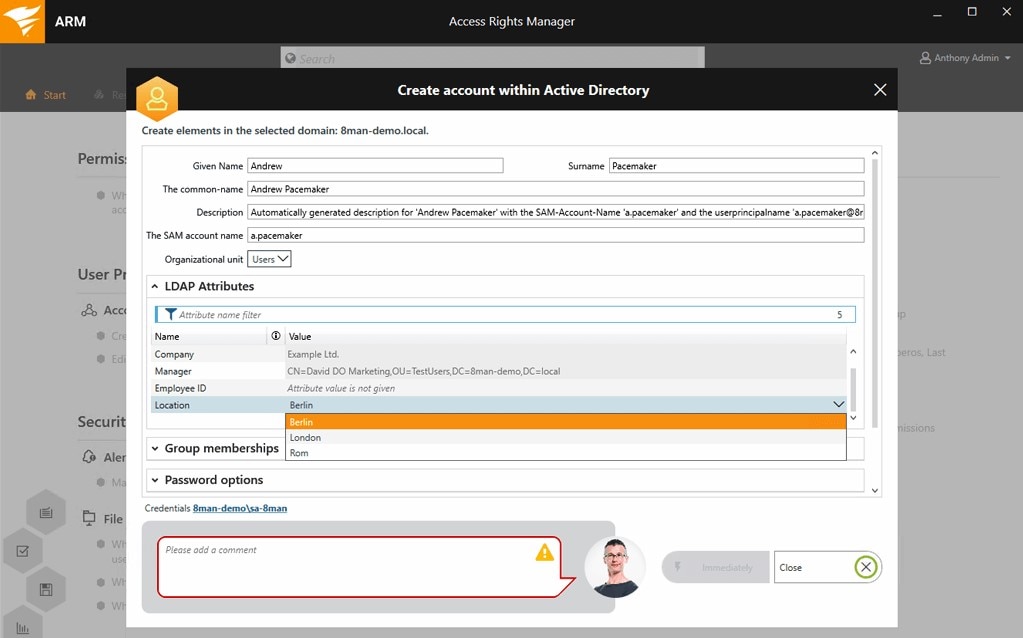 Plus, Access Rights Manager comes with built-in features for monitoring cybersecurity threats and reporting capabilities for compliance requirements. If you need a focused Active Directory and access rights software solution, start here.
This cloud-based remote support program is accessible pretty much anywhere if you have an internet connection. Besides comprehensive AD support, it provides all the remote support features you need, like behind-the-scenes resolution, advanced encryption, in-platform communication, and easy reporting. You can even save recorded sessions—it can be extremely helpful to have good records of remote activity.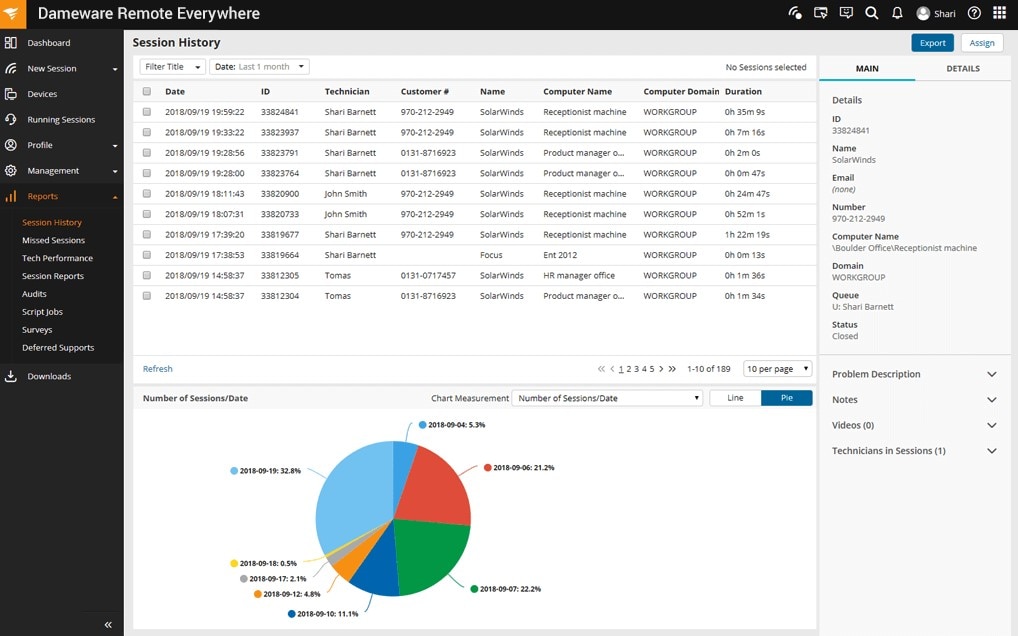 Dameware Remote Everywhere (DRE), as the name sounds, is great for IT admins who need to provide fast, truly remote support on Active Directory issues. However, if you need on-premises support, Dameware Remote Support (DRS) may be the way to go­—more on this tool below.
Dameware Remote Support is a great tool for remote IT tasks across Windows, Linux, and macOS. A major focus of this product is managing and troubleshooting Active Directory domains. You can manage domains, groups, and users, and perform functions like unlocking accounts or resetting passwords—all from one dashboard.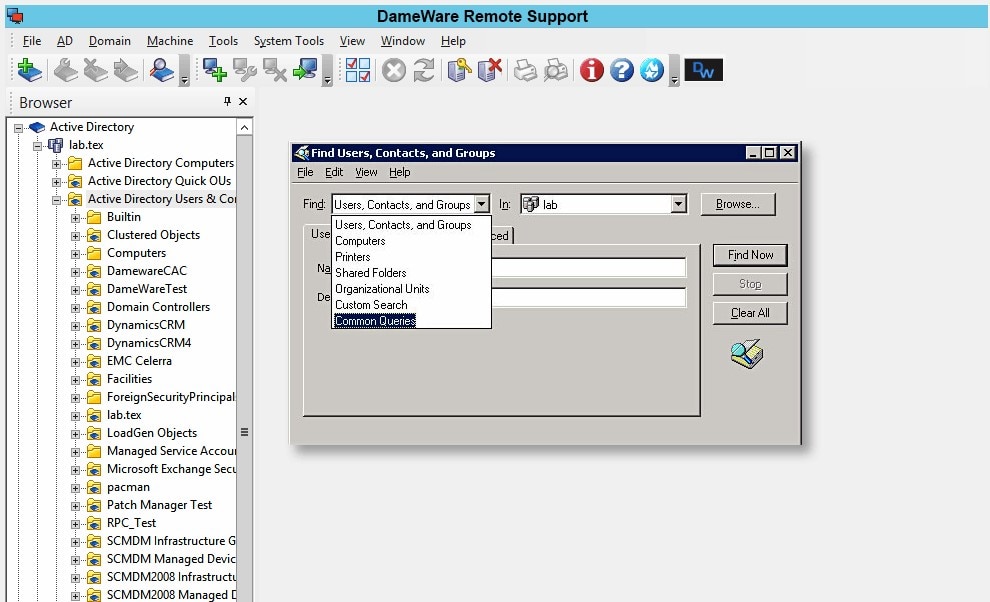 DRS lets you export AD objects in spreadsheets, too. For remote AD management needs, this tool seems to have thought of everything.
With Server & Application Monitor, you can monitor any Windows and Linux applications and infrastructure, whether on-premises, remote, or in the cloud. Of course, that includes Active Directory—this tool makes it easy to diagnose replication issues, check out domain controllers, and monitor remote sites. Track logon and password information for greater insights.
You'll benefit from the robust drill-down troubleshooting capabilities within this AD monitoring tool — you'll even gain insights into remote sites. Plus, a big draw here is the fact that you can unite quite a few IT tasks within a single, customizable web interface (the tool has some 1,200 templates for various apps and systems). Overall, Server & Application Monitor is a smart program that is really built for today's hybrid IT environment and can help you boost your Active Directory management.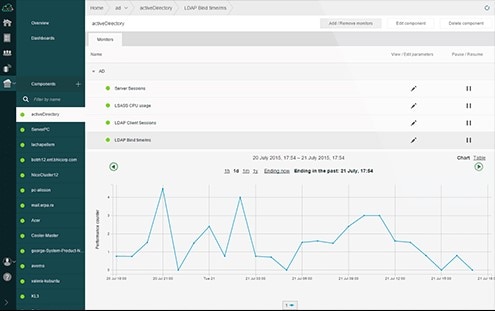 Anturis offers a lot of IT solutions, but their Active Directory monitoring service is, in my opinion, one of their strongest. The platform is a fully cloud-based monitoring application that comes with plenty of features—and with the added benefit of not having to worry about onsite installation and ongoing maintenance.
With Anturis, you get some of the expected offerings from most other solutions on this list—updates about concerning network activity over email and SMS—with some fun twists: voice call notifications. The service helps teams identify trends before they become systemic problems and monitors a wide range of relevant data, including server and client session, authentications per second, and more.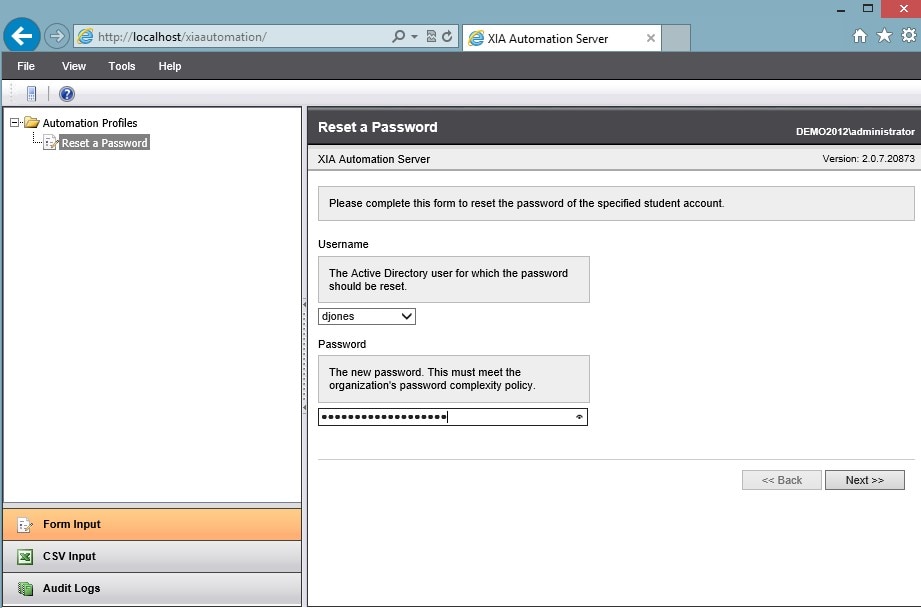 XIA Automation is more of a barebones solution as an AD management system, but that doesn't mean its features aren't useful. You get capabilities like automation for your AD user accounts, groups, and organizational units, plus time-saving features like bulk provisioning accounts from CSV to AD, Exchange, Google, and Office 365.
The platform also makes sure to offer options that save IT teams time. For instance, XIA Automation allows you to reset passwords from a mobile device or have non-administrators do it themselves. You can also create custom plugins to fit your specific AD management needs.
ManageEngine ADAudit Plus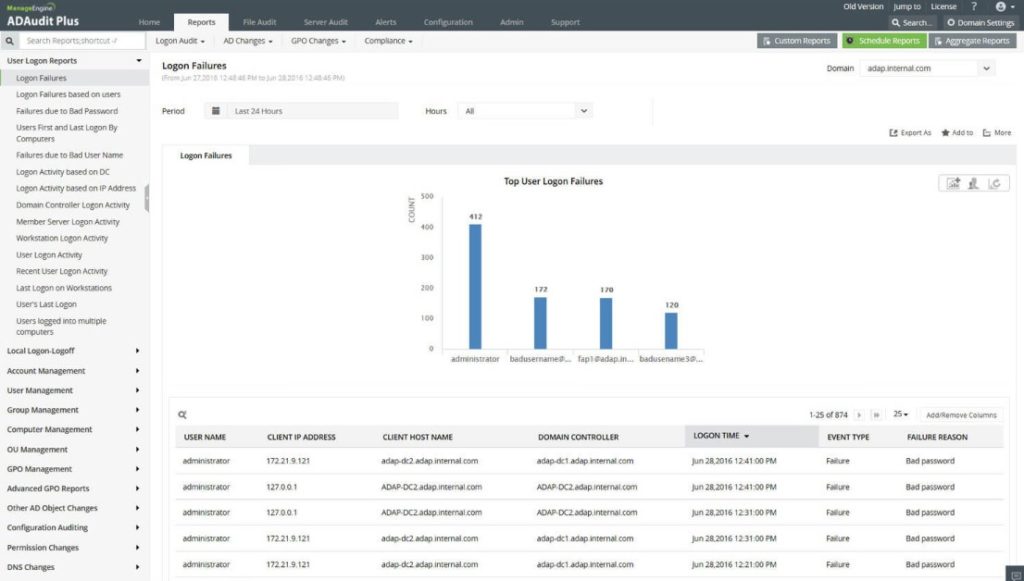 ADAudit Plus provides the essentials of AD management such as cybersecurity alerts and authorization editing, but where it really excels—if the name didn't give it away already—is in its auditing capabilities. The platform merges pre-configured reports, regularly updated alerts, and advanced tracking capabilities to audit your network around the clock.
Aside from that, ADAudit Plus has features that ensure it's not a one-trick pony. The platform is well-suited toward detecting insider threats thanks to real-time warnings and monitors user log-on activity 24/7 to keep administrators in the loop should it be required.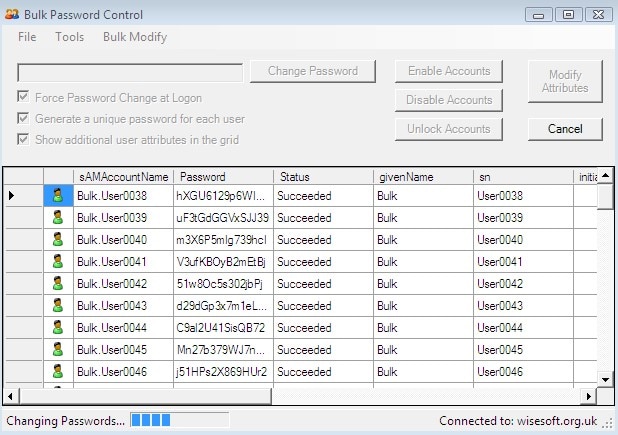 While several of the AD management tools I've mentioned offer a wide range of services that can help support enterprises in more ways than one, sometimes you're just looking for a really targeted service that can make one part of your job easier. Bulk Password Control does just that by making it easier to reset user passwords in a centralized way.
With Bulk Password Control, administrators can more easily manage passwords on Active Directory. The tool allows you to change passwords on more than one account simultaneously and offers a password generator to make this even faster. Aside from this core function, you can also lock and unlock user accounts as needed, so you do get some additional AD functionality on the side.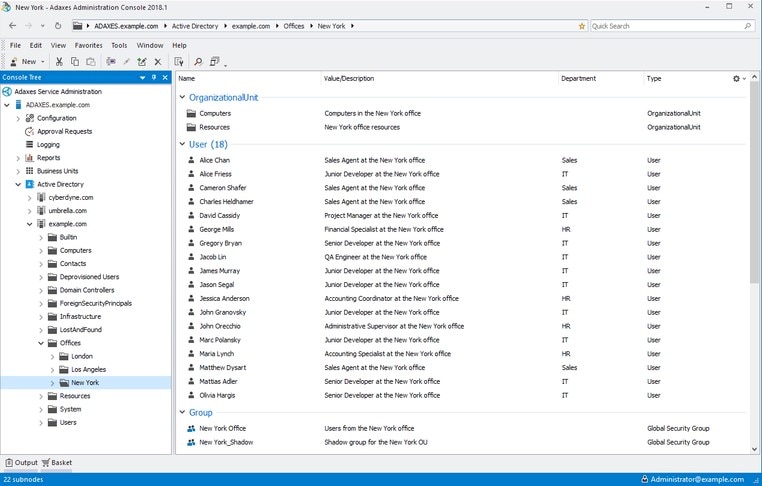 Adaxes offers users a pretty streamlined experience for AD management, as well as Exchange and Office 365 automation. Through a web-based environment, administrators can complete routine management functions such as delegating privileges, controlling authorizations, and staying in compliance with enterprises data mandates.
Another key benefit of Adaxes is that it makes sure not to interfere with your AD environment. For instance, if you have important integrations with AD such as payroll, Adaxes makes sure not to interfere with it or store its own information in AD that might interfere. Along with that, the platform offers a full range of cybersecurity features—communication encryption, secure public access, and the like—ensuring that it provides benefits to more than one aspect of your IT team's responsibilities.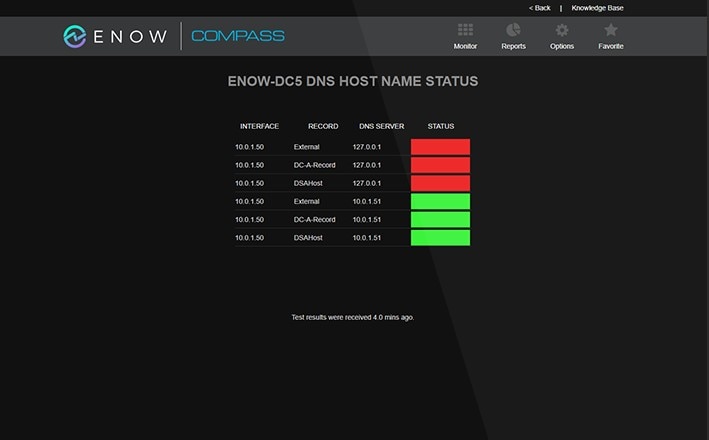 Compass from ENow Software is another solid choice for administrators looking to manage their AD environment. The platform offers real-time networking monitoring so that you'll be clued into potential issues before they cause bigger problems. Plus, Compass checks in on DFS/FRS replication regularly, helps resolve DNS name issues, and support troubleshooting for application malfunctions.
Compass gets extra points for its audit functions as well. The service comes with more than 50 reports, can help identify and remove inactive user accounts to cut down on potential backdoors, and works to pinpoint FSMO roles. I also like how easy it is to install, which means that getting this one tool up and running can help your AD environment sooner rather than later.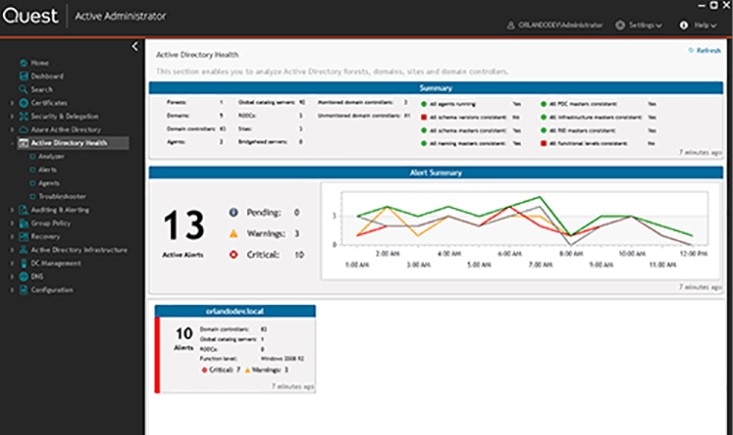 Quest Active Administrator offers AD management in a one-stop software solution. Rather than relying on the native tools that come with Active Directory, Quest Active Administrators helps administrators move through AD management tasks faster and more simply thanks to automated backup and recovery, streamlined Group Policy management, and easy-to-understand alerts—just to name a few features.
Ultimately, Active Administrator supports IT professionals who want to take a more proactive role to AD management. Rather than just waiting for issues to arise and pointing you in the right direction, Active Administrator helps teams stay ahead of the curve whether you're dealing with certificates and DNS problems or Azure support.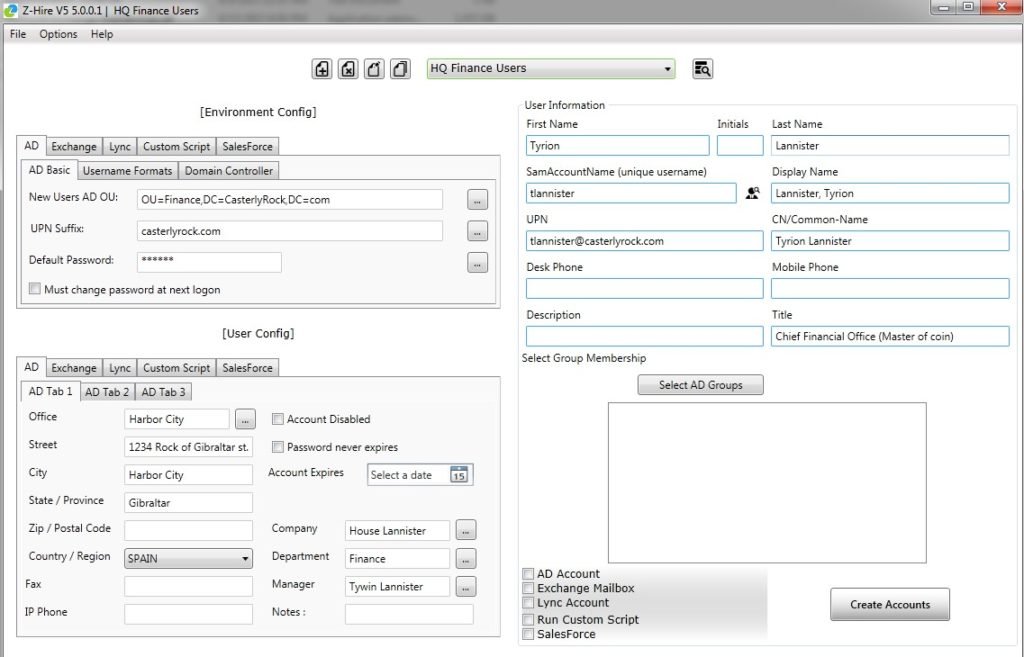 Z-Hire and Z-Term are two tools from Zohno that excel by doing something specific. With Z-Hire, administrators can speed up the user account creation process with Active Directory, Exchange, and other services. The tool supports auto-creation and offers custom scripts in addition to being pretty intuitive to use and easy to get up and running.
Z-Term complements Z-Hire by doing just the opposite: streamlining employee termination. It automates necessary tasks when team members leave a company, ensuring that former employees no longer have access to things they shouldn't. This includes deleting accounts, updating group membership information, and resetting passwords.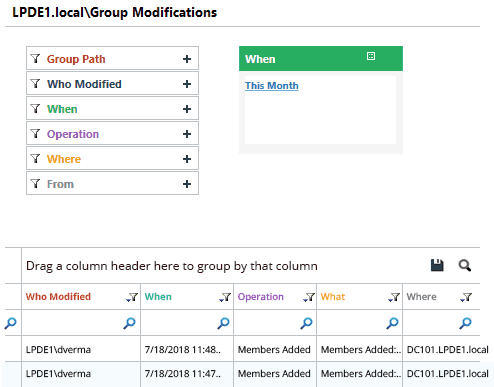 Lepide's suite of AD management tools make for a pretty competitive option. On top of fun stuff like a mobile app that lets administrators monitor their AD environment wherever they are, it also comes with the traditional mainstays of any good AD tool. For instance, you get real-time alerts, useful reporting forms, and what I think is a nice user interface.
Another positive for Lepide's AD suite is that it allows IT teams to put policy changes in context. You'll be able to understand who made changes, when they did so, and where the changes were made from. All in all, this makes for a pretty useful solution, and it doesn't hurt that the platform is designed to be scalable, so you can stick with it even as your team grows.
Passportal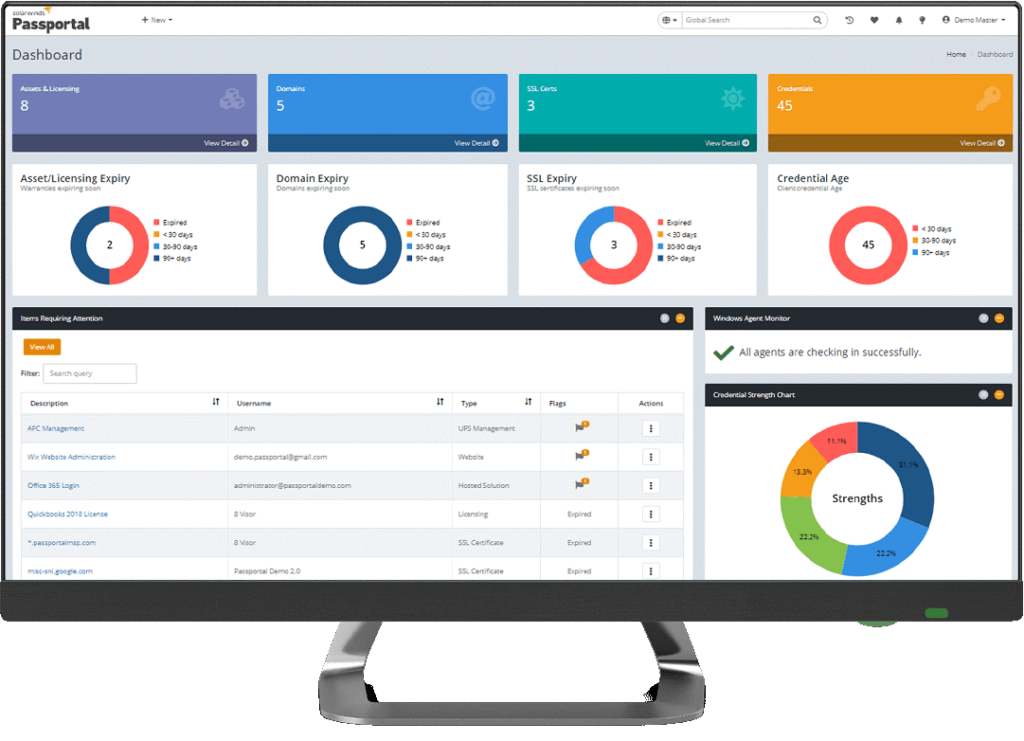 Passportal is another holistic Active Directory management tool, with a unique selling point. It's built for managed service providers rather than for general users. As such, it can help with AD management on many different client networks. Plus, it provides a centralized location for your monitoring and management tasks, streamlining the process significantly.
With Passportal, you get access to a cloud-based platform that can store passwords safely. There, they can be easily searched for, edited, and configured as needed. Additional features include customizable access control for various user types, automated password changes, reporting, and documentation management.
Why Active Directory Management Tools?
If you're managing an enterprise network, chances are you need to tap into capabilities that Active Directory offers. Whether you're new to the game or just need a refresher, Active Directory is a program that comes with most Microsoft Server operating systems and offers a full range of capabilities that are bread-and-butter aspects of a network administrator's typical workload.
Generally speaking, Active Directory helps IT pros manage what users have access to what information, what groups those users belong to, and what information can flow where depending on who is using it. That means that it plays a big role with account provisioning for new hires, account deprovisioning for employees who are leaving the company, and any issues that arise between those two endpoints. To get into the nitty-gritty, this primarily involves Active Directory Domain Services (AD DS), although the program also offers services like Lightweight Directory Services, Certificate Services, and more. Taken together, these services put Active Directory at the center of a lot of IT tasks.
While these services have become indispensable, especially as cybersecurity concerns make it important to monitor and update authorizations on a regular basis, Active Directory does have a major drawback: it can be incredibly inefficient to use on its own. That is, the native tools that you get with Active Directory aren't effective at the enterprise level. For example, if IT teams are seeing some suspicious activity on their network, manually sorting through logs is time-consuming to the point of being pointless. So, while Active Directory may give you the capability to undertake core administrator functions, it doesn't necessarily make your life easier if you want to do those things.
That's where Active Directory management tools enter. By layering third-party platforms onto Active Directory, teams can take advantage of helpful stuff like automation, more complete visibility, and advanced analytics. All in all, merging Active Directory with smart management tools will help you get more bang for your buck and let you leverage Active Directory to its fullest effect.
With that said, not all Active Directory management tools are created equally. You'll want to be sure that the third-party software you go with will work well for the digital environment you already have set up, not to mention that it actually resolves issues that you've been having on the cybersecurity and networking side of things. To help with that, I'm sharing some of my favorite Active Directory management tools with you below.
The Final Say on Best AD Tools
The best Active Directory management tools for your organization will inevitably depend on your specific needs, the size of your team, and the ins and outs of your network, but that doesn't mean there aren't industry leaders on the market. I suggest you check out a solution like Access Rights Manager if you are interested in managing your AD environment with a focus on security or Server & Application Monitor if you are looking for an overall Active Directory monitoring solution. — there are a few different options depending on whether you need on-premises, remote, or more comprehensive network management, and these tools come with free trials and pretty much all the features you'll need.
Other Helpful Tool Lists
Best Server Monitoring Software
For administrators keeping tabs on enterprise servers, it's getting more and more difficult to tell where one network asset ends and the next begins. If you're looking at a core application to make sure it's running smoothly, for instance, are you monitoring the server that it's on, the application itself, or the user's experience with that application? This list can help you sort through the tangle of modern networks so that you can be sure you're monitoring what actually needs attention for your organization.
Just like AD management, working through event logs is a bread-and-butter aspect of any IT team's overall role. To that end, you need to have the right tools at your disposal to aggregate, normalize, and leverage logs in all their forms. Doing so doesn't just make your life easier as a network professional; it can help your organization put together a better idea of application, network, and system health. And that's key when it's time to make strategic decisions whether they're directly related to IT work or not.
Best Network Monitoring Software
A lot of work goes into IT troubleshooting on a daily basis, but network monitoring is one of the most important roles administrators undertake and one of the first places they turn to when there's an issue in their digital environment. This means that you want the right tools for the job ready whenever you need them. While there are some options out there that are jacks-of-all-trades, you shouldn't eschew the products that have a more targeted design meant to resolve specific needs for specific types of organizations.