As one of the biggest public cloud vendors on the market, Microsoft Azure has significantly grown in popularity over the years. With the many advantages of Azure, it's easy to forget your services can quickly become far more expensive than your initial Azure cost estimate. Major cost savings is one of the main reasons why many organizations move to the cloud instead of sticking to on-premises solutions—so getting an unexpectedly high bill from Microsoft Azure can be concerning to say the least.
It's important for organizations using Azure services to use a Microsoft Azure cost estimator tool that delivers accurate Azure hosting cost monitoring, so you can understand your costs before the bill arrives—and identify areas where you may be adding unneeded costs. In this piece, we'll look at some of the top Azure server cost monitoring solutions on the market to help you pick the best Azure storage cost calculator for your specific needs.
If you're already familiar with Azure and the best ways to reduce your costs, you can skip ahead to the discussion of Azure hosting cost monitoring solutions. Starting with my top pick, SolarWinds® Server & Application Monitor (SAM), which is a comprehensive tool with Azure functionality, the list is as follows:
What Is Azure?
What Is Azure Cost Monitoring?
How to Decrease Azure Cost Estimates
The Best Azure Cost Monitoring Solutions
Picking the Right Azure Cost Monitoring Tool
What Is Azure?
Microsoft Azure is a cloud service that lets you manage your applications and services through Microsoft data centers. Azure works as infrastructure as a service (IaaS), platform as a service (PaaS), and software as a service (SaaS). It offers services like storage services, data management, and application services. When you pay for Azure, you pay for access to a huge pool of resources split between customers based on their needs. This is often cheaper than using an on-premises solution, since using Azure means you don't need to pay to have your own infrastructure—you can access your infrastructure through Azure cloud services.
The flexibility and scalability of Azure's IaaS is another reason many businesses flock to the platform. With Azure, you can add or subtract elements of your infrastructure without the costs of physical scaling. Azure offers reliable application platforms for fast-action data transfer and integrations for major operating systems. The platform's compatibility with countless applications means it's a good fit for practically any business.
What Is Azure Cost Monitoring?
Azure cost monitoring is the process of monitoring your Azure costs and understanding where exactly your costs are coming from, so you can make sure you aren't paying more than you should. While using Azure effectively can save businesses a lot of money compared to using on-premises solutions, Azure costs can add up quickly if you aren't careful as you add virtual machines and objects. Azure cost monitoring helps you see exactly what you're paying for and can give you insights into whether you're using everything you're paying for and whether there might be ways to rebalance workloads to save you money.
How to Decrease Azure Cost Estimates
Decreasing Azure costs begins with understanding them, which means using an Azure cost monitoring solution like those listed below. Once you understand what you're paying for and where there might be opportunities to save money, you can use some of the following cost-saving measures.
Implementing Reserved VM Instances
Azure Reserved VM Instances (RIs) are a programmatic way of committing to a set number of virtual machines and sizes for a set period of either one or three years. In exchange for this commitment, Microsoft gives you a fixed rate for your VMs that's significantly cheaper than using a pay-as-you-go model.
Right-Sizing VMs
This is a way of maximizing your use of existing resources at the lowest cost possible. To right-size your virtual machines, you need to collect and analyze metrics on utilization in your environment.
Scheduling VMs to Start/Stop
Again, this process involves analyzing usage patterns and considering availability to make your virtual machines start or stop based on usage. You can use auto scaling in addition to schedules to get more elasticity and, in turn, more savings.
Successfully decreasing your costs with any of these measures depends on having visibility into your Azure environment, including key metrics on performance, usage, and availability in addition to cost. The best way to get this is with an Azure cost monitoring solution that delivers insights beyond cost.
The Best Azure Cost Monitoring Solutions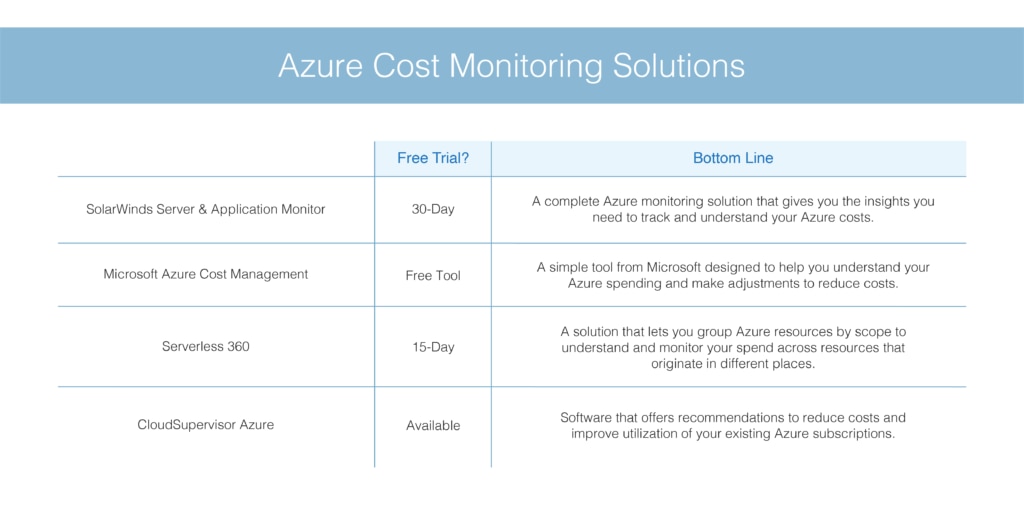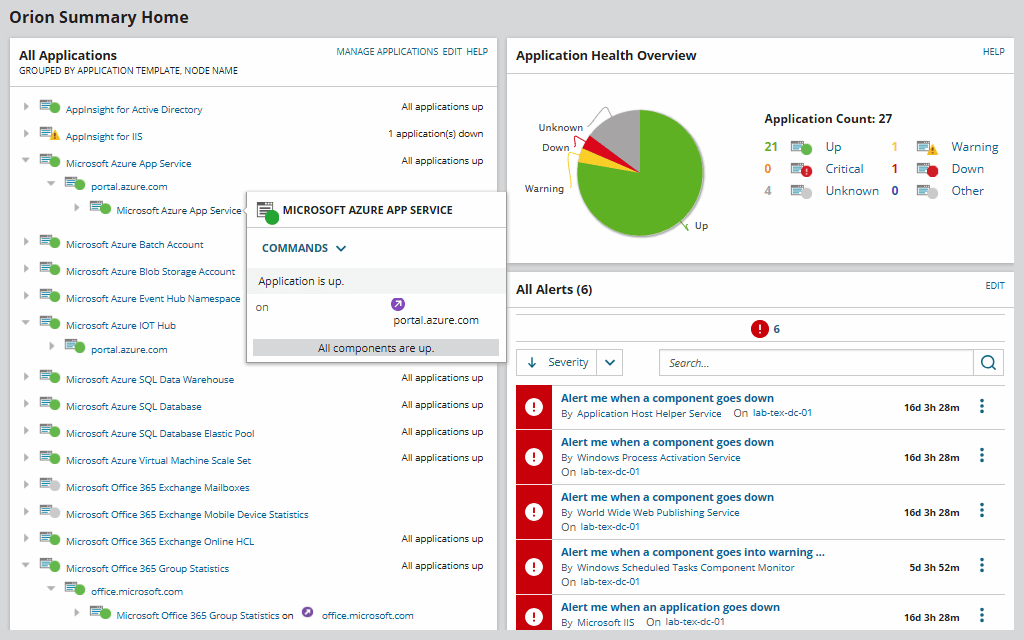 SolarWinds Server & Application Monitor (SAM) is at the top of my list for the best Azure cost monitoring tools because it can deliver a wide range of Azure monitoring tools in addition to its Microsoft Azure cost estimator tool.
When it comes to Azure cost monitoring, SAM gives you the tools you need to understand what you're paying for and help you identify if costs can be cut. SAM gives you deep insights into your entire cloud infrastructure, tracking availability, performance, applications, and more for your virtual machines (VMs) and instances. It can track key metrics related to storage capacity, status, memory usage, IP addresses, and more.
One of the most important elements of SAM that helps with Azure server cost monitoring is its Azure IaaS (Infrastructure as a Service) monitoring. Azure IaaS is one of the biggest contributors to your Azure costs. SAM's monitoring begins with using the Network Discovery Wizard to locate all the virtual machines and containers in your Azure network. From there, the tool automatically monitors key metrics including CPU, latency, and IOPs. The tool then can let you correlate those infrastructure metrics with application performance to get deeper visibility into the health, availability, and performance of your virtual instances running in the cloud.
You can see all the data in a single pane of glass view that lets you visualize and correlate metrics across your environment. This is particularly useful for Azure cost monitoring, since those metrics provide great insight into how you use your Azure objects and services—so you can better understand your Azure costs and make a more accurate Azure cost estimate.
You can try Server & Application Monitor free for 30 days.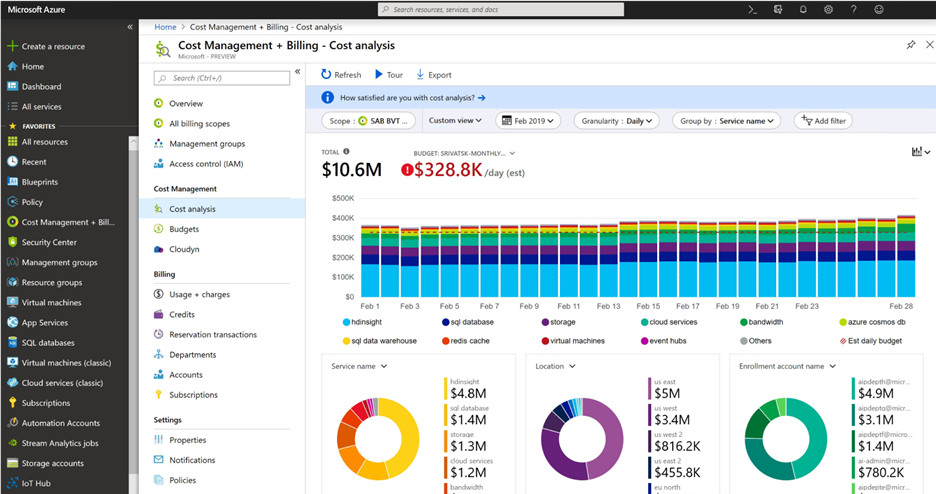 Azure Cost Management is a free Azure server cost monitoring and Azure storage cost calculator tool from Microsoft. It's designed to help you better understand and utilize all your cloud resources, including Azure. As part of its Azure cost monitoring, Azure Cost Management includes several tools to help you track your cloud usage and expenditures on Azure, so you can better understand your expenses. These tools include the Azure Price Calculator, Azure Cost Analysis, Azure Cost Alerts, Azure Budgets, and Azure Advisor Recommendations. Taken together, all these Azure hosting cost monitoring solutions help users keep an eye on their spend, whether it's their monthly, weekly, or daily spend, and help them set their budgets with the built-in Microsoft Azure cost estimator tool.
One of the most important elements of this Azure server cost monitoring is visibility. If you aren't keeping a close eye on your spending, costs can quickly spiral out of control as you casually create more virtual machines and spin up infrastructure. The Microsoft Azure cost estimator tool gives you the visibility to understand what each of your additions means in terms of cost, letting you proactively apply data analysis to all your costs. This analysis helps you uncover areas of overspend or unnecessary expenses, so you can make the most of your Azure environment without wasting money on orphaned objects or extra VMs. It also helps you identify areas where workload changes could help you optimize your spending.
Azure Cost Management is a free tool when used for Azure.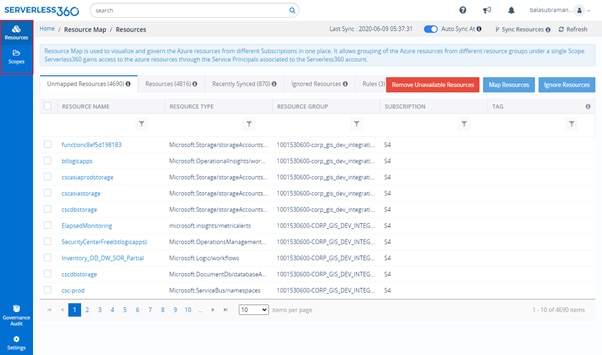 Serverless360 is a support platform designed to help you visualize and understand your Azure costs in the application context. With the rapid adoption and growth of the cloud, it's often difficult to understand where a specific resource falls into your full cloud infrastructure—which means you may be paying for resources you don't need just because you don't fully understand what they are. Like the other tools on this list, Serverless360 is designed to help you solve this problem.
Serverless360 does so with the aid of its Resource Map platform, which lets you see and govern all your Azure resources from different subscriptions in a single place. This means you can group Azure resources from different Resource Groups or Subscriptions, which bring applications under specific Scopes for greater visibility and clarity for your Azure bandwidth cost monitoring. Within the tool, each Scope comes with a Cost section offering you direct insight into how much you spent on the resources contained within that scope.
The tool comes with a 15-day free trial.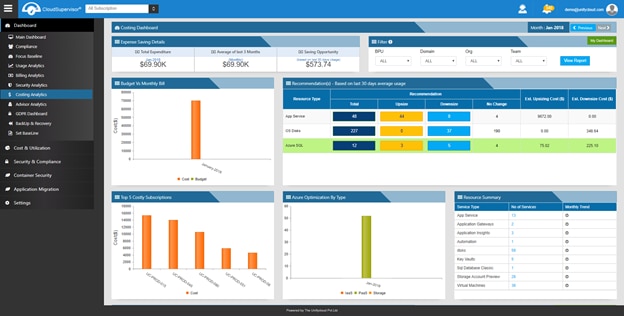 The last tool on this list is CloudSupervisor Azure, a tool designed to help you manage and monitor your Azure services, including delivering Azure cost monitoring. CloudSupervisor Azure goes beyond monitoring your cost settings with its costing dashboard and recommendations. The dashboard helps you see and understand your current Azure expenses and gives you insights to help you minimize your subscription costs by shifting your utilization of your existing subscriptions. In particular, the tool gives recommendations based on Azure standards to help you manage your costs more effectively, including helping ensure you're paying for the right sizing based on your utilization of the services in your subscription.
The solution offers a free trial.
Picking the Right Azure Cost Monitoring Tool
Microsoft Azure is a great platform, but your costs can quickly get out of hand if you aren't careful about monitoring them. You need a tool to do so, but knowing which Azure storage cost calculator to choose can be tough. SolarWinds Server & Application Monitor monitors your entire Azure environment, giving you insights to help you understand your costs and whether those costs are necessary. Plus, you get other critical SAM insights for comprehensive monitoring. Start with a 30-day free trial.