The quality of your customer service can completely change how people view your company. However, with 90% of consumers expecting an immediate response, you'll need to be quick if you're going to meet customer demands.
Fortunately, there are ways to streamline your support—including using a ticketing system. This system can be your secret weapon, helping you eliminate bottlenecks and resolve complex queries faster.
In this article, we'll explore what help desk systems are and how they work. Then we'll cover three essential ways ticketing systems can help supercharge your customer service.
An Introduction to Help Desk Ticketing Systems
Today, it's difficult to imagine an organization not dealing with customer queries. If you provide products or services, at some point your customers will probably have some questions about those offerings.
A ticketing system can help your staff prioritize and assign incoming support requests. With this approach, the customer typically submits a ticket to your team via email or a self-service portal. Then the system logs the query and makes it available to your support staff.
Depending on your ticketing automation rules, the ticket may be automatically assigned to an appropriate expert. Some ticketing system customer support tools add a priority and a deadline to each request.
SolarWinds® Web Help Desk® (WHD) is an example of a convenient online ticketing system. It can automatically assign, route, and escalate requests. WHD also has some added extras, including an integrated knowledge base and asset tracking.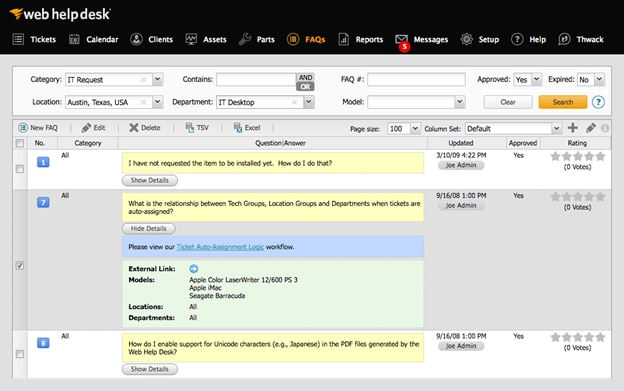 While it's possible to handle customer requests without software, ticketing automation can help your agents work more efficiently and effectively and improve the quality of your customer support. Since you'll have no issues providing a high level of service, you'll be in a solid position to secure repeat business or cross-sell and upsell to your existing clients.
A ticketing system also provides a clear workflow for processing incoming customer queries. This can ensure a consistent approach and remove the stress and confusion often caused by vague business operations—which is excellent news for your customer service staff.
How a Ticketing System Can Streamline Customer Support
Customer support has the potential to make or break your business. If you provide a high level of service, you'll likely have no problems retaining your existing clients and attracting new ones. With this in mind, let's look at how a ticketing system can help improve the support experience for both your customers and staff.
1. It Can Automate the Ticketing Process
According to the research we mentioned earlier, 82% of consumers expect an immediate response to their support requests—and they define "immediate response" as ten minutes or less. With such high expectations, it's vital to respond quickly.
Here, ticketing automation can be your secret weapon. Without a ticketing system, processing a customer's query often requires a significant amount of manual data entry. This time could be better spent resolving the customer's problem.
Ticketing systems such as WHD can automatically convert requests into help desk tickets. As a result, your support agents can skip over the time-consuming administrative work and concentrate on addressing the customer's issue.
Not all support requests are created equal. Critical issues shouldn't get lost in a slew of non-urgent tickets. To ensure queries are escalated appropriately, WHD automatically prioritizes tickets based on three principles: priority types, action rules, and task elements.
Then the ticketing automation solution notifies your staff according to priority. This format helps ensure you respond to tickets on a needs-first basis.
Ticket prioritization can also be useful for helping you deliver the highest level of support to your most valuable clients. If a customer purchases a more expensive contract or generates more revenue, it often makes sense to provide priority support. In this sense, ticketing automation can help keep your biggest earners happy and spending money with your business.
2. A Ticketing System Helps Monitor and Improve Your Support Staff's Performance
If you consistently provide strong customer support, you should have no issues with client retention rates. Your satisfied users may recommend you to others or purchase additional products or services.
With so much at stake, it's crucial to monitor the quality of your customer support. Doing so can make it easier to identify opportunities for improvement or weak points you need to work on.
Some ticketing systems help you monitor your support staff's performance by providing quick access to Service-Level Agreement (SLA) data. This information defines the response and resolution times you've agreed to deliver to each customer, so it's essential to meet your SLA commitments.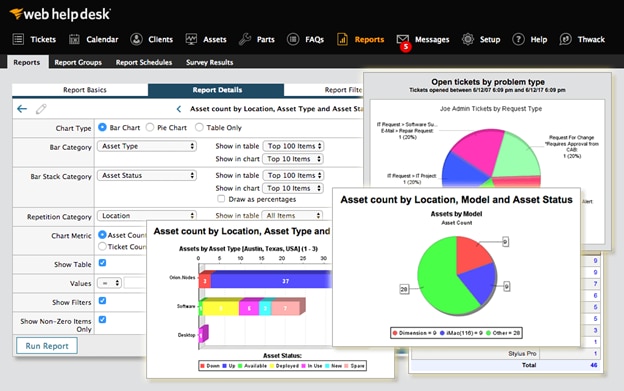 Some ticketing systems can actively help you avoid missed SLA deadlines. For example, WHD will notify your support staff if a ticket remains incomplete for an extended time.
3. You Can Use It to Create More Robust Self-Help Resources
By providing the right self-help resources, you can improve the customer service experience while reducing the pressure on your support staff.
A ticketing system can help you identify gaps in your self-help resources by providing a central location for your support requests. This makes it easy to spot patterns. For example, if many customers encounter the same issue, it may make sense to create a self-serve resource to help them resolve this problem on their own.
Creating valuable self-help resources is only half of the battle, as your customers still need to find the right asset for their specific issue. Some ticketing systems such as WHD will recommend relevant knowledge base articles as customers create their tickets, making information discovery effortless.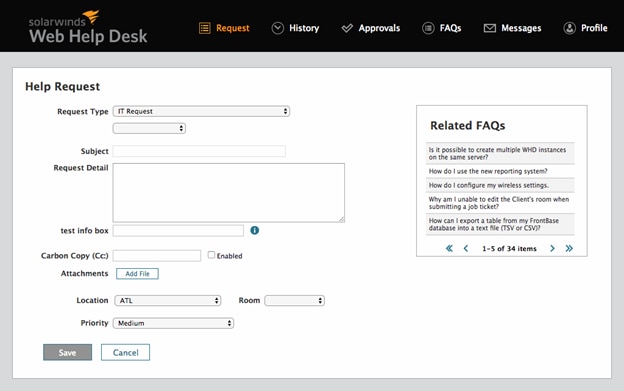 WHD helps users find the appropriate self-help resources and uses artificial intelligence (AI) to suggest articles based on each inbound ticket. This helps your support staff access the information they need to promptly resolve customers' queries.
Conclusion
Slow, unhelpful customer service has the potential to undermine your business completely. To help keep your clients happy, it's essential to resolve their questions and queries quickly. A robust ticketing system can help.
Let's recap three ways a ticketing system can streamline your customer support:
A ticketing system automates essential parts of the help desk process, including assignment and escalation.
Some systems provide access to insights that help you continuously improve your support performance.
By opting for a solution such as SolarWinds Web Help Desk (WHD), you can create more powerful resources and help your support staff and customers find the information they need.