We live in an age of disruption, where startups with new ideas are challenging the status quo and competing against incumbents. However, most startups aren't ready for the marathon; they struggle to scale up amidst numerous operational challenges. At the same time, many of these operational challenges aren't new and have standard solutions available in the market. Web help desk software is one such solution capable of making a remarkable impact on the way you conduct your business and deliver value to end customers. We'll discuss how help desk solutions can help small organizations solve common operational challenges and grow their businesses.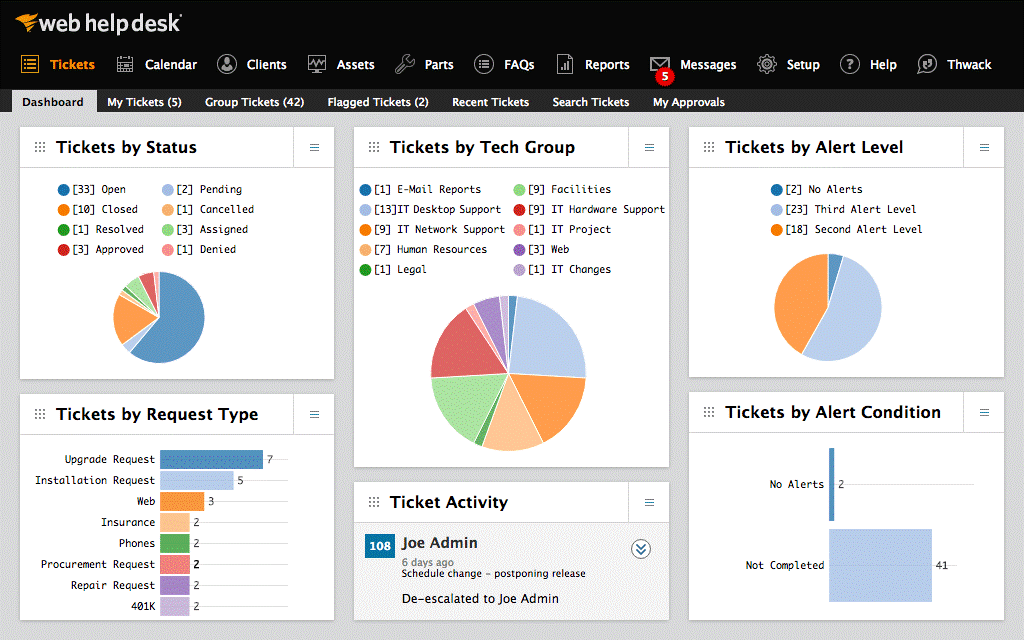 Top Five Operational Challenges for Small Businesses
Unmanageable Workloads—As businesses grow, the support teams in small organizations struggle to keep up with increased workloads. There are often multiple issues, service requests, and customer queries to resolve, and the staff may be under-equipped to attend to them in real time. The lack of work prioritization often leads to mismanagement, burnouts, and lower productivity.
Disparate Tools—The support teams don't have the right tools to track tickets, issues, and requests across different channels. A customer can raise a request by email and can follow up on the phone. However, teams often don't have the service request history. On other occasions, there's more than one agent working on the same issue, as there are duplicate tickets.
Repetitive Work—Support teams must perform numerous repetitive tasks, and though they may not be complex, this can still lead to fatigue and oversights. Despite knowing about this common challenge, small organizations often have only partial automation across their tools and processes. They also lack self-service portals or knowledge bases to assist end users with their routine queries.
Customer Satisfaction—Customers must often face a long waiting time in the interactive voice response (IVR) queue to raise their request and have limited or no visibility into the status of their tickets. Many times, agents also fail to respond to calls or emails. All this poorly affects the customer experience.
Change Management—As businesses evolve, they must acquire new tools, processes, and policies to manage and support their expanding workforce and customer base. However, this transition can be riddled with technical issues, as legacy systems often have several unaccounted dependencies. Due to a lack of effective change impact analysis, organizations become vulnerable to disruption or downtime.
Web help desk software offers several features designed to help streamline service desk tasks, increasing team efficiency and productivity and improving the customer experience. Let's look at some of these features and how they can benefit your organization: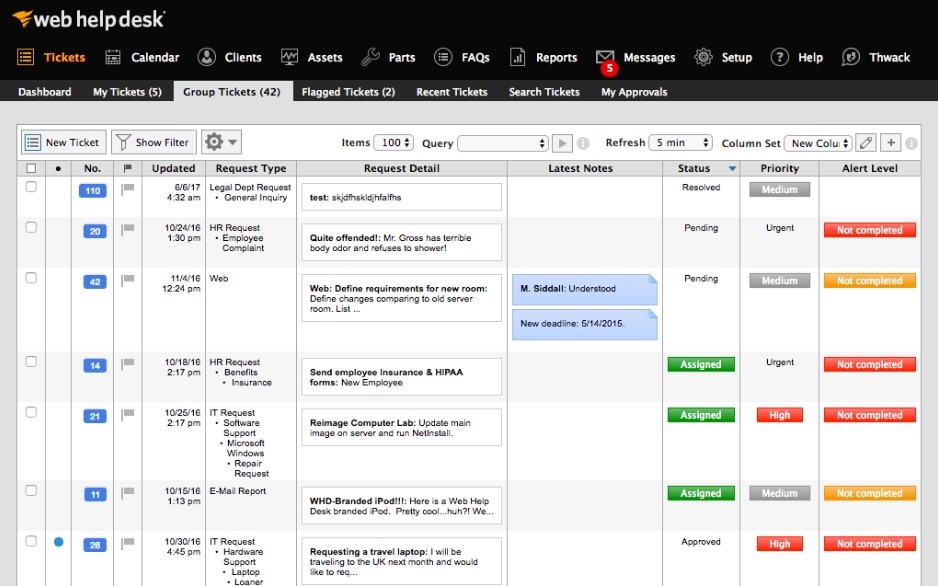 A web help desk solution can automatically route, group, assign, prioritize, and escalate service tickets based on your business rules or policies. You can also set up service-level agreement (SLA) breach notifications and advanced alerts to ensure the team is able to respond to critical issues proactively. Furthermore, a unified dashboard provides easy visibility so you can monitor every ticket's status or stay on top of your team's productivity. Some major advantages of using modern solutions like SolarWinds® Web Help Desk® is they help you associate multiple tickets with a single problem, prevent duplication of work, and solve issues efficiently. Additionally, its native integration with Active Directory (AD) and LDAP makes the implementation easier in enterprise environments.
It's crucial for you to invest time and effort in building a centralized knowledge base (KB), as doing so can significantly reduce the burden on your support staff. With the articles and self-help guides available in a KB, users can resolve their routine issues by themselves. However, building an exhaustive knowledge base is a challenging task. Web help desk solutions help you with out-of-the-box templates to maintain KB articles in an organized manner. As the KB is integrated with your service desk, agents can also get help from these documents or direct customers to relevant articles.
It's essential for organizations to keep track of their IT hardware equipment and software licenses. As they need to assign the assets or equipment (laptops, projectors, etc.) to different remote workers, they need to be aware of the hostname, model, serial number, etc. to detect if an asset is overdue, lost, or misplaced. They also need automated asset discovery with scanning based on subnet or IP range to keep track of assets. Web help desk software can help you achieve all this with efficient management of the inventory, health, and status of the assets in your organization.
As discussed above, organizations need to introduce deliberate and controlled changes in their IT environment while keeping track of all dependencies. Web help desk solutions enable seamless change management with automated workflows to help manage and control change requests. You can also customize the change approval workflows and monitor historical data to analyze the impact of changes introduced over a period.
Performance Reporting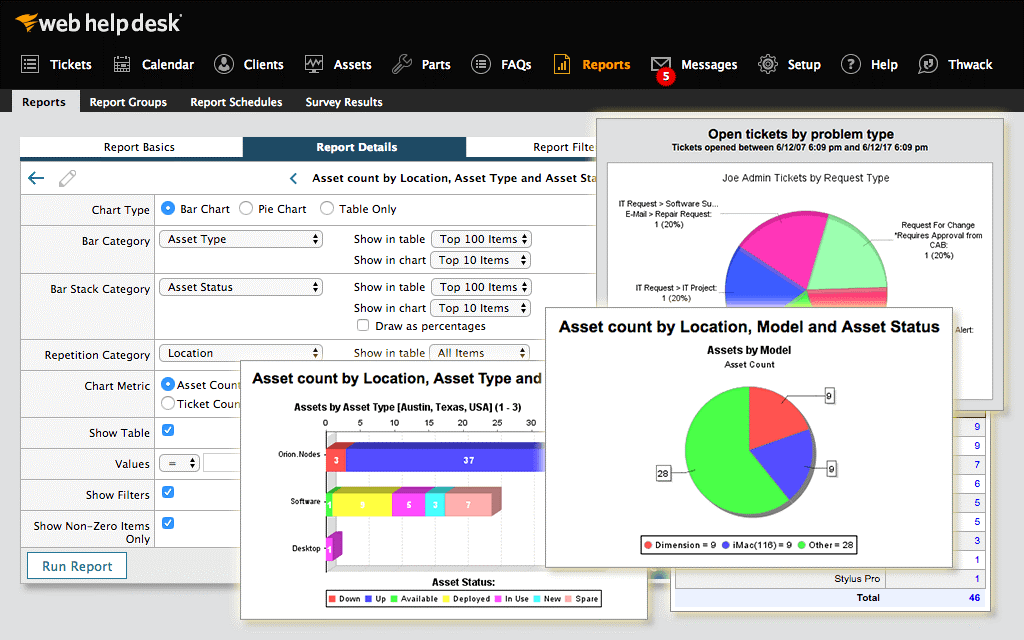 Help desk solutions help track your team's performance through several out-of-the-box reports. These reports can include standard and custom metrics covering billing data, incidence frequency, and more. In addition to your team's performance, you can also get reports on the employee experience. Based on these reports, you can assess any bottlenecks or training requirements for your team.
Conclusion
We briefly discussed some common operational challenges and how web help desk solutions offer various features to resolve them. There are various commercial solutions available in the market, and they vary in their depth, pricing, and multi-channel support. There are also various free help desk software for small businesses. However, if you're looking for a scalable solution, we recommend SolarWinds Web Help Desk, which offers multiple plans to suit your team size and 24/7 technical support. The software is easy to implement and offers FIPS 140-2 compatibility with FIPS-mode SSL connections. It can help solve your IT service management needs, and many organizations also use Web Help Desk in their human resources departments, field services, and other service domains.