E-commerce businesses deal with a large number of support requests routinely. Since you may not have a physical location where customers can come in for help, that means questions coming your way arrive through an e-commerce help desk.
By using the right e-commerce help desk software for your needs, you'll be able to answer shoppers promptly, resolve issues efficiently, and keep users happy. The happier your customers are, the more likely they are to keep coming back and making more purchases.
In this article, we'll talk about some of the important features to look for in an e-commerce friendly help desk solution. Then we'll introduce you to three top options you can use.
What E-Commerce Help Desk Features to Look For
The best help desk software can adapt to nearly any type of business. Solutions limited to a specific niche are few and far between.
However, for an online store, we recommend looking for e-commerce help desk software that includes the following features:
Multiple channels for processing help requests. Customers should be able to reach you using various channels, including social media, live chat, and a contact form.
Integration with your e-commerce platform of choice. If your help desk software integrates with the e-commerce platform you're using, you may gain access to helpful features. For example, the software might be able to link support requests with specific orders.
Customer satisfaction scores. You want customers to keep coming back, so it's essential to ensure their satisfaction with your support services. The easiest way to do that is by offering customers the opportunity to rate support agents and their interactions with them.
Aside from those features, e-commerce help desk software should enable you to generate as many reports as you need to monitor your store's "health." That includes data about average response times for tickets, recurring problems, customers who may abuse your store's policies, and more.
3 Help Desk Software Solutions for E-Commerce
Now that we've discussed some of the most important software features, it's time to look at some quality options to consider. Below are three e-commerce help desk solutions that will help you deal with customer queries efficiently.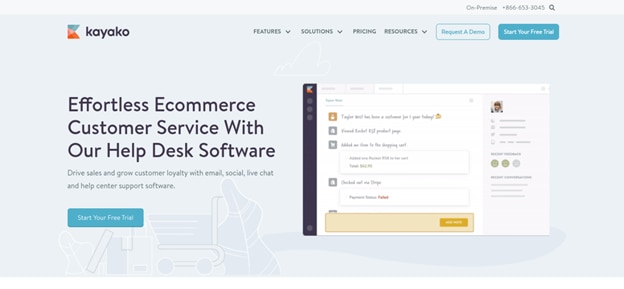 Kayako is a multi-channel help desk solution that supports email, social media platforms, and live chat. With Kayako, each customer gets personalized support thanks to a built-in user history tool. You can review past communications with any customer, and see what purchases they've made.
It's important to note Kayako relies on Zapier for integration with most e-commerce platforms. This means you'll need to use that third-party service to connect Kayako to your online store, to take advantage of its complete feature set.
Thanks to Zapier, Kayako works with Shopify, Magento, WooCommerce, and BigCommerce. As far as help desk functionality goes, Kayako enables you to create pre-written responses and share customer information among employees for easier ticket resolution.
Price: Kayako help desk plans start at $15 per month per agent. However, if you want access to advanced integrations, you'll need to opt for the Growth plan, which costs $30 per agent per month.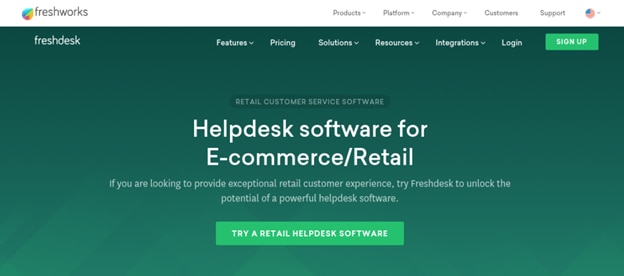 With Freshdesk, you can add live chat functionality to your online store and have customers reach out at any time throughout their journeys to ask questions about products and prices. This e-commerce help desk software can also help you deliver post-purchase support.
Freshdesk provides you with a single inbox for live chat queries, support phone calls, and even tweets. The software integrates with Twitter to help you decide which tweets to prioritize, since it's a popular platform for customers to receive support.
If you use Freshdesk, you'll be able to create internal knowledge bases employees can use to answer customer tickets. The help desk solution can also help you automate follow-ups with customers and generate reports to see how well your agents are performing.
As far as integrations go, Freshdesk works with Shopify, SEOshop, and BigCommerce stores. If you're not using one of those three platforms, you may miss out on some of the help desk's more advanced e-commerce functionality.
Price: Freshdesk offers a free plan, but if you want e-commerce integration, you'll need to use its Blossomtier or higher. The Blossomplan starts at $15 per month per agent.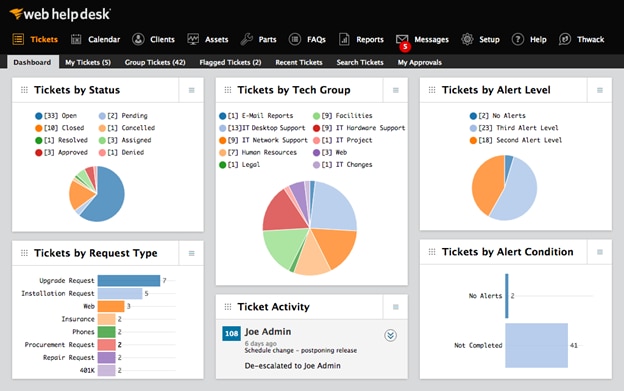 SolarWinds® Web Help Desk® is a data-driven help desk solution that is perfect for e-commerce. This software helps you process tickets from multiple channels using a single dashboard. Employees can help create a comprehensive knowledge base that encompasses the most common issues customers might have, leading to quicker resolution times.
To make ticket resolution even more efficient, Web Help Desk can show you relevant knowledge base articles when you open a ticket based on its data. Employees can also assign different priority levels to each ticket, and even configure notifications to ensure the right team members get updates about their resolutions.
Web Help Desk also includes many advanced features to help you improve your business workflows, including IT asset management tools, Service Level Agreement (SLA) management, and more. The solution provides those features on top of classic e-commerce help desk features such as employee satisfaction measurement tools and in-depth reports.
Price: Web Help Desk licenses work on a yearly basis, and start at $367 for one to five support agents. With a license, you get access to around-the-clock support and training materials for your employees.
Conclusion
Providing excellent support services is key to any customer-facing business. However, support becomes even more critical when it comes to e-commerce. Without fast ticket response times and quick resolutions to their problems, customers aren't likely to recommend your business or return to make future purchases.
If you're looking for a solid e-commerce help desk software solution, you may want to consider one of our top three picks:
Kayako: You can integrate this software with almost any e-commerce solution using Zapier
Freshdesk: This software is an ideal solution if you're using Shopify, BigCommerce, or SEOshop for your business
SolarWinds Web Help Desk: This help desk solution is platform agnostic, and can help you create comprehensive knowledge bases for faster ticket resolution times