With a recent shift toward remote work and a rising number of cyberthreats, managing and protecting a massive number of distributed endpoints with clear visibility is becoming an ever-increasing challenge. According to the latest Endpoint Security Report by Delta Risk, 55% of organizations now report an increase in endpoint security risk, and 49% of organizations are not very confident about their current security posture. Today, robust EDR solutions are critical components of a comprehensive cybersecurity strategy.
What is an EDR solution and why is it important?
To strengthen endpoint protection, organizations embrace layered security approaches, such as endpoint detection and response (EDR). It is an integrated approach that ensures real-time endpoint monitoring while intelligently aggregating, correlating, and analyzing data to initiate an automated response to tackle any probable threats.
Unlike other security approaches, such as using a managed antivirus, EDR solutions are designed for a more proactive cybersecurity approach and address various enterprise use cases. They enhance an organization's ability to safeguard against cyber threats and minimize cybersecurity risk. Smart EDR software solutions provide better visibility across the network via a single console, facilitate faster in-depth investigations through automation and correlation, and expedite threat remediation with automated incident response management.
If you're in the market for introducing or replacing an EDR solution in your organization, we've got you covered. Here's a guide on some of the most popular tools on the market.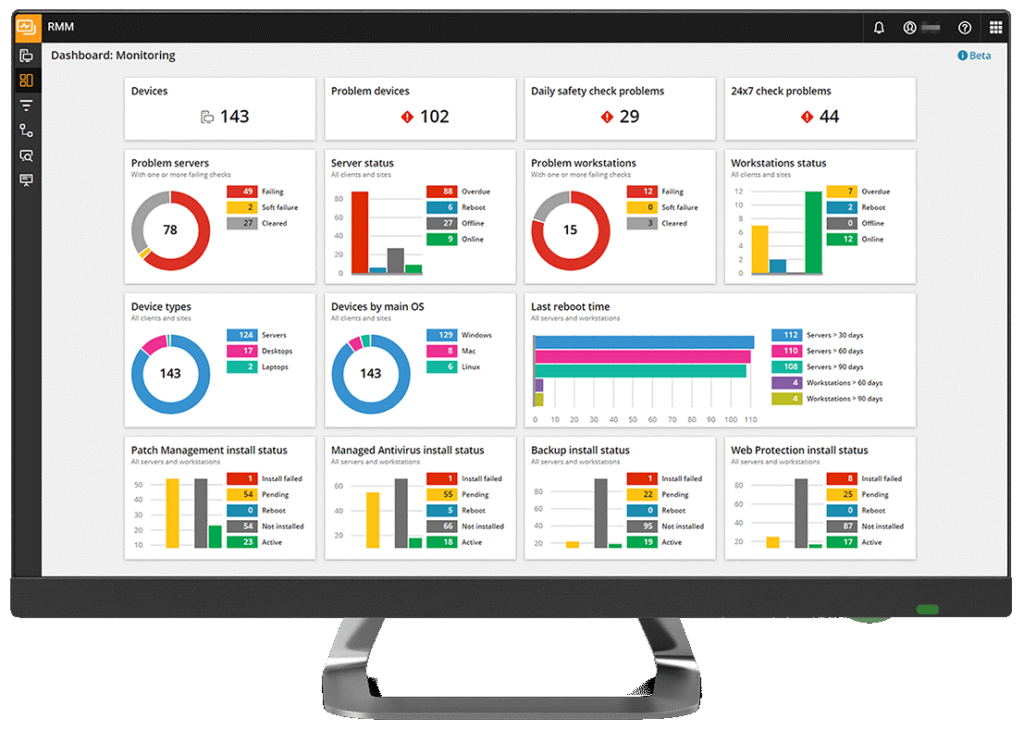 N-able™ Endpoint Detection and Response helps its users step up their endpoint protection against new threat patterns, ransomware, fileless threats, and zero-day attacks. EDR employs artificial intelligence (AI) to offer static and behavioral analysis on new threat patterns and safeguard endpoints against evolving online threats that may go undetected by a traditional antivirus solution. With EDR's Windows OS rollback capability, organizations can seamlessly rollback infected devices to a pre-infected state in minutes in case of a ransomware attack. Easy-to-understand attack visualizations and automated monitoring via a centralized console simplify threat analysis to pinpoint threats and determine how to respond.
In addition to this, N-able EDR software enables a comprehensive security approach by integrating with the RMM and N-central® solutions from N-able (formerly SolarWinds® MSP). This integration offers a multilayered remote management solution to defend endpoints against evolving cyberattack patterns. IT enterprises and MSPs can access native N-able RMM data reports and N-central dashboards to streamline network management and remote endpoint monitoring.
SentinelOne® protects endpoints against a diverse set of attacks. It employs static AI-powered models to proactively uncover ransomware binaries and malware before they impact network security. SentinelOne ensures real-time detection and response to threats by leveraging a behavioral AI engine to track processes and their interrelationships for improved contextual analysis. Its automated EDR helps businesses in automatic threat mitigation, network isolation, and endpoint auto-immunization for probable new threats.
The CrowdStrike® Falcon platform is another cloud-based EDR solution that offers managed threat detection, integrated threat intelligence, and immediate threat remediation. With expanded visibility, behavioral analytics, and effective visualization, Falcon automatically traces suspicious activities and events to reveal traces of vulnerabilities. It provides real-time and historical data visibility across the network for better threat investigation, and integrated threat intelligence empowers IT teams to expedite threat detection. Furthermore, real-time response helps businesses accelerate remediation to contain threats by isolating infected endpoints from the network and implementing built-in remote execution commands to restore the endpoints without hampering the overall operations.
The Cortex® XDR™ platform is a comprehensive security solution covering endpoint, network, and cloud to offer complete enterprise-wide visibility. It ensures proactive detection, automated root cause analysis, and real-time response with integrated security. Cortex XDR employs AI-based analytics models to continuously profile endpoints, detect evolving threats, and expedite threat investigation and response. It also provides effective alerting capabilities to ensure immediate response while handling advanced attacks across endpoints.
Cybereason offers automated EDR to detect and prevent a broad range of ransomware, malware, and fileless attacks. It leverages a signature-based and behavioral approach to identify threats and minimize security risk. Cybereason® EDR presents relevant information pertaining to malicious operations through a complete process tree and timeline in a consolidated view called a Malop. The unified, intuitive view simplifies endpoint data analysis and helps identify the root cause quickly, block infected processes, quarantine files, and isolate machines. It also allows configuring custom rules, behavioral whitelisting, and setting up notifications by combining EDR data with alerts from other security tools and firewalls to ensure complete end-to-end threat protection.
Choose an EDR tool to suit your needs
IT security professionals strive to defend against increasingly complex cyber threats in today's business landscape while managing diverse types of endpoints across the network. Monitoring a large number of devices manually or via traditional solutions is not an option anymore. You need innovative EDR solutions that provide automated analysis and real-time response. With so many tools available today, it's important to stay on top of the ever-growing endpoint protection market and be sure to find a solution tailored to your needs.
If you'd like to further explore the topic of EDR, be sure to also read: