Protection against cybersecurity threats is critical for companies of all sizes. Tripwire is one option for this, providing both open-source and enterprise versions of host-based intrusion detection systems.
This is far from the only choice, though. If you're looking for a Tripwire replacement, this guide offers a comparison of several Tripwire competitors.
Tripwire vs. OSSEC
Tripwire vs. Splunk
Tripwire vs. SolarWinds
Tripwire Log Center and Alternatives
Tripwire File Integrity Manager and Replacements
Options for Tripwire Replacement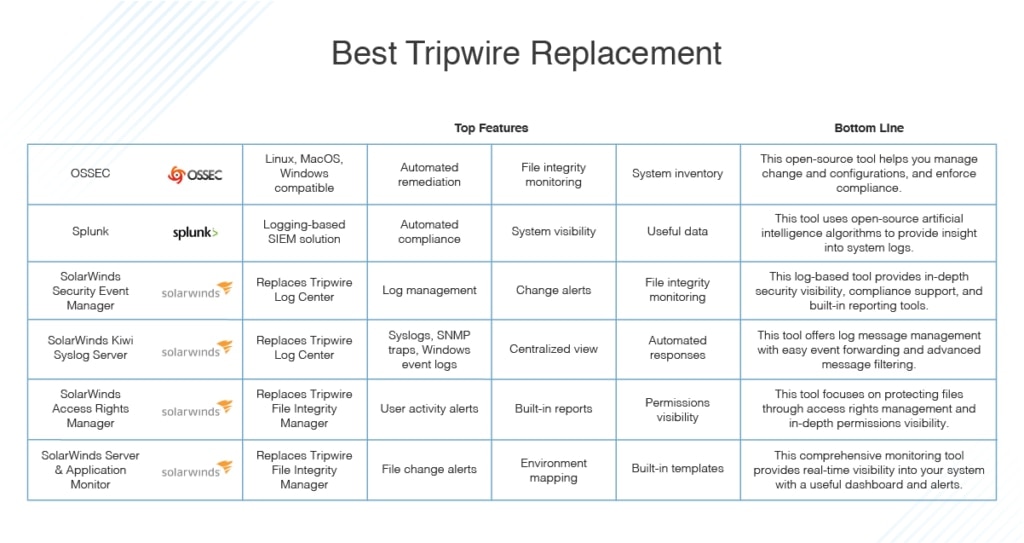 Tripwire vs. OSSEC
Because OSSEC is a free, open-source tool, it's a good Tripwire alternative for companies with a limited budget.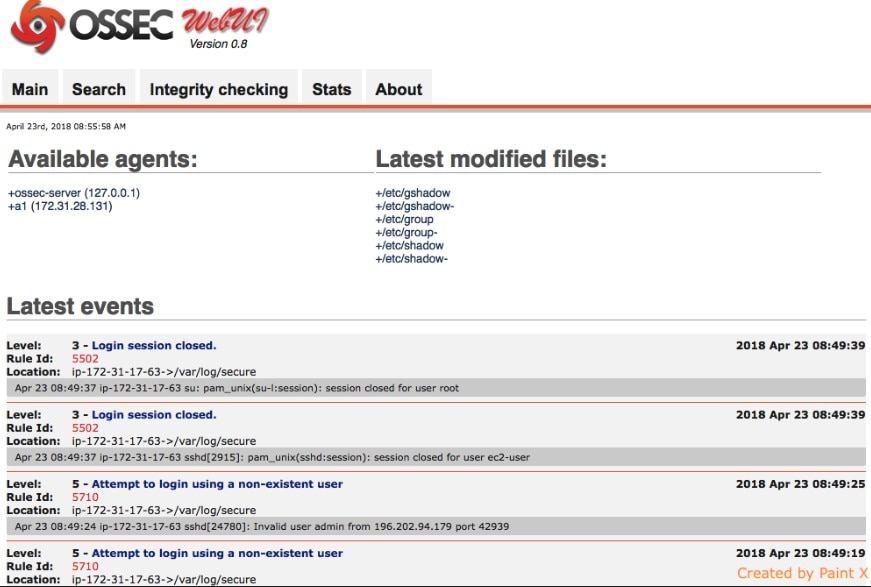 OSSEC supports major platforms, including Linux, macOS, and Windows. The Tripwire open-source version is less comprehensive, since it's meant for Linux, while the enterprise version provides broader support, including support for Windows and Solaris.
Both solutions have file integrity monitoring (FIM) features and options to integrate with other tools to provide optimal detection. Tripwire offers FIM as part of its File Integrity Manager tool.
Like the Tripwire IP360 tool, OSSEC also provides system inventory management—including software, hardware, and network services—and responds to attacks in real time. Like Tripwire Enterprise, OSSEC offers compliance auditing and malware detection to round out its ability to detect intrusions.
Tripwire Enterprise includes compliance enforcement and real-time detection, which helps reduce the time it takes to catch threats. Some other features making it a powerful tool include the following:
Change intelligence, which helps ensure high-value alerts
Automation options for remediation
Configuration monitoring
OSSEC requires more technical expertise than Tripwire, but both tools are good options for threat detection and security.
Tripwire vs. Splunk
Splunk is one alternative to consider when looking at Tripwire replacements. Both Splunk and Tripwire offer feature-rich security information and event management (SIEM) solutions. They provide insight into data from different sources, giving you a comprehensive view of your network's health, along with real-time visibility into alerts.
Splunk is a log management solution using open-source artificial intelligence algorithms to make predictive decisions and automate processing. It also provides opportunities to connect and monitor the system in multiple ways, including mobile device monitoring and augmented reality. Tripwire Log Center does not offer these features.
However, like Splunk, Tripwire offers automation for compliance, which gives businesses the reassurance of knowing they're up-to-date with regulations. Security controls can be automated, too, and with deep visibility into the system, you can always know the status of your security.
Tripwire vs. SolarWinds
SolarWinds is another Tripwire competitor. Like Tripwire, SolarWinds has a suite of products; this comparison will focus on specific solutions within the suite.
Tripwire Log Center and Alternatives
SolarWinds offers two products you can use as replacements for Tripwire Log Center:
All three solutions provide a central location to capture and manage logs, but they also have some differences.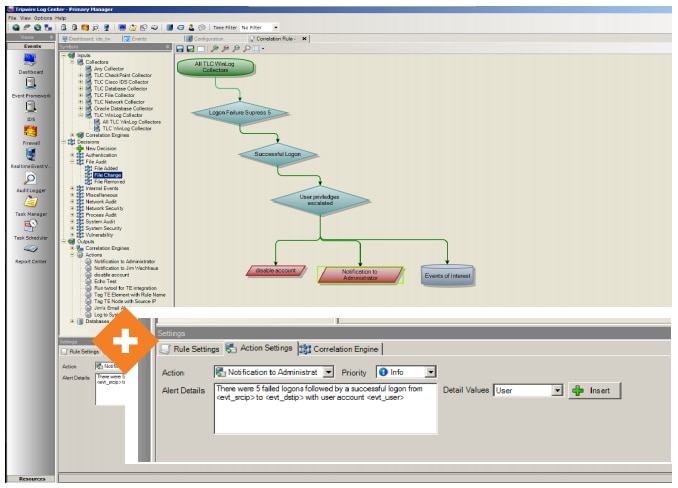 Tripwire Log Center offers a user-friendly interface with an intuitive approach. This includes simple drag-and-drop functionality to create rules for alerts based on certain events. Alerts can be generated in real time to highlight suspicious activity.
When an event occurs and triggers an alarm, the correlation engine in Log Center automates how it identifies and responds to those events. Some types of responses include the following:
Notifying an IT agent by email
Initiating a certain command
Creating a ticket to track the event
Another form of automation is available for demonstrating compliance. Tripwire Log Center collects and retains logs, which can help you demonstrate compliance with regulatory requirements. Additionally, because log data is stored and forwarded, you can still reference it later, even if there's a system failure.
Tripwire also provides a way to prefilter data. This allows you to spot patterns already identified as threats and get an early warning about possible breaches.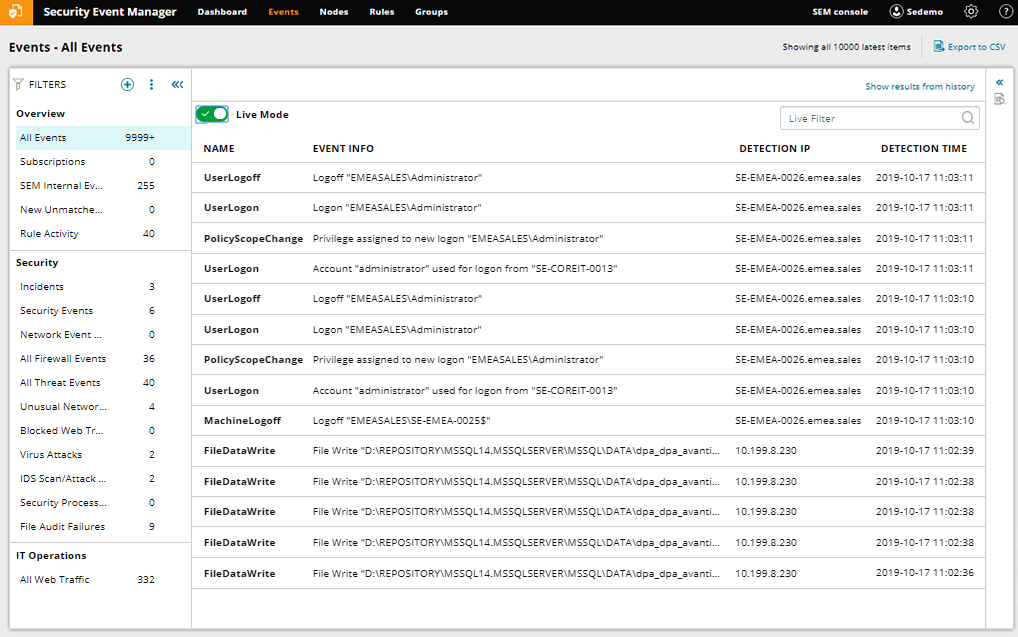 SolarWinds Security Event Manager (SEM) streamlines SIEM log management. Like the Tripwire solution, it has a collector tool designed to automatically gather and aggregate logs across the network.
SEM uses an FIM tool to find changes, whether they're made to folders, files, or registry settings. Changes will generate alerts with detailed information about which user made the change. These alerts include information about user activity before and after the change to give you a complete view of the situation. Though Tripwire includes an FIM tool as part of some solutions, it isn't available in Tripwire Log Center. Instead, it's part of Tripwire Enterprise.
SEM also differs from Tripwire Log Center when it comes to direct threat prevention. To protect you from malware and advanced persistent threats (APTs), SEM—unlike Tripwire—includes file integrity monitoring. This allows you to examine logs and correlate them with audit events to identify malware or APTs. Once you've identified a threat, you can choose to quarantine systems to protect them or to stop a malicious process.
Like Tripwire Log Center, SEM helps you demonstrate compliance. Many industry standards require security controls, and built-in FIM templates allow you to audit key files. SEM also provides out-of-the-box reports to show your compliance with standards.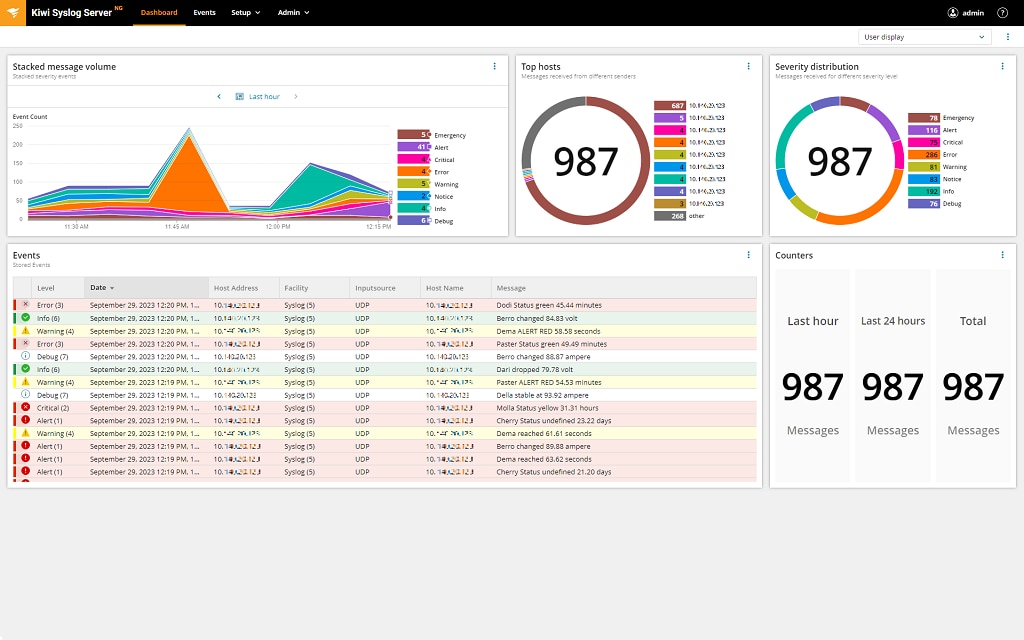 SolarWinds Kiwi Syslog Server is another tool for log management. Like Tripwire, it's designed to capture the following:
Syslog messages
SNMP traps
Windows event log details
The information is presented in a central view for easy review and management. Like Tripwire, Kiwi Syslog Server stores and archives logs to help you demonstrate compliance.
The SolarWinds tool stands out from Tripwire in terms of its access to syslog messages. With Kiwi Syslog Server—unlike Tripwire—syslog messages are available for IT agents to view from any location via web access. This helps teams respond more quickly. Even more importantly, the tool lets you automate a variety of responses to speed things up even more. Types of automated responses include sending an email, forwarding messages, and running scripts. Tripwire Log Center also lets you set up some automated responses, including sending notification emails, creating work tickets, or running commands.
You can also use automation for event forwarding in both tools. When defining the types of events to forward in the SolarWinds solution, you can include keywords, type ID, and source. You might choose to forward events for audit purposes or to alert or store activity.
Kiwi Syslog Server facilitates reviews of log data by providing advanced message filtering. This differs from Tripwire, which only lets you prefilter data before it passes through your SIEM solution. Tripwire doesn't make it easy to filter log data once it's been collected. With Kiwi Syslog Server, you can filter by several factors, such as time of day, priority, and host IP address, to isolate the information you need.
Finally, Kiwi Syslog Server allows you to schedule reports, though Tripwire doesn't offer this capability. With Kiwi, you can schedule reports received via email with graphs of the data.
Plus in October 2023, SolarWinds released a new generation of Kiwi Syslog Server, bringing new UI including an interactive dashboard and significant performance and security improvements.
Read more about Kiwi® log management and its monitoring features here.
Tripwire File Integrity Manager and Replacements
Another Tripwire product is File Integrity Manager. SolarWinds offers two software solutions to support file integrity management:
Instead of focusing on log management, these solutions allow you to sort through large amounts of data to identify true concerns and threats.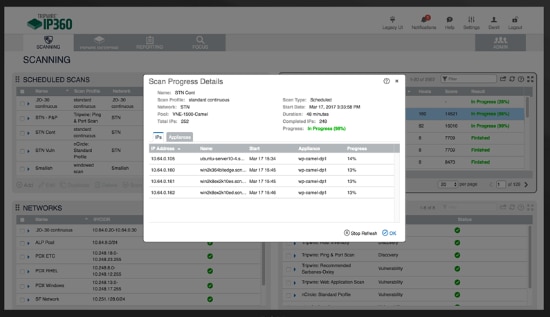 Tripwire File Integrity Manager is designed to facilitate the collection of meaningful data. The solution can identify which changes are high risk vs. low risk, and it automatically handles the low-risk changes expected as part of daily business. This gives IT agents more time to focus on the high-risk changes truly needing their attention.
Automation goes a step further with threshold monitoring. In some cases, a single change might not be considered a threat, but if it's accompanied by other changes, it's flagged as higher severity and routed to an agent.
Tripwire File Integrity Manager also supports integrations. One type of integration is with the existing systems you use to track tickets, such as HP ServiceNow. This helps ensure visibility into changes and issues, and it provides traceability when issues are closed.
Another type of integration is with security controls, like log management, security configuration management, and SIEM. File Integrity Manager supports tagging and managing the data from the security controls, making the data more intuitive and giving you better protection. For example, you can add change data to your SIEM solution whether you're using Tripwire Log Center or something else. This coordination allows you to manage your security more effectively.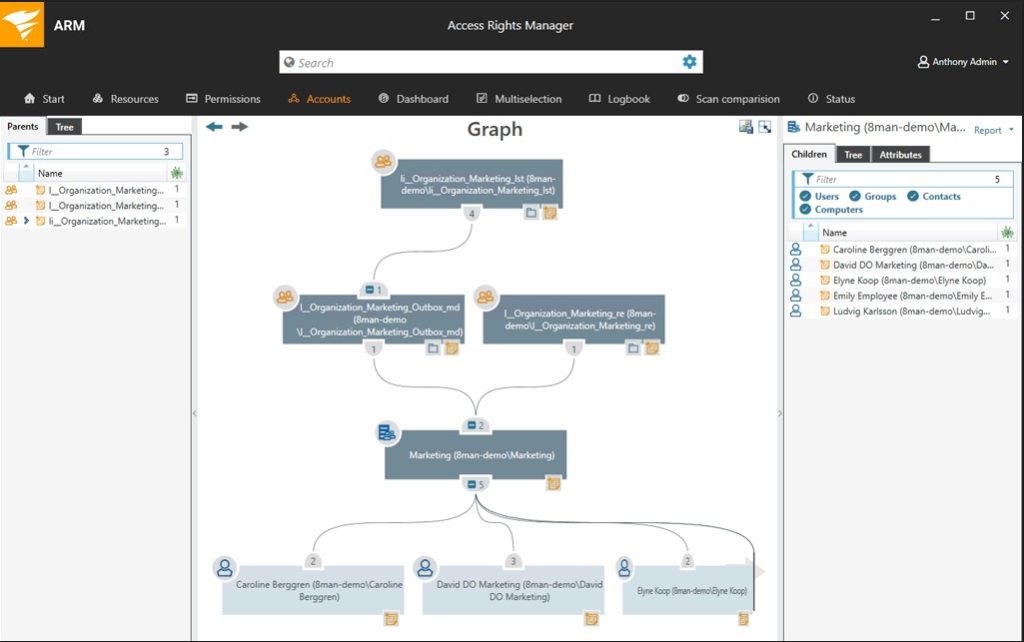 SolarWinds Access Rights Manager (ARM) is also designed to help you identify true threats and respond to them quickly. Its offerings are different from those of Tripwire because the tool focuses on user activity, while Tripwire File Integrity Manager doesn't offer any monitoring or analysis of user activity—it just monitors and alerts on changes to files.
Monitoring user activity is important because one of the first signs of a data breach or ransomware attack is unusual user activity, but this can be hard to detect in large companies with hundreds or thousands of users. ARM automates this type of analysis and alerts you when suspicious activity occurs, such as the creation of a new account with an insecure configuration. It also looks for other types of critical user access issues and provides detailed information, so you can investigate only the activity potentially representing an attack. Tripwire doesn't offer any of these functionalities.
Unlike Tripwire, auditors don't have to go into the system to view the information with ARM. Reports can be run regularly with customized information for the needs of an auditor. These reports provide the necessary user access details to assess compliance.
Additionally, ARM takes a proactive approach to alerts and file server auditing. Instead of just reacting to a problem, it gives insight into account configurations and permissions across your organization, allowing you to identify problems before they become a security risk or compliance concern. Tripwire doesn't offer this exact alerting functionality, but it does have automated alerts designed to trigger tailored responses when a change reaches a severity threshold.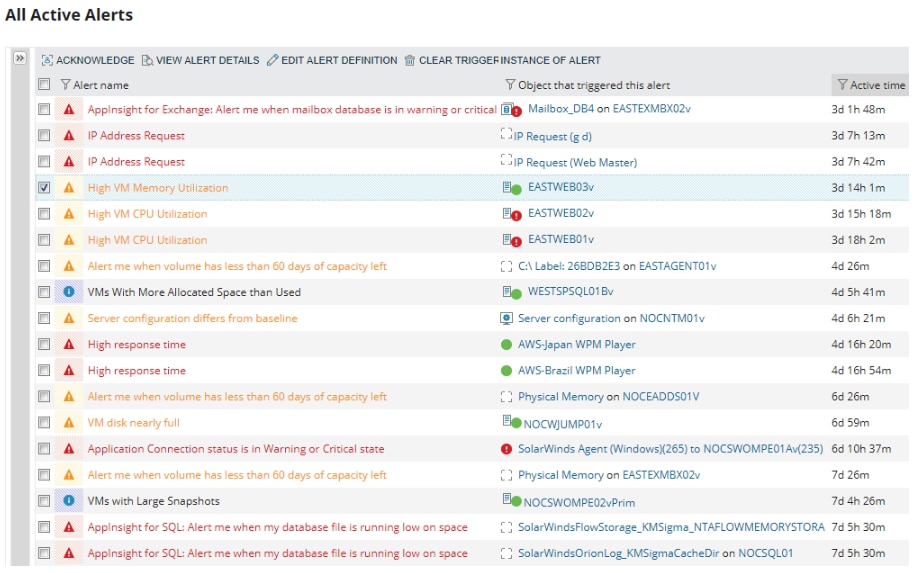 Like Tripwire, SolarWinds Server & Application Monitor (SAM) provides end-to-end monitoring and alerts you to file changes in real time to keep your network safe.
Instead of focusing on user access, SAM looks at your whole network configuration and distributed environment. Once installed, it automatically begins the process of discovery to map your environment and start monitoring. This differs from Tripwire, which focuses exclusively on file changes and doesn't engage in an environment discovery or mapping process.
Unlike Tripwire, which doesn't give you options when it comes to monitoring, SAM offers several options for monitoring. SAM allows you to do the following:
Use out-of-the-box templates
Modify the provided templates based on your business needs
Import existing scripts to define your own approach
With this in-depth monitoring, you can gain an up-to-date view of file server performance, which allows you to take proactive steps when needed. The monitors support the review of aspects such as file size, file age, and file count. You can then receive alerts when those characteristics change in unexpected ways. Tripwire, unlike SAM, doesn't provide insight into file server performance. Instead, it focuses exclusively on change detection and alerts you when changes are detected.
Though Tripwire doesn't let you customize alerts, SAM comes with intelligent alerting, which allows you to customize alerts, so you can stay updated on only the most relevant information. These customizations include the following:
Setting thresholds through a dynamic baseline
Configuring trigger conditions with parent/child dependencies
Automating alerts
Finally, SAM—unlike Tripwire—lets you monitor and receive alerts for many services, including software as a service (SaaS), Azure, and AWS. SAM also supports virtual host and physical server monitoring to keep your business safe and running smoothly.
Options for Tripwire Replacement
If you're looking for a Tripwire replacement, you have plenty of options, whether you want an alternative to the enterprise product (such as OSSEC or Splunk) or a replacement for some of the individual products.
SolarWinds Security Event Manager and SolarWinds Kiwi Syslog Server are good choices for log monitoring. If you want something more focused on detecting threats and highlighting problem areas, I recommend SolarWinds Access Rights Manager or SolarWinds Server & Application Monitor. Any of these Tripwire competitors can help you protect your business and keep your network safe.