While Splunk may seem the obvious choice for log management and log analysis, some alternatives to Splunk are worth considering—many of which I believe lack disadvantages of Splunk and bring unique benefits to the table. Although no solution is perfect, and some will be better suited to your business' individual needs than others, I feel many of these popular Splunk alternatives for log analysis and management are faster, more affordable, and more efficient than Splunk. So, whether you're currently using Splunk or considering implementing Splunk, this review and comparison of the best Splunk alternatives is for you.
To account for varying needs and preferences, my comparison includes Splunk open-source alternatives, free Splunk alternatives, and commercial alternatives. Of the Splunk alternatives listed in this review, I found SolarWinds® Security Event Manager (SEM) to be the most user-friendly, powerful, and cost-effective solution for business use. A 30-day free trial is available.
Before comparing Splunk to the best Splunk alternatives on the market in 2021, I provided a brief explanation of what Splunk is, followed by an overview of why businesses should consider alternative solutions.
If you want to go directly to software reviews, please use the links below:
What Is Splunk?
Splunk was released in 2007 and rapidly grew into a leading log data management and big data analytics platform. This log management tool focuses on delivering advanced log analysis capabilities and provides a range of SIEM features, making it a popular tool for companies generating significant quantities of machine data and log files.
Why Do You Need an Alternative To Splunk?
The marketplace for log data management solutions and the nature of IT infrastructure have evolved rapidly in recent years, with distributed architectures (i.e., containers, hybrid clouds, and microservices) becoming commonplace in business environments. Because of this, businesses have many more viable alternatives to Splunk—solutions I think are faster, more cost-efficient, and more user-friendly.
Although I believe there are some advantages to using Splunk, such as its versatility and SIEM features, some customers may want a cheaper and easier-to-use solution. In addition, I found Splunk isn't the best option to manage large quantities of data, doesn't offer the best licensing model for their needs, and has an outdated interface.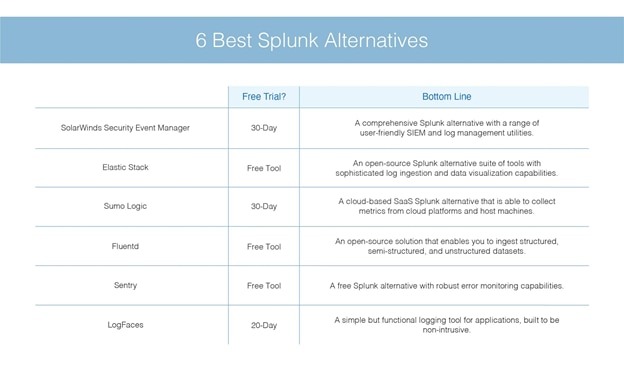 With so many Splunk alternatives for log analysis and log management, it's worth considering some Splunk competitors before making your final decision.
Best Splunk Alternatives
Every company and IT professional will have different requirements and preferences, which is why I included specialist and all-in-one solutions in the following product list. I ranked these tools based on user-friendliness, suitability for business use, affordability, range and sophistication of features, and other factors.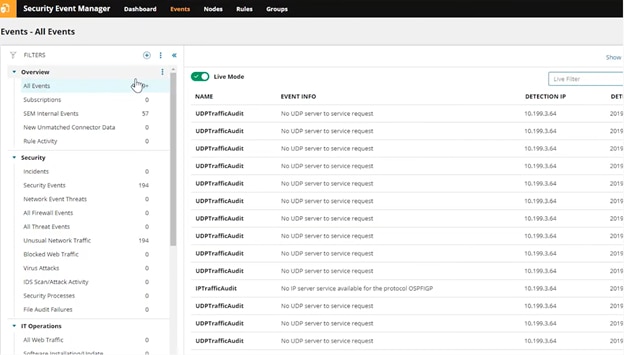 SolarWinds SEM is a comprehensive and cost-effective security information and event management (SIEM) tool offering sophisticated data collection, data visualization, and log management capabilities. This tool can help you improve security posture for your company, rapidly demonstrate compliance, and manage log files and data in a centralized location.
With SEM, you can benefit from centralized log normalization and collection, automated threat detection and threat response, built-in integrity monitoring for files, and much more. In my opinion, SEM is easy-to-use and an excellent Splunk alternative for log analysis because it enables you to gather data from multiple data sources across your entire network, and centralize logs sourced from servers, workstations, systems, firewalls, authentication services, IDS/IPS, and more. Although Splunk also offers a comprehensive SIEM and log management solution, it doesn't provide support via a native agent for EDR and file integrity monitoring, both of which are included in SolarWinds SEM.
This Splunk alternative can categorize and normalize thousands of event logs, syslogs, and other file types. SEM leverages uses in-memory correlation of events to facilitate real-time analysis, eliminating the need to manually scan logs. With the integrated agent, SEM automatically delivers the relevant data to the console, utilizing actionable intelligence for user activity tracking, security issue monitoring, and more. Another notable benefit of SEM is it uses a unique high-compression data system to unify your log analysis activities, so you don't have to worry about external hardware or limitations on log data storage. While Splunk delivers similar functionality, I found the out-of-the-box content SEM provides makes it easier to get started, even if you have minimal expertise or experience.
With SEM, you can track important metrics to monitor the wider IT infrastructure, with scalable and reliable log data centralization designed to help facilitate rapid anomaly detection. By providing real-time visibility, I believe SEM is especially proficient in helping you find potential issues and identify suspicious traffic trends. I also think SEM offers a wider range of metrics than Splunk, giving users additional insight into their IT environments. While some of these metrics may not be necessary for daily use, they can prove useful during troubleshooting activities.
I think SEM's search engine, nDepth, is very powerful, allowing you to locate specific events and event data. You can use nDepth to conduct historical data searches and the results will be displayed intuitively, dynamically, and visually for ease of interpretation. SEM's log analyzer utilities provide detailed information, such as event name, event severity, IP of the source machine, time of detection, protocol usage, insertion time, and more. I think the search engine in Splunk is equally capable, but I found it to be slower than SEM.
Despite Splunk and SEM being fairly evenly matched in terms of features, I think the finer details differentiate these two products. I believe SEM is faster, easier to get started with, and includes native EDR and file integrity monitoring, which are only available with Splunk if you use third-party add-ons.
I think this Splunk alternative is one of the most user-friendly solutions available, making it easier to interpret data and take informed action. A fully functional 30-day free trial of SolarWinds SEM is available.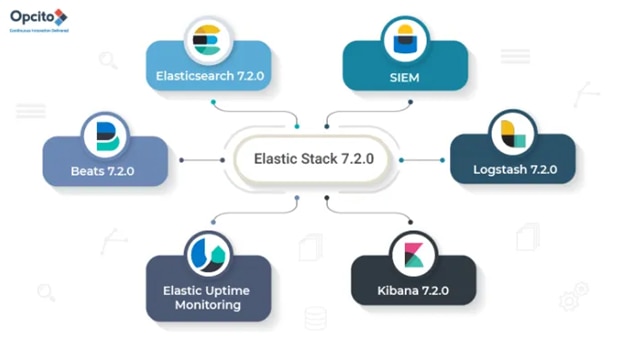 Elastic Stack, formerly known as ELK Stack, is in my opinion a good open-source Splunk alternative. Elastic Stack is made up of four distinct tools: Elasticsearch (an analytics and search engine), Logstash (for pipeline processing and log ingestion), Kibana (providing data visualization for Elasticsearch), and Beats (agents that gather and send information to Logstash).
The initial installation of the Elastic Stack gives you access to the utilities necessary to ingest, ship, and display log data, all via a web-based user interface. Splunk also has a web-based interface, called Splunk Web, accessible through a standard web browser.
As an open-source solution, Elastic Stack can be downloaded and run for free, although the free version does have some limitations. To access the full range of log management capabilities available with Elastic Stack—such as alerting, access controls, graphing, and reporting—you'll need an Elastic Stack subscription. The free version of Elastic Stack does, however, grant you access to a vast community of developers and a huge library of plugins. As a commercial program, Splunk doesn't provide the same benefits associated with open-source tools like Elastic Stack.
However, in my opinion, Elastic Stack isn't as easy to run as Splunk and other solutions. Because Elastic Stack is a self-hosted tool, I found it requires extensive configuration and setup before it can function properly as an enterprise-grade log management tool. I think the setup process for Splunk is also reasonably complicated and users often complain it could be faster and more straightforward. Elastic, the provider behind Elastic Stack, also offers a cloud-hosted version of Elasticsearch, but hosted Kibana and hosted Logstash versions can only be obtained via third-party software providers, like Azure and AWS.
Unfortunately, like Splunk, I believe Elastic Stack is also expensive to run at scale when compared to other competitors. You can start a free trial of Elastic Cloud by clicking here.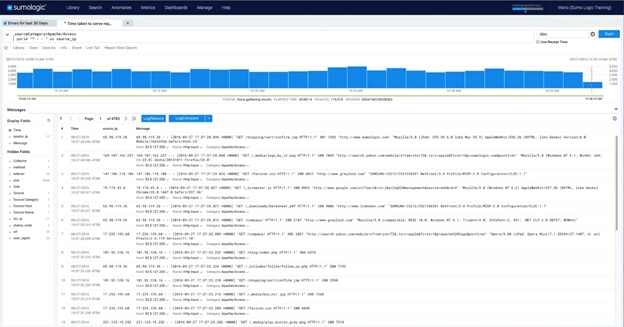 Sumo Logic has positioned itself on the market as a cloud-based Splunk competitor. This is a SaaS solution with a focus on delivering enterprise-grade, scalable, and user-friendly log management capabilities. Because Sumo Logic is hosted, it can automatically scale to reflect the volume of your logs and support several terabytes of data every day. I believe this gives it a notable advantage over Splunk, which makes scaling up cost-effectively a challenge and struggles with large volumes of data.
Sumo Logic can collect metrics from cloud platforms and host machines, enabling you to monitor system health alongside log data. This Splunk alternative collects and transfers data from the host systems by using agents (known as Installed Collectors). Similar to Splunk, you can extend functionality in Sumo Logic by implementing add-ons, although I found the Sumo Logic marketplace of apps to be more limited than the Splunk offering.
Unlike Splunk, Sumo Logic does not provide the option of an on-premises installation, which may put off some buyers. This is a cloud-based service, which you can purchase on a subscription-based plan. I think another benefit of using Sumo Logic as a Splunk alternative is it can be set up in typically a few minutes, while Splunk can take a couple of days to be fully configured and ready to run. A free 30-day trial of Sumo Logic is available.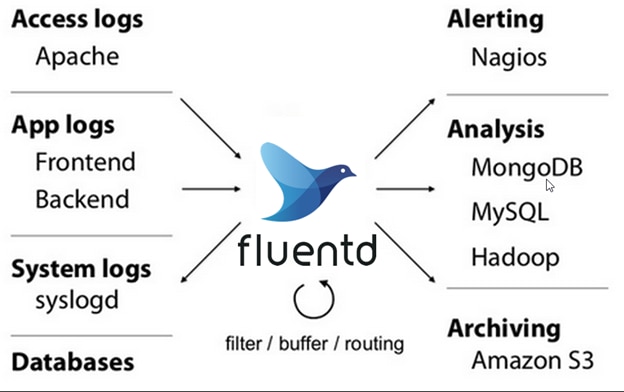 Fluentd is a free open-source solution that enables you to ingest structured, semi-structured, and unstructured datasets. This tool functions differently from Splunk, because it's essentially an intermediary for outputs and data sources, allowing data to be converted and routed for multiple platforms, applications, programming languages, and services.
Unlike Splunk, Fluentd doesn't provide log management and log shipping capabilities, but its functionality can be extended by integrating it with other tools via plugins. Plugins can provide support for other outputs and inputs. For instance, you could extend Fluentd to support the ingestion of Amazon CloudFront logs by adding a plugin called cloudfront-log. Although this means you have to create your own log data management tool from the ground up, I think many users like having the ability to pick and choose their plugins and create a solution tailored to their needs.
Because Fluentd must be combined with other programs to form a comprehensive log management tool, I found it harder to configure and maintain than many other solutions. This means, like Splunk, I believe it requires a lengthy setup and can feel complicated during the initial stages of configuration.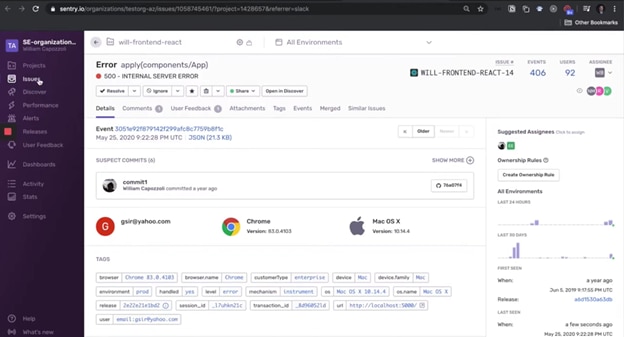 If you have your heart set on a Splunk open-source alternative, in my opinion Sentry is another viable option. This tool monitors and resolves crashes and other issues in real time, iterating continuously to identify errors and boost employee efficiency. While Splunk claims to get you started in a couple of days, I believe you can set up Sentry with no more than a few code lines. Although the alerts system for Sentry isn't as advanced as Splunk, I found it can send alerts via email, chat, or SMS, according to the already existing workflow.
I also found the interface in Sentry to be easy to navigate and use, making interpreting data and error notifications easy and quick. I think Sentry can't provide the same range of SIEM and log management utilities as Splunk, but it remains a popular open-source Splunk alternative with reliable error monitoring. If you're looking for a robust free Splunk alternative, I believe Sentry may be right for you. You can start for free then upgrade to a pay-as-you-go version when you're ready to expand your usage. You can sign up here.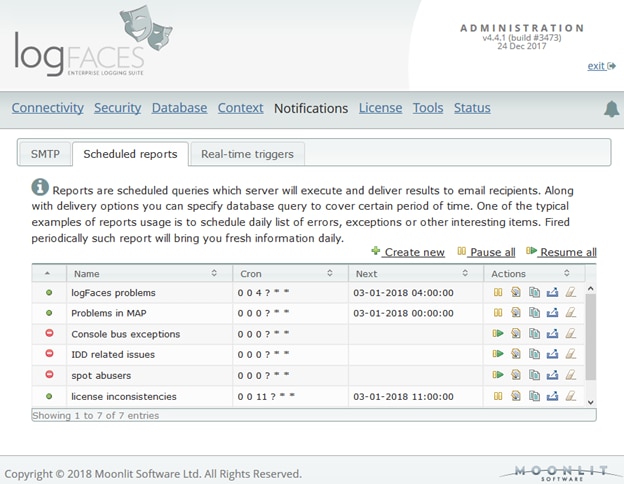 I believe LogFaces delivers a simple, but functional logging tool for applications and is non-intrusive by nature. This tool specializes in log aggregation, storage, analysis, and display. Although I feel it can't match the range of SIEM features in Splunk, in my opinion it serves as a highly effective logging suite. I found the out-of-the-box log server included with LogFaces allows you to get started much faster than you can with Splunk. Because there are no subscription fees or usage limits, I also believe LogFaces is cost-effective, making it a more affordable option than Splunk—particularly if you anticipate significant growth. A fully-featured 20-day free trial is available.
Choosing the Right Splunk Alternative
There are plenty of viable Splunk alternatives to choose from, many of which I believe can compensate for the disadvantages associated with using Splunk—such as expense and a lengthy setup process. Of all the solutions available, in my opinion, SolarWinds SEM ticks the most boxes. I found this solution to be user-friendly, quick to set up, requires no form of expertise, and offers a similar range of powerful features. You can try SolarWinds SEM free for 30 days.