A network analyzer allows admins and security teams to monitor network traffic in real time so they can troubleshoot existing problems and identify potential issues within a network. Below, we discuss more about these tools and what they can offer IT teams.
If you'd like to jump ahead to a top pick for a network protocol analyzer, take a look at SolarWinds® NetFlow Traffic Analyzer (NTA). It's an easy-to-use, affordable option built to let you analyze NetFlow protocol data for insight into traffic patterns.
What Is a Network Protocol Analyzer?
What Are the Benefits of a Protocol Analyzer?
Troubleshooting
Security
Establishing Baselines
Network Traffic Monitoring
Five Best Network Protocol Analyzers
SolarWinds NetFlow Traffic Analyzer (Free Trial)
ManageEngine OpManager
Azure Network Watcher
Paessler PRTG Network Monitor
Wireshark
Getting Started With Network Protocol Analysis
What Is a Network Protocol Analyzer?
Network protocols are the rules and formats allowing reliable data transfer over a network. Network protocol analyzers are useful monitoring tools designed to enable IT administrators to capture data (including protocol data), observe network traffic, and analyze data to spot problems or potentially malicious traffic. A network analyzer is also sometimes referred to as a "packet sniffer" or a "packet analyzer" when it's used to examine data packets as they move in and out of the network.
Most modern networks limit traffic to the paths directly between client and server for performance and security reasons. Network monitoring tools integrate into network hardware or software using sensors placed at set points within the network. These sensors allow network administrators to mirror network packets passing through the switch to a single port.
Though you can perform network protocol analysis manually on-premises, for cloud-based or hybrid networks, there are also a wide variety of wireless network protocol analyzers built for organizations of all sizes—from smaller networks to enterprise networks with a wide range of on-premises and cloud network devices.
There are two main types of network protocol analyzers. The first is ad hoc network protocol analysis tools. These monitoring tools can be used for specific protocol analysis and allow IT admins and security teams to monitor specific issues. These network monitoring tools are often budget-friendly options for smaller organizations just beginning to dive into protocol analysis. Teams can usually acquire them for little or no cost, and they generally require little technical expertise to install. But because they're limited to specific protocol analysis, ad hoc monitoring tools aren't ideal for larger networks with many different network devices.
The other option is enterprise network protocol analyzer tools. The best network protocol analyzers provide round-the-clock network monitoring and options for scheduling various alerts to let admins and security teams know immediately if network issues or security threats occur.
Network protocol analyzers allow you to monitor bandwidth usage by application. It's critical to be able to see which applications are consuming most of your network's bandwidth. However, you don't necessarily need to look at every single application—instead, you can look at protocol bandwidth usage, which makes it possible to see irregularities like problematic IPs.
An automated tool makes it possible to track application traffic based on protocols and get alerts when thresholds are exceeded. You can capture flow packets, see traffic data patterns, and generate reports as needed. For full context around protocol analysis, a tool should let you see source and destination addresses as well.
What Are the Benefits of a Protocol Analyzer?
Adopting a network protocol analyzer has myriad benefits for security purposes and network bandwidth monitoring. The right protocol analysis tools help keep your network safe from malicious traffic, reduce downtime, and help your IT administrators establish and document baseline traffic to set alerts and warn teams the second network issues arise. Here are a few of the key benefits of adopting a network protocol analyzer.
Troubleshooting
As issues arise within a network, it can sometimes be difficult to trace the root of the problem. Establishing a baseline for network traffic and watching for irregularities while capturing specific data for packet analysis can enable teams to take a closer look at recurring issues.
Security
A network protocol analyzer can help your IT admins and security teams detect and identify malicious traffic. It will also allow for customized alerts built to send the right notifications to the right team members when network issues or security threats arise.
Establishing Baselines
A good protocol analyzer allows you to establish baseline traffic patterns and network utilization metrics.
Network Traffic Monitoring
Adopting enterprise network monitoring software will allow your team to observe network traffic and locate unauthorized instant messaging (IM), traffic, or wireless access points.
Five Best Network Protocol Analyzers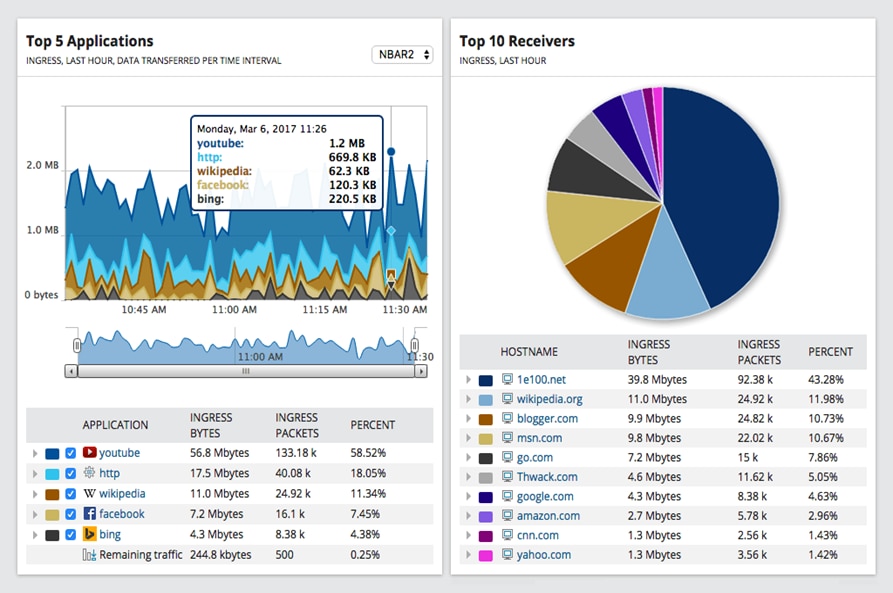 For corporate and enterprise networks looking for network protocol analyzer tools, SolarWinds NetFlow Traffic Analyzer can help analyze traffic patterns and reduce downtime by capturing data from outgoing and incoming traffic. NTA makes it easy to understand which applications are consuming your bandwidth. Easily monitor usage based on protocols and gain useful insights into traffic patterns so you know where to start your analysis and troubleshooting. You can also monitor by ports and source or destination IPs. NTA can also help with malicious traffic identification by adding new functionalities for port 0 monitoring.
SolarWinds NetFlow Traffic Analyzer allows you to set alerts and warn administrators when a network issue happens. By tracking and monitoring your baseline network traffic—whether it's over months, days, or minutes—and setting alerts for when those traffic levels become abnormal, administrators can keep networks secure and minimize downtime.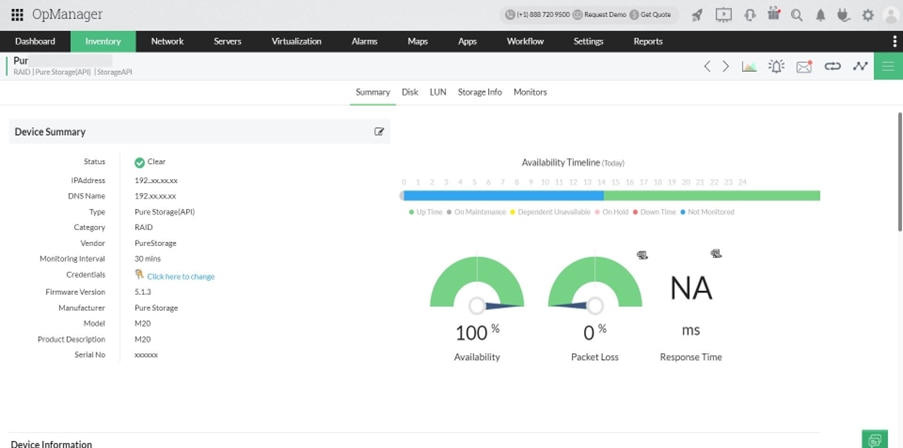 © 2022 Zoho Corp. All rights reserved.
ManageEngine OpManager is a network analyzer designed to provide myriad capabilities for organizations both large and small. OpManager provides an affordable option with easy setup and includes tools for protocol analysis—including real-time network monitoring for metrics such as packet loss, latency, speed, errors, and discards—and tools for analyzing performance bottlenecks.[TA1]
Additionally, for organizations looking to simplify their arsenal of network monitoring solutions, OpManager has consolidated multiple tools, including GUI, graphs, and reports. Integrated network management software helps provide real-time network monitoring while offering insights into problematic areas of the network. It also allows for troubleshooting via root cause analysis capabilities.
Perfect for organizations looking for solutions capable of integrating with Microsoft products or for those who have already migrated to Azure cloud-based services, Microsoft Azure Network Watcher is a packet capture tool designed to allow you to create filters to capture only the network traffic you're looking to monitor. In addition to helping segment and track network traffic, Network Watcher gathers network statistics, provides information on network intrusions, and can help debug client-server communication.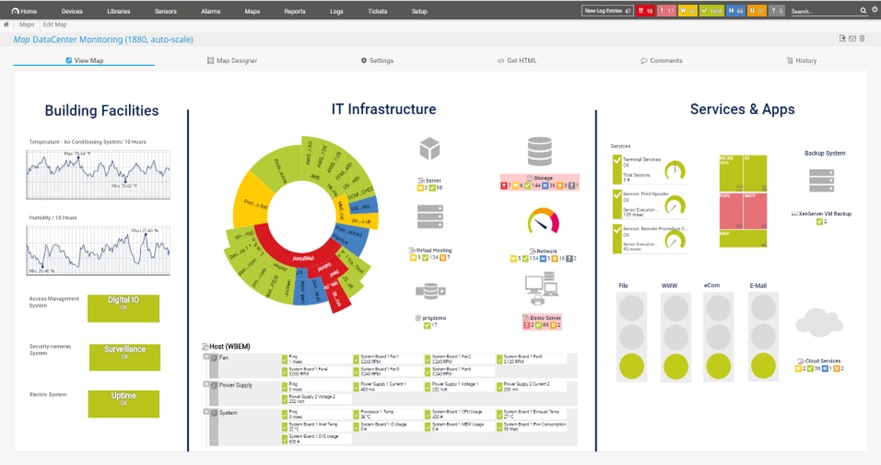 Paessler PRTG Network Monitor provides a nice, affordable tool for packet sniffing, SNMP, and NetFlow without requiring too large an investment. This protocol analysis solution is cheap and easy to understand. The solution offers organizations a blend of infrastructure monitoring, flow monitoring, and packet sniffing. PRTG is free to try for the first 30 days and then defaults to its basic model, with subscription licenses available.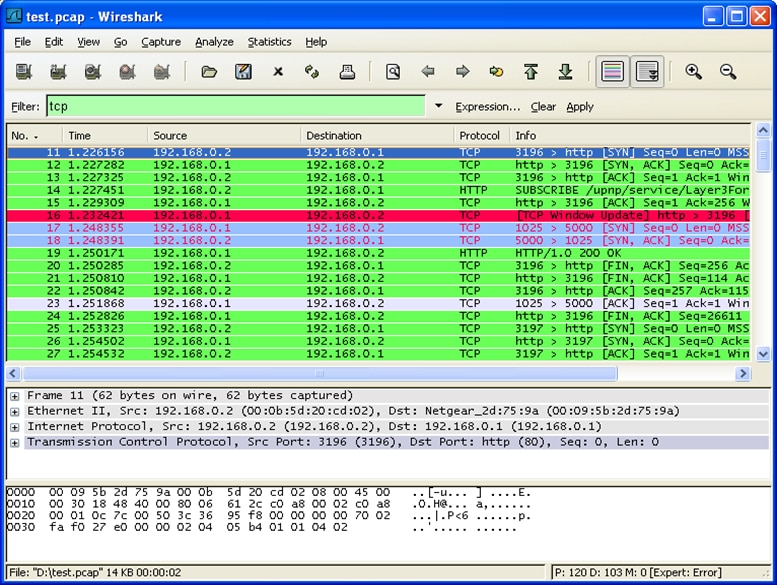 ©2022 Wireshark.org
One of the most widely used network protocol analyzers around, Wireshark provides free network protocol analysis tools for smaller networks or organizations just beginning to assess their network monitoring needs. Wireshark comes equipped with a three-packet browser designed to integrate with Windows, Linux, macOS, Solaris, FreeBSD, NetBSD, and more to offer live capture and offline analysis.
Getting Started With Network Protocol Analysis
Monitoring your network traffic can be easier than you think with the right tool in hand. The functionality and security benefits make it worth giving one of these tools a try. For all the functionality you need at an affordable price, I suggest starting with a 30-day free trial of SolarWinds NetFlow Traffic Analyzer.