The modern network infrastructure deployed across enterprises has grown bigger and more challenging to manage. To avoid common network performance issues such as high bandwidth usage, weak Wi-Fi signals, unexpected heavy traffic, and unwanted intrusion across networks, it's become imperative for organizations to regularly perform network analysis. IT teams can ensure network availability, troubleshoot quickly during network failures and avoid unexpected delays through timely network analysis. It's an efficient way to keep tabs on the network bandwidth consumption, applications and devices, total uptime, and traffic at each node to mitigate network outages and other bottlenecks.
he manual network traffic analysis network admins and IT professionals use can be time-consuming, expensive, prone to errors, and resource-intensive, leading to increased downtime. As a result, many companies have started leveraging automated network analysis tools to monitor network traffic more easily and maintain efficient network health. These tools can offer a complete view of the network to better understand network traffic, quickly resolve issues, and optimize network speed. Below, we've outlined what we believe are the best network analysis tools IT teams can leverage across their networking infrastructure, regardless of its configuration and size. To skip right to the top-recommended network analysis tool, check out SolarWinds® Network Performance Monitor (NPM). It's designed to be a user-friendly and cost-effective tool with extensive capabilities—including intelligent alerting, reporting, data analytics, and customizable dashboards—designed to help you achieve optimal network performance.
Key Benefits of Automated Network Analysis
How Does Network Analysis Software Work?
Top Five Network Analysis Solutions
1. SolarWinds Network Performance Monitor (Free Trial)
2. SolarWinds NetFlow Traffic Analyzer (Free Trial)
3. Paessler PRTG Network Monitor
Network Analysis Tools Conclusion
Key Benefits of Automated Network Analysis
Outlined below are some benefits of automated network analysis:
Better visibility: Network analysis tools can provide deeper visibility and real-time insights into network components, devices, and applications. They help IT teams build network topology diagrams to get a clear picture of the data transfer between different network nodes, locate device type and site, and efficiently spot network vulnerabilities.
Fast network troubleshooting: Automated network analysis tools can help IT teams stay current with everything happening in the network so they can detect anomalies and limit their negative impact. A multitude of issues can lead to network performance degradation and outages. These tools help identify the exact root cause of the problems through continuous network monitoring, which significantly reduces the time to fix network faults.
Improved network performance: Network traffic analysis software can be designed to efficiently check Wi-Fi speeds, device availability, download/upload speeds, and other parameters. IT teams can also gauge key performance metrics such as latency, packet loss, jitter, bandwidth, and throughput to identify problems and avoid network slowdowns.
Optimized network security: Security issues can expose the network to cyberattacks, which can put sensitive company data at risk. Some network analysis tools can also collect security logs from many sources to help IT teams more quickly discover security issues across the network—such as unpatched software, firewall issues, unusual traffic spikes, and malicious activities—in their infancy and can help avoid business disruption.
How Does Network Analysis Software Work?
Modern IT network traffic analysis software can be classified into two different categories: packet inspection and network traffic flow-based analysis. Many of these tools are built to focus on collecting real-time data across the network from various sources, storing historical data to monitor past incidents and performance issues and helping users detect unforeseen anomalies.
IT network traffic analysis tools can work by capturing packets carried over the network to inspect and decode the information present in them in a user-friendly, visually appealing, and readable format for the enduser. By analyzing valuable packet information, network admins can more efficiently monitor traffic flow patterns and network performance. When investing in a network analyzer, companies should consider their network traffic and size, their software learning curve, the pricing, the functionalities offered, and their overall business requirements to help identify the best solution for their business.
Top Five Network Analysis Solutions
The following is a list of some of the best IT network traffic analysis tools we identified as the most interesting solutions on the market today:
1. SolarWinds Network Performance Monitor (Free Trial)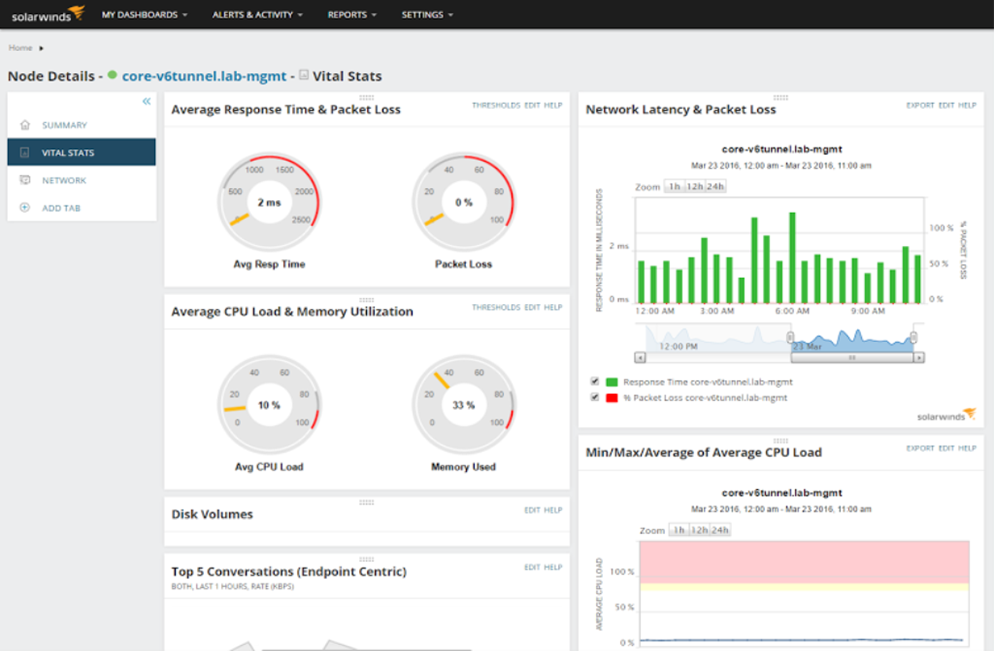 © 2022 SolarWinds Worldwide, LLC. All rights reserved.
SolarWinds Network Performance Monitor is built as an all-encompassing network monitoring software with a built-in network analysis tool. NPM can offer network monitoring reports, a quality of experience (QoE) dashboard for traffic analysis, and intelligent alerting designed to notify IT teams when critical performance metrics exceed predefined thresholds. It can also display current and historical performance metrics in customizable dashboards and user-friendly charts to help IT teams pinpoint the source of a problem. The NetPath™ feature in NPM can help users more easily track latency-related issues. Monitoring network packet paths from origin to destination can provide a clear, real-time picture of the overall performance, device configurations, and network traffic so IT teams can perform more accurate root cause analysis. It can also allow you to use historical views to analyze network path health and mitigate latency bottlenecks. Additionally, NPM offers the PerfStack™ feature, which can allow for a quick data comparison and detailed performance analysis across different metrics, such as network interface utilization, storage IOPS, and more via drag-and-drop functionality on a single chart. As a result, network admins can more easily troubleshoot, maximize uptime, and improve performance across network devices. You can download a fully-functional free trial of SolarWinds Network Performance Monitor for 30 days.
Learn More About the Product Download Free Trial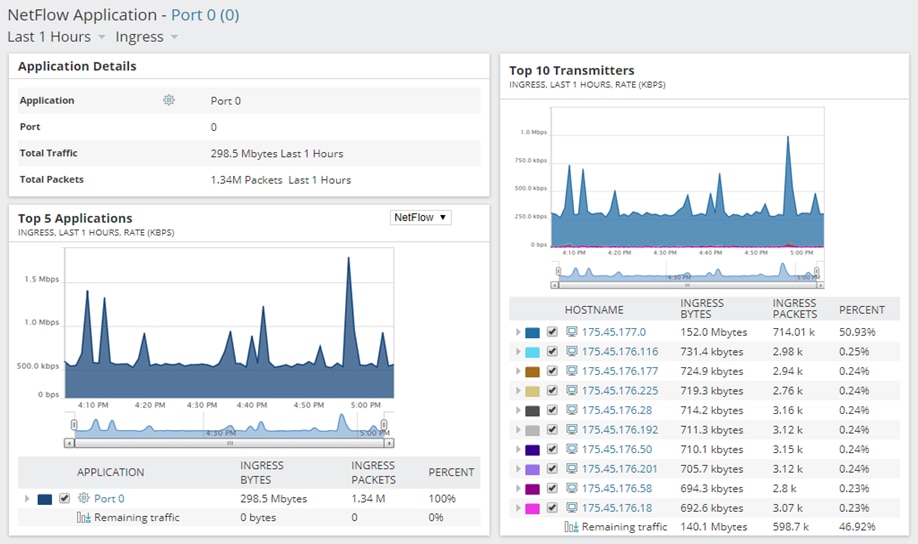 © 2022 SolarWinds Worldwide, LLC. All rights reserved.
SolarWinds NetFlow Traffic Analyzer (NTA) is built to be a powerful network traffic and bandwidth analysis software. With NTA, IT teams can more easily view total bandwidth consumption and track flow for prominent vendors such as Cisco NetFlow v5 and v9, sFlow, Juniper, and IPFIX. The solution can help admins identify the endpoints and applications generating heavy traffic, allowing them to quickly identify bandwidth hogs. Depending on whether the bandwidth is being utilized for business purposes, admins can extend network capacity or block top talkers to prevent performance degradation. NTA also offers charts, tables, and customizable network bandwidth reports to help users better monitor current and historical traffic data, analyze bandwidth usage trends, and generate valuable insights. The tool can also provides class-based quality of service (CBQoS) data via SNMP to optimize traffic flow across the network and allow users to adjust policies for improved traffic management during congestion. IT teams can also set alerts for when bandwidth consumption crosses set thresholds. You can download a fully-functional free trial of NetFlow Traffic Analyzer for 30 days.
Learn More About the Product Download Free Trial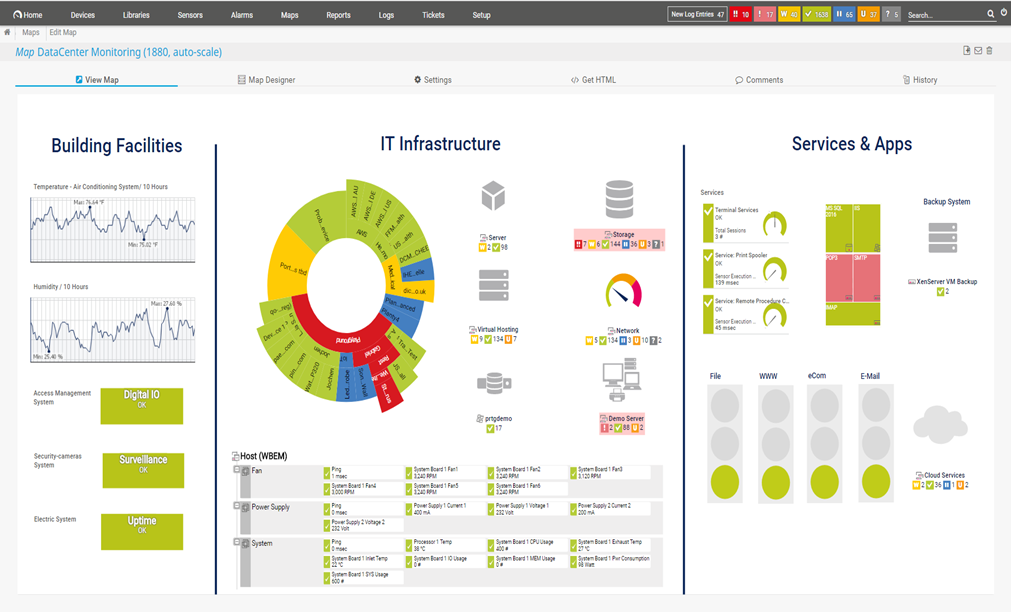 ©2022 Paessler AG
Paessler PRTG Network Monitoris designed to be an easy-to-use network monitoring tool teams can use to gain a view of complex IT networks in their entirety. It can also help network admins check the bandwidth and resource consumption of different devices and applications to help them provide lag-free performance and avoid delays. It can support network analysis and diagnosis through SNMP, NetFlow, and packet sniffing methods. PRTG Network Monitor is also built to provide a wide array of sensors for applications, operating systems, and hardware. Additionally, network admins can set custom alarms to troubleshoot suspicious developments across network data flow.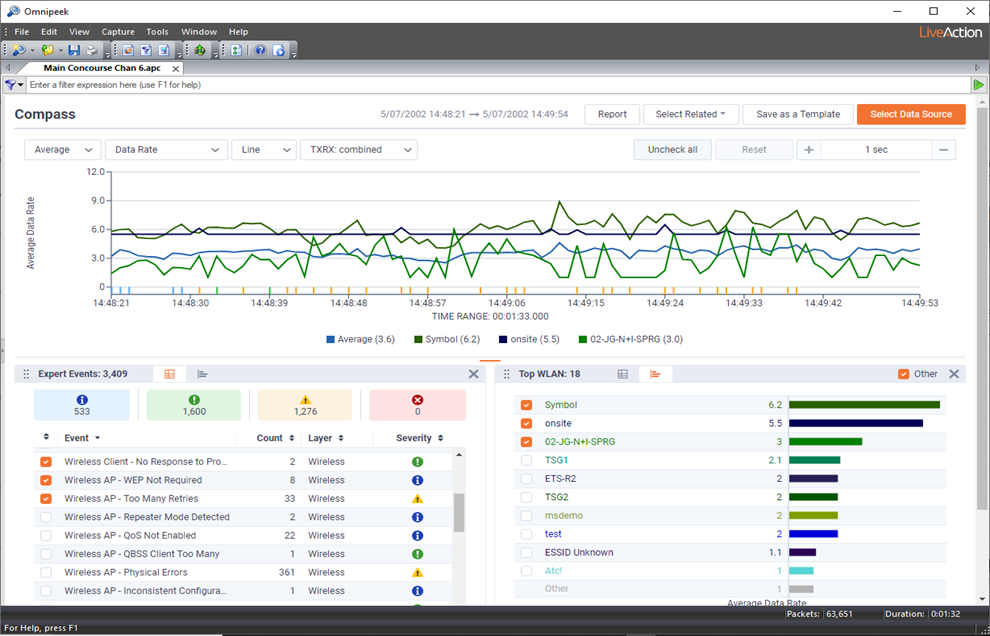 ©2022 LiveAction
We think Omnipeek is a high-performance packet analyzer tool built to help with efficient network protocol analysis and seamless network performance. It's designed to be capable of decoding thousands of protocols to identify, diagnose, and fix network issues. Omnipeek can also provide comprehensive analytics and insights about network speed, application performance, and security to help teams gain more complete visibility into the network. Admins can perform real-time traffic flow monitoring to identify common network bottlenecks and help accelerate time to resolution via intuitive graphic displays and visualization. Omnipeek can also conduct root cause analysis for varied network problems and trigger automated alerts if network policies are violated.
NetSpot Pro © 2022. DE, USA.
NetSpot is a free tool for Wi-Fi analysis and troubleshooting suited for macOS and Windows. We feel beginners and network experts alike can use NetSpot to visualize, manage, and troubleshoot wireless networks. NetSpot is built with two modes—discovery and survey—to show valuable Wi-Fi data and insights. While the discovery mode can give a complete overview of nearby Wi-Fi networks, the survey mode is designed to focus on delivering intuitive, colorful, and user-friendly heat maps to help reveal the signal strength of varying Wi-Fi connections. Network admins can more easily spot low connectivity and dead zones, helping them determine the best spots for access points and other networking equipment. NetSpot can also help network security experts and engineers track rogue access points, false intrusion alerts, prohibited workstations, and unwanted cross-channel interferences.
Network Analysis Tools Conclusion
Network analysis plays a significant role in ensuring smooth network performance, and companies can choose from a wide range of network analysis tools available in the market. These tools come with their own sets of capabilities and defined focus areas. For an easy-to-use network analysis software with a wide range of robust features, we recommend SolarWinds Network Performance Monitor and SolarWinds NetFlow Traffic Analyzer. With advanced capabilities such as intelligent mapping, network capacity planning, intuitive performance analysis dashboards, interactive reports, and network insights, these tools can help you more efficiently address the comprehensive network analysis requirements and demands for businesses of all types and sizes.