For IT administrators, network congestion is a looming possibility, with money and time on the line if your network is running slowly. Because network congestion is a common problem with many potential origins, your IT team needs a network congestion solution to identify slow traffic and get your network running quickly.
In this article, we'll look at six tools for network congestion management. There are plenty of ways network congestion is a problem, and each software offers something a little different for IT managers. My top pick for a software solution is the SolarWinds® bandwidth analyzer pack (BAP), which offers a comprehensive set of tools to suit your needs. Before you can decide on the best solution for your network, here's what you need to know.
What Is Network Congestion?
Reasons for Congestion in a Network
Troubleshooting — Monitor, Solve, and Reduce Network Congestion
Network Congestion Automated Solutions
How Do I Choose My Network Congestion Solution?

What Is Network Congestion?
Network congestion occurs when your network is operating at a slower-than-normal speed, creating slow response times on your devices. Network congestion can also lead to difficulty accessing internet services, low-quality user experiences, and network timeouts.
Network congestion is affected by three main factors: bandwidth, throughput, and network latency. Each of these terms describes the way data is transmitted to and from devices on your network. When these measures of data transmission are underperforming, your network can become congested. 
Bandwidth: The potential capacity of your network is measured by your bandwidth. If a network has high bandwidth, it can transmit a large amount of data in a short period of time. With low bandwidth, your network is more vulnerable to congestion. 
Throughput: Throughput is similar to bandwidth, but it's based on your real network history. Throughput measures the amount of real data communicated from one device to the next on your network over time. With less bandwidth, you'll have lower throughput.
Latency: Because data is transmitted across your network on a uniform path, a high volume of data can slow down the transmission of data. Slow traffic is referred to as high latency, while low latency allows data to travel at a faster speed. Streaming and video services require a low latency network, so congestion can have a major impact on these services. High latency leads to congestion.
Low bandwidth, low throughput, and high latency all lead to network congestion. At best, these issues can lead to slow device performance—and at worst, data loss or frozen screens.
Reasons for Congestion in a Network
The web traffic protocol aims to ensure data is transmitted efficiently by travelling a minimal distance from one device to the next. But the shortest route isn't always the fastest—data packets can get clogged when they're all on the same route, and congestion occurs as a result. Some of the most common causes of network congestion are:
Too much activity
An overactive network is one of the most intuitive ways congestion can occur. When there are too many devices competing for bandwidth, data transmission will slow down to process all the data in your system.
Inefficient network configuration
Some networks are designed to run more efficiently than others. Without an optimal network configuration, networks with a reasonable amount of activity can become congested. Make sure your subnets aren't too big and assign each device a role that optimizes the flow of traffic.
Devices using too much bandwidth
When overactive devices are running on your network, network throughput can decrease. Whenever a large amount of traffic is traveling through your network at the same time, data packets can get backed up on their routes. Too much activity is caused by "bandwidth hogs": devices that either communicate too much data or run too frequently.
Compromised security
Not every instance of slow device performance means your network has been compromised. However, it's important to recognize a security breach is a potential cause of network congestion. If your network has experienced a security attack, event and firewall logs can help you figure out where it occurred.
Troubleshooting — Monitor, Solve, and Reduce Network Congestion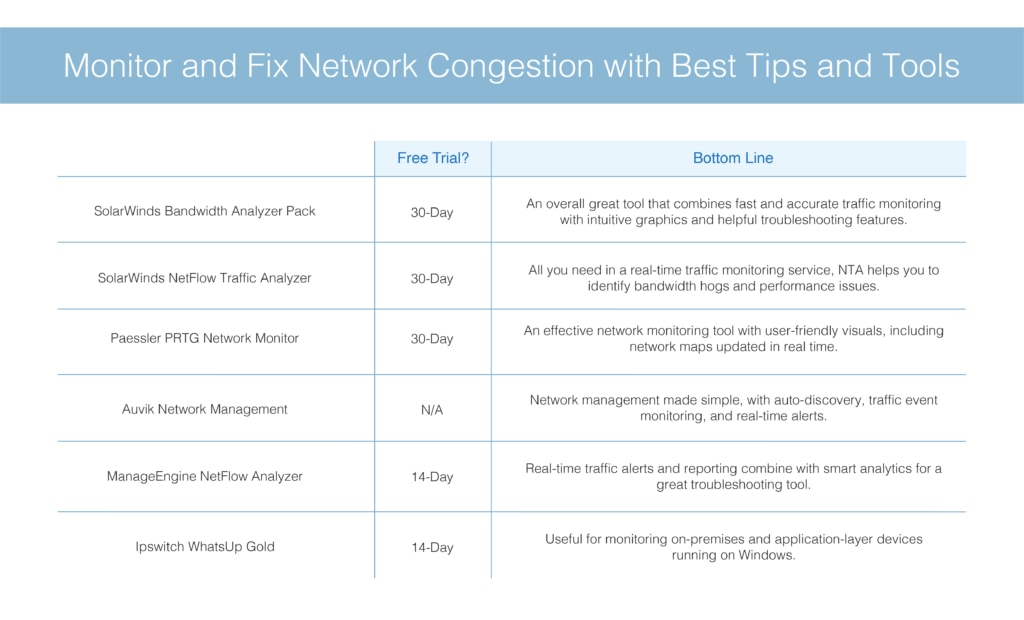 Your IT team needs a trustworthy way to monitor and fix network congestion, and there are plenty of options when it comes to network congestion solutions. Although there are many different services available for resolving network congestion issues, the general model of any network traffic management software is to:
Identify congestion
Diagnose where and why it happened
Inform your troubleshooting
As long as there are networks, there will always be a certain degree of network congestion. Network congestion management software offers a reliable way to minimize the amount of congestion and keep your network up and running. Network congestion solutions offer a way to pinpoint the origin of slow performance with an automated solution for a streamlined approach to network traffic management.
Network Congestion Automated Solutions
Network congestion is one of the most critical problems to address as an IT administrator. If you're looking to manage network congestion for networks large or small, these services are your best bet.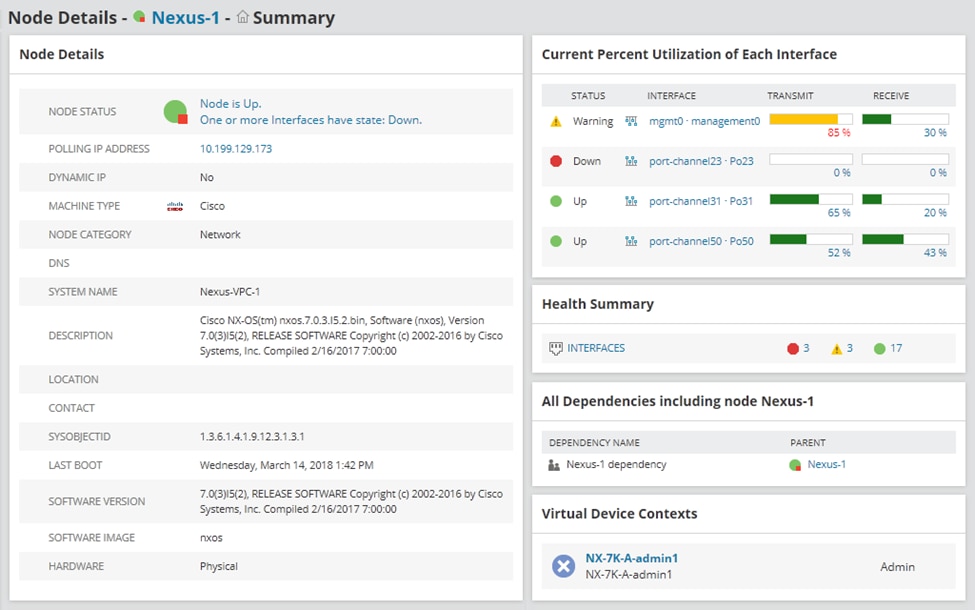 There are plenty of different causes for network congestion, and the best services offer analytics for all the relevant parts of your network. For identifying, analyzing, and troubleshooting network congestion issues, the SolarWinds bandwidth analyzer pack is among the most comprehensive service in the game. BAP combines SolarWinds network products Network Performance Monitor and NetFlow Traffic Analyzer, so you can get a complex understanding of network performance, including wireless monitoring and multi-vendor monitoring.
SolarWinds BAP offers the intuitive user interface we've come to expect from the SolarWinds brand, with interactive graphs and displays. To fix network congestion, BAP starts with network traffic monitoring—including SNMP, NetStream, J-Flow, and other data types. Monitoring data routes allows you to identify bandwidth bottlenecks in real time, with alerts based on customizable thresholds. For troubleshooting, BAP helps you to identify trends with PerfStack™ analytics, a feature unique to SolarWinds, which allows you to correlate traffic data to identify the root cause of congestion.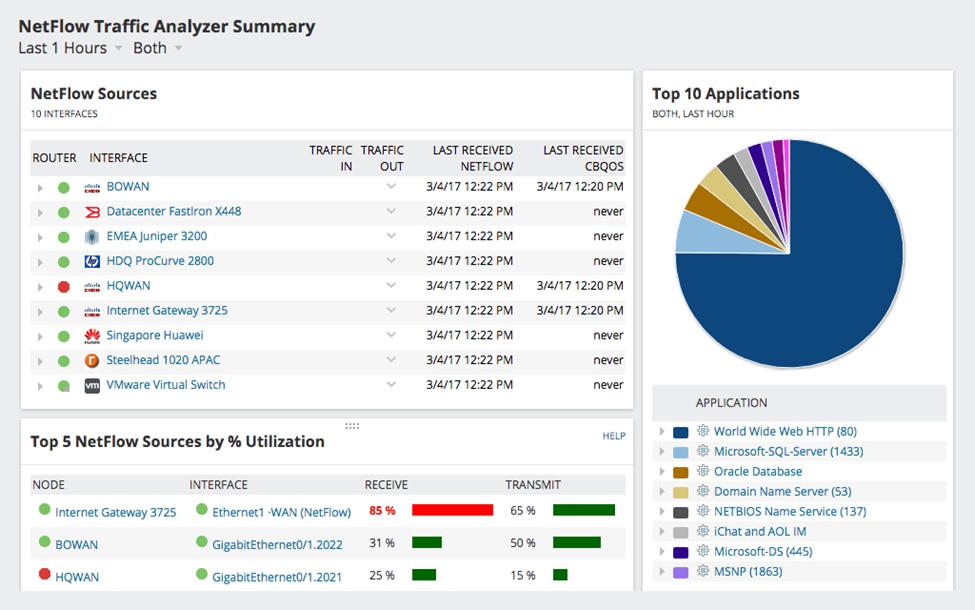 The second SolarWinds product on this list is a component of the first one. SolarWinds NetFlow Traffic Analyzer (NTA available in Network Bandwidth Analyzer Pack) focuses on bandwidth usage, with the ability to quickly receive bandwidth data from your network devices, then convert bandwidth usage into intuitive graphics. You can receive alerts when bandwidth is low, generate traffic reports, and perform QoS tests to ensure your devices are performing up to speed.
Like the bandwidth analyzer pack, SolarWinds NTA offers network traffic monitoring with trend analytics available using the PerfStackfeature. NTA is a great tool for monitoring network congestion and identifying low bandwidth before it affects end-user performance.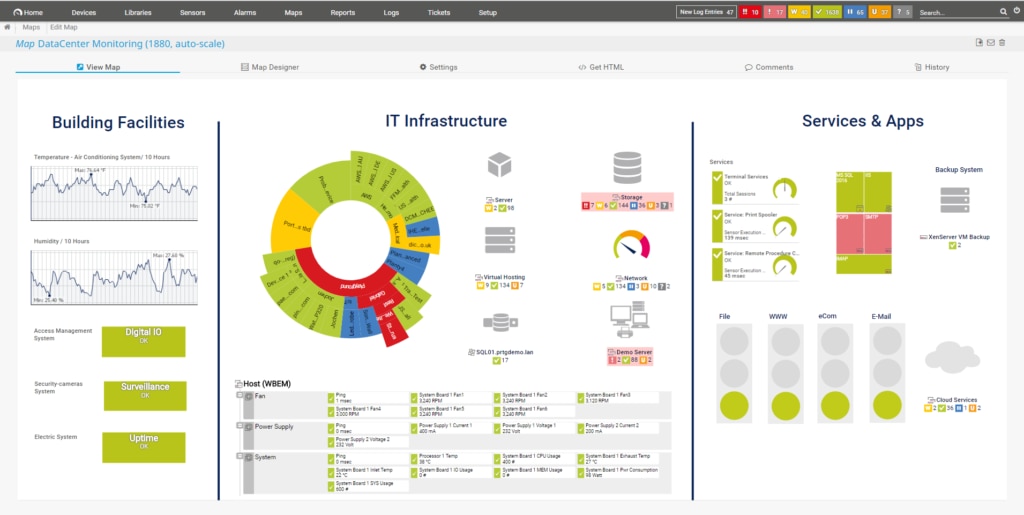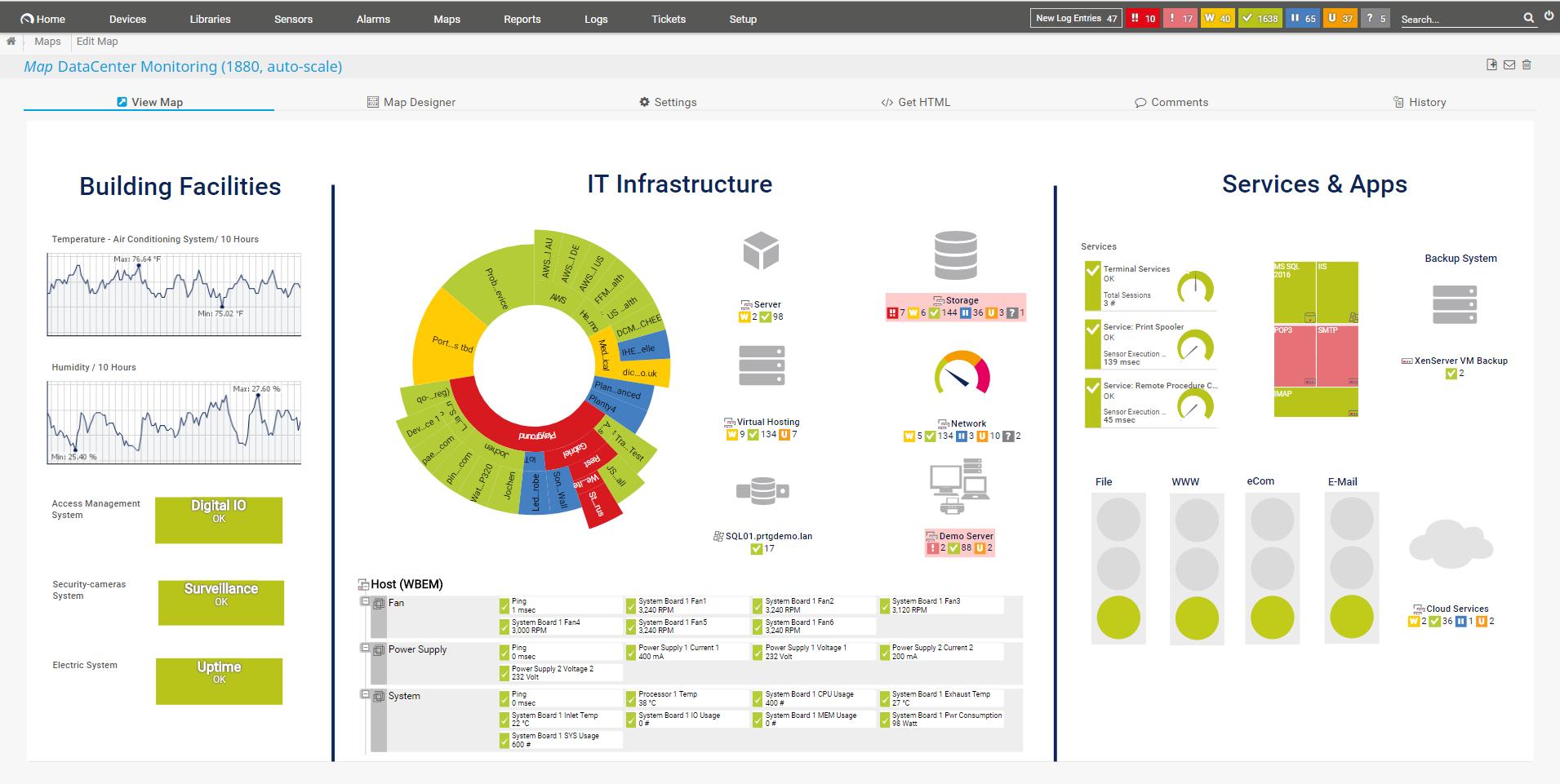 The PRTG Network Monitor provides a respected set of tools for network monitoring, which include real-time metrics to identify congestion fast. Maybe the most unique feature of the PRTG Network Monitor is its ability to update network maps with real-time bandwidth metrics. Once you've created a PRTG map of your network using the software's map making tool, you can continuously monitor devices on your map in a visually intuitive way. PRTG Network Monitor is compatible with the major operating systems.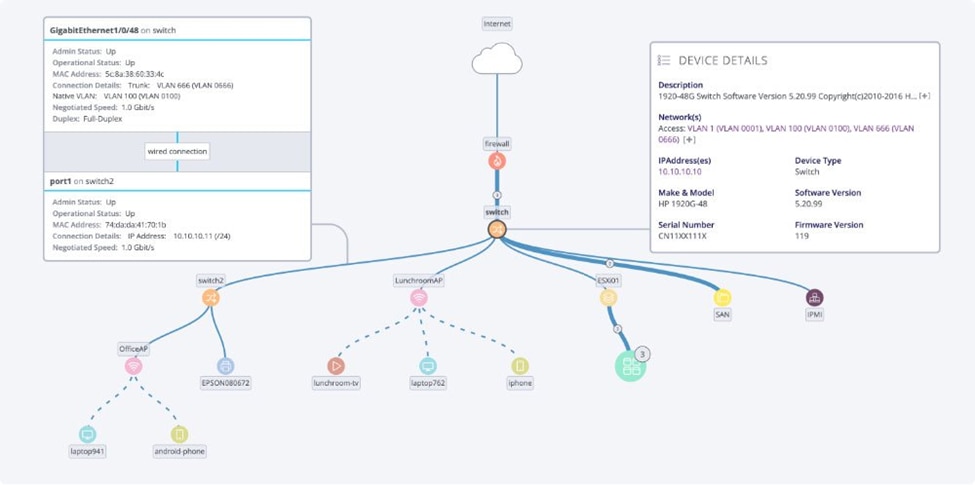 Auvik network congestion monitoring allows you to monitor your network traffic on the same platform as your asset management system. You can link devices with auto-discovery, which allows you to receive real-time traffic reports from discoverable devices as soon as they're up and running. Troubleshooting is more of a manual task with Auvik than with other services—your team will still need to identify correlations based on your own event log analysis. 
NetFlow Analyzer is helpful for network traffic monitoring, and you can use ManageEngine tools to effectively fix network congestion issues. A notable advantage of NetFlow Analyzer is its ability to shape traffic for applications only, so you can redirect traffic from congested areas and prevent the delivery of suspicious packets. In addition to traffic monitoring, NetFlow Analyzer helps you to generate user-friendly performance reports for effective troubleshooting.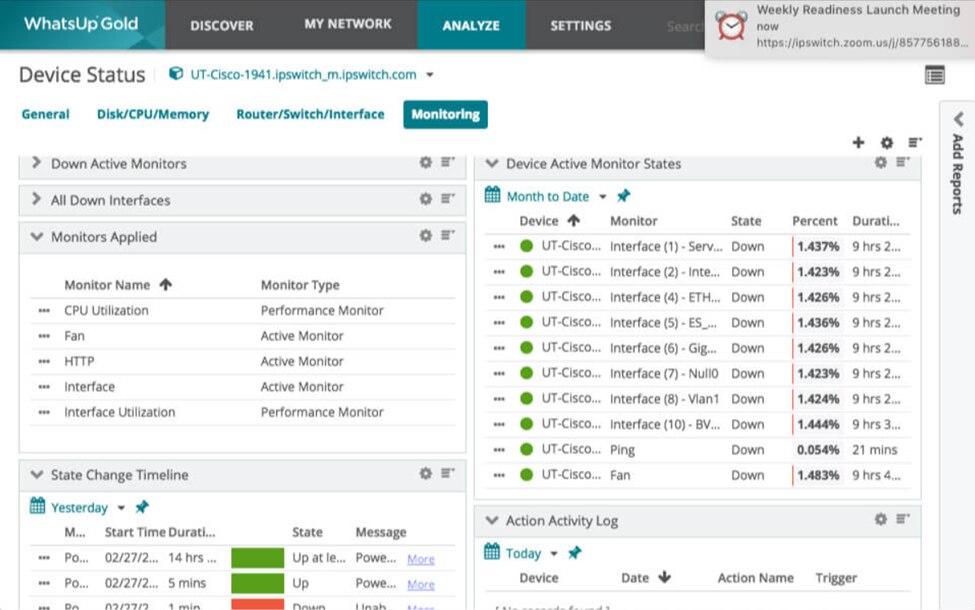 Even though it's last on the list, WhatsUp Gold is still a complete network solution to network congestion with plenty of benefits. WhatsUp Gold is especially useful for monitoring traffic from applications and monitoring on-premises Windows devices. With alerting and report templates, you can identify and troubleshoot network performance bottlenecks with a user-friendly approach to network traffic management.
How Do I Choose My Network Congestion Solution?
Network congestion isn't just an annoyance—it can cause serious financial damage. A slow network can cause costly downtime, unhappy customers, and lost data. Because network efficiency is so important for any company's bottom line, reducing network congestion is one of the most important tasks in IT administration.
The best traffic management services offer a multi-pronged approach for detecting slow traffic and providing user-friendly analytics. Even though there's no single fix to eliminate network congestion, your IT team has plenty of options to minimize congestion and keep your network running smoothly. I suggest starting with a 30-day free trial of the SolarWinds bandwidth analyzer pack.