ITIL (Information Technology Infrastructure Library) refers to a subsection of ITSM (IT service management) focused on making sure businesses can keep up with their IT needs.
Since digital needs change quickly and change often, ITIL is less of a step-by-step list than a guiding framework. You can break down ITIL best practices in different ways. For example, you can divide these practices into areas within ITSM, like incident management, problem management, and service-level management. ITILv3 (we're in ITILv4 right now) is divided into five volumes corresponding to the different aspects of ITSM: service strategy, service design, service transition, service operation, and continual service improvement. Clearly, service is an important part of ITIL, and a good portion of ITIL benefits fall under this subcategory.
In this guide, I'll discuss the benefits of ITIL and how you can achieve these benefits more easily with the right ITIL management solution.
Top 10 ITIL Benefits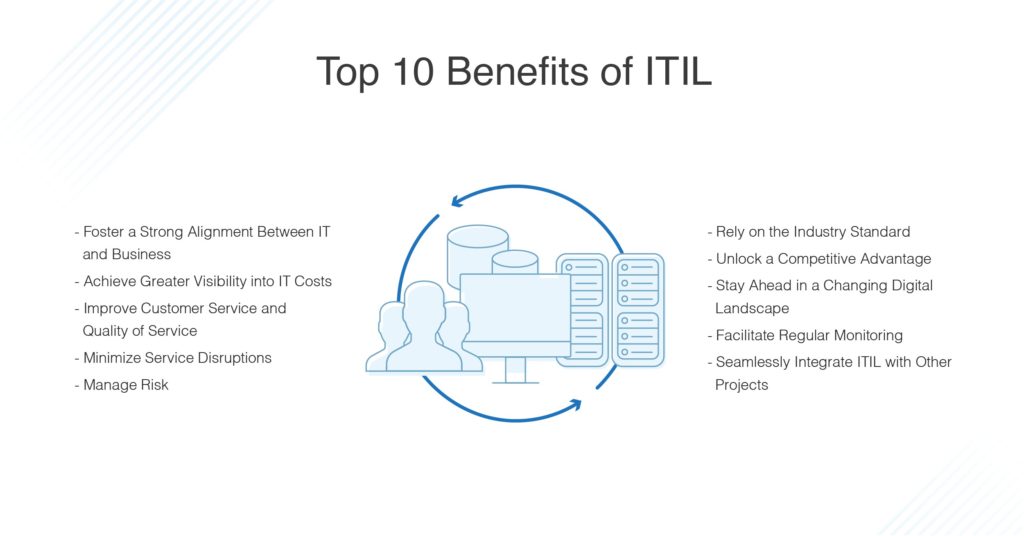 Foster a Strong Alignment between IT and Business. One of the interesting things about ITIL is it brings together two departments whose interests don't often intersect—business and IT. Most of the time, IT is only concerned with solving technical issues, but this concern changes with ITIL. ITIL ensures IT concerns and business concerns are one and the same, which fosters better communication and a stronger commitment to service.
Achieve Greater Visibility Into IT Costs. Facilitating the ability to cut down on overhead costs is one of the other business-centric benefits of ITIL. Without ITIL best practices in place, you could end up paying for software you don't need or running up service costs. ITIL's metric-based strategies help keep you on budget and give you the hard numbers you need to make important cost-cutting decisions.
Improve Customer Service and Quality of Service. ITIL benefits are all about service. From an IT standpoint, ITIL best practices keep a business's operating systems running smoothly, so customers can enjoy the highest-quality user experience. More specific subsets of ITIL, like service-level management, help businesses understand what customers have come to expect from them, so they can act accordingly.
Minimize Service Disruptions. Minimizing service disruptions is one of the primary benefits of change management. ITIL change, incident, and problem management processes focus on preventing service outages and repairing them quickly when they do occur. This includes everything from applying software patches to generating incident tickets to upgrading OS across the entire company. In my book, this is the single most important benefit of ITIL.
Manage Risk. All of the ITIL benefits I've mentioned so far contribute to helping a business manage risk. When you have a strong alignment between business and IT and nothing falls through the cracks, you mitigate risk. When you minimize service disruptions by employing ITIL best practices and keeping your systems up-to-date, you mitigate risk. When you ensure a consistently high quality of service, you mitigate risk. ITIL helps you create accurate, repeatable processes to keep quality consistent.
Rely on the Industry Standard. ITIL is a globally recognized framework proven to help businesses build a robust IT management system, ensure a high quality of customer service, and constantly improve their IT-enabled services. Again, going with these tried-and-true guidelines is key for managing business risk.
Unlock a Competitive Advantage. It's no secret we're in a consumer's market when it comes to technology. There are so many options out there—if a customer is unhappy with your service, they can take their business elsewhere. In light of recent studies showing customers value good service more than anything else, it's critically important businesses improve their customer service. Staying ahead of the competition and winning the customer engagement battle is one of the biggest ITIL benefits.
Stay Ahead in a Changing Digital Landscape. You could say the reason we're in a consumer's market right now is because everything is new all of the time. The digital landscape is constantly shifting, and less savvy businesses get lost in the shuffle. ITIL best practices evolve with the times. If you keep up with ITIL, you'll always be up to date.
Facilitate Regular Monitoring. One of the benefits of ITIL is continual service improvement, which is based on regular monitoring. The only way to improve is to look back on your past performance again and again and identify ways to do better—monitoring helps you do this. Even if you weren't in the habit of monitoring your performance before, you definitely will once you engage in ITIL best practices. Get greater visibility, get better quality of service, and get better.
Seamlessly Integrate ITIL with Other Projects. The last benefit of ITIL on this list is none other than ease of use. One of the reasons IT administrators love ITIL so much is because it's compatible with a wide array of other frameworks, like PMP and PRINCE2. If you haven't experienced the benefits of ITIL yet, it's time to get onboard.
Best Tools for ITIL Management
We've talked a lot about ITIL benefits—problem management, change management, and service-level management key among them. But how do you get started? Luckily, SolarWinds has two leading tools in the market to help make ITIL implementation a breeze.
Web Help Desk is a great piece of software for ticketing, asset management, and change management. Save time by letting WHD automatically generate tech tickets from service request emails. Integrate WHD with a range of third-party tools, including Microsoft SCCM and JAMF Casper Suite. Never lose track of service-level agreements again with SLA reminder alerts.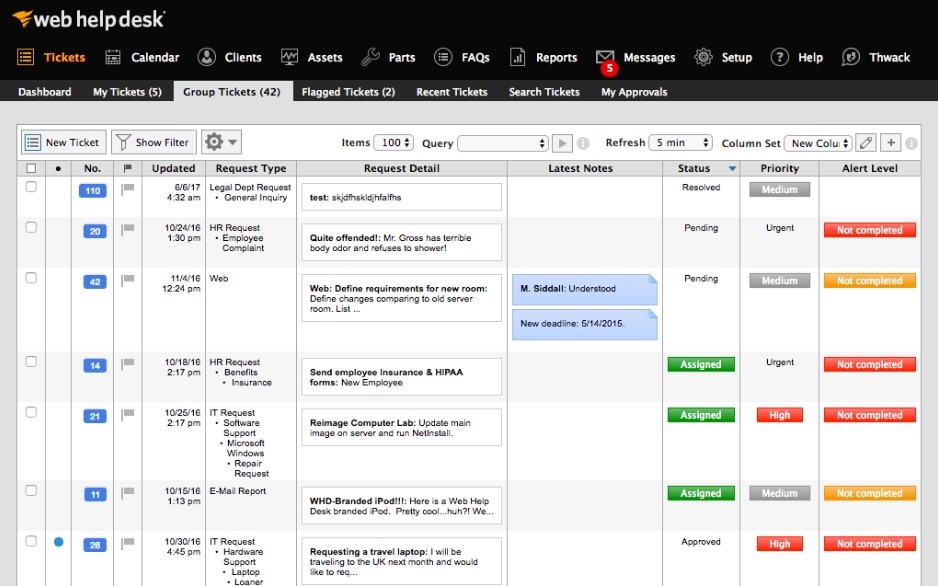 You can even configure WHD to automatically generate surveys for users after their service request has been resolved, making it easier to tap into one of the most important aspects of ITIL—feedback from your customers. Use this information to power your ITIL best practices and improve customer service. Try WHD free for 14 days or buy the help desk software online.
Service Desk is a full-coverage ITSM solution and my personal favorite. If you're looking for a tool with everything you need to simplify ITIL—incident management, asset management, an employee service portal, and problem management—you're in good hands with this one.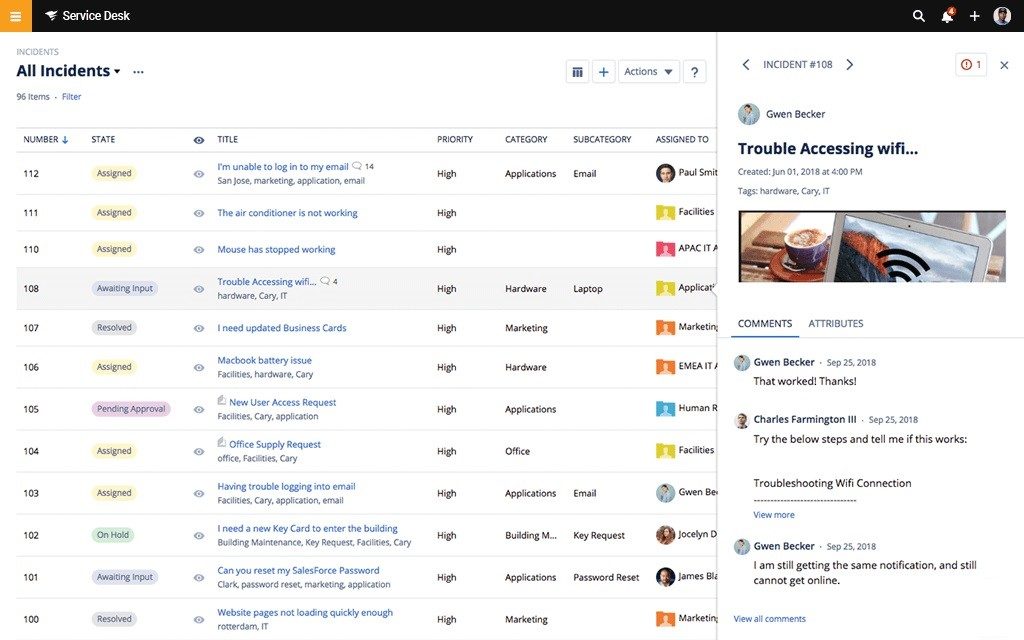 SolarWinds Service Desk simplifies the ticketing process by facilitating seamless collaboration among employees—automated services eliminate log jams, and everyone can keep track of where a ticket is in the pipeline. The best-in-class service portal means customers have a one-stop shop for submitting tickets and requests. You can also integrate Service Desk with the top cloud applications, like Nmap, Microsoft Azure, and Google SSO.
My favorite feature of Service Desk is its built-in knowledge base. Anyone who has ever been a tech support representative knows many customers tend to have the same problem, which means answering the same question repeatedly. Its knowledge base uses artificial intelligence to highlight repeat answers first, automatically turn resolution notes into new documentation articles for others to use and suggest relevant resources alongside incoming tickets.
Service Desk comes with more features than Web Help Desk, including a configuration management database (CMDB). While both will get the job done, I recommend the full-blown Service Desk tool if you want to take ITIL management to the next level and gain ITIL CMDB benefits and more. You can try it free for 30 days.