Information Technology (IT) comes with plenty of acronyms and it's not always easy to keep them straight. This is especially true when the definitions overlap, as with IT Services Management (ITSM) and the IT Infrastructure Library (ITIL).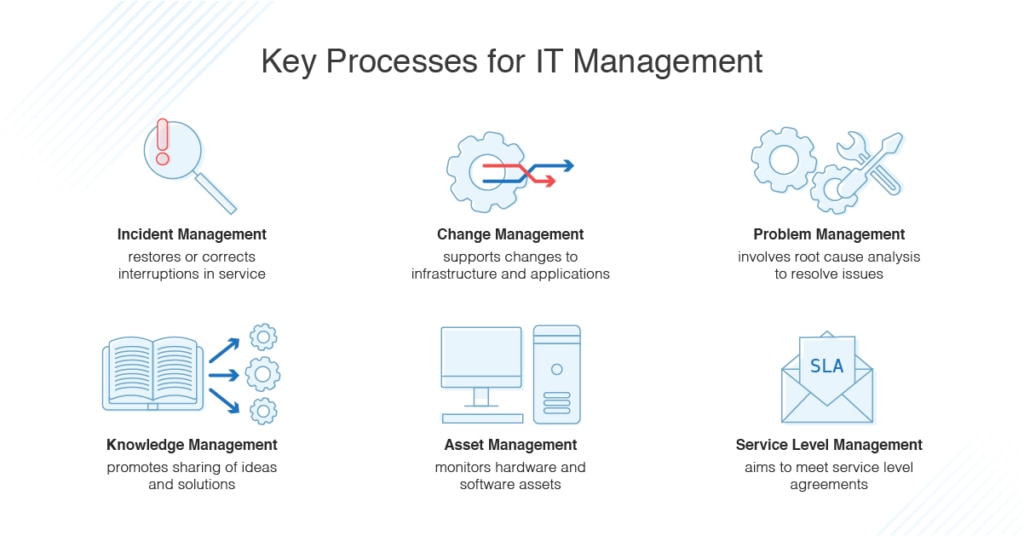 Understanding the ITIL and ITSM difference is important for businesses thinking about their approach to IT, especially if they're comparing software solutions that could help support IT services. A number of products on the market refer to ITSM or ITIL, and knowing the terms, as well as distinctions between them, will give you better insight into how the tools can help your company. To clear up any confusion, here are the details you need to distinguish between ITSM vs. ITIL.
ITSM Definition
Understanding the Difference: ITSM vs. ITIL
Benefits Of ITSM
Processes for IT Management
Choosing an ITSM Tool
Know Your IT Service Needs
ITSM Definition
IT Services Management is the way a company approaches IT services from a strategic level. ITSM is focused on big-picture objectives and focuses on a higher level than the daily activities needed for keeping employees up and running, such as setting up accounts for a new user, configuring a printer, or applying software patches.
ITSM is customer-focused, designed to help the company meet its goals by having the right processes, services, and infrastructure in place, with a focus on continual improvement. This includes everything involved in IT services:
Planning
Designing
Delivering
Operating
Controlling
To meet company objectives, ITSM should address all those components effectively and do it while staying within budget.
ITIL is specific documentation defining best practices and a framework for ITSM. Historically, ITIL stood for IT Infrastructure Library, but it's no longer an acronym. Today, it's a stand-alone term and registered trademark of AXELOS.
When thinking about the ITIL and ITSM definition, remember ITIL is a set of processes, values, and strategies for ITSM promoting efficiency and effective organization.
ITIL covers all the stages of the ITSM lifecycle. The processes used are documented in five volumes of information:
Service Strategy defines the planning and preparation necessary before services can be provided
Service Design describes the service design needed, from delivery to management
Service Transition focuses on all types of service transitions – introduction, change, and retirement
Service Operation describes the service desk and related activities
Continual Service Improvement covers all aspects of improvements, including ones driven by revised business needs and ones for implementing more efficient processes
These five areas provide a comprehensive foundation for best practices, giving companies a starting point for their IT services.
Understanding the Difference: ITSM vs. ITIL
To more fully understand the ITIL and ITSM difference, consider their history. Dependency on IT began growing in the 1980s, but at the time, no one had any standard practices for IT services. This made it difficult to have any consistency in IT operations and planning.
The Central Computer and Telecommunications Agency (CCTA) in the UK wanted to address this need with open ITSM guidelines providing reliable, quality service. CCTA recommended the ITIL framework, which would also deliver value and operate efficiently. Even though organizations around the world have developed other standards, none are as popular or widely used as ITIL.
Since ITIL became the preferred standard for ITSM, it's easy to see how they could be confused, but there are a few ways to understand the differences. For instance, ITSM defines the activities involved in service management, but you don't need to choose a particular methodology for performing these activities. On the other hand, ITIL is a specific framework for ITSM that can help you unite your IT activities around specific values and goals. You can also think of it as ITIL supporting ITSM by allowing businesses to streamline their service management more easily.
Other areas of difference include:
ITSM encompasses the implementation of services throughout the organization while ITIL provides standard processes for delivering IT services
ITIL is only one of many frameworks that can be used to implement ITSM
Admins can choose to implement only certain parts of ITIL, while drawing on other frameworks
Benefits Of ITSM
Finding the right approach for your ITSM strategy is important because it offers many benefits, both for the IT team and the end users in your company.
Some of the benefits apply to both groups. These include:
Better alignment between IT and the business users
More collaboration across departments
Streamlined implementation
Other benefits are specific to the individual teams. By improving ITSM, IT will be able to improve their processes in the following ways:
Provide superior support by understanding the "why" behind the business needs
Work more efficiently by following clearly defined roles and responsibilities
Reduce time to solve and close incidents
Set the right expectations with the business users
Analyze incident history to identify and address repeat problems
Increase agility and productivity
Implement services based on known best practices
Share knowledge and maintaining focus on continual improvement
Once ITSM is implemented, the end users have a better view of the IT team as a service center, not simply another group in the company. This benefits IT, as noted above, but it also can help the business in the following ways:
Improved user satisfaction from getting the right expectations from IT
Less frustration from end users by understanding how IT services work
Reduced cost of implementing IT changes
Faster response from IT when updates are needed due to market changes
Increased productivity due to less downtime
Greater competitive advantage
Optimized spending by vetting IT requests before implementation
It's clear all aspects of the business can see improvements from ITSM, but you still need to decide which framework and methodology to use.
Processes for IT Management
ITIL has many processes defined for ITSM. Some of the most used processes include the following:
Incident Management restores or corrects any interruptions in service, which might be caused by power outages or performance issues
Change Management supports any changes in service, such as modifying infrastructure and applications, and creating a plan for updates to minimize downtime and disruption
Problem Management conducts root cause analysis (RCA) to identify recurring issues, allowing IT to troubleshoot problems
Knowledge Management promotes sharing ideas and solutions in a knowledge base to encourage better decision-making across domains
Asset Management monitors and manages hardware and software assets delivering services
Service Level Management aims to meet the service level agreements (SLAs) as agreed on with the customers
When you're thinking about ITIL and ITSM methodologies, however, it's important to remember ITIL isn't the only option. Some other frameworks to consider are:
When deciding on what methodology to use, consider what problem you're trying to solve for your business. You can also mix and match between frameworks to find an approach best suited for your individual business needs.
Choosing an ITSM Tool
Once you have a process in mind for ITSM, you need to find the right tool to support the approach. Having a help desk or service desk solution will provide a single point of contact (SPOC) between the service provider and customers and is essential for managing incidents, service requests, monitoring services, and more.
Before choosing a tool, here are some questions to consider:
Do you have a good understanding of your existing ITSM processes?
What are the top needs of your company's ITSM?
How much functionality do you need from your ITSM tool?
When evaluating options, make sure you have the right people involved. Since the decision can impact your entire organization, you should include key stakeholders from each area, so they have input in the decision.
You should also consider more than the functionality of the tools. Make sure you evaluate the vendor and verify whether or not they offer good support and have endorsements from existing customers to help ensure you're getting the best all-around solution.
Know Your IT Service Needs
If you're looking to improve your ITSM practices and implement best practices from ITIL, you need a tool capable of supporting your goals. A good option even for smaller companies is Web Help Desk®, which includes support for critical practices within incident management, knowledge management, and change management. You can easily automate ticketing management, and centralize visibility into incidents, inventory, SLAs, and more. An ideal ITSM solution for larger companies is SolarWinds® Service Desk, which provides additional services such as fully integrating your asset management, automating ticketing, and supporting analysis for your IT services. With a single service portal, you can streamline several key ITSM processes and more easily implement ITIL best practices.