Configuration Management Databases (CMDB) are critical components of any business IT infrastructure. The CMDB is where critical data concerning the IT infrastructure—and how it works—goes. Without CMDB software, it can be difficult to understand the IT components' relationships in your stack.
In this article, we'll give you an overview of how CMDB software works and how it can benefit your operation. Then we'll look at three key elements to look for in CMDB software.
An Overview of CMDB Software
Configuration management databases can fulfill a lot of roles depending on how your business conducts IT operations. For a large company with hundreds of hardware devices and a variety of software, CMDB software can be used in several ways, such as to store:
IT asset inventory data
Incident reports
Software and procedure release documents
Network asset discovery information
Hardware configuration rules
Data about software and hardware builds
In essence, CMDB software provides the underlying functionality many help desk and service desk, networking, and other IT tools use. It enables those tools to store data securely and establish relationships between configuration items (CIs):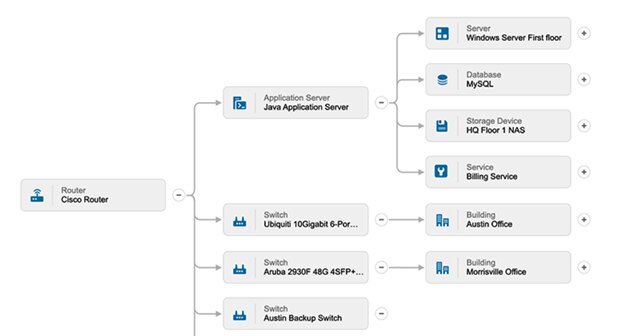 The ability to map asset dependencies in the CMDB enables IT to have a clearer view into how each asset in your IT infrastructure works together.
The Benefits of Using CMDB Software
A primary benefit of CMDB software is to simplify day-to-day IT operations. Whichever tool you use should be easy to navigate. A configuration management database can bring a host of benefits to your business, including:
Helping you perform Root Cause Analysis (RCA) operations
Having a single database that includes all data related to IT infrastructure
Providing a single endpoint for billing and licensing information
Keeping a record of compliance audits and breaches
You can think about CMDB software as a type of record-keeping solution for IT operations. You probably already maintain records of some sort for every other aspect of your business, and IT shouldn't be any different.
3 Key Elements to Look for in CMDB Software
Not all CMDB software offers the same level of sophistication. The tool you decide to use should largely depend on your needs, but it should also include the following three elements or functionality.
1. Frequent (and Automated) Asset Discovery
For CMDB software to be effective, it needs to include up-to-date records of all the IT assets you use for day-to-day operations. However, manually inputting every asset can be too time consuming, especially if you run a large business.
Some service desk software options solve this problem by including built-in asset discovery functionality. Usually, those tools work by scanning your company's network and automatically detecting new assets.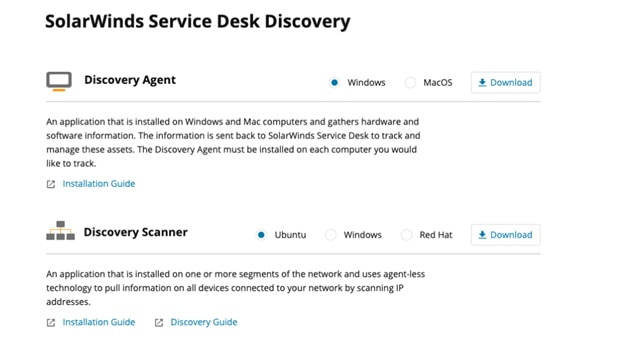 Automated network discovery tools help ensure you don't have to worry about missing elements from your configuration management database. As long as your service desk solution runs frequent scans, it will detect any changes to components within the network—including ones added or removed.
2. Integration With Other IT Asset Management Solutions
CMDB software is, in many ways, the backbone of most IT asset management solutions. Those are tools that enable you to collect data on every asset within your IT infrastructure, including hardware, software, licenses, service level agreements (SLAs), and more.
Where CMDB software focuses on storing data, IT asset management tools let you use it in a myriad of ways. For example, you might generate incident reports, track expenses associated with purchases, automate contract renewals, and more.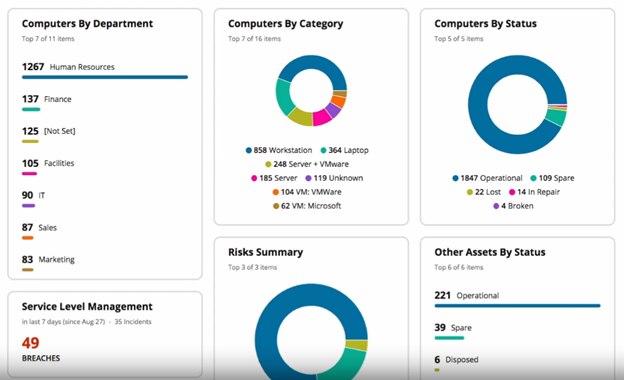 The features you have access to will depend on the IT asset management solution you use. Typically, these solutions will include CMDB software functionality. In case they don't, it's best to ensure your CMDB software is compatible with the other tools you need it to work with.
3. User-Friendly Navigation
Any software you use to collect large amounts of data tends to present the same problem: such an extensive collection of information can be difficult to navigate. That applies doubly to CMDB software since it also needs to display complex relationship trees between IT assets.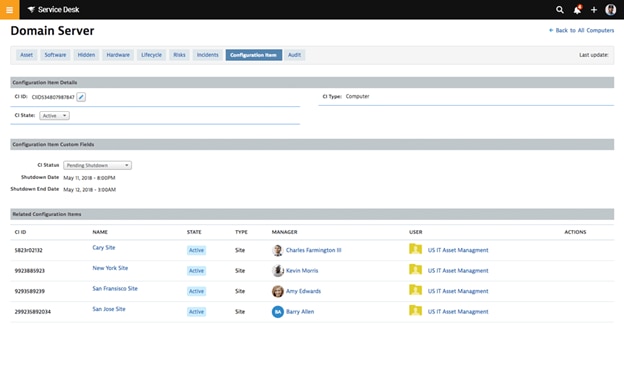 If the configuration management database you use isn't user-friendly, IT teams may have difficulty navigating it and finding the entries they need to access. What passes for user-friendly may vary depending on your standards.
However, we recommend looking for software that fulfills the following criteria:
You can easily search for entries within the database.
A taxonomy system enables you to categorize entries and establish connections between them.
You can navigate the database using sorting functionality.
The software enables you to have multiple technician accounts with different levels of permissions.
The last feature is critical because, in most cases, you won't want every employee to have the same level of access to the database. Since CMDB software can deal with sensitive information, you should be able to decide who can access and edit specific types of entries.
Every other feature we've discussed covers the bare minimum when it comes to CMDB software. Ideally, however, you'll be able to test any tool before you decide to use it for something as critical as storing your IT asset data.
Conclusion
CMDB software can provide you with comprehensive insights into how your company's IT infrastructure is organized. It includes what assets are under your control, the relationship between each component, and who uses each asset. Preferably, it should cover hardware, software, licenses, incident reports, and more—all within a single database.
For a CMDB software solution to be effective, it should offer the following three features:
Frequent and automated IT asset discovery
Integration with other IT asset management solutions
User-friendly navigation