PRTG, a tool offered by Paessler, stands for Paessler Router Traffic Grapher. This tool was first released in 2003 and has since become one of the leading network monitoring tools on the market. There are, however, several similar tools capable of delivering the same network monitoring experience as PRTG, if not a better one. This guide reviews what I believe are some of the best PRTG competitors and ranks them according to their range and sophistication of features, user-friendliness, suitability for business use, and other key factors.
Of the Paessler PRTG alternatives listed in this guide, SolarWinds® Network Performance Monitor ranks highly for several reasons I'll discuss in detail below.
Pros and Cons of Paessler PRTG
Popular PRTG Features
Best PRTG Alternatives
How to Choose the Right Paessler PRTG Alternative
Pros and Cons of Paessler PRTG
Before considering the top Paessler PRTG alternatives, let's first consider the pros and cons of PRTG and address why you might choose a PRTG competitor instead. One of the main problems associated with PRTG is Paessler seems determined to preserve this tool as a network monitor. If you wanted access to configuration management utilities, for example, you'd have to implement other tools alongside PRTG. This isn't cost-efficient and can increase the labor associated with software maintenance and staff training.
There are many tools like PRTG offering additional utilities outside the scope of network monitoring. Some of these tools can monitor infrastructure just as effectively as PRTG but offer a wider range of automation and problem remediation capabilities.
Of course, PRTG has its strengths—for example, Paessler offers the same package to all its clients whether they're large or small. The PRTG Network Monitor pack delivers a suite of monitoring functions, which are referred to as "sensors." A sensor is either a utility (e.g., ping) or an action monitoring a single hardware element. A switch port monitor, for example, utilizes one sensor per port. So if you choose to activate a sensor for five ports, you'll use five sensors. It's important for users to understand this because it serves as the basis for PRTG's pricing structure.
PRTG offers a free package, which includes up to 100 sensors with a single server implementation. While this might sound like a generous offer, it's worth noting how quickly you'll use these sensors. The price of PRTG rapidly increases, and it's arguably not cost-efficient. For example, if you're a small company using 120 sensors, you won't qualify for the free PRTG package and will have to pay for PRTG 500. This package allows you to use up to 500 sensors. But if you don't need this many, it doesn't offer good value for your money. This example demonstrates the importance of considering the cost-effectiveness of PRTG based on the number of sensors your company requires before making a purchase.
One advantage of the tool is PRTG monitors networks, applications, and servers. Typically, you'd need multiple tools to cover these three equipment sectors. PRTG also includes both network device monitoring and network traffic analysis capabilities.
Overall, Paessler PRTG comes with some notable benefits, including the ability to tailor it to your needs. If you just want a network monitor and have no need for server and application monitoring, you have the option of only activating network-related sensors. Similarly, you could choose to only monitor your network device status or spread your sensor allowance to incorporate traffic monitoring as well.
If you choose PRTG, you'll be able to download a 30-day free trial, which gives you access to an unlimited number of sensors. Let's look at the features of PRTG in greater detail so we can make comparisons with the Paessler PRTG alternatives included in this list.
Popular PRTG Features
PRTG Network Monitoring
PRTG is largely known as a network monitoring tool capable of providing status monitoring for network devices. PRTG performs these tasks by employing Simple Network Management Protocol (SNMP) procedures. SNMP is already installed on the network equipment you buy, so the tool's SNMP-based approach offers a clear advantage. SNMP requires a central controller to poll the agent software, which is software preinstalled on your switches and routers.
The SNMP manager broadcasts report requests to device agents, and the responses to those requests deliver a bonus feature called auto-discovery. The auto-discovery feature enables PRTG to collect data on your network devices, including information pertaining to how they link together. This means you don't have to type in your equipment inventory when you launch PRTG for the first time. The ease of this setup process is a notable benefit of PRTG. Because request broadcasts are ongoing and regular, PRTG can detect infrastructure changes as they occur.
PRTG Network Monitor features network topology mapping functionality, which means the tool can create a network topology map of the information in the equipment inventory. This task is performed automatically and the map updates itself without the need for manual intervention.
The SNMP-based system includes a message type referred to as a "trap." A trap allows device agents to send status reports in the case of an emergency without needing to wait for a request. This functions as an alert, which PRTG can deliver via email or SMS text message.
The main package of PRTG is available on Windows Server, but it's capable of monitoring devices with any operating system. PRTG also offers a mobile application for iOS and Android, keeping you informed no matter where you are.
This tool's most popular sensors include traceroute, ping, NetFlow, packet sniffer, J-Flow, and IPFIX sensors. PRTG calculates throughput rates by querying network devices with SNMP for their in/out processing reports every five minutes. As a network monitoring tool, PRTG covers wireless networks and LANs, and it can monitor connections to remote sites and equipment at remote sites.
PRTG Server Monitoring
PRTG can also monitor your servers and cloud resources. It includes specialist sensors for Dropbox, OneDrive, Google Drive, and Amazon Web Services. With on-premises servers, PRTG lets you activate sensors to report on their CPU performance, disk volumes, memory utilization, and available disk space. The PRTG main package also delivers environmental sensors for the server racks and server room.
With PRTG server monitoring, you have access to tailored sensors designed to monitor specialized servers. This includes database servers, virtual servers, file servers, mail servers, and web servers. Monitoring these components is closely linked to PRTG's application monitoring features.
PRTG Application Monitoring
Monitoring the servers responsible for delivering applications to your customers and employees requires application sensors. PRTG features mail application sensors, including SMTP, IMAP, and POP3 monitors. The database sensors include monitoring functionality for Microsoft SQL Server, MySQL, and Oracle SQL. Web server sensors can report on Apache and IIS, though FTP is the primary focus of the file server sensor.
Application activity can be tracked on the server and when applications appear in network traffic. By combining network monitoring and application data monitoring, you can optimize traffic analysis by accessing reports on volume per application. Performance-related sensors can monitor the delivery of VoIP traffic. PRTG also includes firewall and port monitoring.
If you operate virtualizations on your network, the combination of network, application, and server monitoring capabilities PRTG offers is extremely useful. There are even specific sensors for VMware vSphere ESXi systems, Citrix Xen, and Microsoft Hyper-V products.
PRTG Software as a Service (SaaS)
You no longer need to install PRTG on-premises, as the tool is now available on the cloud. The cloud version of PRTG offers all the functionality of the on-premises version without the maintenance requirements. You don't even need servers to use the online version of PRTG.
Best PRTG Alternatives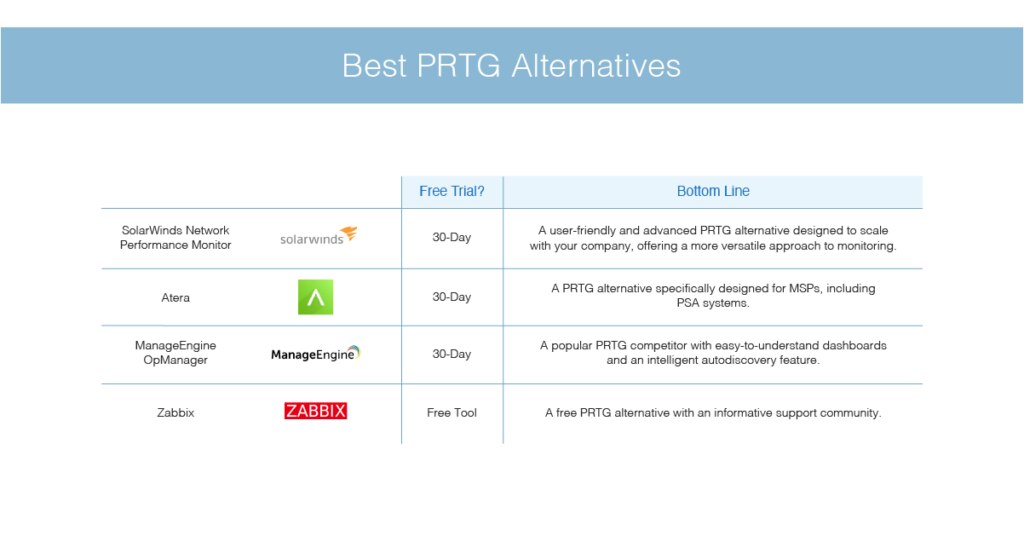 PRTG offers a wide range of features, and it's clear why this tool has maintained its popularity for so many years. However, PRTG has its drawbacks—including the sensor-based pricing structure and lack of versatility beyond network, application, and server monitoring—and these might lead IT professionals to consider a PRTG competitor. In fact, some of the tools listed below may better suit your needs. Before choosing a Paessler PRTG alternative, be sure to consider your business's specific requirements.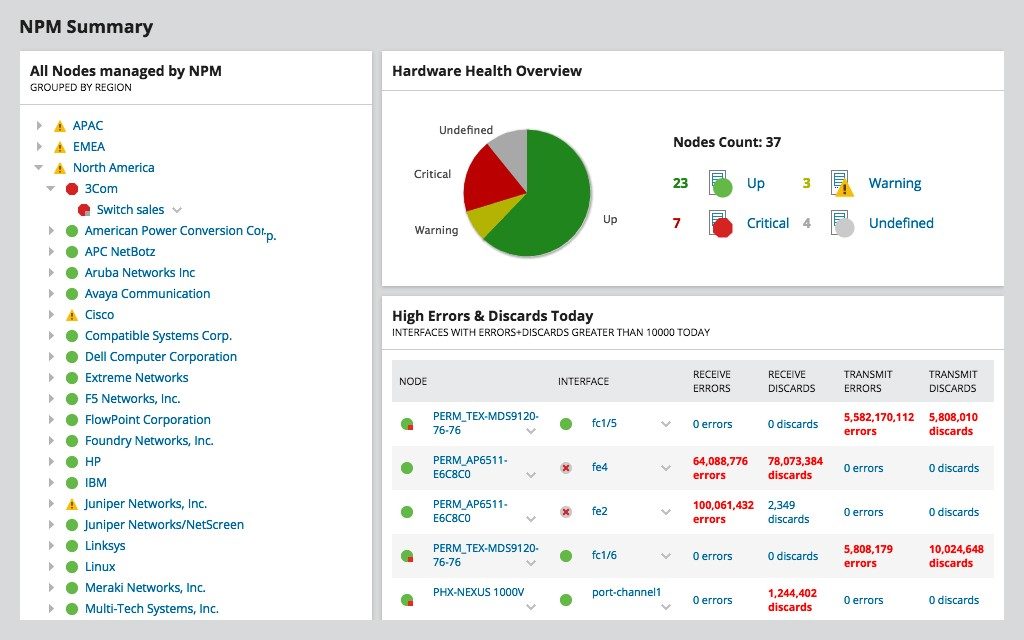 SolarWinds Network Performance Monitor (NPM) is possibly the most well-known and popular PRTG Network Monitor alternative. This is a similar tool to PRTG—it's a market leader in network monitoring and has been for many years.
NPM offers an impressive range of capabilities, many of which are also featured in PRTG. This includes an alert system, packet sniffing, SNMP monitoring, network mapping, traceroute utility, and much more.
NPM also includes numerous features PRTG doesn't offer, making it a more versatile infrastructure monitoring solution. The alerting system, for example, is more intelligent than the one in PRTG. The alerts NPM offers help you reduce the flood of unnecessary network notifications typically associated with other network monitoring tools. The tool prioritizes critical alerts, categorizing them by severity according to the impact they have on your network.
You can also personalize NPM alerts, so you only receive them under certain conditions. These settings can be used to prevent alerts from being sent outside of set hours, for example. This intelligent alert system includes all relevant information in the notifications sent to users, informing your approach to troubleshooting.
Although PRTG offers an array of network analysis sensors, the sensor-based pricing model may lead users to limit their network analysis capabilities to reduce cost. NPM delivers a highly comprehensive suite of network analysis tools designed to continuously monitor the fault, availability, and performance of your applications and network devices.
These advanced analysis tools are complemented by the easy-to-interpret network monitoring reports available in NPM. As with PRTG, reports can be created from out-of-the-box and community-generated templates, saving you time otherwise spent creating reports from scratch. Additionally, reports can be customized with just a few clicks of your mouse. You can automate and share report notifications with your management team, giving them access to the required data in an instant. Reports can also be used to project future network performance trends and capacity. These extensive reporting capabilities are more advanced than those offered by PRTG.
One of the great benefits of NPM is the dashboard layout and design, which displays data in easy-to-understand and easy-to-interpret charts and graphs. You can also customize dashboards to suit your business needs and priorities. Your dashboards will display the current and historical performance metrics for your network, giving you continuous, at-a-glance insights. Through a single interface, you can determine the cause of issues like interface downtime, poor hardware health, flapping routes, and much more. NPM can even help you analyze network traffic patterns with the collection and correlation of multi-vendor flow data over the course of minutes, days, or months.
Like PRTG, NPM features an auto-discovery tool. This tool automatically discovers your network devices and quickly adds them to your monitoring database in addition to creating and continuously updating network topology maps. You can even choose how you want to monitor the devices, with the options of IP address range, SNMP, WMI, and subnets. This allows you to take a more flexible approach to monitoring than PRTG can deliver.
As with PRTG, NPM offers maximum automation, helping you reduce downtime with automatic detection and alerting. It can even automatically generate network availability reports, so you can act before users are impacted. Historical network performance tracking is another useful feature—this assists you with troubleshooting challenging intermittent availability problems (PRTG offers historic data reports as well).
There's so much to like about this flexible, comprehensive, and sophisticated tool, including the ability to poll and scan device MIBs, cross-stack network data correlation (similar to PRTG event correction), and hop-by-hop network infrastructure path analysis (like PRTG network traffic traces). Although it offers many of the same features as PRTG, NPM goes above and beyond by increasing versatility, providing more analysis options and approaches, and delivering a more intelligent alerting system. The pricing model for NPM may also be more cost-effective than PRTG, depending on your company's specific needs. A 30-day free trial of NPM is available.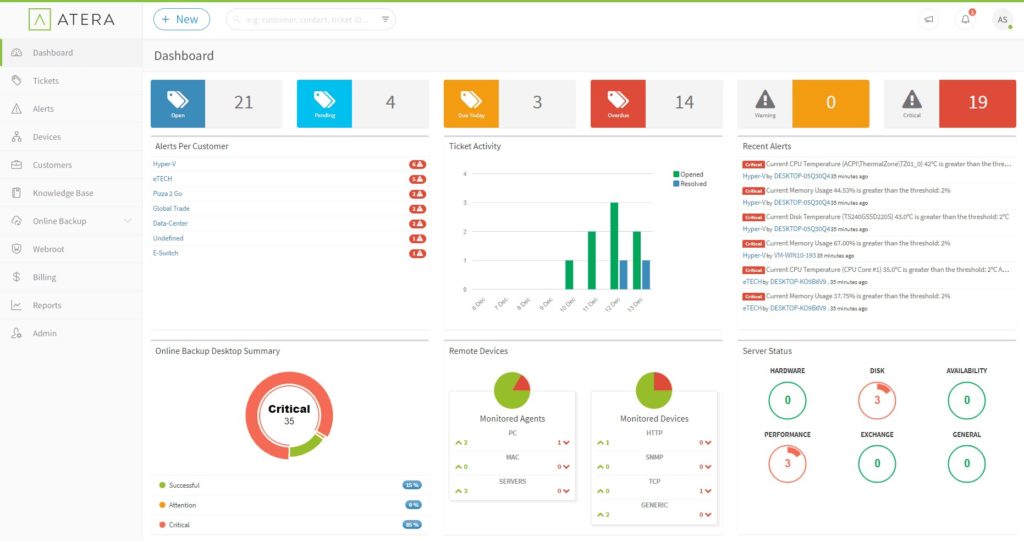 Atera is a software platform designed specifically for managed service providers (MSPs). This tool helps MSPs monitor the applications, servers, and networks running on their clients' sites. Atera is similar to Paessler PRTG in several ways. For example, both PRTG and Atera can operate remotely. The major difference between these two tools is PRTG can't perform administrative tasks like backup, restore, and patch management procedures.
Unlike PRTG, Atera also includes professional services automation (PSA) systems. This is an especially important distinction for MSPs, as they need PSA systems to run their services. Because of this, Atera is a particularly viable PRTG alternative for MSPs.
Additionally, Atera is a cloud service, which means you don't have to worry about system compatibility. This tool doesn't even need servers, so you can start managing the IT infrastructure of other businesses in no time. Your MSP technicians can access the tool via a standard web browser, which means they can work from anywhere. The Atera console is also accessible through a mobile application.
This PRTG Network Monitor alternative is similar to PRTG. Both PRTG and Atera are based on SNMP and will scan a new system for attached devices, automatically logging them in an equipment inventory. This process runs continuously, so operators can detect when new devices are added and when equipment is removed from the infrastructure.
Like PRTG, Atera offers server monitoring capabilities, allowing you to check on the status of your disk space, memory, and CPU. Unlike PRTG, however, Atera can clean up disks and stop hanging processes or ones likely to be malicious. Atera scans devices for software and logs instances, facilitating effective software license management. This tool can also automatically roll out updates to any authorized programs and patch operating systems.
In terms of pricing model, Atera doesn't charge on an up-front basis, as is the case with most cloud services. Instead, MSPs can take out a subscription for Atera. You'll need a subscription for each of your technicians, and the service can be paid either monthly or annually. A 30-day free trial of Atera is available.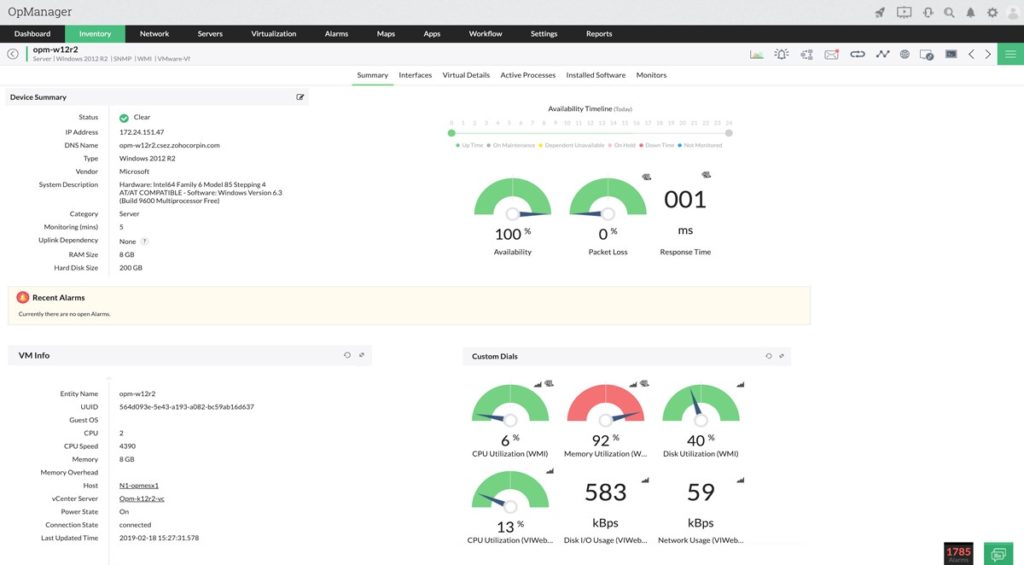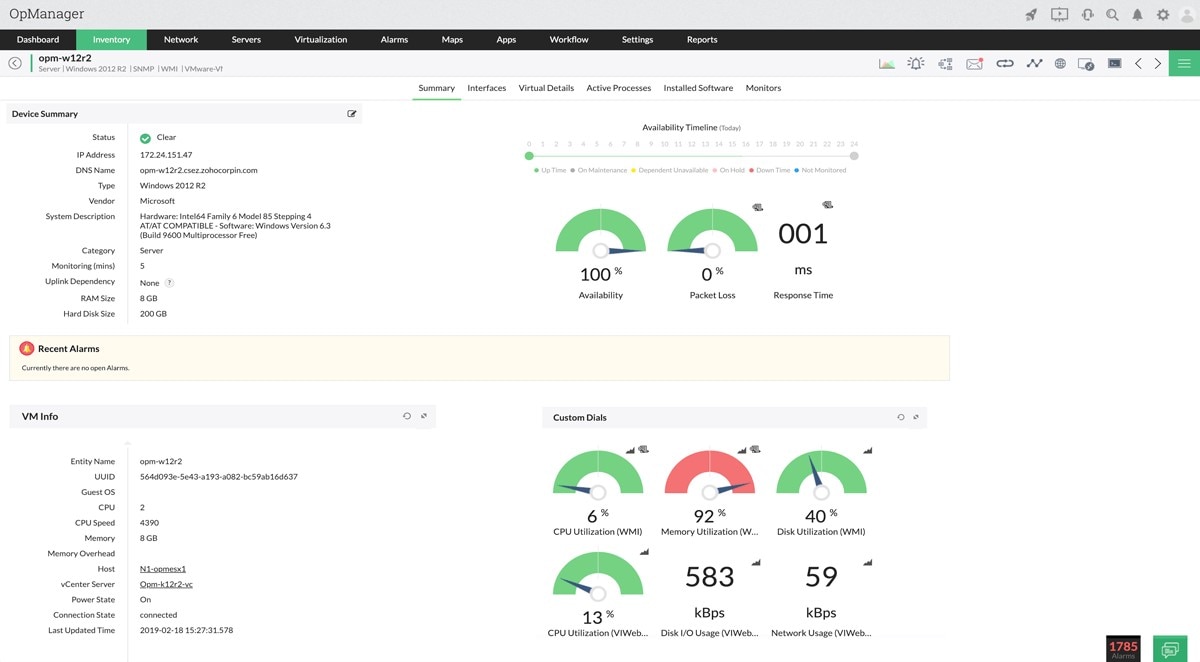 ManageEngine OpManager is another popular PRTG competitor. This tool combines server monitoring with network monitoring and application tracking capabilities, making it similar to PRTG. OpManager can be installed on Windows Server and Linux, so it has the upper hand on PRTG in terms of platform support.
Like PRTG, the network monitoring tool in OpManager uses SNMP to monitor equipment statuses. This tool also features auto-discovery and network mapping functions. The dashboard is easy to understand (perhaps more so than the dashboard in PRTG) and displays current statuses and key metrics. Additionally, the alert system in OpManager forwards notifications to technicians via SMS or email, just like PRTG.
OpManager can monitor an array of equipment types, including wireless access points, remote infrastructure, and cloud-based resources. It can also track virtualizations built with Citrix Xen, Hyper-V, and VMware.
In summary, OpManager is similar to PRTG. Unlike PRTG, however, it doesn't take a sensor-based approach to its pricing model, which may appeal to certain businesses. You can access a 30-day free trial of ManageEngine OpManager by clicking here.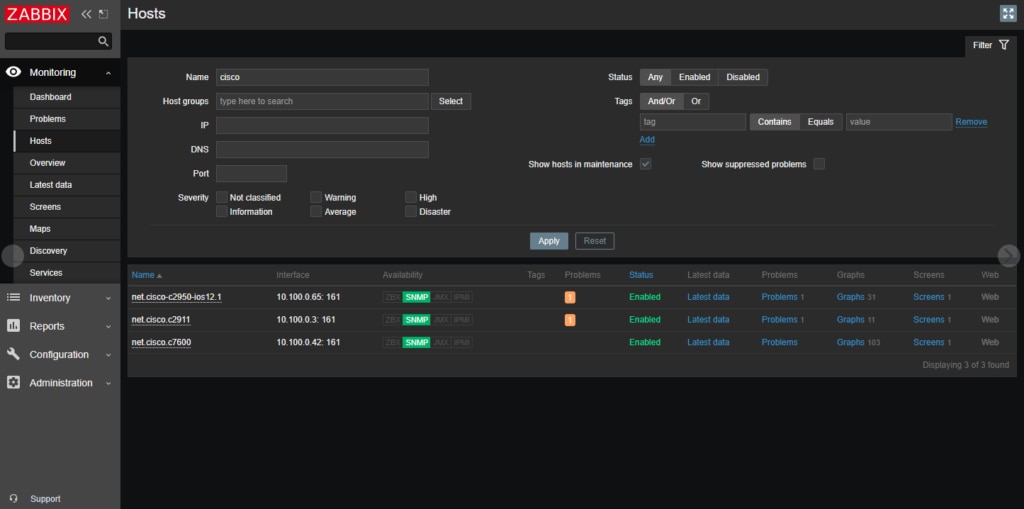 Zabbix is a free infrastructure monitoring tool you can install on Unix, Windows, Linux, and macOS. This system tracks and monitors network device statuses through SNMP, and—like PRTG—it processes alerts to keep you informed. The alert system for Zabbix is more versatile than the one offered by PRTG, keeping you informed via SMS, email, and even an instant chat application. Alerts are also displayed in the dashboard and can be saved to a file or forwarded as a notification.
The infrastructure monitoring tool in Zabbix includes a device discovery utility and can create network topology maps in an instant. Updates are automatic, mapping your infrastructure in real time when a change occurs. This tool can monitor wireless networks, remote sites, LANs, and cloud-based resources.
This free PRTG alternative also facilitates task automation through scripting. Tasks might include problem remediation and data gathering. They can be configured to trigger alerts or to run periodically, according to your company's requirements. The Zabbix dashboard has an intuitive and simple layout, which assists with status comprehension. Data is represented graphically wherever possible and is color-coded for ease of interpretation.
Although the tool is free, Zabbix charges customers if they want to leverage support—with PRTG, support included in the price. Fortunately, the Zabbix user community is vast and easily accessible via a forum. If you don't want to pay for official Zabbix support, the forum is a great place to find tips and tricks to help you familiarize yourself with the more complicated Zabbix features.
How to Choose the Right Paessler PRTG Alternative
Paessler PRTG is a great tool, but there are many viable PRTG competitors, and they may be better suited to your company's needs. Of all the PRTG alternatives listed in this guide, I believe SolarWinds NPM offers the most comprehensive and advanced monitoring solution. Like Paessler PRTG, the tool and vendor have stood the test of time and have a reputation for reliability.
NPM is a user-friendly and cost-effective tool designed to grow with your business. It's highly scalable and can be implemented with zero training or experience. This solution is ideal for small and large companies alike. You can try it risk-free by downloading the free trial.
If you still aren't sure which PRTG alternative to choose, take advantage of the free trials and free versions of the tools listed in this guide.