Network speed is critical for ensuring business productivity, and network analysis is how businesses can best ensure networks are performing well. But network analysis can be challenging and time-consuming without the right tools. A multitude of factors can contribute to network problems, and effective network analysis requires your IT team to continuously monitor these individual factors to ensure each is performing as it should be. This includes checking Wi-Fi signal strength, network connections, routers, servers, network speeds, and more.
This guide will help you understand what network analysis is and why it's important, in addition to outlining the main types of network problems and how you can resolve them. Leveraging network performance analysis software can help your team identify and fix network issues both time-efficiently and reliably. With the right network analysis tools, your business can proactively monitor bandwidth availability, network bottlenecks, Wi-Fi speeds, and much more.
For enterprise-grade, user-friendly network performance analysis software, we recommend SolarWinds® Network Performance Monitor (NPM), SolarWinds Bandwidth Analyzer Pack, and SolarWinds NetFlow Traffic Analyzer (NTA). Each of these tools delivers a comprehensive range of utilities designed to give your business in-depth insight into its networks.
Skip to Network Analysis Tools section >>>
What Is Network Analysis?
Network analysis, also called network performance analysis, is an umbrella term referring to closely monitoring or examining network components to discover what might be impacting the overall performance of the network.
To effectively analyze network problems and identify the root cause, network analysis tools decode data traversing your network. This data is then displayed in a simplified and readable way. Network analysis solutions are typically able to help admins perform the following tasks:
Network issue troubleshooting
Identifying bandwidth bottlenecks
Determining the availability and speed of Wi-Fi
Identifying instances of spyware or network intrusion
Determining which network components have been targeted by DDoS attacks, as well as the source of the attacks
Identifying faulty hardware or applications
In some cases, a network analysis tool will be installed as software on a device, as a part of a network. Sometimes, however, the solution will be designed as standalone hardware, which features pre-installed software. Although network analysis tools serve similar purposes, each tool is likely to focus on different parts of the network. When choosing a network analysis tool, you should consider the number of protocols the tools can decode, the user-friendliness of their interfaces, and how comprehensive their data analysis capabilities are.
Why Is Network Analysis Important?
Network analysis can help ensure business productivity and a good user experience by providing insights into a range of performance issues, including security issues that could impact performance.
Effective and proactive network analysis is crucial because it enables businesses to maintain fully optimized and efficient networks by identifying performance problems before they impact the network's performance. Network analysis is especially important if your organization depends on web-based or cloud-based systems, or if you have a substantial Wi-Fi network with many users. If your network experiences an issue, the impact can range from reduced productivity to lost revenue and damaged reputation.
What Are Some Types of Network Problems?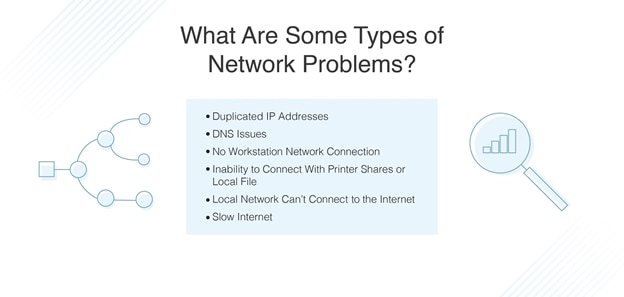 Networks are complicated, and an enormous number of factors can contribute to network performance issues. Here are just a few of the most common network problems.
Duplicated IP Addresses
This occurs when two machines both try to use the same IP address. When this happens, you're likely to see an error message reading "Address Already in Use." This will mean you won't be able to access the network.
DNS Issues
When DNS problems happen, you may see the following messages:
IP Address Could Not Be Found
The Network Path Cannot Be Found
DNS Name Does Not Exist
In these cases, the issue is usually caused by an error in a DNS configuration.
No Workstation Network Connection
If a single workstation cannot connect to the internet, this usually means the issue isn't with the wider network, but with a specific piece of hardware or software on the workstation's system.
Inability to Connect With Printer Shares or Local File
Sharing issues are one of the most challenging network issues to resolve, because so many elements must be configured correctly to facilitate sharing. Sharing issues are usually caused by conflicts across different security environments. For example, alternative editions of an operating system might use different security systems or models, which may cause problems when establishing workstation interconnections.
Local Network Can't Connect to the Internet
Difficulty connecting to the internet may either be a persistent issue or an occasional issue. The most challenging part of rectifying an external network issue is you first have to identify which company is responsible. You will then need to ensure they solve the problem quickly. Intermittent network connection issues are especially hard to trace. If problems of this nature occur regularly, businesses may be forced to change internet providers.
Slow Internet
Typically, slow internet is caused by congestion, or perhaps poorly performing connections that have deteriorated or corroded over time. If you are experiencing slow internet, keep in mind the cause of congestion might not be bandwidth exhaustion—for example, a single overloaded router or switch port could be responsible for diminished network performance.
How to Reduce Network Issues and Problems
Network analysis can be proactive, reactive, or a combination of the two. Reactive network performance analysis involves experiencing or being made aware of poor network performance, then conducting network issue analysis to identify the root cause of the problem. For example, if cloud server and web-based aspects of a network seem to be slow, a business might use network analysis to check for Wi-Fi issues.
Proactive network analysis involves conducting ongoing monitoring activities, often enabling you to get ahead of network issues before they noticeably impact network performance. Proactive network issue analysis is much more effective than reactive network issue analysis, because it helps prevent network issues from escalating and can safeguard your business' reputation. If you analyze network problems purely reactively, once you're beginning to experience or receive reports of lagging systems or unresponsive services, then this is likely to impact customer satisfaction. Because of this, businesses should invest in tools designed to facilitate proactive network analysis.
What Aspects of a Network Should Be Analyzed?
To achieve comprehensive network performance analysis capable of protecting your network's continuity, we recommend continuously monitoring the following network components:
Network device availability (i.e., routers, switches, servers)
Availability of critical network services
Disk space availability on key servers
Average percentage of maximum throughput for routers
Average processor and memory utilization of key servers/CPUs
The status of firewalls, servers, malware defenses, firewalls, and antivirus protection, to ensure all are configured correctly and up to date
How much traffic is passing through your routers
Events being written to event logs
SNMP traps
Windows servers and applications
Bandwidth availability
Traffic patterns
Average latency
This list is by no means exhaustive. When choosing a network analysis tool, you should consider not only which network components the tool monitors, but how it displays its analysis. Data should be easy to interpret and engage with and provide targeted insight into network issues.
Choosing the Right Network Analysis Tools
With so many network analysis solutions on the market, it can be difficult to determine which are best suited to your business' individual requirements. We recommend three tools by SolarWinds, each of which can help you conduct targeted and comprehensive network analysis.
SolarWinds NPM is a versatile network monitoring solution that enables companies to quickly identify, troubleshoot, and resolve performance problems before they escalate. This multi-vendor network monitoring tool features a range of network performance analysis features, including:
Critical path visualization
Wireless network monitoring and management
Intelligent alerts
Network mapping
In-depth network insight
And much more
NPM offers a user-friendly and highly effective way of tracking key network metrics. A 30-day free trial is available here.
NPM's capabilities can be extended with the SolarWinds NTA add-on. This flow analysis tool helps your business reduce downtime by offering the following features:
NBAR2 advanced application recognition
Bandwidth monitoring
Traffic analysis
WLC traffic monitoring
Customizable traffic reports
CBQoS policy optimization
SolarWinds NTA is available as a 30-day free trial. To note: SolarWinds Network Performance Monitor is required to run NTA. For a trial of both solutions, learn more below about SolarWinds Network Bandwidth Analyzer Pack.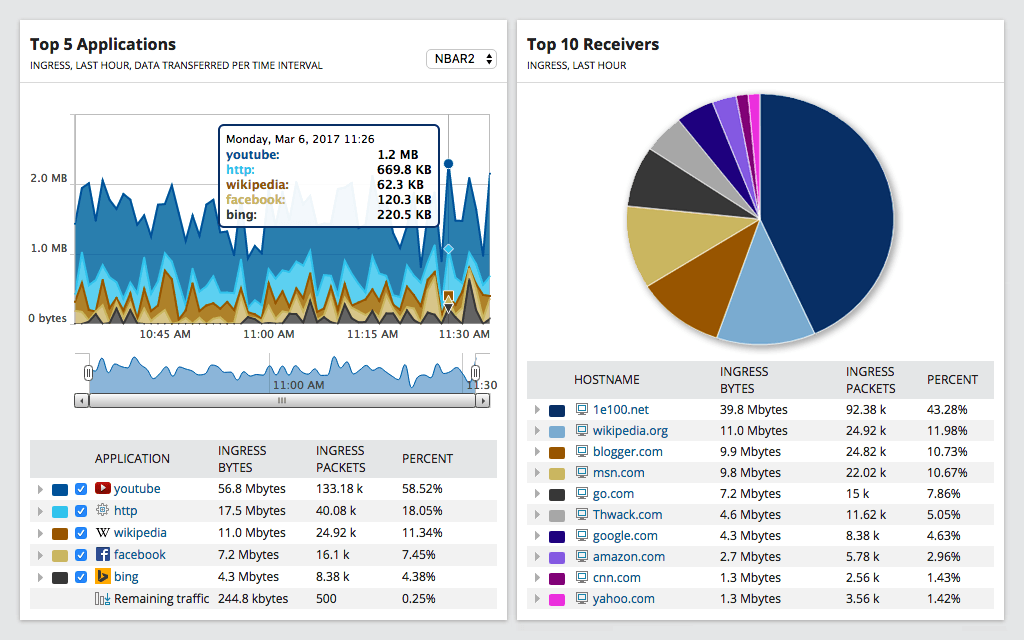 SolarWinds Network Bandwidth Analyzer Pack is the most comprehensive of the SolarWinds solutions mentioned in this guide, because it bundles together SolarWinds NPM and SolarWinds NTA. Network Bandwidth Analyzer Pack is a fully complete and powerful network monitoring solution.
SolarWinds Network Bandwidth Analyzer Pack provides businesses with access to an array of utilities designed to allow you to efficiently detect and diagnose network performance issues. This pack facilitates proactive network analysis, helping you get ahead of issues before their impact spreads.
Included in this pack are utilities for monitoring network usage, network traffic, the network interface, and more. Network Bandwidth Analyzer Pack is easy to use, with a clean and dynamic user interface. With data visualization features, this tool makes identifying the root cause of issues quick and simple.
Network Bandwidth Analyzer Pack was designed to be an all-in-one network analysis tool for businesses of all sizes. It allows you to monitor device performance, the availability of your network, network faults, and throughput flow data. The pack also features bandwidth control functionality, which gives you in-depth visibility of your network's traffic patterns.
By bundling SolarWinds NPM and NTA, this toolset delivers one of the best and most versatile network analysis solutions. A 30-day free trial of both solutions is available.
Start Analyzing Your Network
The SolarWinds network analysis tools mentioned in this guide are designed to be easy to set up, scalable, and user-friendly. To ensure you choose the right network analysis tool for your company's needs, we suggest making the most of the free trials linked in this guide, or you can try both tools together in the Network Bandwidth Analyzer Pack. Network analysis can be a grueling and time-consuming process, but you can streamline and simplify these processes by using the right tools.