All enterprises perform network performance management—it's necessary for maintaining efficient network speed, security, and functionality. For accuracy and consistency, many organizations use network performance management tools.
In this article, we'll go over some top-notch network performance management software. One standout is SolarWinds® Network Performance Monitor (NPM), which is built to expedite and simplify many parts of this important process through easy-to-use and in-depth features. Download a 30-day free trial of NPM today.
What Is Network Performance Management?
How Does the Network Performance Management Process Work?
Recommended Tools for Network Performance Management
1. SolarWinds Network Performance Monitor (Free Trial)
2. ManageEngine OpManager
3. Datadog Network Performance Monitoring
4. Paessler PRTG Network Monitor
5. Progress WhatsUp Gold
Final Thoughts on Network Performance Management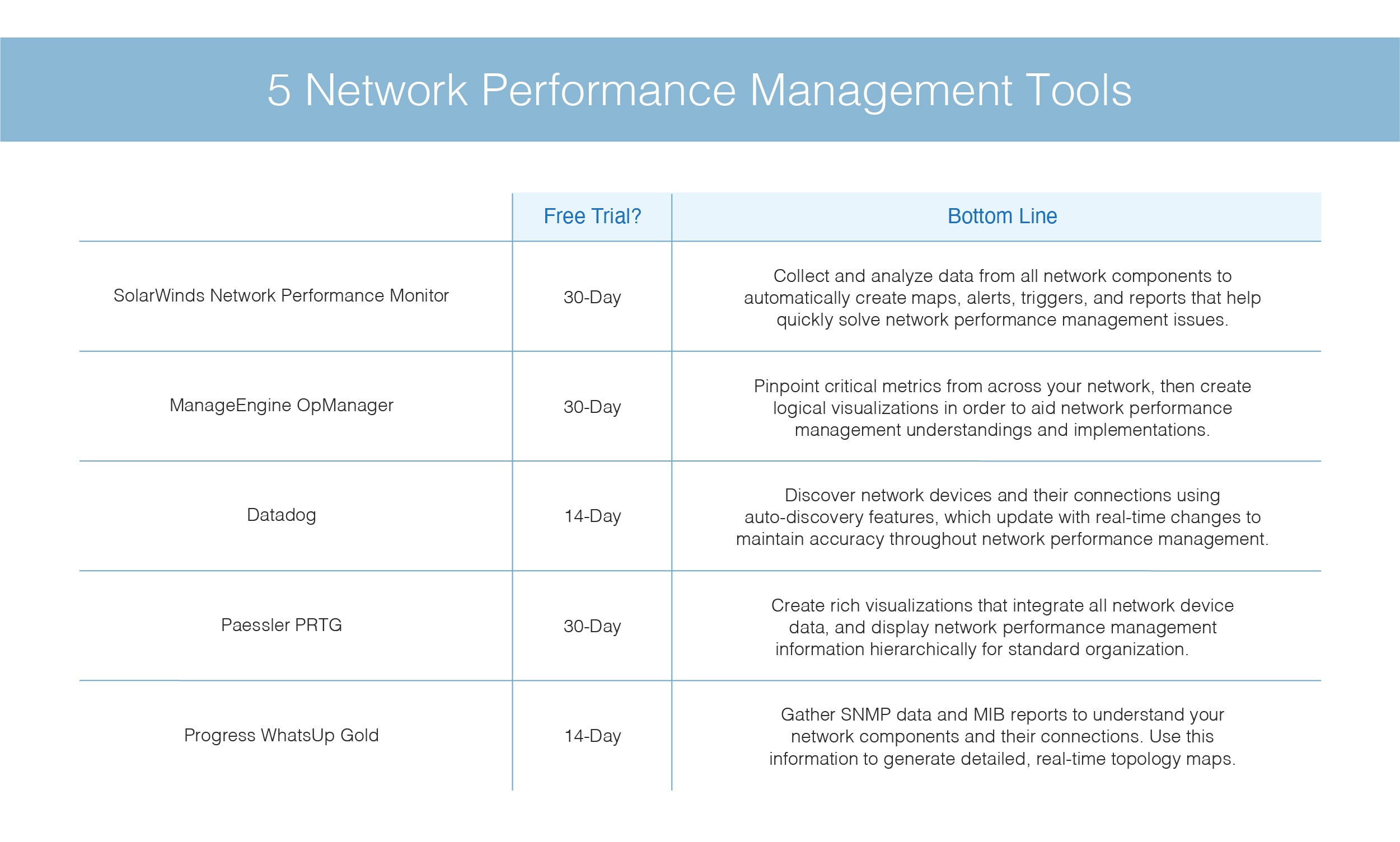 What Is Network Performance Management?
Network performance management consists of monitoring and analyzing network activities to keep business operations running smoothly, consistently, and efficiently. It usually requires you to routinely check the quality service level of each individual network component, device, or node.
Network monitoring is a part of network performance management, but they're not the same. Performance monitoring involves the collection, analysis, and review of network data, whereas network performance management involves making assessments from those collected metrics. You can think of network monitoring as observation and network performance management as action.
How Does the Network Performance Management Process Work?
The network performance management process works by taking granular performance metrics from across your network, then understanding the data by reviewing each individual component's performance and the relationships between them. After reviewing this information, use the resulting insights to form decisions on what kinds of tactics, implementations, and modifications you should implement to improve network performance.
Network performance management enables you to discover performance issues such as bottlenecks, poor throughput, packet loss, delays, and more. These issues negatively impact end-user experience and overall network functionality, wreaking havoc on everything from basic maintenance tasks to massive enterprise operations.
To keep track of all these moving parts more easily, use network performance management software. These specialized tools are designed specifically to help with network performance optimization by achieving three goals:
Gathering high-quality data by automatically filtering through network data according to identifiers like bandwidth, packet loss, node outages, SNMP performance, and traffic patterns.
Analyzing network metrics via artificial intelligence (AI) or machine learning capabilities, plus offer suggestions and best practices for improving network performance.
Identifying security issues and detect vulnerabilities, such as unsecured devices, to mitigate the chances of attack vendor exploitation.
Through making sense of critical network information, the right tool enables you to make the right decisions when it comes to network improvement. Speed up task completion, reduce latency, and keep your enterprise data safe by putting the right policies in place.
Recommended Tools for Network Performance Management
There are many ways to approach how you manage network performance, and each method is used for a specific purpose. To help you make the correct network performance optimization choices, you can use one of the following network performance management tools.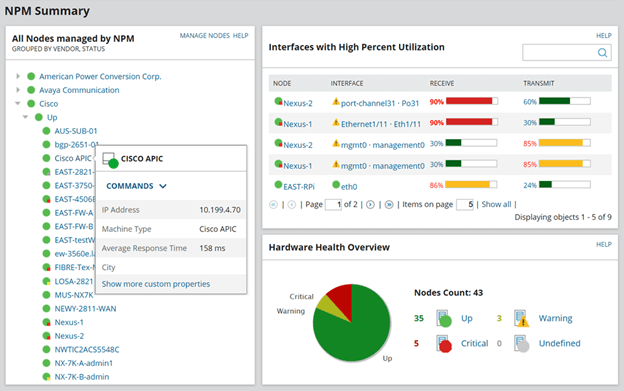 SolarWinds Network Performance Monitor (NPM) enables you to view and analyze performance, traffic, and configuration details of your network devices. NPM is designed to draw information from on-premises components, cloud-hosted components, or cross-hybrid environments. Quickly detect and diagnose issues across your network to help eliminate downtime and resolve problems without compromising daily operations.
NPM is built to support automated maps that visualize network traffic patterns, helping you discover performance metrics and potential issues. NPM can create intelligent maps of complex IT infrastructures across Nexus, Microsoft Azure, and Cisco ACI systems.
You can enable customizable alerts with NPM as your network monitor, which allows you to generate alerts based on simple or specific trigger conditions. These alerts are designed to keep the right team members updated with meaningful network metrics, saving problem diagnosis and response times. You can also generate reports for more in-depth discoveries.
Speed up detection and diagnosis of critical network issues and quickly enact smarter management with SolarWinds NPM. Download a 30-day free trial of Network Performance Monitor.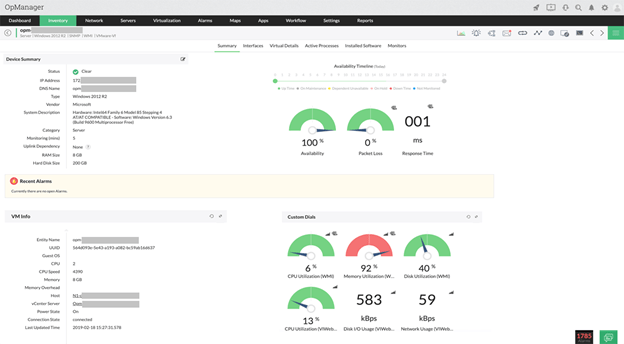 ManageEngine OpManager is designed to monitor network devices, collect critical performance metrics, then uncover key network performance trends and patterns. This data could include disk utilization, DB count, CPU and memory storage, errors, and discards. OpManager can receive syslogs and traps for more network data and supports SNMP monitoring.
OpManager is built to automatically discover network devices, then map them clearly and logically. You can schedule automatic network discoveries through OpManager—view scheduled and on-demand network maps on customizable ManageEngine dashboards.
Monitor, analyze, and troubleshoot existing and potential network problems with this option from ManageEngine. There's a 30-day free trial of OpManager available for download.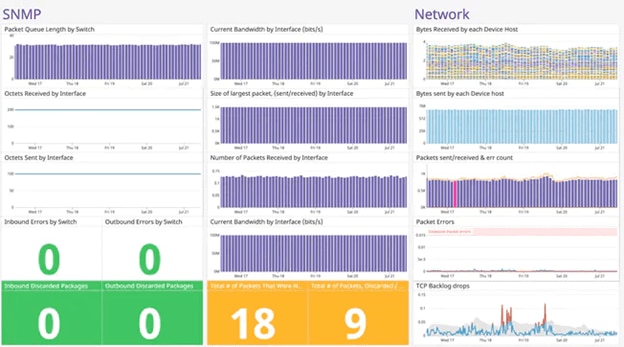 Datadog is a cloud-based tool built to discover network devices and their connections, then draw a network topology diagram. Use this map to quickly spot inconsistencies and changes in data.
You can also view live device statuses, capture packets, and analyze utilities with the Datadog network performance management tool. Datadog is designed with auto-discovery features used to generate device inventories and form indexes of your key tasks. These are designed to automatically adjust to network changes, keeping you up to date.
Datadog enables you to store traffic on the cloud server for historical analysis. This could let you investigate root causes after problems are solved and inform the implementation of preventative measures. Datadog also enables you to create alerts based on thresholds, which are automatically collected and adjusted through machine learning. Access a 14-day free trial.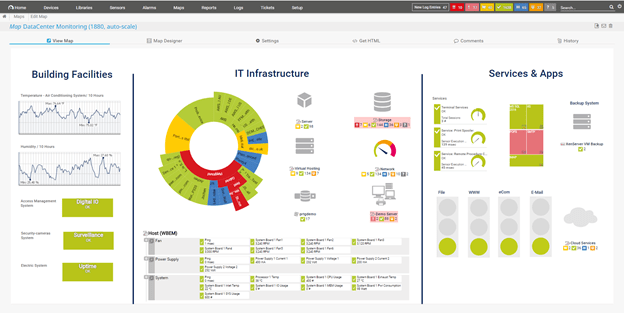 Paessler PRTG is advanced network performance management software designed to collect network data from all devices, systems, and applications in your network. PRTG is built to display this information in a hierarchical view for the utmost organization.
Create rich visualizations with the PRTG map designer, which are created to integrate all network components together for in-depth analysis. These visualizations include charts, lists, graphs, and more with easy-to-detect icons. PRTG is designed to fully support these visuals without additional plug-ins.
You can enable alerts and push notifications through PRTG for 24/7 insight. PRTG also supports in-depth reports, which you could run on-demand and schedule daily, weekly, or monthly—plus, easily export these reports as PDF or HTML forms among others to simplify network performance management and collaboration. You can download a 30-day free trial onto any Windows device.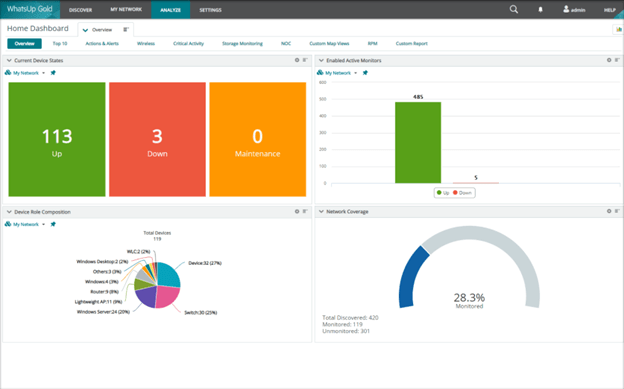 Progress WhatsUp Gold is designed to use SNMP to track key metrics. The WhatsUp Gold network performance management tool collects status reports or MIBs to understand which devices are present in your network and their connections. This information is constantly updated, enabling you to maintain a thoroughly accurate view of network performance.
WhatsUp Gold is built to automatically discover and display device dependencies on unified dashboards. Use this information to visualize your IT environment, detect and resolve issues, and predict potential future problems. Topology maps aid in key tasks, like forming action policies for SLAs.
Real-time alerts can be generated with WhatsUp Gold, which sends trap messages when problems are identified or when a device changes status. These alerts are designed to go directly to the appropriate IT administrator for immediate response and action. Download a 14-day free trial of Progress WhatsUp Gold.
Final Thoughts on Network Performance Management
Network performance management is an essential part of maintaining business network functionality—uncover traffic patterns, potential and present issues, and suspicious activity through efficient management. There are many moving parts to the process, which is why many enterprises use network performance management software.
SolarWinds Network Performance Monitor (NPM) is an industry favorite when it comes to network performance management optimization. NPM is designed to analyze network performance, keep you updated through alerting and reporting capabilities, and help you set priorities and processes that suit your business needs. Download a 30-day free trial of NPM today.