Organizations can face disruption due to unexpected events: human-made and natural disasters, cyberattacks, or unexpected system failures. It is imperative to strategize and implement disaster recovery before disaster can impact operations and lead to significant revenue losses and customer attrition as a result of bad experiences.
Organizations should continually test their disaster recovery plans and procedures so they know they can reliably bring back mission-critical applications and data during recovery. This helps them recover from disasters early on and bring back mission-critical services and applications to mitigate the operational impact quickly after a downtime event. 
In disaster recovery, backup processes and technologies play a vital role in enabling organizations to recover. Accordingly, some organizations rely on continuous backup solutions to achieve better recovery point objectives—which is amount of acceptable data loss measured in time units like hours or minutes—using machine or application snapshots for recovery before disruption occurred. This can especially become complicated for managed services providers (MSP) with hundreds of clients to support. They should choose backup and disaster recovery solutions that are scalable and encapsulated better from disasters.
This article discusses some of the best disaster recovery solutions that help businesses to become disaster-ready.
☑ N-able Backup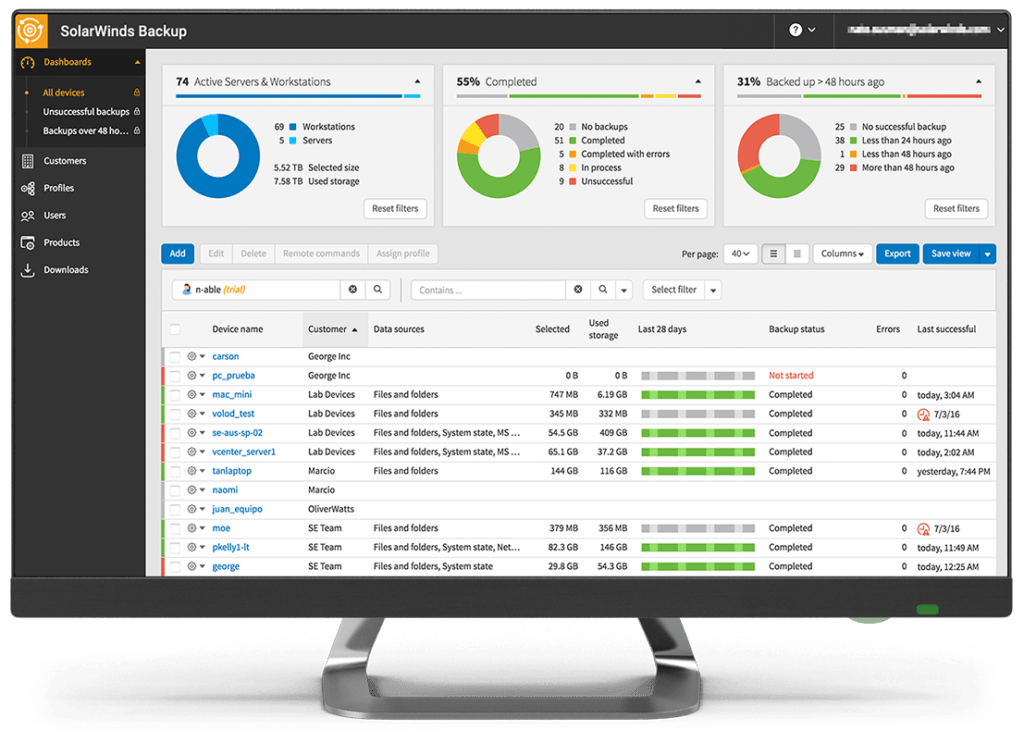 N-able Backup is a backup and disaster recovery solution that performs backups using an agent installed on physical or virtual servers.
In addition to backups, it also offers an archiving service for longer term data storage, and it provides granular control over what to archive. Subsequently, this archived data can help in auditing, compliance demonstration, and other data retention purposes.
Besides, it doesn't require maintaining a secondary data center, as Backup stores and manages data in its private cloud, with 30 data centers across four continents. Moreover, these data centers are either ISO- or SOC-compliant.
N-able Backup uses AES 256-bit data encryption to encrypt data when stored and transferred.  Additionally, N-able Backup offers custom encryption keys that are privately held by the organization or MSP—in other words, it's built so even N-able can't unencrypt data.
Moreover, it gives the flexibility of maintaining standby servers with continuous restores, used to offer quick failover and drastically reduce downtime. N-able Backup also allows replicating machines in a chosen local data center or Microsoft Azure.
☑ Microsoft Azure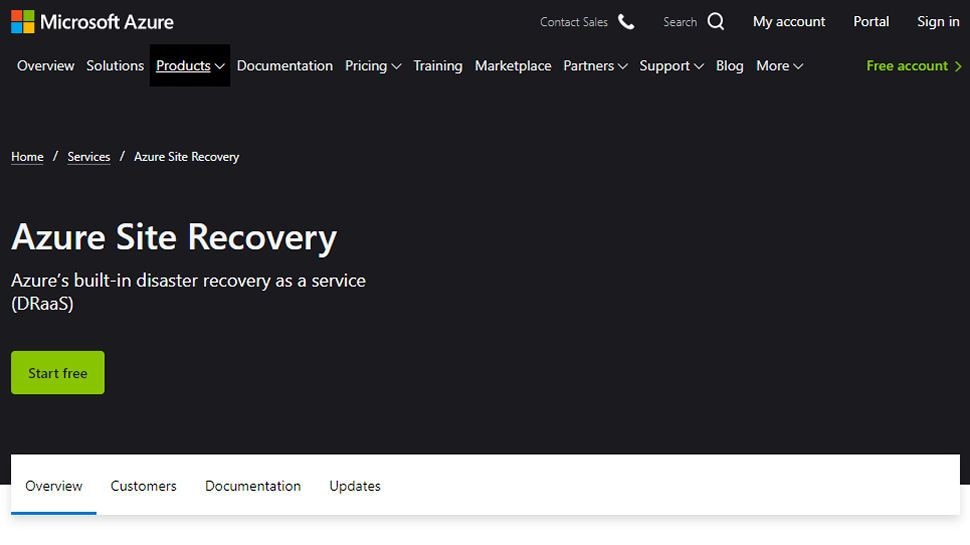 Microsoft Azure offers Azure Site Recovery and Azure Backup that work in tandem to provide disaster recovery and backup. Azure Site Recovery helps to back up on-premises workloads to Azure and Azure workloads to different availability zones. In a disaster, organizations can quickly replicate on-premises workloads on Azure and perform failback procedures when the primary data centers recover.
Azure Site Recovery also helps in performing disaster recovery drills without impacting ongoing replication processes. And it allows running failovers for expected or unexpected disruption without losing any data.
Azure Backup allows organizations to back up files, VMs, and SQL databases, as well as SAP HANA databases running on Azure VMs. It offers storage redundancy in local, geo, and zone levels. Moreover, it can perform application-consistent backups that contain all the required data to restore an application.
☑ Barracuda Backup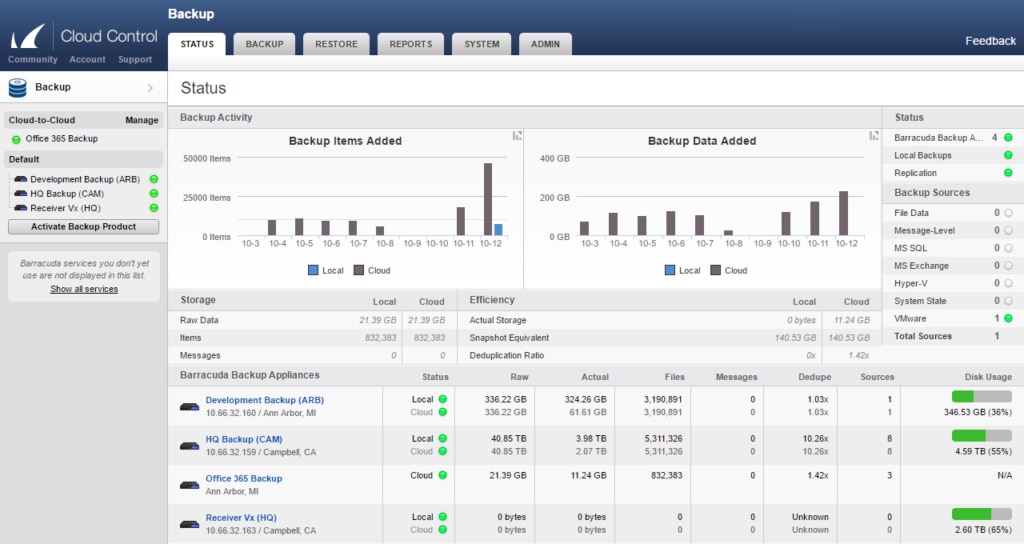 Barracuda Backup can back up data from a wide range of sources, including physical and virtual machines, SaaS applications like OneDrive and SharePoint, and SQL databases. Further, it allows replicating backup data to other data centers, AWS, or Barracuda cloud storage. It supports machine recovery through snapshots and allows you to granularly recover only specific files depending on the situation. Barracuda Backup offers various solutions:
Barracuda Backup Appliance, a physical appliance for backups
Barracuda Cloud to Cloud that helps to manage Microsoft 365 backups
Barracuda Virtual Backup for directly using it on an organization's hardware
Full cloud-based management from one console
☑ N-able RMM and N-central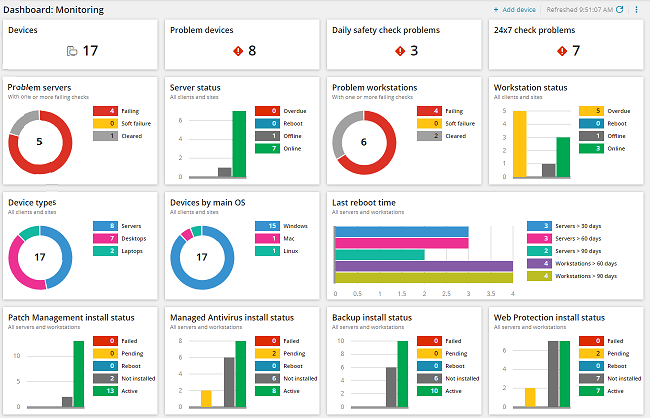 N-able RMM is a comprehensive remote monitoring and management tool that also provides backup and recovery features. It uses TrueDelta™ technology that only stores changes from the last backup, quickening the backup process. Plus, it can back up individual files, servers, applications, and entire systems in a cloud environment and facilitate rapid recovery in the event of a disaster. Further, it's built for secure data transfers and encrypts data using AES 256-bit encryption.
Similarly, N-able N-central® is another remote monitoring and management tool that features Backup Manager, which facilitates data protection through backups and provides disaster recovery.
☑ TierPoint
TierPoint offers fully managed, as well as self-service disaster recovery solutions. It facilitates cloud-to-cloud failover to TierPoint private or multitenant clouds. It also supports failover automation that helps teams recover from incidents in a shorter time. It also helps to perform replication and recovery to Azure and allows recovering physical servers to the cloud. Furthermore, TierPoint helps to perform disaster recovery setup and testing in accordance with regulatory compliances, such as HIPAA and PCI DSS.
☑ Flexential DRaaS
Flexential DRaaS is a fully managed service for on-premises as well as cloud environments. Its Recovery Cloud aims to achieve low recovery time objectives and recovery point objectives. It also focuses on providing secure and compliance-based solutions and has five different DR locations across the U.S. It allows testing as needed and provides the flexibility of replicating to a Flexential recovery site or any other chosen data center.
Conclusion
Customer experience is the cornerstone of business growth and revenue generation, and disasters are among the most significant threats. A simple look at stats on disaster and cyberattacks reveal how frequent they occur:
As disasters represent severe threats to organizational operations, businesses must prepare for unforeseeable events by continually performing backups and testing disaster recovery strategies. This is even more critical for MSPs having hundreds of clients concentrated in a handful of geographic locations, as any disaster impacting one area can impact their customers adversely if recovery plans are not in place.
Get more on disaster recovery solutions
If you'd like to further explore the topic of disaster recovery solutions, be sure to also read: