If disaster strikes, do you have a plan? Backing up your files, devices, and configurations can mean the difference between bouncing back from temporary data loss and letting it drive you out of business. In this guide, we're breaking down network backup and network backup software. You'll learn what network backup is, how it works, and how to choose the best network backup tool for your enterprise. If you'd like to skip ahead to the right tool for the job, start with SolarWinds® Network Configuration Manager (NCM), designed to safely back up the configurations across your network.
What Is Network Backup?
How Does a Network Backup System Work?
Why Do I Need a Network Backup Solution?
Choosing a Network Backup Solution
Choosing the Right Network Backup Software
Lightweight Network Backup Option
What Is Network Backup?
Network backup is the most important part of any IT department's backup and recovery plan. It's the process of identifying what network components need to be backed up and copying data from all end devices and network nodes within the IT infrastructure onto another server or network backup device. This is typically done using network backup software. The data from a network backup can be used to restore an individual node or even an entire network in case of an emergency, like a cyberattack. Still, network backup isn't only useful during worst-case scenarios. Network backup can also be used to restore business-critical operations if the primary network is temporarily unavailable for a benign reason, like maintenance.
The three primary types of backup are differential, incremental, and continuous:
Differential backups only backup files that have been created or changed since the last time you did a full network backup, no matter how long ago it was. Differential backups are comprehensive but they're slower to run and take up more storage space. But it also speeds up recovery time because there are fewer files to download in the end.
Incremental backups, on the other hand, only backup the files that have been created or changed since the previous incremental backup. Incremental backups require less storage than differential backups but restoring them can be time-consuming depending on your requirements.
Continuous network backups can be a user-friendly option. This backup type is like AutoSave—the network backup system saves and stores data whenever a change is made. If you have an automated network backup, you don't have to worry about maintaining a manual backup schedule.
In addition to choosing a backup type, you also have to choose what kind of backup server you'll use—public cloud or private server. There's still debate about which kind of server is safer, and it's a decision every IT administrator must make for themselves. Typically, the cloud is convenient and easy to use. It's easy to scale cloud storage, even if it may require added costs to buy more space.
How Does a Network Backup System Work?
Network backup software interacts with your IT infrastructure's server or main node, storage management resources, and clients. The server guarantees your data is protected, manages clients, and defines the policy and backup scheme for different elements on your network. The clients represent the equipment and devices to be backed up. The network backup system pulls data from your clients, transmits it through your network, and then backs it up to the server of your choosing. More advanced network backups can also back up media files linked to the backup server, which comes in handy for enterprises using network attached storage (NAS) devices to house shared data.
Here's a quick breakdown of what network backup solutions do:
Make copies of operating systems, end devices (computers or servers), and other networking devices (routers and switches)
Make copies of files between two separate locations
Back up all data stored on devices within a network
Save network configuration files
Network backup seems like a simple enough process, but it has its challenges. The most common are:
Slow data throughput speeds
Open or unsecured files
Outdated or unreliable hardware
Backing up from network archives with differing security standards
Luckily, using network backup software can help eliminate some of these pain points.
Why Do I Need a Network Backup Solution?
It's important to use a network backup solution because backing up is an integral part of any IT administrator's disaster recovery plan. If you lose business-critical data due to a data breach, hacker, or temporary system outage, having a backup ensures you'll be able to recover the data. Still, managing network backups for the instances on your network using physical network backup devices, tape drives, or periodic manual backups is too time-consuming. You need network backup software to streamline and automate backing up across your enterprise.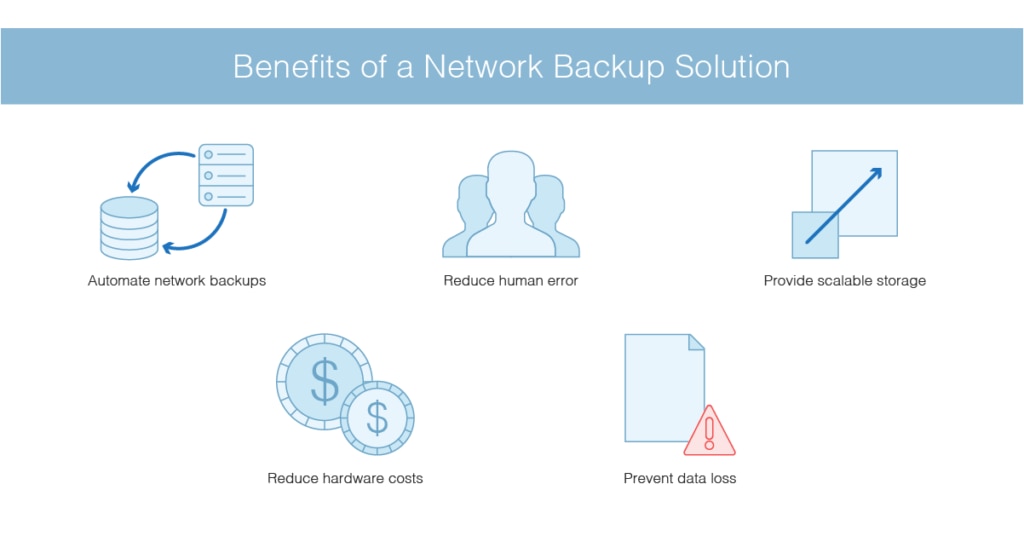 Benefits of a Network Backup Solution
☑ Automate network backups
Your network backup software automatically backs up data from devices included in your network, including shared data on NAS devices. This saves you the hassle of manually backing up each device.
☑ Reduce human error
When it comes to executing regular network backups on time, scheduling them will only go so far. Manually backing up multiple devices is notoriously prone to error, and it's easy to forget a daily or weekly backup and lose files. Automated network backup helps eliminate this risk.
☑ Provide scalable storage
Since your data will be backed up to one secure location, having a network backup system saves you the trouble of negotiating a tape drive for each computer system. As your business grows and you add more computer systems to your network, a network backup system can accommodate them.
☑ Reduce hardware costs
Manually backing up your data requires physical equipment, and maintaining computers with large amounts of data on them can be costly. Network backup software is a cost-effective way of backing up your files.
☑ Prevent data loss
Research by Dell/EMC found businesses that lost an average of 2.13 terabytes of data over the span of a year could equate this loss to nearly $1 million. So, while there's no surefire way to ensure an employee never loses a file and systems are fail-proof, having network backups is the only way to bounce back from data loss and get back to business when it occurs.
In a more general sense, having backups for multiple computers and network devices on your network is an important part of network management best practices. It's a good idea to have file backups on hand for compliance and reporting purposes. Plus, it's easier to manage and reoptimize network configurations when you have the most recent network configuration backups to work from.
Choosing a Network Backup Solution
Now that you know how important network backup is, it's time to choose a network backup system. Start by narrowing your search down according to where your data will back up, to a public cloud or a private server. From there, compare network backup solutions according to these key areas.
☑ Scalability
Can the software scale up and down with your business? Not all network backup solutions are robust enough to handle a multi-vendor network with thousands of nodes and devices. Assume your business will grow and choose network backup software designed to fit your prospective size and your current size.
☑ Security
Security is paramount when it comes to network backup. Your network backup software of choice backs up user data to a secure location and helps you demonstrate compliance with cybersecurity standards.
☑ Reliability
You need to be able to trust your network backup system can securely, accurately, and reliably execute all backup and recovery operations. Can your prospective network backup solution back up and store complete copies of your data time and time again?
☑ Compatibility
No two networks are the same, so be sure to look for a network configuration backup you can customize to fit your needs. You don't want to have to change everything about the software to make it compatible with your systems. Ideally, you want enough out-of-the-box features to start backing up right away, with enough customizable features to tweak it to your liking.
☑ Visualization
Presentation is important, especially when you're dealing with network configurations managing many different devices or endpoints. Some network configuration backups offer a text dump in a Command Line Interface, while others use topology visualizations and graphs. Aesthetics might not seem like a major deciding factor, but it goes toward ease-of-use.
Choosing the Right Network Backup Software
This isn't a comprehensive list, but it's enough to help you separate the cream from the crop. My top pick for network backup software is SolarWinds Network Configuration Manager (NCM). I like NCM because it's the total package—it combines network backup, network configuration backup, and several asset management features in one high-class tool.
Let's break down NCM's features according to the list of must-haves for network backup solutions: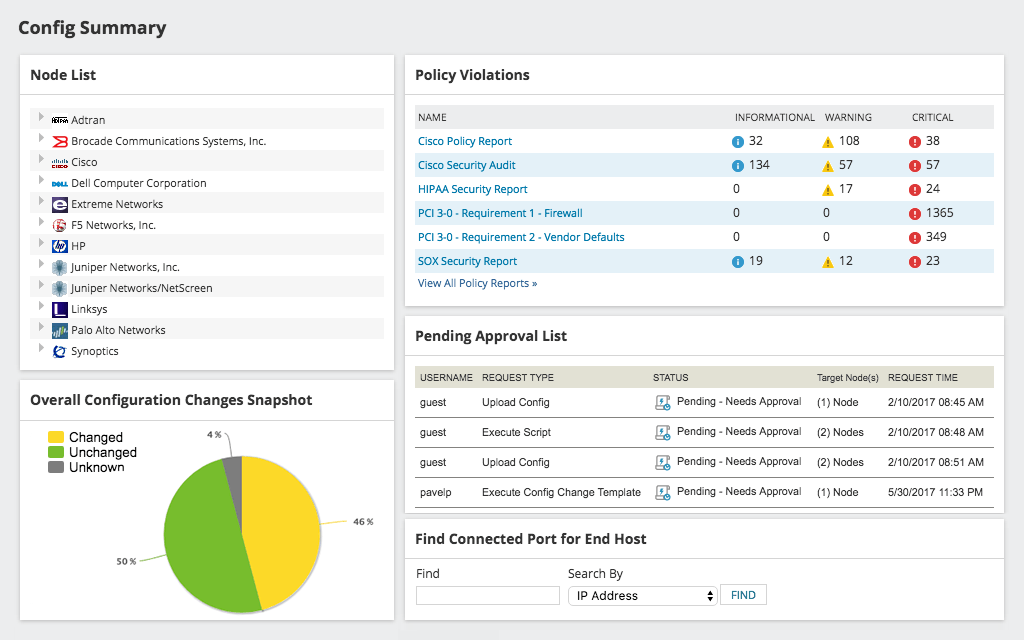 ☑ Scalability
NCM's multi-vendor server monitoring is compatible with diverse infrastructures. You can toggle back and forth between different devices from one centralized console with total control thanks to full administrative access. Also, NCM gives you the option of deploying on-prem or in the cloud.
☑ Security
NCM is unique because it has security capabilities beyond providing a safe place to store backed up files. This software integrates with the National Vulnerability Database and checks for vulnerabilities by cross-referencing your Cisco devices against a list of the latest CVEs. From there, NCM has tools to help you investigate and fix any vulnerabilities. Audit device configurations for NIST FISMA, DISA STIG, and PCI DSS help you demonstrate compliance.
☑ Reliability
NCM offers excellent reliability, thanks to automation. You can automatically deploy standardized device configurations in bulk to save time and set up automatic network configuration backups to roll back to the last known good config. This tool is designed to ensure you're getting a full, accurate, and secure network backup each time.
☑ Compatibility
NCM offers out-of-the-box support for the top network device vendors, including Cisco, Palo Alto Networks, Juniper, HP, and more. You can also combine how you view these tools with the numerous customizable features available in NCM.
☑ Visualization
With NCM, you can compare configurations to each other and pre-established baselines using different config views. This visibility helps you quickly drill down on changes within your configurations. Network Insight™ for Palo Alto Networks, Cisco, and Cisco Nexus helps you dig deeper into your firewalls and switches.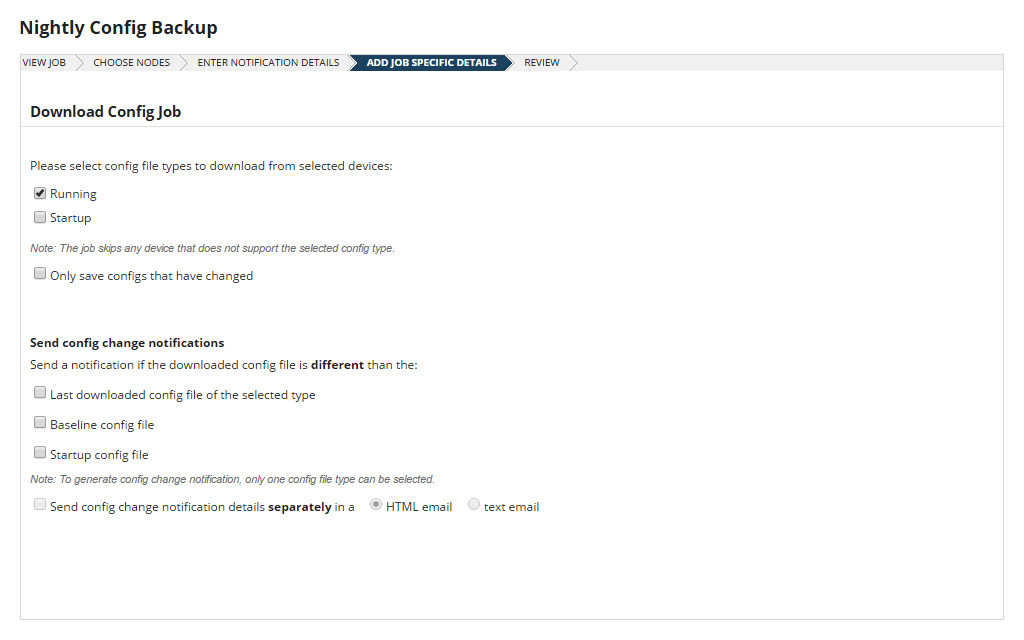 If you want to try out this tool for yourself, SolarWinds offers a 30-day free trial of NCM. For an even more comprehensive network management experience, you can integrate NCM with SolarWinds Network Performance Monitor.
Lightweight Network Backup Option
So, if NCM is like the Rolls Royce of network backup software, what if I (or my budget) want more of an affordable-priced family sedan—a dependable option with just the necessary features included? The answer: Kiwi CatTools®.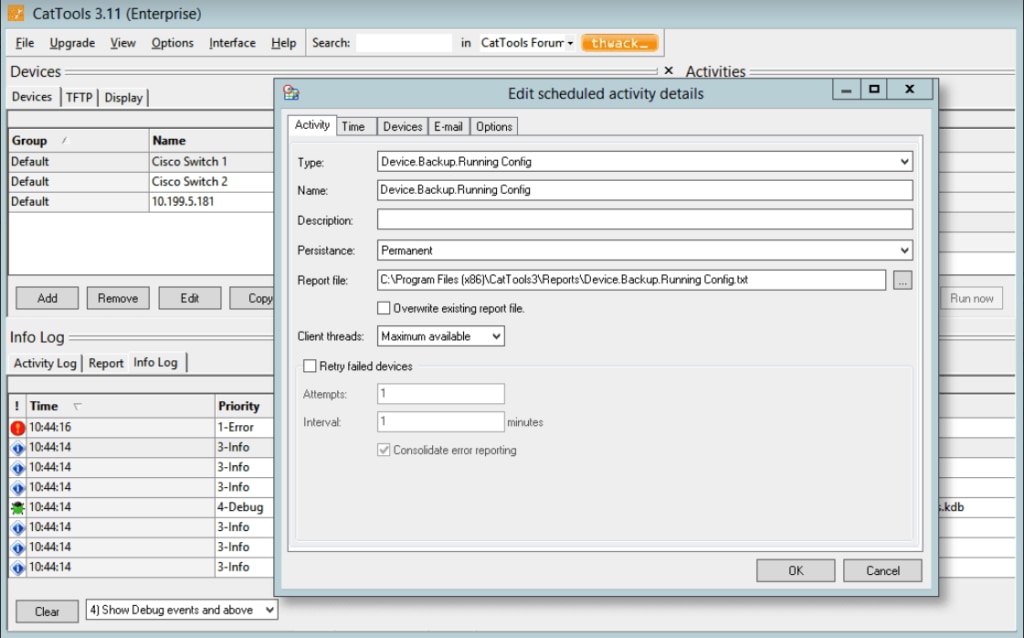 Designed to support small business networks, Kiwi CatTools could benefit companies looking for an affordable and efficient multi-vendor network backup solution to schedule automated backups, make configuration changes in bulk, quickly revert or rollback to previous configurations, and get basic reporting on configuration changes.
Kiwi CatTools comes with out-of-the-box support for many vendors of IPv4 and IPv6 devices, such as Cisco, HP, F5, Huawei, Juniper, and more. Kiwi also includes a built-in TFTP server you can use to push configuration changes and apply configuration files to multiple devices simultaneously, making it easier to roll back to a previous configuration. You can download Kiwi CatTools free for 14 days.
Final Thoughts on Network Backup
I would say "It doesn't matter how you back up, just as long as you back up," but that's not exactly true. Network backup is essential for businesses of all sizes, but if you're backing up infrequently or end up backing up incomplete files, you're putting your business at risk. To get the most out of network backup and keep your files safe, you need robust network backup software like SolarWinds Network Configuration Manager (NCM).