Any IT specialist knows the importance of switch port management. Your company can see quick benefits when you start monitoring your switch ports to increase network efficiency, including savings in time, money, and energy. Switch port monitoring also provides critical protection against security threats.
Although network switches generally have LED lights to signal their status and the status of their ports, these don't provide much in the way of insights. The LEDs tend to be hidden by cabling, and the switches themselves tend to be enclosed or installed in a remote location. For this reason, the use of network port monitoring software is essential for effective switch port management.
In this article, I'll set out my top picks for network switch monitoring software. But first, let's look at switch ports and how they operate.
Skip to Best Switch Port Monitoring Software List >>>
What Is a Switch Port?
A port is the part of your hardware that allows different devices on the same network to find each other, connect, and exchange data. Communication between ports takes place in one of two formats: TCP or UDP data transmission. The difference between these types of transmission lies in how closely data packets can follow a set path to their destination.
TCP: In TCP data transmissions, often used for streaming, data follows a multi-server path with many intermediary data reception and transmission devices, ensuring a smooth journey to its destination port.
UDP: With UDP transmissions, data is essentially sent out into cyberspace. UDP allows you to communicate with less overhead, but the data might take a roundabout trip to the receiving port.
Compared to a standard port, a switch port is a network bridge that uses multiple ports to find the optimal transmission scheme. Switch ports usually operate on OSI layer 2 transmission, but router-capable switch ports can also operate on layer 3. The idea behind a switch port is to communicate data in a more sophisticated way—instead of sending and receiving information on a single port, a switch port device uses a single IP address to redistribute data packets most effectively among multiple ports, which can receive new data if another switch port is busy.
What Are the Benefits of Switch Port Monitoring?
The basic goal of network switch port monitoring is to discover what switch ports are maxed out at data capacity. Once you can quickly identify these high-load ports, you can automatically reconfigure your capacity plan to use idle ports.
Network port monitoring software is key to preventing inefficiencies based on capacity limitations. The right tool will monitor your port data along with CPU load and memory reserves and provide a diagnosis of your past switch port information for future reference. Network switch monitoring software allows you to claim idle ports, which helps prevent security breaches.
Best Network Port Monitoring Software
From basic open-source switch mirroring to complex switch port dashboards, network port monitoring software can take a variety of forms. What they all have in common is an attention to switch port activity—they monitor the devices interacting with the network's switch ports, and more complex tools can assess safety and storage information.
My top three picks for network port monitoring software come from SolarWinds Their offerings in the area of switch port management range in focus and scope; I've included all three, starting with the most extensive.
My favorite network switch software combines two SolarWinds® products: Network Performance Monitor (NPM) and Network Configuration Manager (NCM). The two offerings integrate seamlessly and are backed by the high-quality customer service IT professionals have come to expect from SolarWinds.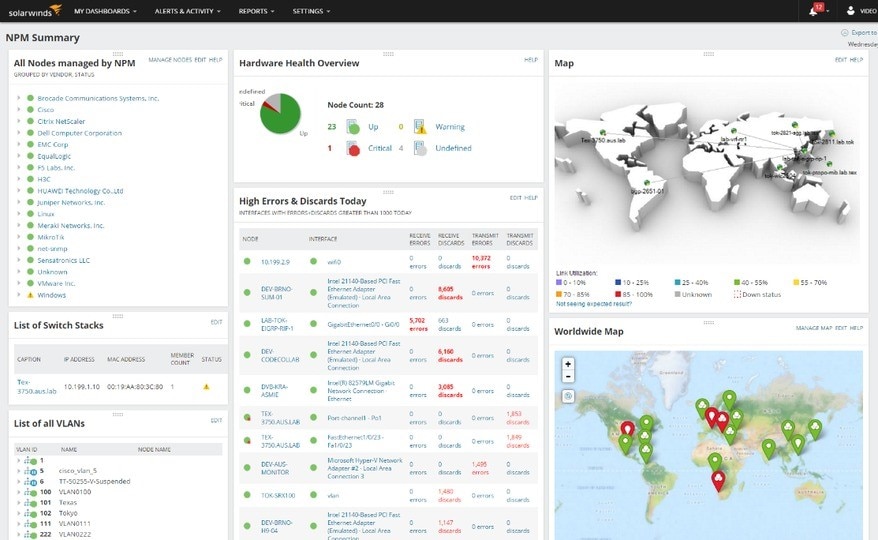 SolarWinds offers multiple products to monitor switch port activity, but the NPM + NCM solution offers the widest variety of switch port-specific services. In addition to overall network monitoring capability, NPM and NCM thoroughly monitor switch ports for the most comprehensive possible network monitoring scheme. It offers both hardware and virtual switch port monitoring for a comprehensive overview of practically any sophisticated switch port setup. For virtual PCs, it offers automatic mapping to prevent port repetition between your vPC and your physical port system.
In addition to virtual port mapping, SolarWinds NPM and NCM perform all the standard data monitoring functions of a switch traffic monitor with a high degree of complexity. It helps ensure network health and port availability with detailed success evaluations of both used and unused port switches. Take advantage of the 30-day free trial, during which both NPM and NCM are fully functional.
SolarWinds User Device Tracker (UDT) is geared toward gleaning a basic overview of network user activity, which makes it a helpful security and performance tool for IT specialists. UDT functions both as a switch port monitor and as network port mapping software. It enables you to track endpoint devices by their username, hostname, or IP/MAC address. It also tracks users, which sets it apart from other offerings.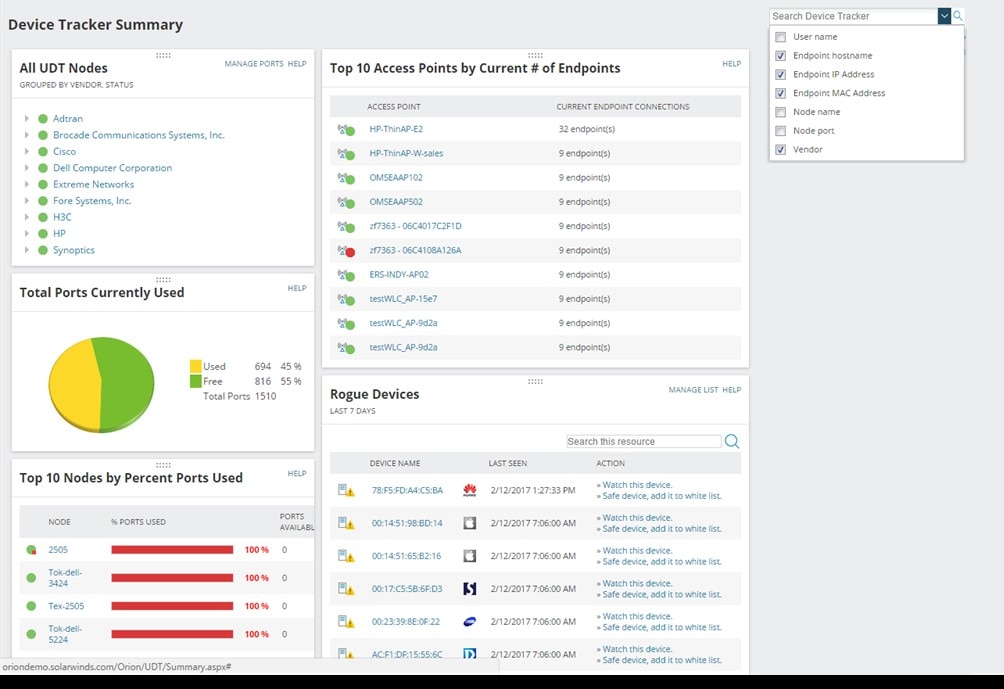 UDT is a streamlined tool that significantly simplifies the process of switch management. Its dashboard integrates easily with other SolarWinds products, making it an excellent investment. You can try the fully functional tool free for 30 days.
SolarWinds Engineer's Toolset™ (ETS) is an impressively broad monitoring system and enables IT professionals to map and track network devices and topology. It comprises over 60 network management tools, including network port monitoring software, network port mapping software, and tools for IP address and switch port management.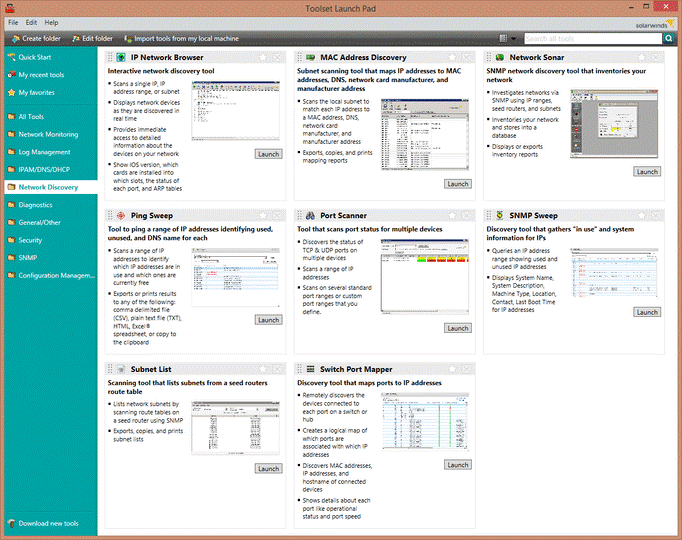 With ETS, it's easy to establish which devices are associated with which ports and to stay apprised of the capacity status of all your switch ports. A 14-day, fully functional free trial of ETS is available through the SolarWinds website.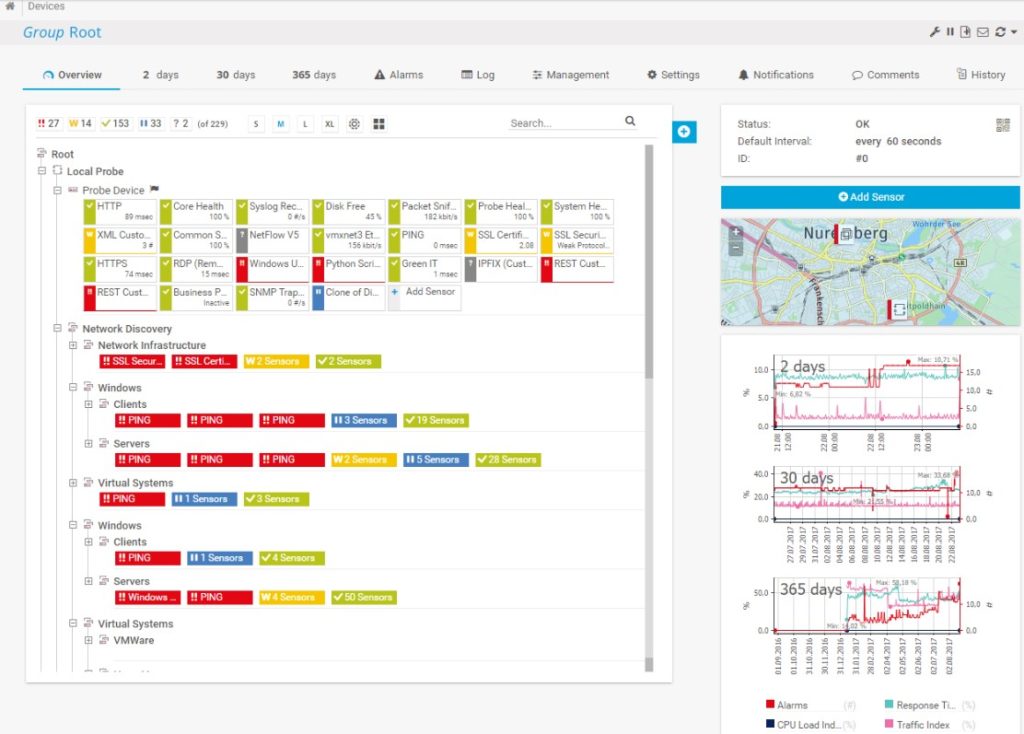 Paessler is a software engineering company with a narrow focus on network monitoring. Its flagship product is the PRTG Network Monitor, a comprehensive network tool for IT specialists and MSPs who need a multi-pronged approach to network activity and security. As a feature of its network monitoring, PRTG is equipped with a switch port monitoring system to allow the software to probe ports, sniff packets before they're introduced into the network, and analyze ports for capacity management. It calculates bandwidth usage either by inspecting data packets passing the PC network card or by using a packet sniffer to inspect packets sent by a switch monitoring port.
The hallmark of the Paessler brand is its reliance on customizable SNMP sensors, which PRTG uses to probe switch ports. Pricing is determined on a per-sensor basis. You can try the unlimited version free for 30 days.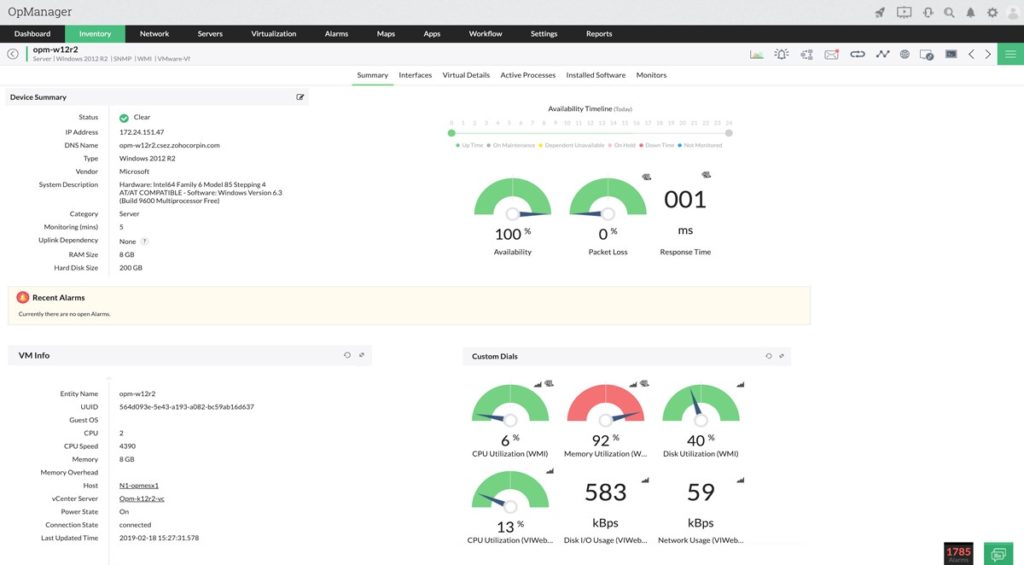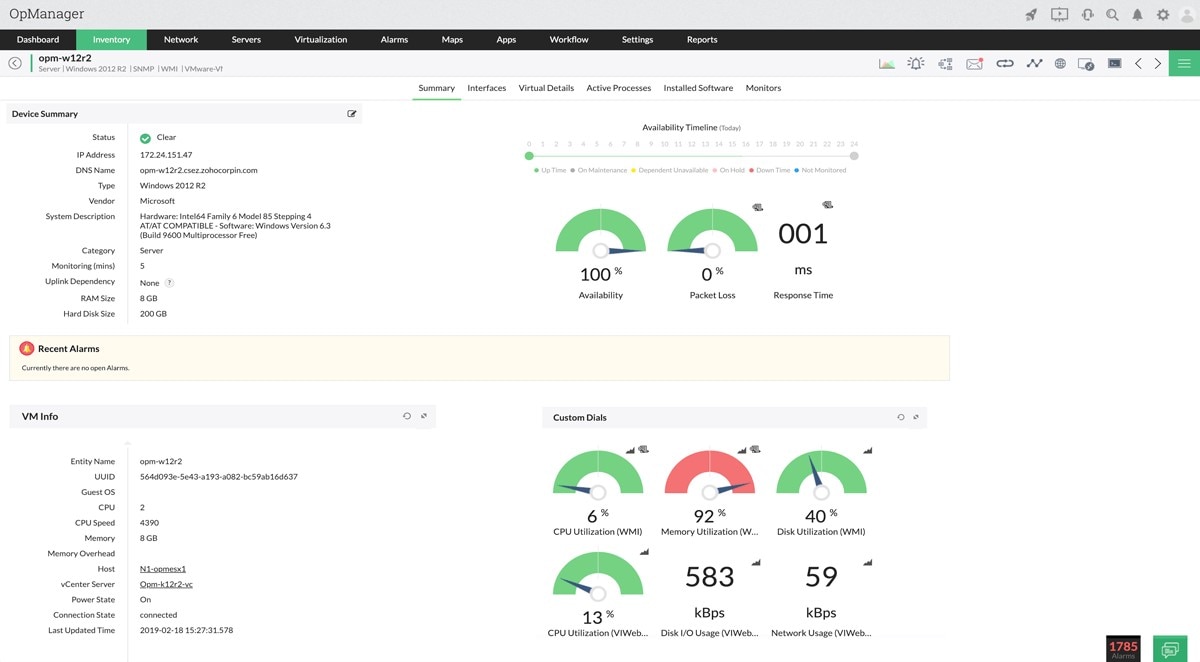 OpManager from ManageEngine, like Paessler PRTG and SolarWinds NPM/NCM, is a comprehensive network monitoring device with dedicated attention to switch port monitoring. It includes a dashboard for keeping track of available ports, used ports, and total ports, and allows for network discovery mapping and quick identification of IP/MAC addresses or hostnames based on their port access.
OpManager is especially useful for network monitoring in subnet environments. It doesn't offer a free trial for its full-scale version, but it does provide a small-scale free version with monitoring capability for up to three devices.
Cisco Switched Port Analyzer (SPAN) is an open-source mirroring device. It runs as a VLAN filtering and traffic monitoring system to keep track of the port activity within your network. Although, as a free open-source software, SPAN is supported by a resourceful online help desk made up of Cisco users, its capabilities are far less broad than more sophisticated closed-source monitors. For example, with SPAN, complex ports like multi-VLAN ports aren't manageable. In addition, the setup process takes time and a good deal of patience.
Like Cisco SPAN, HPE ProCurve is a mirror port configurable as an extension of the HP switch port itself. It monitors switch port activity by using an open-source installation. The idea behind a mirror port is to designate specific ports to monitor inbound and outbound traffic, and subsequently copy (or "mirror") the activity from the active ports in the network. For IT specialists who have the patience to set up mirror ports, this can be a useful and cost-effective way to monitor ports.
HPE ProCurve includes a basic graphical interface, and it has none of the complexities of closed-source software; for instance, it doesn't provide security alerts or history reports.
How to Choose the Best Switch Port Monitoring Software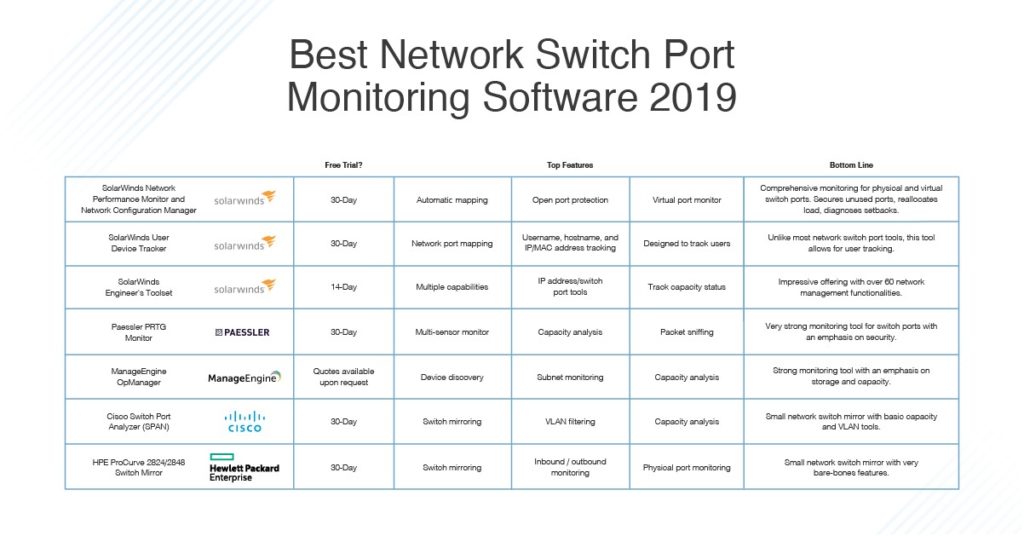 Switch port monitoring can be an important addition to your network security, data capacity planning, and operations quality. If you're in the market for comprehensive, out-of-the-box network port monitoring software, SolarWinds is hard to beat. Its flagship network monitoring tools Network Performance Monitor and Network Configuration Manager offer real-time analysis of switch port activity, including multiple-VLAN capability, storage capacity planning, and security measures to prevent attackers from accessing unused ports. For other switch port monitoring configurations, I would check out SolarWinds User Device Tracker or Engineer's Toolset.