IT teams spend an inordinate amount of time monitoring, whether it's servers, applications, storage, or any of the other systems critical for optimal performance. But network monitoring, at its core, is one of the most critical. Because no systems work if the network is down, network monitoring is about more than just looking for slow or failing components—it's also about ensuring an organization can function and remain profitable.
As networks continue to grow to accommodate a wider range of applications and devices and spread over greater distances, network monitoring has become more complex than ever before. However, network monitoring solutions have kept pace with our ever-expanding networks, and there are many effective network monitoring tools available.
Below, we've provided a helpful network monitoring tools comparison, but if you'd like to jump ahead to a top pick for best network monitoring tool, take a look at SolarWinds® Network Performance Monito (NPM). It offers an easy-to-use, affordable option with detailed reporting, customizable interfaces, and instant alerts to keep your network healthy.
Importance of Network Monitoring
How to Choose a Network Monitoring Tool
Types of Network Monitoring Software
Most Important Features of Network Monitoring Software
Six Best Network Monitoring Software Tools Comparison
1. SolarWinds Network Performance Monitor (Free Trial)
4. N-able Remote Monitoring and Management
What to Know About the Monitoring Tools Comparison
Importance of Network Monitoring
Network monitoring is crucial for networks of all sizes to gain insights into data and measurements of the health and performance of all network components, from switches, servers, and routers to devices and applications. Some of the key areas of network monitoring are understanding bandwidth, traffic, and uptime. But each of these components have their own metrics. For example, key metrics for measuring traffic include latency, packet errors, TCP retransmits, and packet metadata.
With so many areas of concern (especially as many networks move off-premises to accommodate work-from-home and hybrid workplaces), adopting network monitoring tools is critical for gaining a bird's-eye view of a network and ensuring the network is functioning as well as it should. And because recurring problems and downtime mean end users often don't have access to a network for periods of time, maintaining a healthy network via network monitoring is critical for productivity, revenue, and customer satisfaction.
How to Choose a Network Monitoring Tool
There are many different factors to consider when choosing a network monitoring tool, but among the most critical are cost, functionality, and scalability. For instance, a smaller network or business just beginning to experiment with network monitoring tools might want to consider an open-source or free tool. However, an enterprise network monitoring software comparison would likely be more focused on greater capabilities and specialized tools for unique network needs.
Here are a few questions to consider when embarking on a network monitoring tools comparison:
Will this network monitoring tool's protocols, sensors, and technologies adapt to my company's existing IT infrastructure?
Am I looking for on-premises network monitoring tools, or does my organization need cloud or hybrid solutions?
Is this product scalable? Will it fit the size of my network in five years?
Is this network monitoring tool's dashboard easy to read? Is it customizable? Does it include graphs, charts, and reports while also supporting a historical baseline?
Does this tool allow me to customize alerts and offer an array of ways to receive those alerts, whether through text, email, or other options?
How easy is this product to use out of the box? Will this manufacturer provide robust support and training for this tool?
Am I able to try this tool for free to assist in the network monitoring software comparison process?
Types of Network Monitoring Software
Though all network monitoring software should provide a complete view of the entire network, when you begin a network monitoring tools comparison, it's important to understand the three main types of network monitoring:
Fault management and monitoring
Fault monitoring involves identifying, diagnosing, and evaluating network errors. The main objective of network fault management is maintaining high network connectivity while ensuring all the applications and services are running at an optimal level. Fault management and monitoring help minimize network downtime and fault tolerance.
Network performance monitoring
Network performance monitoring is a set of processes used to determine how your network is performing and identify what problems are causing network downtime. Network performance monitoring allows an organization to scan, discover, and map devices and applications to gain performance metrics such as latency, jitter, and throughput. A network performance monitoring tools comparison should focus on easy-to-read dashboards along with proactive troubleshooting capabilities.
Network availability monitoring
In a business landscape, IT operations require round-the-clock checking because keeping networks and services available is crucial. Downtime hurts a business's bottom line because it decreases productivity, diminishes customer trust, and causes revenue loss. Network availability monitoring involves many different network aspects—including port, system, application, service, and IP SLA availability—to make sure the network is free from downtime and potential outages. When conducting a network performance monitoring tools comparison, make sure customizable alerts are available so you can have instant awareness of slow bandwidth or downtime.
Most Important Features of Network Monitoring Software
When making a network monitoring software comparison, there are a few main criteria to consider.
Installation and setup
A good network monitoring tool will be ready to use out of the box by providing an excellent auto-discovery function to quickly discover network devices. It will also provide excellent resources for customer support and education.
Interfaces
Because so much of operating a network monitoring tool involves interacting with its dashboards and interfaces, network monitoring tools should always provide the option to customize interfaces and offer visualization options such as maps, graphs, dashboards, and diagrams.
Alerts
Alerts are one of the most powerful tools in an IT arsenal, and network monitoring software should provide many different options for alerting the right team member to problems as soon as they arise to optimize network performance and prevent downtime.
Reporting
Network monitoring software should automate reports while archiving data to create baselines for performance and data for problem investigation.
Six Best Network Monitoring Software Tools Comparison
Though different networks can have different needs, the good news is when it comes to network monitoring tools, you're likely to find an option suitable for you. Here's a network monitoring tools comparison of the top six network monitoring tools on the market.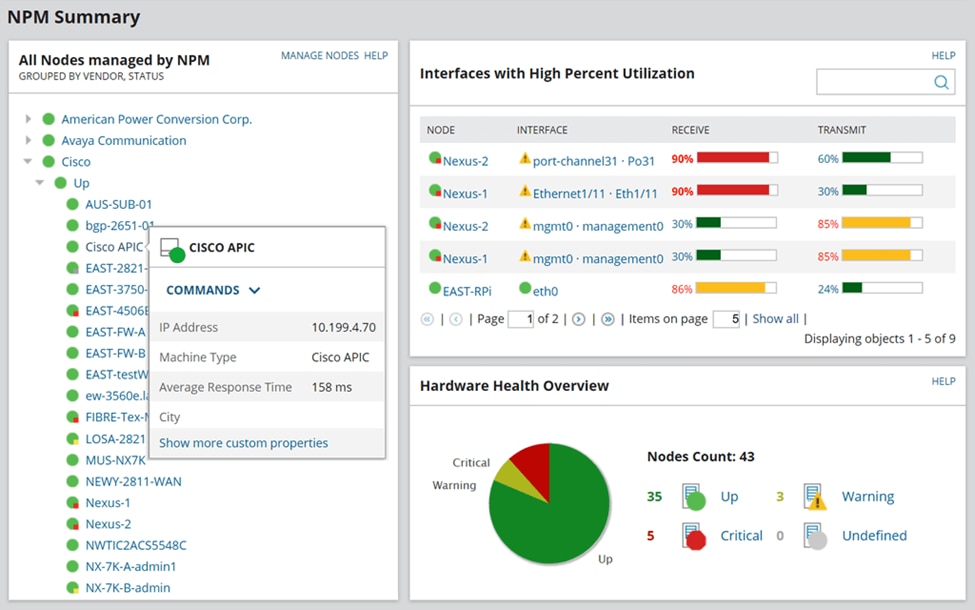 © 2022 SolarWinds Worldwide, LLC. All rights reserved.
When it comes to enterprise network monitoring software comparison, there's a reason Network Performance Monitor usually tops the "Best Of" network performance monitoring tools comparison lists. Offering multi-vendor network monitoring alongside intelligent maps, easy troubleshooting, network insights, and an advanced customizable alerting system, NPM has it all. NPM also features easy-to-read, custom dashboards and a tiered license system, so there's a plan to fit every organization's size and budget.
Learn More About the Product                       Download Free Trial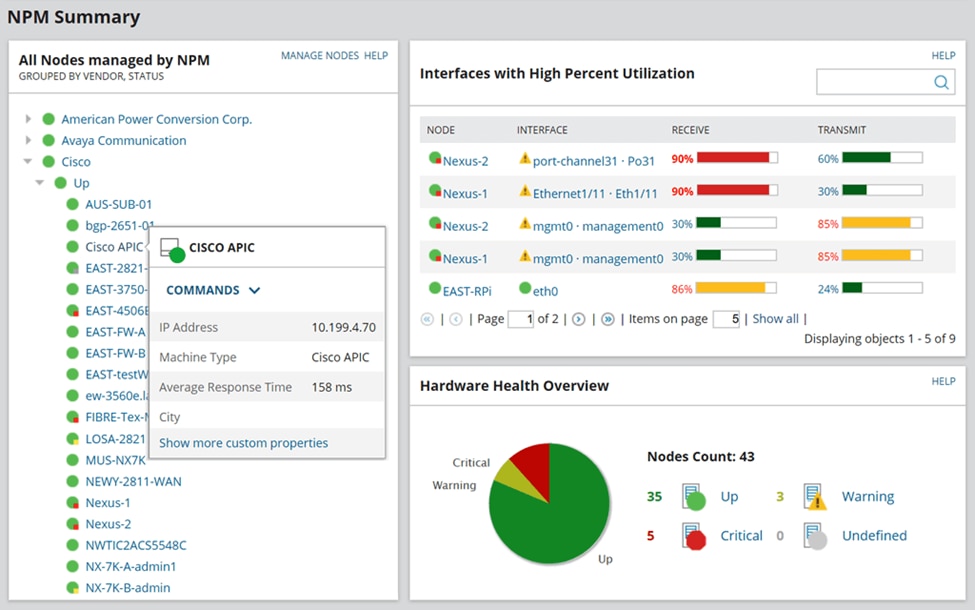 © 2022 Paessler AG
For smaller organizations or those just starting out with network monitoring, PRTG is a reliable system offering all the standard solutions for network monitoring. With a variety of packages to fit many different organizations' sizes and budgets, PRTG is reliable for a robust mix of infrastructure monitoring, flow, and packet sniffing. However, PRTG only offers on-premises solutions for Windows.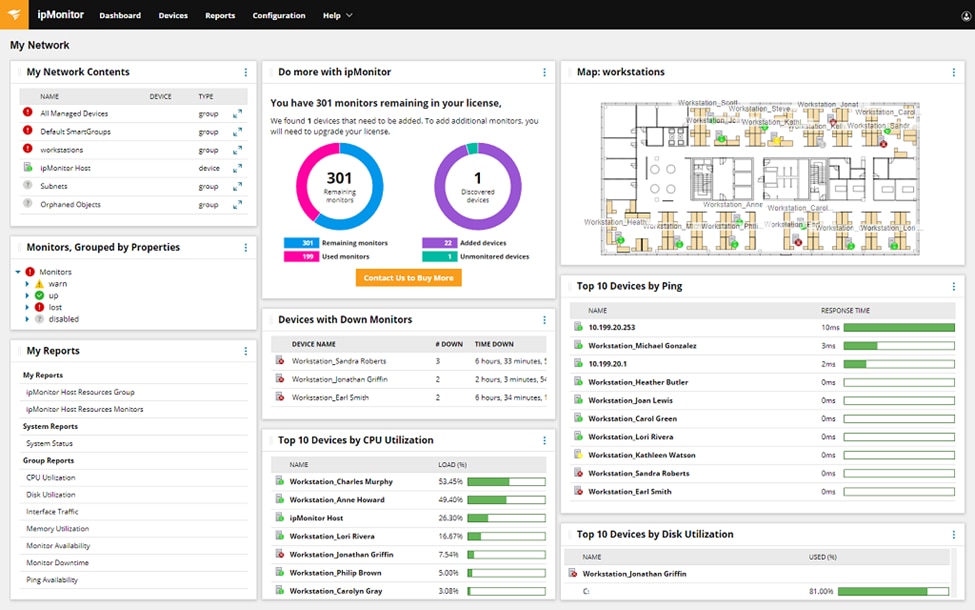 © 2022 SolarWinds Worldwide, LLC. All rights reserved.
Another budget-friendly solution for IT pros looking for quick and easy network monitoring tools, SolarWinds ipMonitor® is specifically designed to monitor networks, servers, VMware hosts, and applications to help identify problems before they arise. What's more, ipMonitor is one of the simplest solutions to use right out of the box. The solution's Startup Wizard guides new users quickly through the automated discovery process and automatically provides recommendations for what the organization should monitor on each of those newly discovered devices and applications. For minimizing downtime and proactive troubleshooting, ipMonitor comes with 14 different types of alerts to ensure teams can begin problem-solving as soon as an issue arises.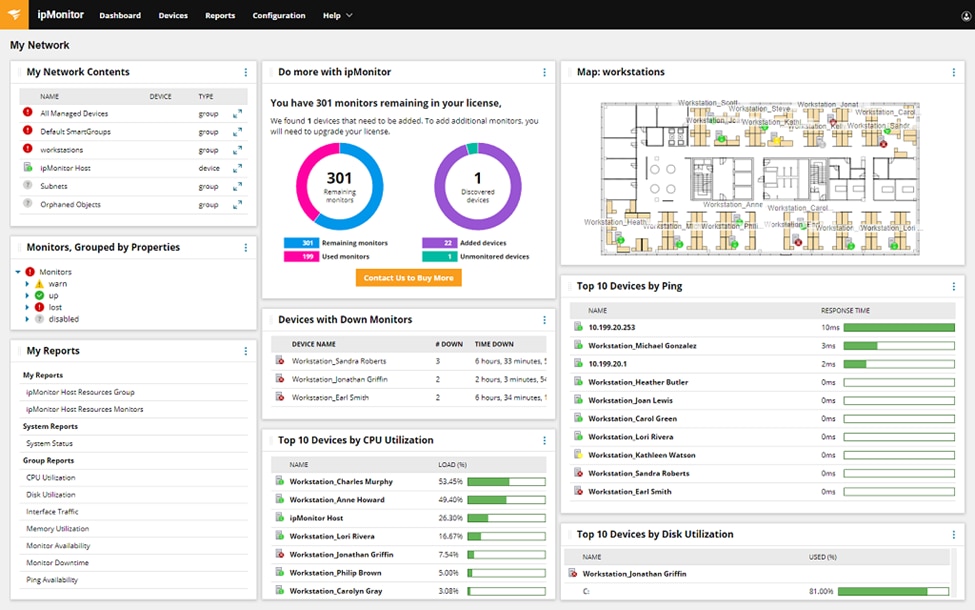 © 2022 N‑able Solutions ULC and N‑able Technologies Ltd. All rights reserved.
For managed service providers (MSPs), who are often responsible for monitoring the networks of many different clients, it's critical to have a robust system bringing monitoring into one simple, easily readable location. N-able Remote Monitoring and Management (RMM) integrates its network monitoring features into a single pane of glass, providing a wealth of data on a singular console. It also has many additional help desk features crucial to MSPs, including the ability to create service desk tickets and customize billing and automation to provide greater scalability for large and complex clients.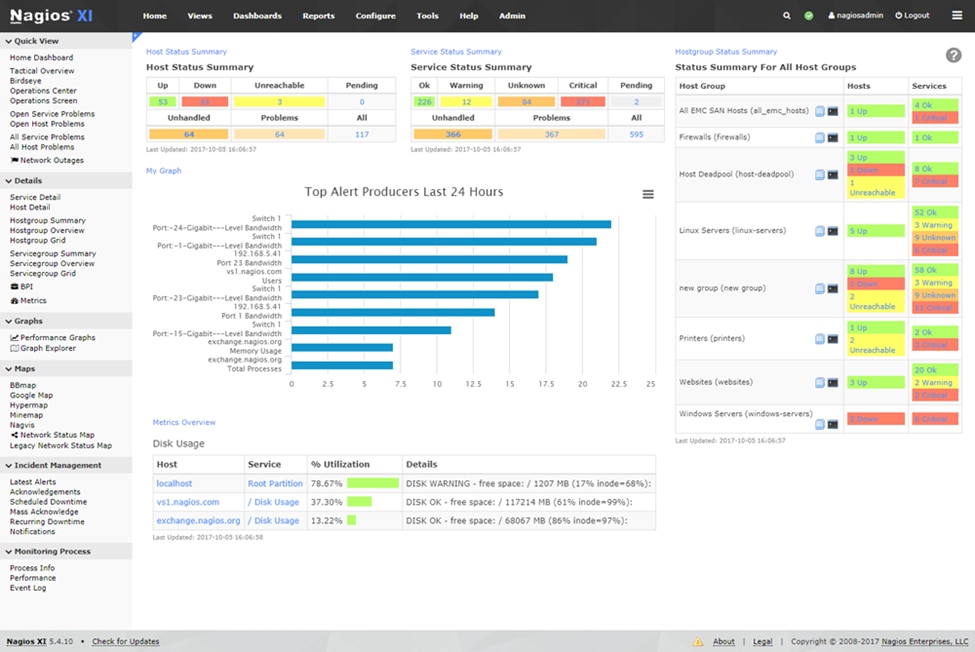 © 2009 – 2022 Nagios Enterprises, LLC. All rights reserved.
Nagios is a trusted open-source network monitoring software providing excellent basic monitoring for all critical infrastructure components, such as applications, services, operating systems, network protocols, systems metrics, and network infrastructure. However, though the solution is free and its open-source nature means there's an active development community offering many different add-on features, beginners can find Nagios more difficult to install and navigate.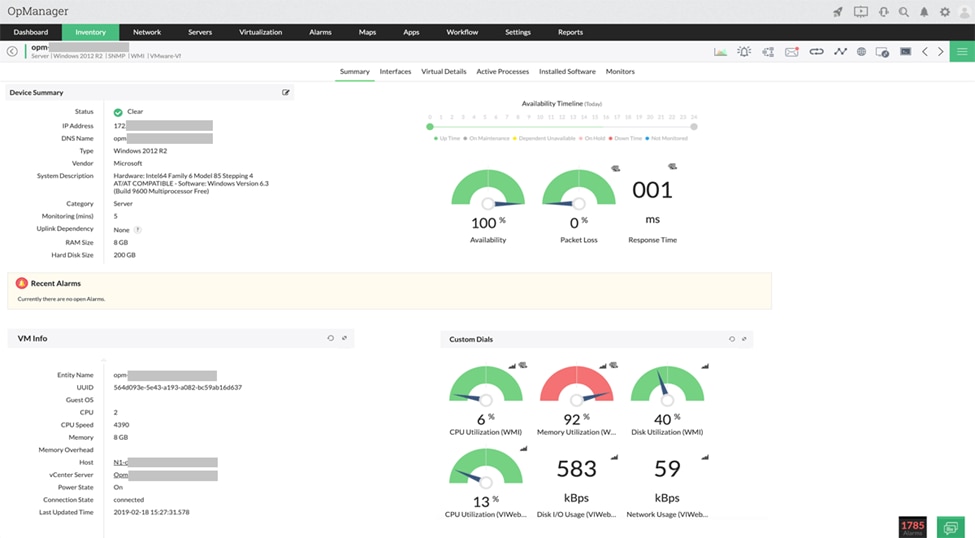 © 2022 Zoho Corp. All rights reserved.
OpManager is another popular option for network monitoring, offering insight into routers, servers, firewalls, wireless LAN controllers, and more. It includes some 2,000 built-in monitors so you can track packet loss, errors, and other performance measures. This includes hop-by-hop performance insights. The dashboards are customizable so you can view the metrics you want. OpManager is appropriate for Windows and Linux servers as well as various VMs like Hyper-V and VMware. Check out the tool's device-based pricing model if you're interested.
What to Know About the Monitoring Tools Comparison
Though there are plenty of network monitoring tools available on the market today, finding a tool designed to help your technicians troubleshoot and reduce downtime and provide customizable alerts and interfaces is critical. This is why SolarWinds Network Performance Monitor is one of the best choices around for industry-leading features at a great price. You can start with a 30-day free trial.